News
European tour pro has given up sucking on lemons in effort to be less sour on the course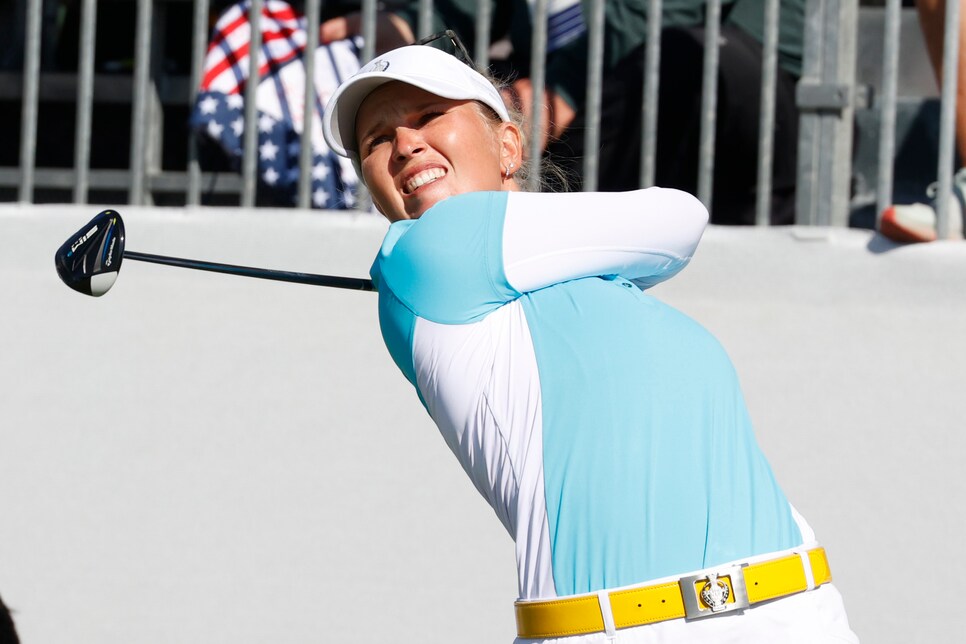 If you ardently follow the LPGA Tour, you may have cultivated one very specific anecdote about Denmark's Nanna Koertz Madsen. For those paying less attention, the quirky fact may be the only thing you'd heard about the 27-year-old until she seized her first LPGA title earlier this month in the Honda LPGA Classic in Thailand.
Koertz Madsen has been known for carrying lemon wedges in her bag. When she was angry or anxious, she'd pull one out and chomp into it—the theory being that she could calm herself down and shock her system back into focus. It seemed like a habit that had no long-term future, and Koertz Madsen has given it up. She apparently has found other ways to be less sour on the golf course.
On Friday, after she made seven birdies in shooting five-under-par 67 to hold the 36-hole clubhouse lead at 11 under in the JTBC Classsic, Koertz Madsen said her days of using fruit as punishment are behind her.
"I don't have the lemons anymore," she said. "I talk a lot to Nicki [Hansen], my caddie. But in the end he's always, like, 'I can't help you. It's you who has to get out of this situation.' … I just try to say it doesn't help me [to get mad]. I've done it a lot. I've ruined a lot of rounds for myself getting too angry on the course, so just saying it doesn't help.
"I think it's okay getting a little pissed at yourself out there, as long as you get back into it really quick."
What changed her approach?
"The last year and a half I've worked a lot with my mental coach back Denmark," she said. "Everything is just about being positive, having good energy out there, trying to smile as much as you can. If you are smiling, it's really impossible actually be mad. Yeah, a lot of good energy out there."
Quickly bouncing back from bad holes, rather than dwelling on them, is her goal. Koertz Madsen's work on that hasn't been tested much this week at Aviara Golf Club in Carlsbad., Calif. She's made 12 birdies and an eagle in two rounds while suffering three bogeys. The two bogeys on Friday had to be a bit frustrating, since they both came on par 5s.
Koertz Madsen's maiden win in March in Thailand came on the heels of a strong 2021 season in which she tied for ninth in the Olympics, played on the European Solheim Cup team and notched two top-10 finishes, including a T-3 in the ANA Inspiration.
"I'm trying to be very functional, not going too technical into this stuff," she said.
The weekend figures to be a tough battle at Aviara, with most of the world's top-ranked players competing. Late on Friday, among the closest pursuers were World No. 1 Jin Young Ko and 17-time tour winner Lydia Ko.
"You cannot think about what Jin Young Ko is doing. If she decides that she wants to play good, then no one can really follow her," Koertz Madsen said. "But as long as I'm doing what I can do, then that's good for me. If I stay positive out there, then I'm happy with that."