Payday in Mississippi
Here's the prize money payout for each golfer at the 2021 Sanderson Farms Championship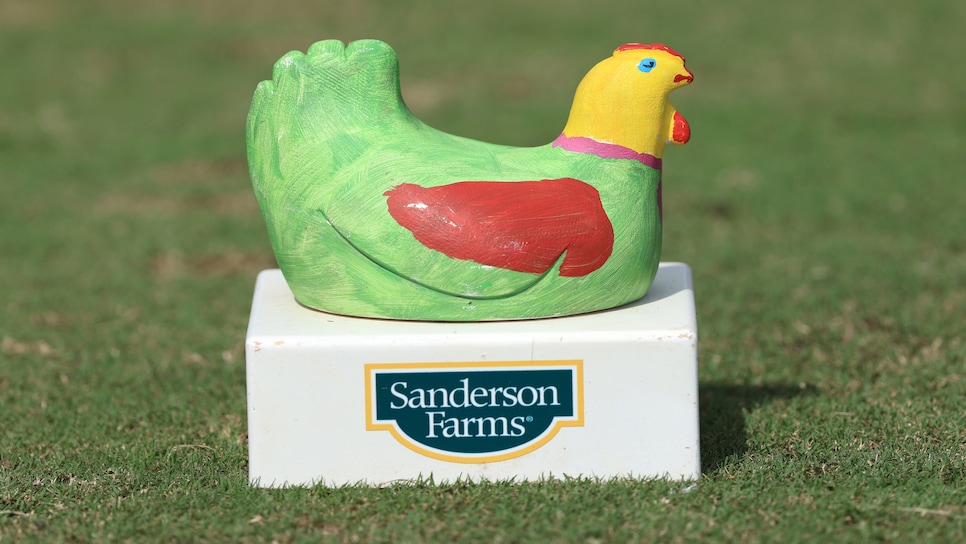 Tee marker on the 10th hole during opening round of the 2021 Sanderson Farms Championship.
Sam Greenwood
Until Sergio Garcia a year ago, the previous six winners of the Sanderson Farms Championship had made the triumph the first of their PGA Tour careers. And it looked all the while like that would happen again on Sunday at the Country Club of Jackson (Miss.), with 54-hole leader Sahith Theegala, a 23-year-old tour rookie, and five of the six players within two shots of him, all looking for their maiden victories.
But that other guy, Sam Burns, who had, well, other ideas. With a closing five-under 67—that included four birdies in a five-hole stretch on the back nine—the 25-year-old who grabbed his win No. 1 at the Valspar Championship in May, got title No. 2, beating Nick Watney and Cameron Young by one shot.
"I think last year having those experiences around the lead, I think those were really important for me, I learned a lot," Burns said after the round. "Having that under my belt today, that experience was definitely helpful and coming down the stretch I felt a lot different than I have in the past and not necessarily more confident but just in a better state of mind and thinking process was much better. So, yeah, those experiences definitely helped."
With the victory, Burns claimed the first-place prize money payout of $1.26 million from an overall purse of $7 million. That lifted Burns' career earnings to $8,790,758 in 87 tour starts.
Here's the prize money payout for all the golfers who made the cut this week in Mississippi. Come back shortly after the tournament is over and we'll update with individual names and prize money payouts.
Win: Sam Burns, -22, $1,260,000
T-2: Nick Watney, -21, $623,000
T-2: Cameron Young, -21, $623,000
T-4: Hayden Buckley, 268/-20, $280,000
T-4: Andrew Landry, 268/-20, $280,000
T-4: Trey Mullinax, 268/-20, $280,000
T-4: Henrik Norlander, 268/-20, $280,000
T-8: Si Woo Kim, 269/-19, $204,750
T-8: Seth Reeves, 269/-19, $204,750
T-8: Sahith Theegala, 269/-19, $204,750
T-11: C.T. Pan, 270/-18, $162,750
T-11: Cameron Tringale, 270/-18, $162,750
T-11: Harold Varner III, 270/-18, $162,750
T-14: Tyler Duncan, 271/-17, $127,750
T-14: Roger Sloan, 271/-17, $127,750
T-14: Will Zalatoris, 271/-17, $127,750
T-17: Luke List, 272/-16, $86,683.34
T-17: William McGirt, 272/-16, $86,683.34
T-17: Brendan Steele, 272/-16, $86,683.34
T-17: Corey Conners, 272/-16, $86,683.33
T-17: Grant Hirschman, 272/-16, $86,683.33
T-17: Nate Lashley, 272/-16, $86,683.33
T-17: Denny McCarthy, 272/-16, $86,683.33
T-17: Taylor Moore, 272/-16, $86,683.33
T-17: Matthew Wolff, 272/-16, $86,683.33
T-26: Nick Hardy, 273/-15, $54,250
T-26: Stephan Jaeger, 273/-15, $54,250
T-26: Aaron Wise, 273/-15, $54,250
T-29: Russell Knox, 274/-14, $49,000
T-29: Adam Long, 274/-14, $49,000
T-31: Sungjae Im, 275/-13, $42,787.50
T-31: Mito Pereira, 275/-13, $42,787.50
T-31: Alex Smalley, 275/-13, $42,787.50
T-31: Kevin Streelman, 275/-13, $42,787.50
T-35: Mackenzie Hughes, 276/-12, $35,612.50
T-35: Chris Kirk, 276/-12, $35,612.50
T-35: Kyle Reifers, 276/-12, $35,612.50
T-35: Davis Thompson, 276/-12, $35,612.50
T-39: Paul Barjon, 277/-11, $28,350
T-39: Dylan Frittelli, 277/-11, $28,350
T-39: Emiliano Grillo, 277/-11, $28,350
T-39: Charley Hoffman, 277/-11, $28,350
T-39: Ryan Moore, 277/-11, $28,350
T-39: Taylor Pendrith, 277/-11, $28,350
T-45: Chesson Hadley, 278/-10, $20,846
T-45: Adam Hadwin, 278/-10, $20,846
T-45: Lee Hodges, 278/-10, $20,846
T-45: Kurt Kitayama, 278/-10, $20,846
T-45: Jimmy Walker, 278/-10, $20,846
T-45: Eugenio Lopez-Chacarra, 278/-10, Amateur
T-51: Joel Dahmen, 279/-9, $17,234
T-51: Peter Malnati, 279/-9, $17,234
T-51: Andy Ogletree, 279/-9, $17,234
T-51: Sam Ryder, 279/-9, $17,234
T-51: Michael Thompson, 279/-9, $17,234
T-56: Brice Garnett, 280/-8, $16,380
T-56: Doc Redman, 280/-8, $16,380
T-58: Joseph Bramlett, 281/-7, $15,890
T-58: Doug Ghim, 281/-7, $15,890
T-58: Lucas Glover, 281/-7, $15,890
T-58: Brandon Hagy, 281/-7, $15,890
T-58: Andrew Novak, 281/-7, $15,890
T-63: John Huh, 282/-6, $15,400
T-63: Chad Ramey, 282/-6, $15,400
T-65: Sung Kang, 283/-5, $15,120
T-65: Vincent Whaley, 283/-5, $15,120
67: Austin Cook, 284/-4, $14,910
68: J.J. Spaun, 287/-1, $14,770