Collin Morikawa already knew his Ryder Cup teammates coming into the week, but he didn't know them like that. Team competitions provide the world's best players an opportunity to form deeper bonds than is possible from the cordial hellos they share on a PGA Tour driving range. At team dinners, hanging out between matches, away from the cameras—that's where true personalities emerge.
In a wide-ranging interview following an ideal Ryder Cup debut—going 3-0-1, earning the clinching half-point and helping the U.S. to a historic 19-9 blowout of Team Europe—Morikawa takes you inside the team room to share his observations on all 11 of his teammates, Captain Steve Stricker, what the Brooks-Bryson dynamic was really like, that rowdy afterparty and so much more.
This interview was lightly edited for clarity.
"I wish I remember. I went too early, too quick. There's no excuses, I'm 24, I just got out of college, I should know what to do. But the only thing I'd eaten the entire day was avocado toast with some eggs, bacon and potatoes in the morning. I had not eaten on the course, I just chewed a bunch of gum. So you can imagine how that went with a lot of alcohol. I was the fifth match out—finished, and just continued (drinking) throughout that presser. Downhill spiral from there.
On Xander Schauffele, who absolutely thrived in the celebration
"Xander became himself. We obviously all knew who Xander was, a great player, but he created this personality that he took advantage of. Having a cigar in his mouth throughout the entire ceremony, it just felt right for him to take the stage. You heard it from many players, especially Rory, that these individual events don't bring out the same emotion. And they really don't. When you win as a team, there's so much effort that goes into it that when you're able to have a few drinks, and you're able to relax and decompress after the win, you let it out. You start to see who everyone is. We're not drinking like that every day—our bodies couldn't handle it—but you just start to see us as normal humans. I think that's the biggest thing. Every one of us has a different story, interests outside golf."
On Dustin Johnson, who Morikawa partnered with to go 3-0-0 in team sessions
"We didn't say too much. When we were up, it was just me saying Let's step on their necks. Let's finish off this match. Our conversations ended pretty quickly. It wasn't a ton, probably less than everyone else. One DJ moment came after Paul Casey holed out on Saturday morning on 14. I think our match was now 1 up. And I'm sure a lot of guys would start freaking out and worrying, but he looked at me, shrugged his shoulders and said Good shot. We went to the next hole. Absolutely no conversation about the hole-out. That's who DJ is. He leads with a quiet confidence. His presence was felt all week. When we really did need him to speak up, before the captain's picks, he spoke his mind and it was awesome to hear that.
"And yes, he can out-party us. The guy's been at it. He's a physical specimen of greatness. Like 6'3", clean cut."
On the dynamic between Bryson and Brooks
"We had the t-shirts that JT made us, and you could poke fun at it after. It was something that wasn't really brought up, at least when I was around. It wasn't like they were sitting in front of each other during breakfast and chatting. But they were cordial. They put it aside. Whatever is there or not there, for that week, it was gone. It was never brought up once. If they didn't wanna see each other, they could stay away. There's 12 guys on the team. There are other people they could go talk to. It was as easy a team room as you could hope for. All of us got along, and it made the week so much easier.
We had a practice round on Wednesday where our pods shifted and he and Harris played with me and DJ, and I was just able to talk to him a little bit more. I've talked to him during tournaments but not off the course much. Just to see how much he loves the game—the guy was grinding on the range after Saturday's match! I had no intention of doing that. To see why he's loved by so many people, it's because of his work ethic. The amount of work he puts in, to be at a long drive contest right now, it requires a crazy amount of work. Props to him. He is changing the game.
On Justin Thomas' fiery leadership style
"He's always the one to text us first, always the one to point something out. I kind of heard something about the points stuff with the record, and JT sent us a text in the morning saying I want the 19 points. Obviously the goal was to win, even if we got 14.5, but we wanted 19. He's always on top of things. He's always pushing us to be better, he's firing us all up. It's awesome to have someone like that. Sometimes you might have 12 guys like that, or one like him and one like DJ who are both great leaders but in very different ways. Having both of those were key.
On Patrick Cantlay's pensiveness
Pat's an interesting guy. You can get into a deep, dark hole about many things with him. I heard his presser during the playoffs when he said he doesn't like to talk about things he doesn't know about. It's absolutely true when you talk to him away from media cameras. He is very knowledgeable about a lot of things. He's a very different character and I enjoy that. He has a lot of perspective in the way he explains things. I think his comment early in the week comparing golf to gambling made sense. He thinks a lot about cause and effects, whether it's about golf or something else."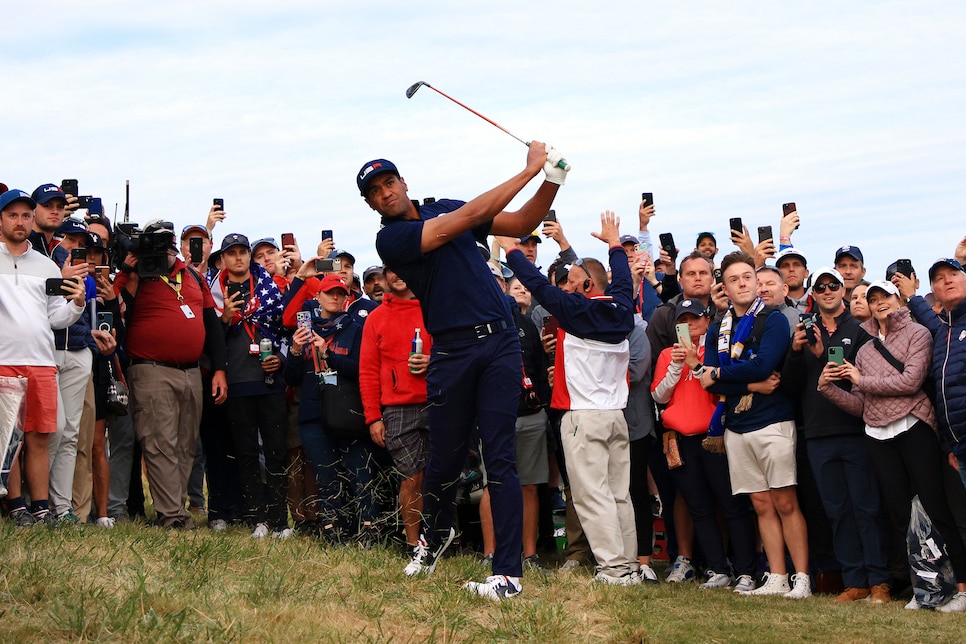 On Tony Finau's ever-present smile
Tony is truly the nicest guy in the world. After our practice session I flew out with him to an event for Tiger Woods' foundation. It was just the two of us on the plane and it was my first time really chatting with him. He doesn't say anything bad about anyone. He sees the good in everyone. I didn't really see him in the mornings because he played in the afternoons, but he was someone that if you saw him, he put a smile on your face. His wife, too. She was amazing, screaming out of her mind loud. You could pinpoint her scream over everyone else's. He's a great role model. He's almost like a father figure. He's always going to give you a good answer and never look at anything negatively. That's how it was for me.
On what Harris English's fashion sense says about him
Harris is a very mellow guy. Doesn't matter where you take him, he's got that laid-back Southern vibe. We have these dinners and some are casual. L.A. casual to me is a very different casual than a Southern casual. I'm in a tee shirt, maybe shorts. Harris always has that button up, tucked-in shirt, belt, it's the Southern frat boy. That's Harris from head-to-toe.
On Jordan Spieth's authenticity
He understands when he's out in the public and when he needs to say something, and I'm glad he was at the presser because he said some good stuff. That's who Jordan is. He's someone that you want to be. A lot of kids, you wanted to be like Jordan Spieth. It's not fake in any way. That's who he is. There are a lot of people out there, not just in golf but everywhere, who are fake on the outside and when you meet them they're a completely different person. But that's not Jordan, and that's the coolest thing about getting to know him. He's truly a genuine guy.
On how Daniel Berger is a completely different person away from the cameras
Boog's the child of our team. You gotta make sure he's awake, that he's showing up. He's just there to have fun. Being signed to the same agency, I've been able to hang out with him a bunch. Even though I was the youngest, I'm gonna say it: I'm a lot more mature than Boog. He's the child. He's ready to do stuff, he doesn't care what anyone thinks. He's there to be him.
On Scottie Scheffler, who fired the team up by slaying the dragon
It was huge to see him take down the No. 1 player in the world. It was massive and built that momentum. When I made the turn and looked at a board, there was just so much red. I've known Scottie for 10 years now at least. I played Wyndham Cup, Palmer Cups, Walker Cups with him, and now the Ryder Cup. He's always been able to step up. I'm sure he's going to get his win very quickly. He's just one of those guys who steps up when he's called upon. There's something in him—patriotism, something that he pulls out of himself to play well.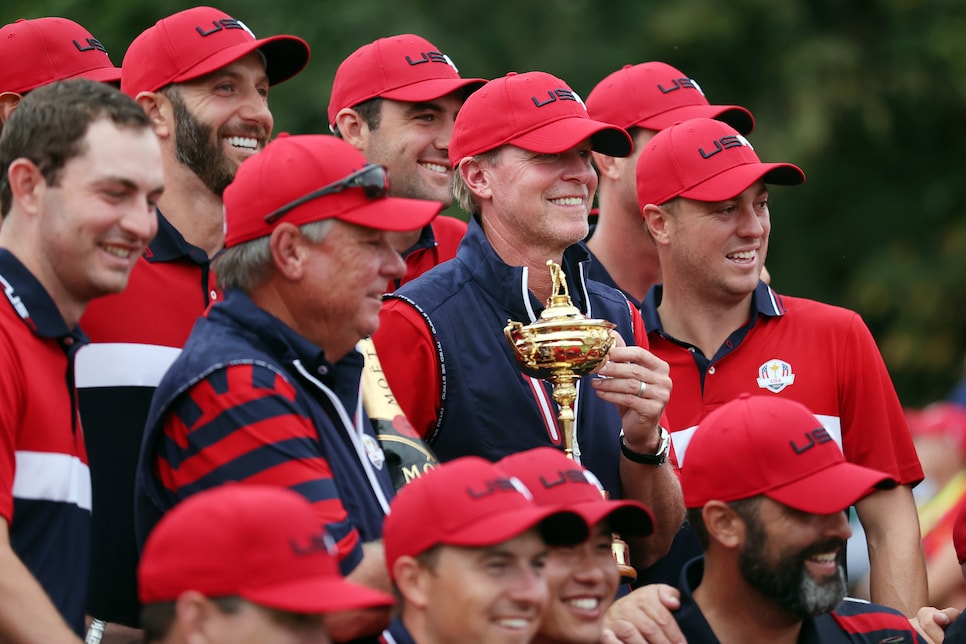 In the meetings before the matches, you could tell how much time went into his and his vice-captain's decision. He really stuck to the plan. He could've changed it up for Friday afternoon or Saturday afternoon, but he stuck to what he believed in—putting us in these pods, getting us out there the week before. That doesn't get talked about enough. The two practice round days we got were tremendous. Just getting everyone together. It wasn't, go play alternate shot, it was, go mesh with the team. It was the best thing we could've done. He made our week a lot easier than past Ryder Cups. I know he said no to a lot of things that we could've done, dinners and whatnot. He's a quiet guy, but you can see it in his eyes. He gave us a speech in our practice session and he's an emotional guy. Those emotions rubbed off on us and made us fight a little harder.
On the best dancer on the team
Tony Finau. He's a big man, but he's flexible.
On the hardest he laughed all week
Probably during the presser. We were already pretty loose, and the things that were said—that presser I hope goes down as one of the best press conferences of all time.
On the funniest guy on the team
From watching as a spectator, Boog. He's going to do childish and stupid things sometimes. He can be serious, but he'll always make you laugh.
On one thing that surprised him about his first Ryder Cup experience
Just how much the fans pull you together. It's gonna be different when we go over there, but last week, any time you heard a cheer you knew it was for us. So that got us going. That got us extra motivated. When we first came back from COVID and there weren't fans, it was dead. You had to fire yourself up internally somehow. These fans, you could rely on them and you drew energy from them. By the time I hit the 30-something hole on Saturday afternoon, I wasn't that drained because of them.