Payday at Tiburon
Here's the prize money payout for each golfer at the 2021 CME Group Tour Championship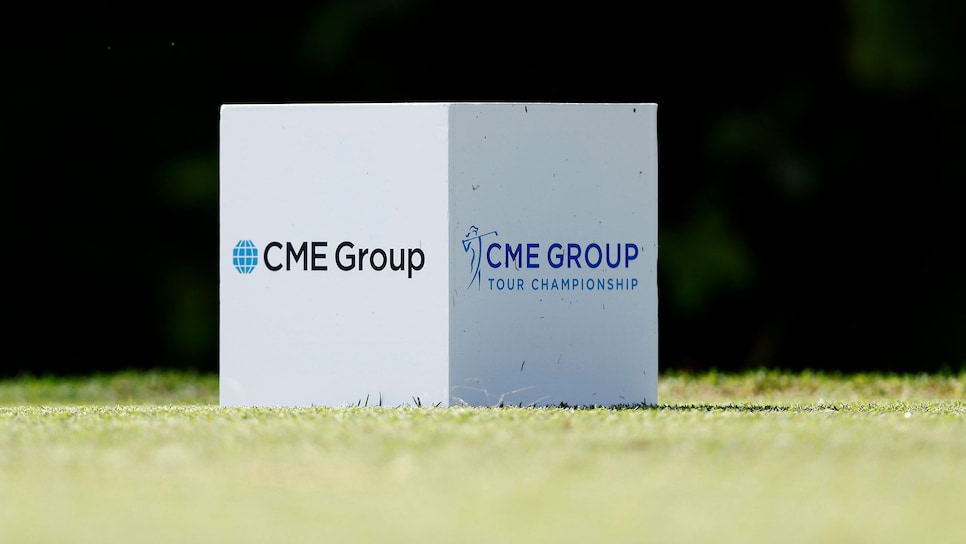 The biggest first-place prize money payout in women's golf was on the line Sunday at the CME Group Tour Championship, with the last woman standing banking $1.5 million for the victory in the no-cut, limited-field LPGA season finale. And if that last woman was either Nelly Korda or Jin Young Ko, the No. 1 and 2 ranked golfers in the world, she would also claim the LPGA's Rolex Player of the Year award.
It turned out to be Ko, who played a remarkable final 18 holes to close out an impressive 2021 season at Tiburon Golf Club in Naples, Fla., making nine birdies and no bogeys en route to a nine-under 63 and a one-shot victory over Nasa Hataoka.
In winning her fifth title of the year, and 12th of her LPGA career, Ko put together a performance that was nothing short of jaw-dropping given the circumstances. All week, the 26-year-old from South Korea had nursed a left wrist injury that kept her from hitting a single practice ball on the driving range all week. Somehow, the tournament's defending champion managed to hit her last 63 straight greens in regulation
Korda, meanwhile, put together an impressive round of her own, shooting a three-under 69 only to finish six shots back. Suffice it to say, there wasn't much she could do to keep up with Ko.
The overall prize money payout this week is $5 million, which is impressive but will increase to $7 million (with the winner earning $2 million) in 2022. Here's how much each player in the field will make this week. We'll update the list after the finish on Sunday to list the names of those who played and how much they won.
Win: Jin Young Ko, -23, $1,500,000
2: Nasa Hataoka, -21, $480,000
T-3: Mina Harigae, -18, $268,657
T-3: Mina Harigae, -18, $268,657
T-5: Megan Khang, -17, $145,041.33
T-5: Minjee Lee, -17, $145,041.33
T-5: Nelly Korda, -17, $145,041.33
8: Lexi Thompson, -16, $98,453
T-9: Lydia Ko, -15, $78,807
T-9: In Gee Chun, -15, $78,807
T-9: Gaby Lopez, -15, $78,807
T-12: Anna Nordqvist, -14, $62,415
T-12: Leona Maguire, -14, $62,415
T-12: Nanna Koerstz Madsen, -14, $62,415
T-15: Charley Hull, -13, $48,720
T-15: Hannah Green, -13, $48,720
T-15: So Yeon Ryu, -13, $48,720
T-15: Sei Young Kim, -13, $48,720
T-15: Danielle Kang, -13, $48,720
T-15: Jeongeun Lee6, -13, $48,720
21: Jasmine Suwannapura, -12, $42,040
T-22: Lauren Stephenson, -11, $40,020
T-22: Madelene Sagstrom, -11, $40,020
T-24: Wichanee Meechai, -10, $36,106
T-24: Ally Ewing, -10, $36,106
T-24: Eun-Hee Ji, -10, $36,106
T-24: Georgia Hall, -10, $36,106
T-28: Yealimi Noh, -9, $31,937
T-28: Ariya Jutanugarn, -9, $31,937
T-31: Amy Olson, -8, $28,232
T-31: Moriya Jutanugarn, -8, $28,232
T-31: Ryann O'Toole, -8, $28,232
T-31: Brittany Altomare, -8, $28,232
T-35: Patty Tavatanakit, -7, $24,864
T-35: Carlota Ciganda, -7, $24,864
T-35: Xiyu Lin, -7, $24,864
T-38: Brooke M. Henderson, -6, $22,761
T-38: A Lim Kim, -6, $22,761
T-40: Esther Henseleit, -5, $20,150
T-40: Jenny Shin, -5, $20,150
T-40: Jennifer Kupcho, -5, $20,150
T-40: Jessica Korda, -5, $20,150
T-40: Wei-Ling Hsu, -5, $20,150
T-45: Pajaree Anannarukarn, -4, $17,624
T-45: Yu Liu, -4, $17,624
T-45: Lizette Salas, -4, $17,624
48: Yuka Saso, -3, $16,613
T-49: Emma Talley, -2, $15,855
T-49: Amy Yang, -2, $15,855
T-51: Elizabeth Szokol, E, $14,930
T-51: Austin Ernst, E, $14,930
T-53: Hyo Joo Kim, +1, $14,255
T-53: Chella Choi, +1, $14,255
T-55: Stacy Lewis, +3, $13,414
T-55: Matilda Castren, +3, $13,414
T-55: Caroline Masson, +3, $13,414
T-58: Jenny Coleman, +5, $12,572
T-58: Sophia Popov, +5, $12,572