Asia-Pacific Amateur
Harrison Crowe leads Asia-Pacific Amateur by 2 with 18 holes left as major pressure starts to simmer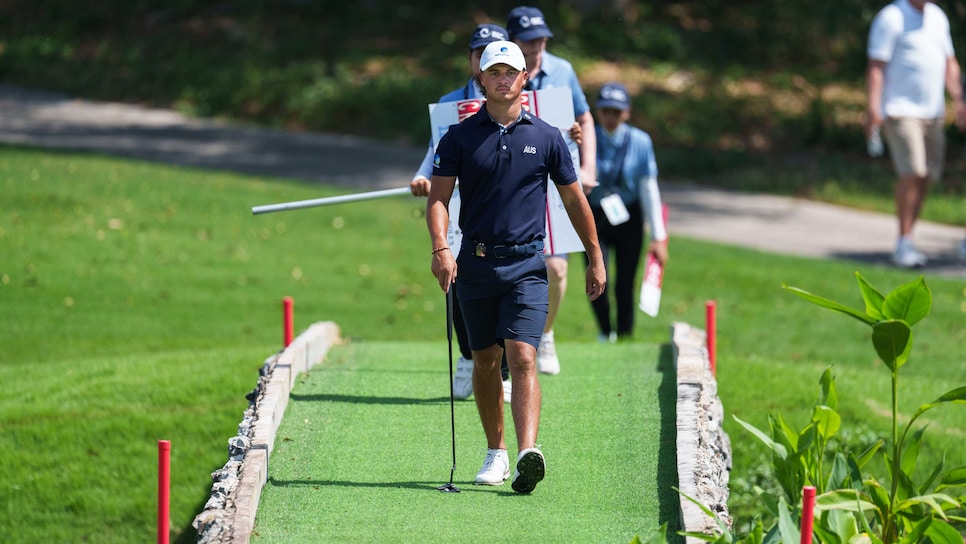 Harrison Crowe walks across a bridge during Saturday's third round at the Asia-Pacific Amateur Championship. Crowe's 67 gave him a two-shot lead heading in the final round.
John Lehmann
CHONBURI, Thailand — At last. Amidst the heat and humidity that is part of life in Thailand, a little bit of daylight has appeared. On the leaderboard at the Asia-Pacific Amateur Championship that is.
With one more circuit of Amata Spring Country Club to play, Australia's Harrison Crowe on 13 under par has a two-shot lead, the pack piled up behind the 21-year-old from New South Wales not quite as heavily populated as it was on Days 1 and 2. Minhyuk Song of South Korea and Bo Jin from China are together in second place, but only seven others are within six shots of the leader. Likely as not, no more than a 10-strong race for the title is in prospect.
Crowe's bogey-free five-under 67 was joint best (alongside U.S. Junior champion Wenyi Ding, who is three back) of a third round played in blustery conditions and on a course more than a little amped-up from previous days. Five times Crowe dipped below par, the highlight coming late, when he "stiffed a 9-iron" to the island green at the 152-yard 17th.
"Some of the tees were back," said Crowe, who earlier this year won the New South Wales Open and Amateur Championships, as well as the prestigious Master of the Amateurs. "I hit gap wedge to the ninth yesterday. Today it was a 7-iron. They tucked the pins, too. And the breeze was up. It was tricky out there and the greens were a bit faster. I really just stayed out of trouble for the most part. I was in the right spots and gave myself a few good looks at birdies. I don't feel like I putted amazingly, but I did hole a few near the end. But if you are hitting it inside 20-feet all day you are never going to make them all. I just played really solid, nerve-free and stress-free golf."
That may change over the closing 18 holes, however. With spots in the Masters and the Open Championship on the line, Crowe and everyone else is likely to be feeling some extra pressure. Indeed, the World No. 42 could not have been more succinct—and direct—when asked if victory would lead to changes in his plans to imminently turn professional.
"Yes," he said, a big grin on his face.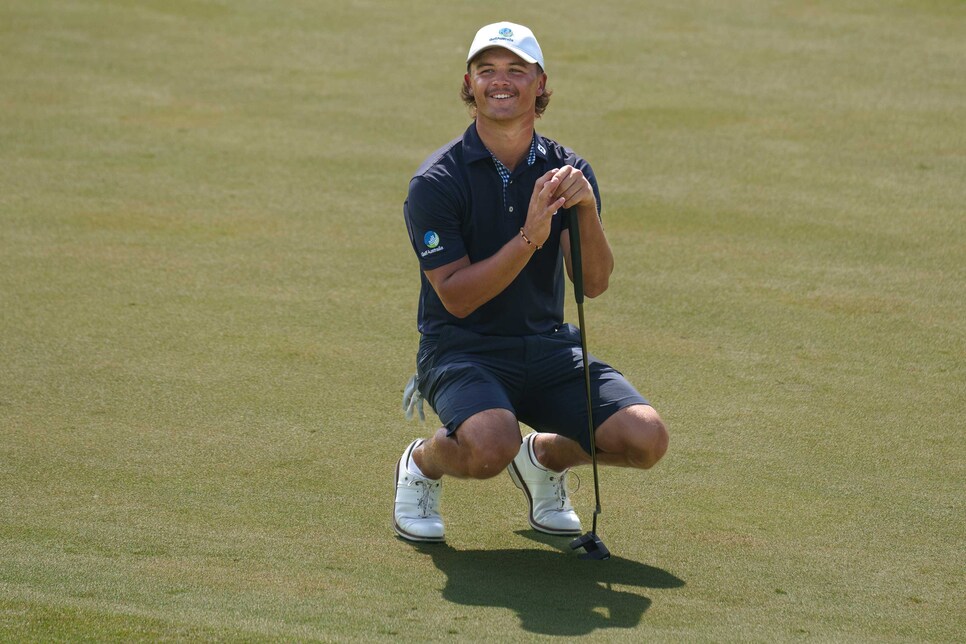 Should Harrison Crowe win on Sunday, and earn an invite to the 2023 Masters and an exemption into the 2023 Open, his plans to turn pro before the end of the year would change.
John Lehmann
Ding, too, was happy with his day's work, eight birdies more than making up for the three bogeys scarring an otherwise stellar card. Even Ding's broken English could not conceal his pleasure. But it was the wide smile that really gave him away.
"I played really good," he said. "Today was a really challenging day, really windy. I got a lot of birdies. That's what I wanted. I did really good in the end. My best score for this year, it's significant for me."
Elsewhere, others were less than pleased with their efforts. In particular, local favorite and World No. 12, Ratchanon "TK" Chantananuwat, left the premises having all but ended his hopes of victory. Two under for the day and 11 under for the tournament while standing on the 12th tee, the 15-year-old dropped six shots in the next seven holes. After a 5 on the par-4 12th, double bogeys came along at the 14th and 16th, before a three-putt on the 18th green left the precociously talented youngster a yawning eight shots off the pace. At least for this year, his Augusta National and Royal Liverpool dream appears over.