The Loop
Harris English gets a tasty shout-out, Bryson DeChambeau nearly "blacks out," and another Jeopardy! golf fail
Welcome to another edition of The Grind where we have a special place in our heart for Harris English. About a month after he had won his first PGA Tour title, I crossed paths with him on a flight back from the 2013 British Open because he was sitting in the back row of coach. Already a tour winner with millions and there he was jamming up those long legs of his on a long flight. Good stuff.
Something tells me he'll probably fly back in first class after winning $1.34 million on Sunday, but I'd prefer to think he found a better deal. In any event, I'm flying high after making a few bucks myself on Alabama. So let's jump into everything else happening in golf.
Harris English: Another week, another long drought ended on the PGA Tour with English winning for the first time in more than seven years (if you don't count some dominant team performances in the QBE Shootout, of course). And this one is well-deserved considering the tremendous form he's flashed in recent months.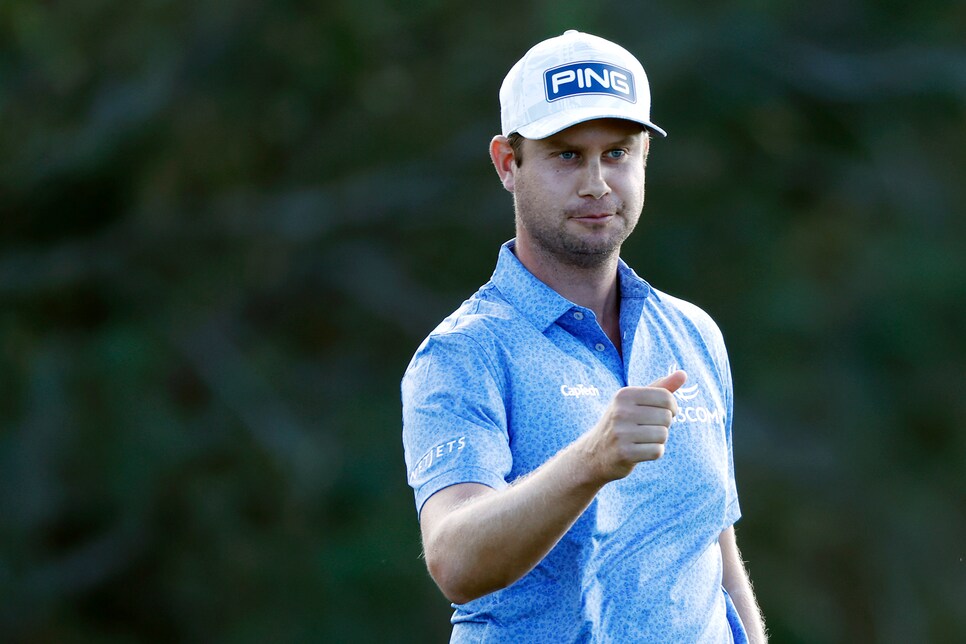 Kudos to Harris for overcoming some demons—including that missed eagle putt on the 72nd hole at Kapalua after hitting the shot of his life. And kudos to really making it to the big time:
When I covered the 2019 RSM Classic, I went to Frosty's every night. GREAT spot. Looks like he'll be treated like a king there after winning the Sentry Tournament of Champions. Not a bad result for someone who wouldn't have even qualified for the normally winners-only event in any other year. I'm guessing he'll have a few milkshakes to celebrate when he returns to Sea Island.
Eric Larson: Turns out, English's caddie broke an even longer winless drought. And we're just as happy for him considering his last victory came while he was carrying Anthony Kim's bag.
Poor guy. He had to have thought he was set for life caddying AK in 2008. Anyway, he's back in the winner's circle and he's got a great gig again.
Andy Sullivan's billiards skills: The former Ryder Cupper has had a resurgence on the course in the past year. Apparently, he's used his time quarantining to become pretty formable on the felt as well:
If Sullivan qualifies for this year's Ryder Cup and there's a pool table in the team room, well, everyone there has been warned.
This basement: Speaking of quarantining, this, from someone in Canada, is how you do it:
Seriously, if this were my basement, then lock me up and throw away the key.
Justin Thomas' comments: Golf fans love a good hot mic, but sometimes we hear too much. Such was the case with JT uttering a homophobic slur under his breath during the third round at Kapalua. It was an unfortunate situation, but hopefully, something everyone can learn from. Thomas seemed very sincere in his apology. Here's how a Twitter follower summed it up:
Jeopardy contestants' golf knowledge: This is nothing new. As brilliant as some of these people are, they often possess pre-school-level knowledge of sports. The latest example is all three drawing a blank on Bryson DeChambeau:
Of course, we're also selling the passing of Alex Trebek. I'm going to miss that guy mocking these nerds. Also, solid reaction from Bryson himself:
The PGA Tour stays in the Aloha State for the Sony Open, AKA that one that took place in 2018 after reports of a ballistic missile heading toward Hawaii, thankfully, turned out to be false. It's good to see that two years later the world is in such a better place. Oh. Right.
Random tournament fact: Isao Aoki became Japan's first PGA Tour winner in 1983 when he holed a wedge for eagle on the 72nd hole. Talk about a moment you wish Twitter had been around for.
RANDOM PROP BETS OF THE WEEK
—Someone will hole out for eagle on the 72nd hole to win: 1,000-to-1 odds
—The 2022 PGA will be held at Bethpage Black: 4-to-1 odds (Actual odds)
—Justin Thomas will be more careful with his word choice going forward: LOCK
New year, same old Bryson!
Golf's Content King stays the KING.
Speaking of, Bryson discussed his recent get together with reigning World Long Drive champ Kyle Berkshire, who, according to Bryson, trains, "Until I blackout." So, has Bryson taken it those extremes yet?
"Yes. Numerous times. There were times where I was seeing a tunnel and I had to stop. I mean, you just have to stop. That's about when you stop. There's a lot to it."
Wow. To cap last year, I put together a list of 101 things (yes, 101 things) that happened to Bryson in 2020. Better start putting together another list because 2021 might get even crazier.
THIS WEEK IN TOUR PRO PUBLIC DISPLAYS OF AFFECTION
Congrats to Harris and Helen for making their first appearance in the winner's circle together: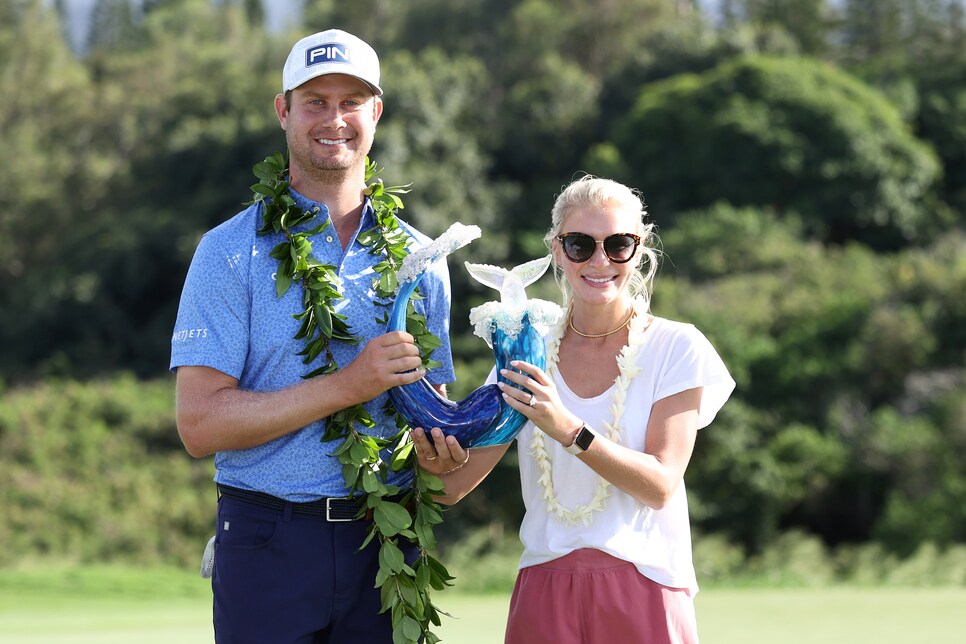 You know what they say: you always remember your first time.
THIS WEEK IN CELEBRITY GOLFERS
We knew Aaron Hicks, who once aspired to be a pro golfer instead of a baseball player, can really play, but this is some Bryson/Berkshire-esque pop:
As Yankees radio play-by-play man John Sterling would say, "HICKS! HITS ONE TO THE STICKS!"
Congrats to former PGA Tour pro Adam Svensson for winning the Big Money Classic and a check for $100,000. Not bad for a mini-tour event! . . . According to Golf Digest's Dave Shedloski, Jordan Spieth has seen Butch Harmon for another opinion on his swing. It can't hurt. At this rate, a big Money Classic win is looking pretty good . . . Augusta National announced its intentions to allow limited patrons for the 2021 Masters. So the roars—well, some roars—will be back in April. . . . And finally, check out this big shipment we got from Costco on Monday because I jumped on a sale. Emphasis on BIG: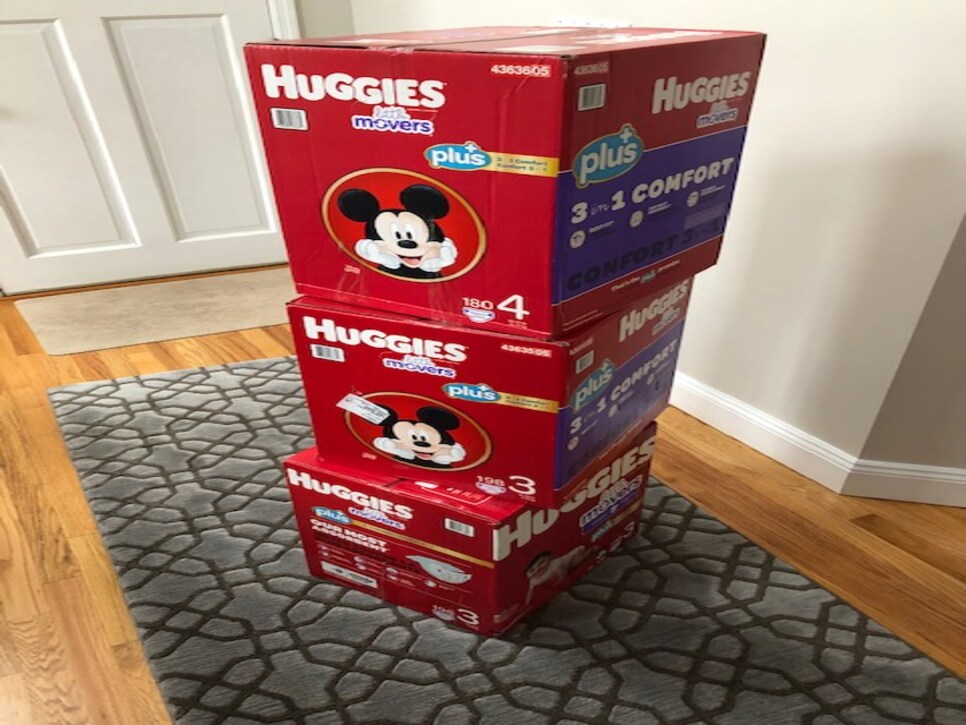 We should be good for a few months. I think.
RANDOM QUESTIONS TO PONDER
What would be John Sterling's Bryson DeChambeau home run call?
How much would renovating my basement like that guy in Canada cost?
Could all the money I've spent on diapers have covered it?