News
How Harris English ended seven-plus years of frustration and proved he belonged at the Sentry Tournament of Champions
KAPALUA, Hawaii — Eighteen months ago, Harris English was cruising along in the final round of the Korn Ferry Tour Championship when he crashed and burned. Five bogeys over his last seven holes at Victoria National Golf Club in Indiana caused him to tumble down the leader board and play his way out of a tour card for the 2019-20 PGA Tour season. It marked the first time the two-time PGA Tour winner was without full playing privileges in seven years as he was relegated to the less desirable 126-150 category on tour.
"I'll say probably the most disappointed I was playing the Korn Ferry finals up at Victoria National, and I had it in my hands of getting my card back," he said Sunday night at the Sentry Tournament of Champions. "I don't know what happened on the last three or four holes, I just, I didn't do it, and that was very shocking to me. It hadn't happened a whole lot in my career where I had opportunities like that and I just let them slip away. So that was tough."
Which had to make the final round at the Plantation Course all the more sweet.
Seven years since his last victory on tour, English was 270 yards from the flag on the par-5 18th, where an eagle would win it for the 31-year-old. He smoked a 3-iron to just inside 10 feet.
A tap-in for birdie sent him to a playoff with clubhouse leader Joaquin Niemann and back to the same hole the two went. After Niemann failed to get up and down from the rough for birdie, English buried his six-footer for birdie and the victory.
"I was pretty nervous over that putt, but it broke a little left, so I just played it inside right and hitting it firm … and here I am," he said, ending a drought that stretched to the OHL Classic at Mayakoba in 2013. "But it feels amazing. All the hard work that has gone into this, all the highs and lows of golf that it brings over a career. And I feel like I've gotten out of my valley and getting back to the tournaments and some of the quality of golf that I know I can play. It feels great to have some validation out there on the golf course."
Especially since this one came close to slipping away, too.
Standing on the 11th tee, English was stuck on even par for the day, while Niemann and two-time TOC winner Justin Thomas were putting up red numbers all around him. Knowing that if he wanted to win for the first time in more than seven years that he would need to go on the attack, English did just that on the birdie-friendly back nine.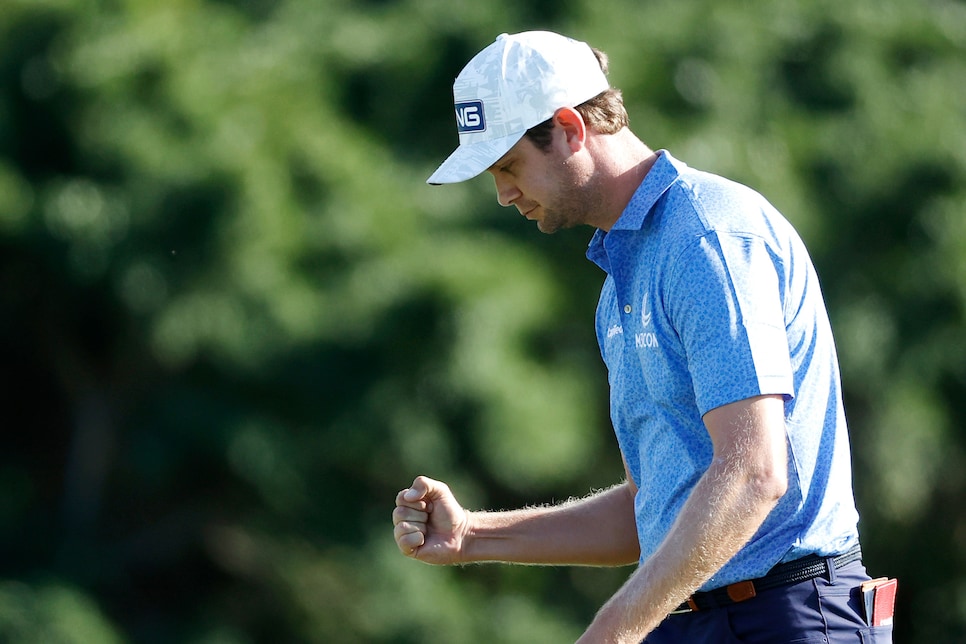 Harris English reacts after making the birdie putt to defeat Joaquin Niemann in a playoff at the 2021 Sentry Tournament of Champions.
Cliff Hawkins
Facing one of the more difficult holes of the final nine—the tricky 161-yard 11th, where the hole was cut back left and over a bunker—English made the first of four birdies in a five-hole stretch. He knocked his tee shot on the par 3 to 22 feet and sank the putt. Then came three more on 12 (an 18-footer from the front of the green), 13 (a stuffed wedge from 125 yards to two feet) and 15 (a par 5).
"I wouldn't say 11 is necessarily a birdie hole, but I hit a really good shot in there, and 12 is a birdie hole, having a wedge in there," he said. "I knew you could get on a run on the back nine. I had kind of been telling myself all week, you got to stay patient out here."
Never was that more true than after a bogey on the 16th, where English hit his wedge from the fairway over the green and failed to get up and down.
But it turned out to be just a bad shot. And one he could recover from.
On the 18th, English hit his best shot of the week and made birdie to cap a final-round 69 to force the playoff, narrowly missing the eagle putt to win. Then he hit the same club again in sudden death, setting up the two-putt this time for victory.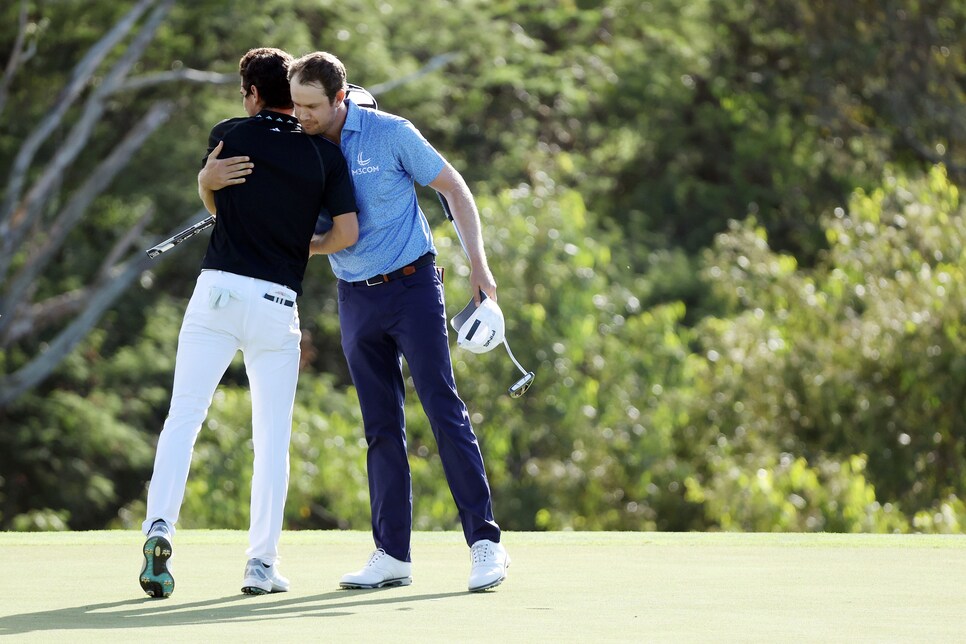 English is congratulated by Joaquin Niemann after defeating him in the first hole of a sudden-death playoff on Sunday at Kapalua.
Gregory Shamus
It had been so long since English's last win, but he'd reveled at just having the opportunity again.
"I knew I was playing really well," English said. "I knew Joaqo and Justin were making a run and I needed to do something and I love being in those situations. Even when I was a kid, I loved having the ball when the clock's running out in basketball. I kind of crave getting back into that. I hadn't had it in a long time."
He also found it in an unlikely place: At last month's QBE Shootout, a low-key and unofficial team event in Naples, Fla. Playing alongside Matt Kuchar, the two coasted to the title. It was a small victory in the grand scheme but the nerves were big, or at least big enough.
English also had been building toward Sunday's win.
In his last nine starts dating back to the start of last year's FedEx Cup Playoffs, he had five top-10 finishes, which included a runner-up at The Northern Trust and a fourth-place at the U.S. Open at Winged Foot, a result that could have been even better if not for a ball inexplicably lost in the rough not far from the fairway on the opening hole.
He'd also relied on the team of coaches, trainers and psychologists around him.
"It's kind of come full circle. I feel like I know a lot more about how I should practice, how I should play, how I should train more now than I did when I was younger," English said. "I feel like I'm way more of an experienced player now than I was when I was a kid and understand how much work it takes out here to compete week-in and week-out and just being a true professional. I feel like I've done a better job of that and the results have paid off."