News
Harris English snaps seven-year win drought at Sentry Tournament of Champions, of all places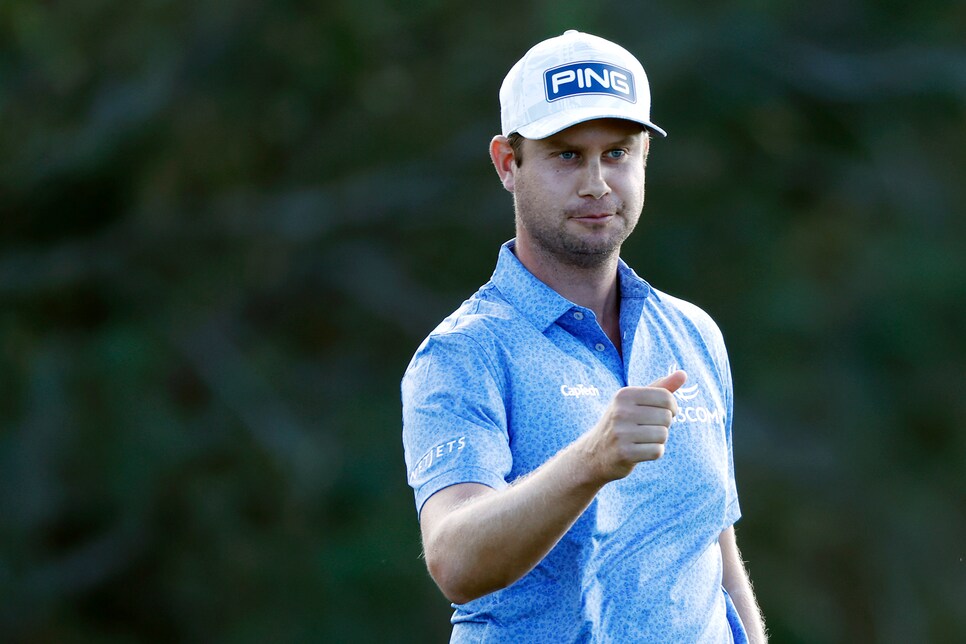 In case you thought 2021 was going to be any less weird than the year that preceded it, a non-champion won the Sentry Tournament of Champions. Riddle us that, Batman.
Of course, we knew there was a very good chance that would happen when the field was expanded to allow 2020 Tour Championship qualifiers in. We're not complaining, and neither is Harris English, who last played in the TOC in 2014, just a few months after claiming his second PGA Tour victory at the 2013 Mayakoba Golf Classic.
On Sunday, the 31-year-old Georgia Bulldog claimed his long-awaited third title, defeating Joaquin Niemann on the first hole of a sudden-death playoff. With the win, English is back in next year's TOC and is expected to vault inside the top 20 in the Official World Golf Ranking, which would be a career-best.
Here are four takeaways from the week at Kapalua.
Harris English deserved that one
In golf, you have to earn it. Nobody out there is interested in feel-good stories or handing out wins to guys who "deserve" them. But man, if anybody deserved to finally get it done (again) it was English, who had been played consistently good golf for more than a year. When he missed his eagle putt on the 72nd hole that would have won the tournament in regulation, it was beginning to feel like English winning for a third time on tour just wasn't meant to be. He said as much afterward.
"It's incredible, lot of hard work over the years and you just—you never really think you're going to get here again," English said after holing the winning birdie putt in a playoff. "It's hard to win out here. Had a really good chance this week, felt good about my game. Just had to get it done."
Perhaps no player has embodied the "it's hard to win out here" mantra more than English over the last 16 months. After finishing inside the top 20 in 11 of his first 17 starts to the 2019-20 season, English appeared ready to breakthrough again at The Northern Trust at TPC Boston. He played brilliantly that week, shooting a 19-under total, enough to ... lose by 11 strokes to Dustin Johnson. A month later, English was in excellent position to make a Sunday run at the U.S. Open at Winged Foot. His opening tee shot of the final round found the left rough, and it was so long that he and a massive search party couldn't find the ball, resulting in a penalty. English finished fourth.
So yeah, when he says it's "hard to win out here," he really means it. But that's what makes days like Sunday that much better.
"It's a little bit of a monkey off your back," he said. "Two years of job security is awesome. You're on a one-year contract out here, playing against the best in the world. A win gets you a few more years, so I'm really happy about that. I like where my game is going."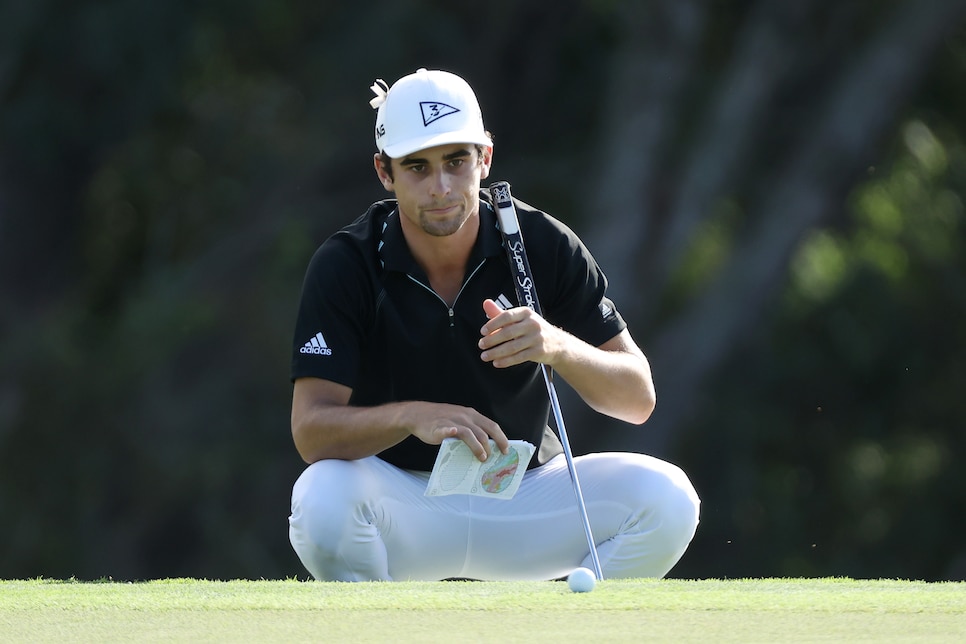 Joaquin Niemann is such a BALLER
Unlike English, Niemann isn't going to go seven years between victories. This dude is going to win again soon and then he's going to win many more times throughout his still young career.
On Sunday, which was without a doubt the windiest day of the week, Niemann was unmatched. At the start of his round, he could not miss with the putter in his hand. Of course, it helps that many of the putts were short, because he was throwing absolute darts all day. His ball flight was made to play in the wind, so it's not all that surprising he was able to go so low (64) on Sunday. He'll be kicking himself over making pars on the last two par 5s (and then making another par on 18 in the playoff), but he'll get over it very quickly, because that's what these young guys do. Speaking of, every time one young guy wins, another one pops up out of nowhere. The future of golf—Collin Morikawa, Matthew Wolff, Viktor Hovland, Joaquin Niemann, etc.—is in very good hands.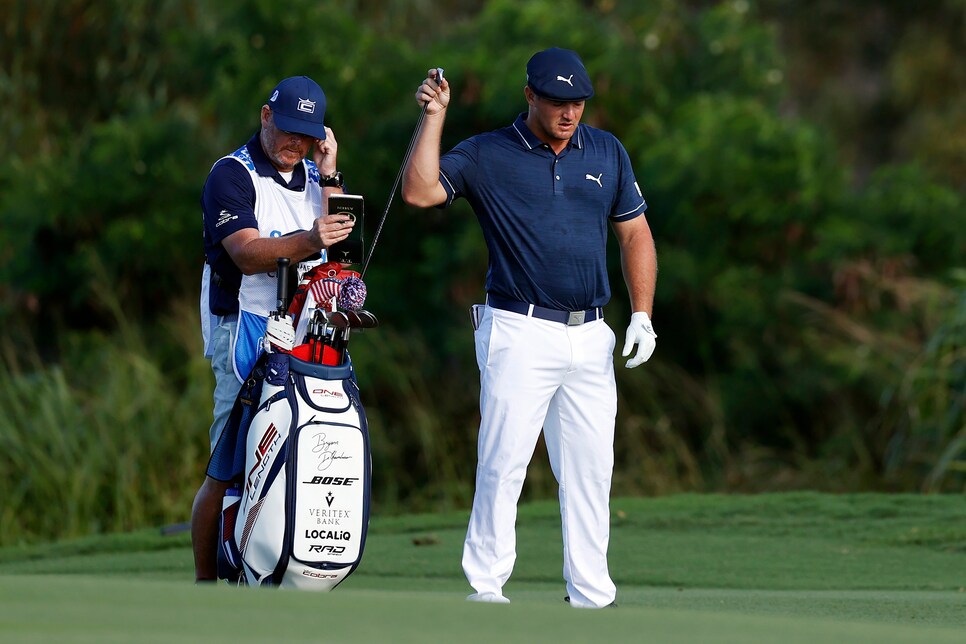 Bryson putted poorly—and still shot 20 under
For just the fifth time in his last 15 starts (not including the Masters, which doesn't have strokes-gained data), DeChambeau lost strokes with the putter this week. Remarkably, he still managed to shoot 20 under to tie for fifth, his eighth finish inside the top eight since the PGA Tour's COVID-19 restart last June. Not surprisingly, he ranked first in strokes gained/off-the-tee and second in driving distance, a product of his tireless offseason work with his new best bud Kyle Berkshire. It's scary to think about what he could have shot this week with a hot putter. 28 under? 32 under? 40 under? OK, too far, but maybe not.
DeChambeau, as only he can, believes he has another gear, particularly with the 48-inch driver, which he's yet to put into play on tour. He says he'll utilize it at a course that's a bit more open off the tee, which is odd given Kapalua is as open as it gets. The problem: He hits it too far for Kapalua.
"The 48-inch driver is always an opportunity. It depends on the golf course," DeChambeau told Golf Channel after shooting a Sunday 66 that included an eagle on his final hole. "It's got to be a golf course that's a little more wide open. I could be over 200 right now with that driver, but—I could have done it out here this week, again there's a lot of runouts that just wouldn't have fit this golf course, unfortunately, it would take it too far.
"Fifteen, I would have flown it through the fairway. Eighteen, it runs out, there's like a gully. It's just, it didn't really fit the model."
Alrighty then. When will we see Bryson next? Not sure yet, but hopefully wherever it is, it "fits the model" for the 48-inch driver. Feed us that content.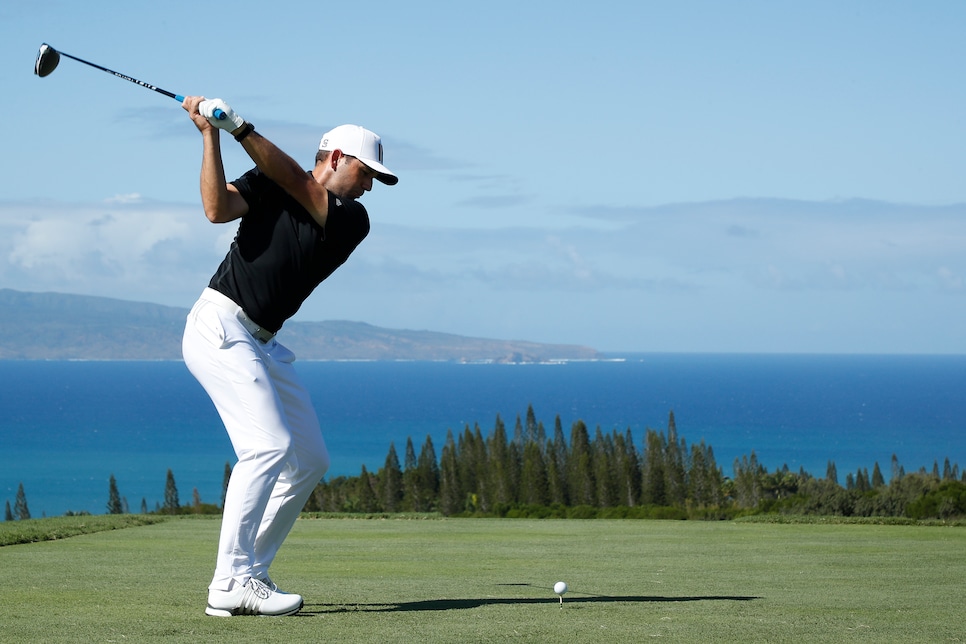 This take was floating around social media, and it's true: this event is one of, if not the, best TV experiences of the season. That was more true than ever this week, when we were all looking for a pleasant distraction. Kapalua provides that in abundance. The views are obviously spectacular, especially for those of us freezing our butts off in the Northeast. And the shots the Plantation course demands of the players are always entertaining to watch, even if the wind was a bit benign. That par-5 18th might be the best finisher on tour. I could watch hybrids and 3-woods come into that green all day. We're not going to rush the 2021 season, which promises to be SUPER, but we already can't wait until the 2022 Sentry TOC.