News
Bryson DeChambeau got a new BFF in the offseason and started working out so hard he often nearly passed out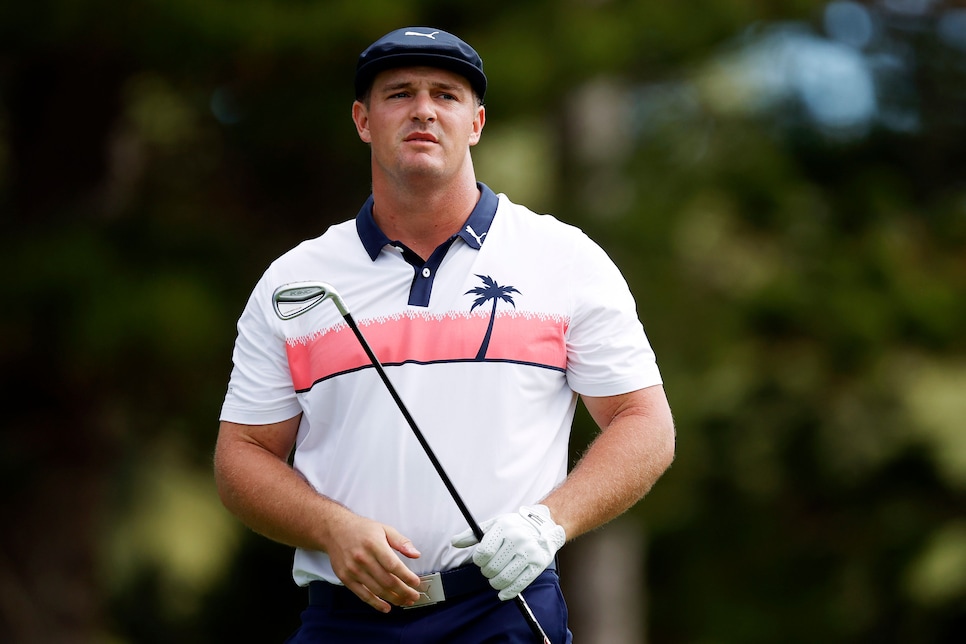 Bryson DeChambeau plays his tee shot on the second hole during the first round of the 2021 Sentry Tournament Of Champions.
Cliff Hawkins
KAPALUA, Hawaii — The 18th hole on the Plantation Course measures 675 yards, although it's all runway and tumble down the volcanic island paradise toward the Pacific. Still, Bryson DeChambeau needed just 7-iron to reach the green in two during Thursday's opening round of the Sentry Tournament of Champions.
"So I implemented some of his techniques," DeChambeau said after posting a four-under 69 in his first official round of 2021. "A lot of it has to do with pushing the limits of your body and going for long hours of swinging your golf club with a golf ball and trying to help up the ball speed."
"I don't know if you've ever experienced a runner's high or something like that where you get these extra endorphins and that's kind of what breaks your neurological CNS, I guess, is what breaks your nervous system down, which is a great thing. And over time as you keep building it and you keep pushing it and pushing it, [it] just keeps going up and up."
And there's still more. DeChambeau asked how hard Berkshire might push it while practicing, and Berkshire responded "Until I blackout." DeChambeau was then asked if he ever got to a blackout point then in the offseason:
"Yes. Numerous times. There was times where I was seeing a tunnel and I had to stop. I mean, you just have to stop. That's about when you stop. There's a lot to it."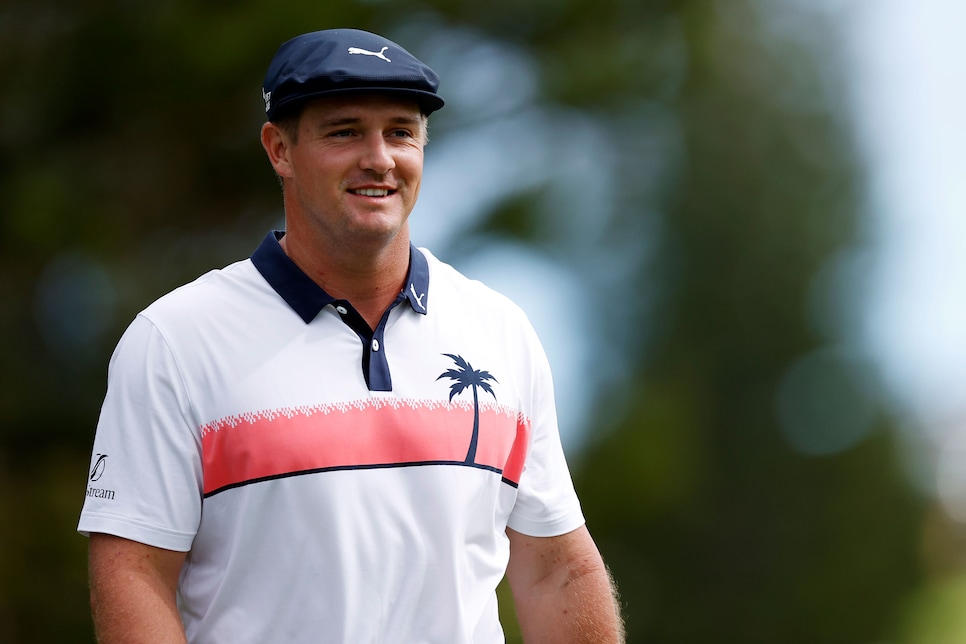 Bryson DeChambeau walks on the second hole during the first round of the Sentry at the Kapalua Plantation Course.
Cliff Hawkins
So much so that the 27-year-old reigning U.S. Open champion, said he nearly passed out on multiple occasions in his pursuit of more clubhead and ball speed when training at home.
Last year, he averaged just past 198 mph in ball speed, best on the PGA Tour. His goal this year is to add roughly 10 mph to that.
"I'm going to keep getting speed until I try and get around 205 to 210 [mph]," he said. "Once I achieve those speeds and I'm comfortable with that, not trying to swing my butt off, it just happens naturally, that's when I'll probably stop and go down the chipping rabbit hole and try and understand my chipping and wedging a lot better."
The rest of his game wasn't too bad, either. Or at least it didn't show much in the way of rust in what his first round in two months.
DeChambeau made five birdies and just one bogey in the opening round. He was four strokes off the lead through 18 holes and smiling about his continued bombs-away approach.
"It took a little bit to get comfortable with the new speed that I have," he said. "I'm moving a little differently, so golf swing's a little different and I've got a learn how to perform with that."
As for what all that extra speed adds up to?
"Depending upon the right situation it could be 40, 50 yards if it's firm and downwind," he said. "In normal conditions it's probably going to fly about 20 yards farther.
"I'm hitting my 8-iron 205 right now. So it's kind of nice to have that in the bag, right?"