Voices
Watching Greg Norman watch his 1996 Masters collapse in 'Shark' is uncomfortable yet impossible to turn off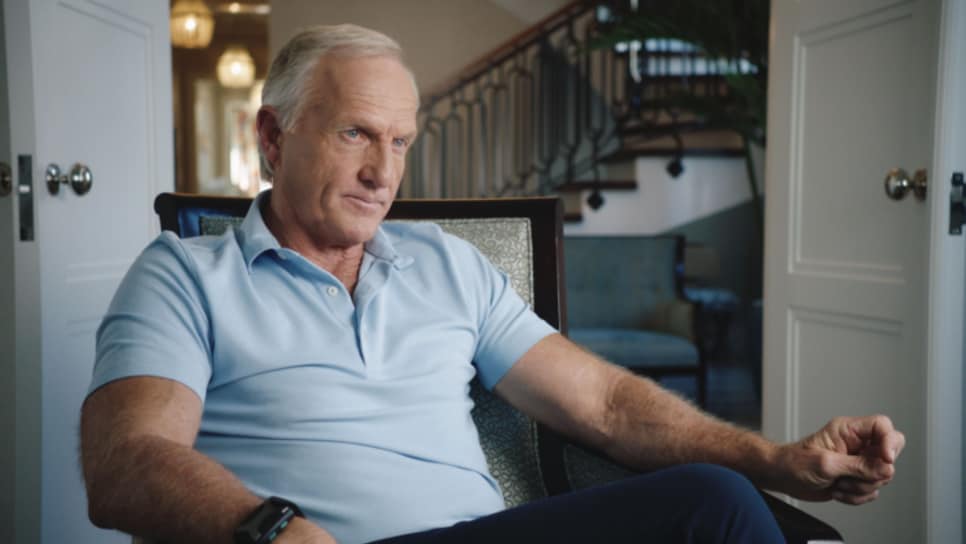 There is a moment early on in "Shark," ESPN's latest 30 for 30 documentary film, when you hear the soothing voice of CBS veteran broadcaster Verne Lundquist say, "This one might go down as one of the greatest final-round collapses in major tournament history." The viewer has just been shown a highlight from the 1996 Masters, when Greg Norman nearly chips in at the 15th hole and then falls to the ground as the ball veers past the cup. The camera pulls back, and you see that Norman is hearing those words as he watches the highlight on a laptop. He rests his face on his hand, and then he lets a finger drop over his lips. He looks off in the distance. He doesn't say a word.
It is an awkward few seconds that auger more uncomfortable moments to come. "Shark" is a montage of Norman's playing career—his star turn as the charismatic actor who held the World No. 1 ranking for 331 weeks in the 1980 and '90s, and, of course, his many star-crossed episodes in major championships. But throughout the one-hour program, which premieres at 8:30 p.m. ET on Tuesday, April 19, there is the tenor of omnipresent funereal dread, because woven throughout the narrative is the crushing defeat Norman suffered at Augusta National Golf Club 26 years ago.
Norman at one point concedes that viewing his life and career through the prism of his Masters disappointments, particularly '96, has some relevance. "I think my history there [at Augusta] is more entrenched than some guys who have won a green jacket, to be honest with you," he says.
Perhaps that's why, astonishingly, he agreed to be filmed taking a tour of Augusta National and even playing a few holes last May, not long after Hideki Matsuyama captured the 2021 title. Nick Faldo, who in '96 vanquished the Shark with a brilliant 67 to overcome that seemingly insurmountable six-stroke deficit, was stunned to learn Norman agreed to go back to Augusta to relive some moments.
And yet, you find yourself curious to go along with him.
A line that resonates throughout this hour-long film comes near the beginning: "The tragedy is not that he loses, but that he almost wins. That's the compelling nature of Greg." Documenting those various "almost" incidents is the compelling nature of "Shark," co-directed by Thomas Odelfelt and Jason Hehir, the latter who directed "The Last Dance," the immensely captivating 10-part series on Michael Jordan that aired in 2020. The two offerings in the canon could not be more different in tone, however, owing largely to the climax. We know Jordan wins. We know Norman loses.
We were scheduled to interview the directors last week, but ESPN canceled and could not (or would not?) make time another day. Our guess (and strictly a guess) is 11th-hour editing. The 76-minute rough cut that ESPN provided for review included a comprehensive rundown of the ups and downs of Norman's career—he really did have some ups, including two Open Championship wins and his business successes—but it all proceeds toward a painstaking breakdown of his '96 collapse.
Speaking of pain, if there is just one reason to set your DVR for "Shark," it's for following his tour of Augusta National last year, and even more so for those segments when we watch Norman watching his '96 meltdown, which provoke undeniable feelings of agitation. It's beyond cringe.
The directors even ask him, "Can you watch this round?"
"No. No need to," the 67-year-old Aussie replies.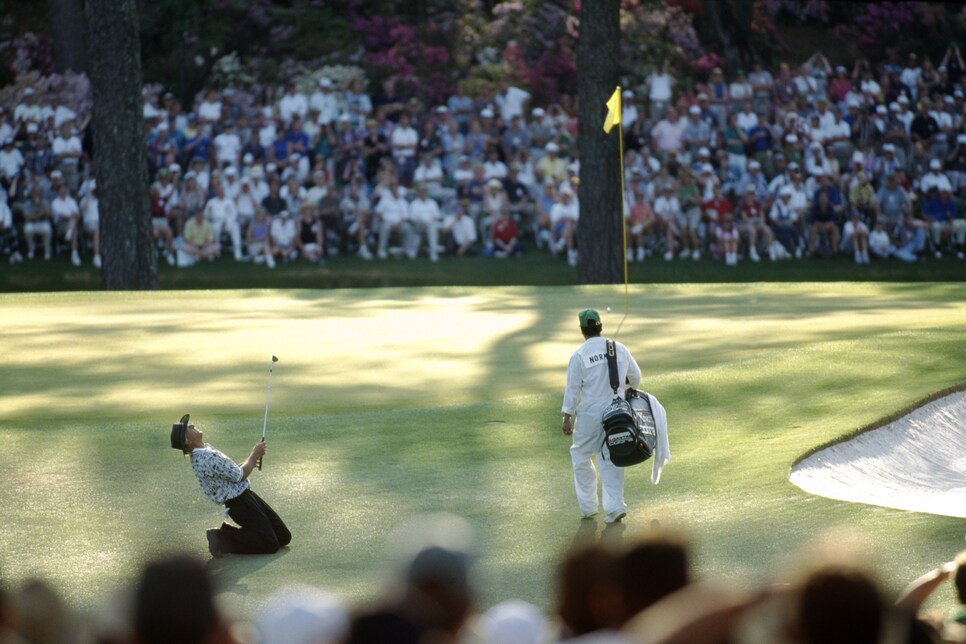 Norman reacts after just missing his chip in on the 15th hole at Augusta National.
Stephen Szurlej
And then the Shark proceeds to figuratively fillet himself and relive what had to be the single most heartbreaking round of his career. You almost feel like turning away, but how can you? If Norman is willing, inexplicably, to put himself through reliving such a black chapter with the cameras rolling, then we owe it to him to stick it out until the end.
Interjected into the highlights of that surreal Sunday is Norman, during his visit last May, re-playing what he said was the key shot of that round. He hits it well and says with a laugh, "I'd have taken that Sunday in '96." We won't spoil the moment by telling you where it occurs. The program lingers at Augusta to a finish that is powerful and poignant, and no matter how you feel about Norman and his current activities in the sport, there is no escaping the sense that you are watching a man confronting not just the loss of the one tournament title he coveted more than any other, but also, sadly, the loss of a legacy different from the one he carries today.
We'd be remiss in not giving a grudging nod to Norman for permitting such a probing analysis of his several soul-crushing setbacks. You'll find yourself stupefied at times by his introspection—though it's up to the viewer to decide how genuine are his sentiments. In the balance, however, there's no escaping recognition of a triumph for the directors, who bring us the rawest and most revealing review of loss in modern sports history.