The Loop
Good, bad, and (really) ugly: How Saquon Barkley stacks up to other NFL Draft top-10 RBs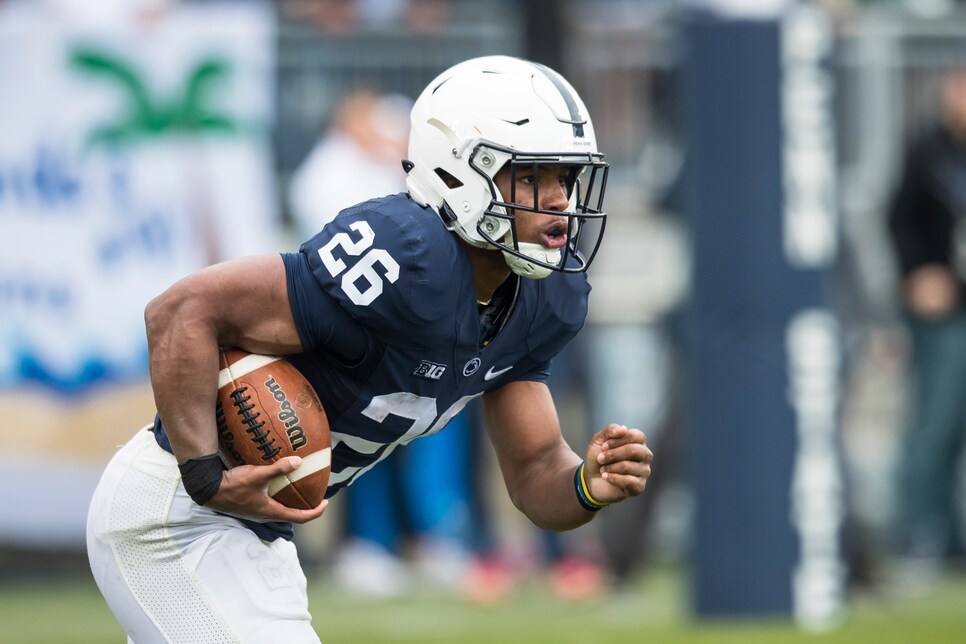 After what's felt like years of mind-numbing mock drafts and soon-to-be-very-wrong fiery takes from talking heads, the NFL Draft will finally occur on Thursday night. But first, a pregame show on one channel followed by a pregame show on another channel followed by "the Cleveland Browns are officially on the clock for the 20th straight year!" followed by 20 minutes of war room camera views followed by "the pick is in" followed by Adam Schefter ruining it for everybody on Twitter followed by holy shit this is what we were waiting for? Someone just put the Yankee game on.
While the draft can certainly be frustrating, the 2018 edition is receiving a ton of "most-anticipated draft ever" distinctions, and rightfully so. The quarterback class alone will make round one extremely chaotic, although it will still be tough to top Laremy Tunsil smoking weed out of a gas mask and the video being played during the draft. That really happened, still can't believe it.
Even with all the quarterback uncertainty, there does seem to be one pick we can all count on, and that's Penn State running back Saquon Barkley being taken at some point in the top 10. Will it be Cleveland at 1 or 4? Will it be the New York Giants at 2? Will he fall past 5 after everybody gets their hands on a QB? Wherever he's taken, Saquon feels like the only sure thing in the top 10, and should instantly cement himself as whichever offense's top player in both the running and passing game.
That got us thinking, how have teams fared in taking a running back in the top 10? Yes, the NFL has changed, and taking a running back early back in the 80s was a much different move than taking one that early now. But even looking at recent history would suggest if the guy is a can't-miss prospect, he's probably worth spending the early pick on. Of course, there have been misses, too. Here's the good, bad and (really) ugly (like murderer ugly, not to get dark), of running backs taken in the top 10 of the NFL Draft.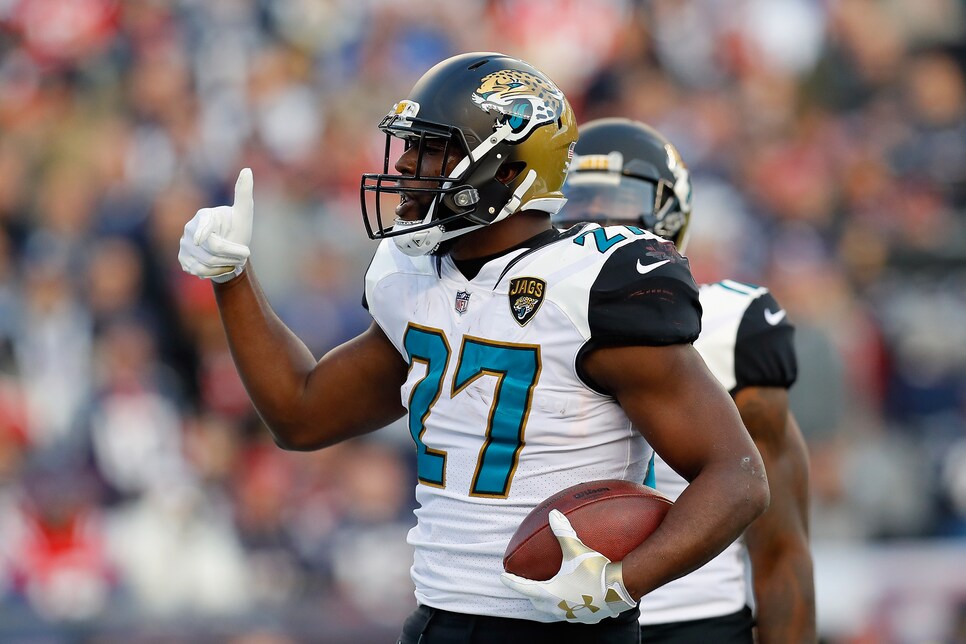 2017 - Leonard Fournette (4th pick), Christian McCaffery (8th pick)
2016 - Ezekiel Elliot (4th pick)
2015 - Todd Gurley (10th pick)
Besides some of Elliot's, um, "off-the-field" troubles, it's hard to find anything to complain about from this group. Looking back, getting Gurley in the 10-spot now seems like a steal. As for Fournette and McCaffery, both do very different things for their respective offenses, but they will both be around for years to come in both Jacksonville and Carolina. Believe it or not, these are five of the seven RBs taken in the top 10 since 2010. So that's a pretty good conversion rate. As for the other two, we'll get to them in the bad, and possibly ugly sections.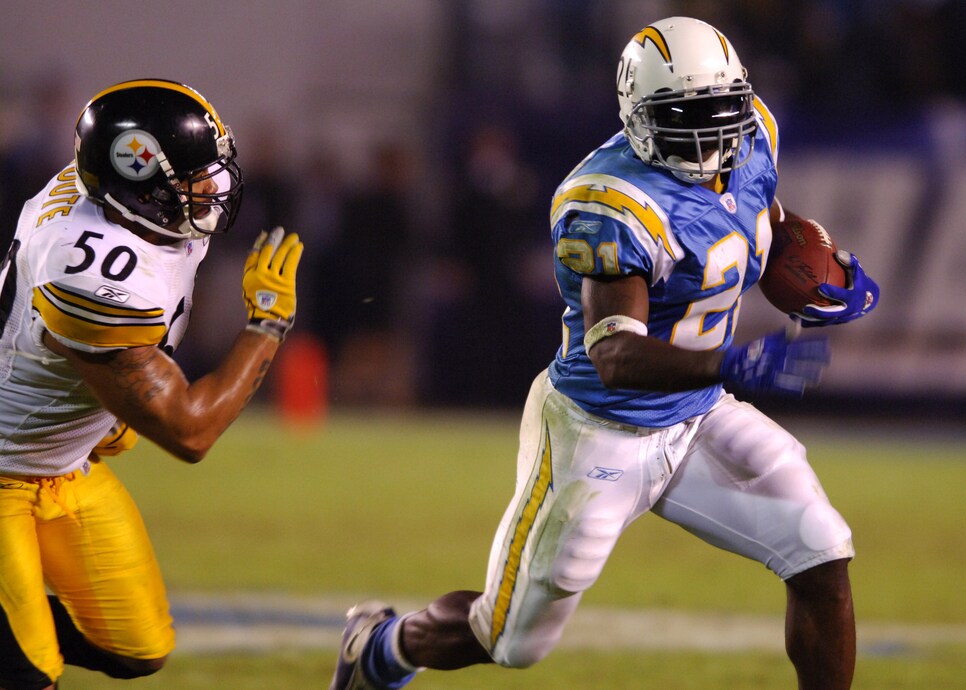 2007 - Adrian Peterson (7th pick)
2001 - LaDainian Tomlinson (5th pick)
2000 - Jamal Lewis (5th pick), Thomas Jones (7th pick)
In order to be considered in the "good" category, the player probably should have stayed on the team that drafted him for an extended period of time, thus making the draft pick worth it. In other words, it's hard to put Thomas Jones in this group, considering he only played three seasons for the Arizona Cardinals, just 39 games total. But Jones went on to have an incredible career, rushing for 10,591 yards, good enough for 25th on the all-time list. So the Cardinals had the right idea, just didn't execute. As for the other three, its fair to say those picks worked out for Minnesota, San Diego and Baltimore.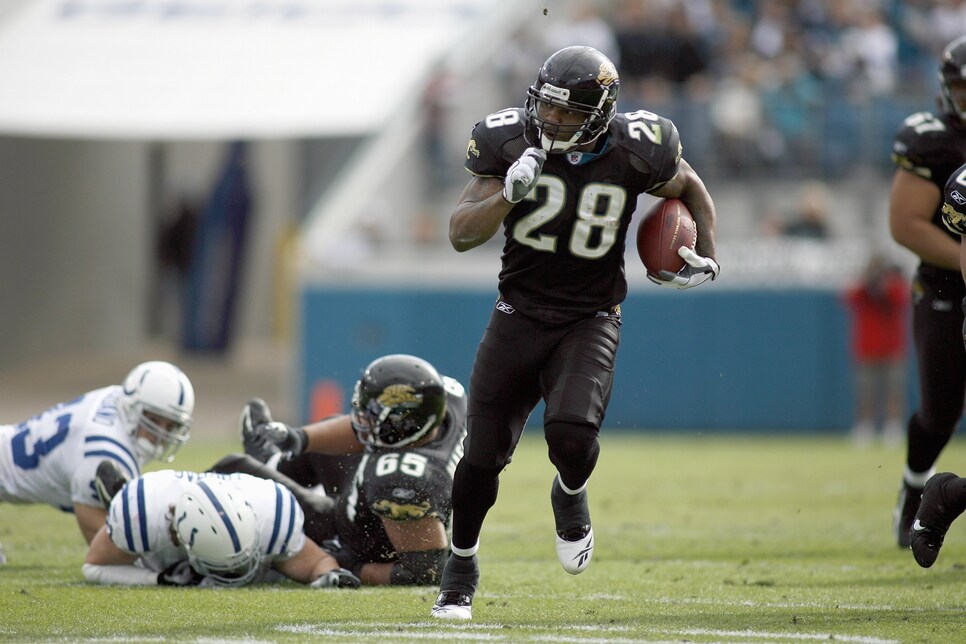 1999 - Edgerrin James (4th pick)
1998 - Fred Taylor (9th pick)
1994 - Marshall Faulk (2nd pick)
1993 - Jerome Bettis (10th pick)
Looking at this quartet, one might think "score one for the take an RB early crowd", but just wait until we get to the bad and ugly sections of the 1990s..
Having said that, this is a solid group, two of them Hall-of-Famers and all four of them in the top 17 on the all-time rushing yards list.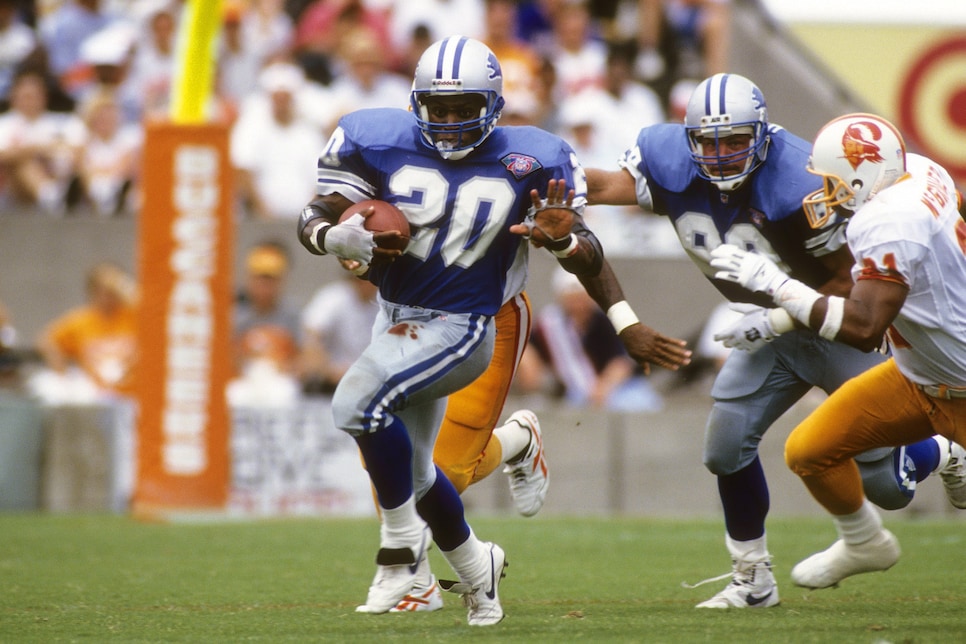 1989 - Barry Sanders (3rd pick)
1986 - Bo Jackson (1st pick)
1983 - Eric Dickerson (2nd pick)
1982 - Marcus Allen (10th pick)
I'm no NFL Draft expert, but these seem like pretty solid picks. Yes, I understand the pick ultimately didn't pan out for Oakland, but just shut up, it's Bo Freakin' Jackson. Have some respect.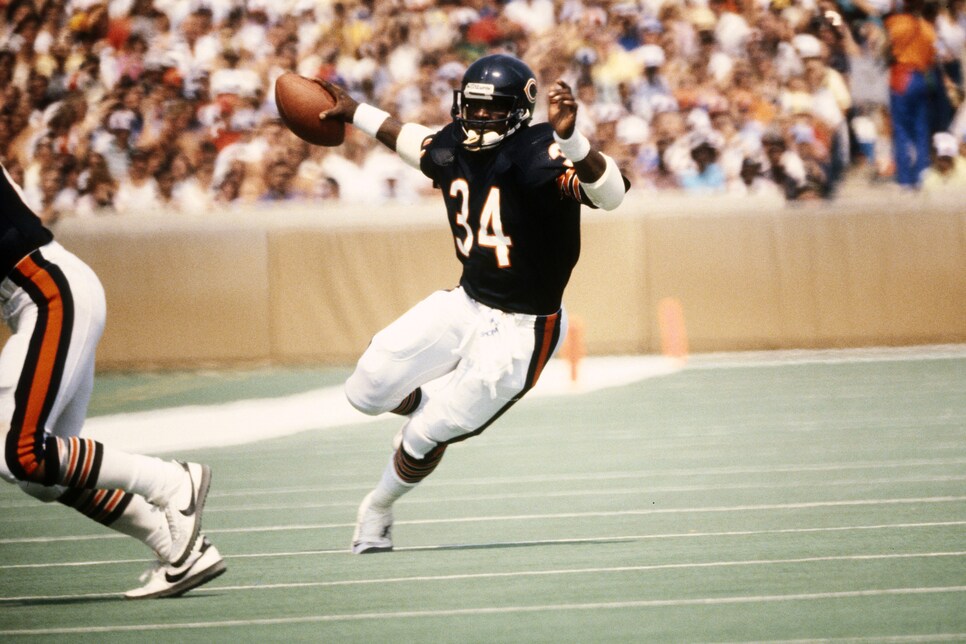 1979 - Ottis Anderson (8th pick)
1978 - Earl Campbell (1st pick)
1977 - Tony Dorsett (2nd pick)
1975 - Walter Payton (4th pick)
You thought the 80s was strong? The 70s featured a bunch of bell cows with Payton (No. 2 all-time in rushing yards, No. 4 all-time in TDs, HOFer), Dorsett (No. 9 all-time in yards, HOFer), Campbell (HOFer) and Anderson (No. 18 in TDs, Super Bowl XXV MVP). Anderson's career is remembered for that MVP performance on his second team, the New York Giants, but he made sure his first team got the most out of their draft pick, rushing for nearly 8,000 yards and 46 TDs in eight seasons for the Cardinals.
pre-1970s honorable mentions
If you're reading The Loop, I doubt you'll yell at a cloud over our lack of respect for pre-1970s drafted running backs, but we don't have all day here. Yes, Larry Csonka is a legend, and yes, O.J. Simpson.... you know what, let's move on.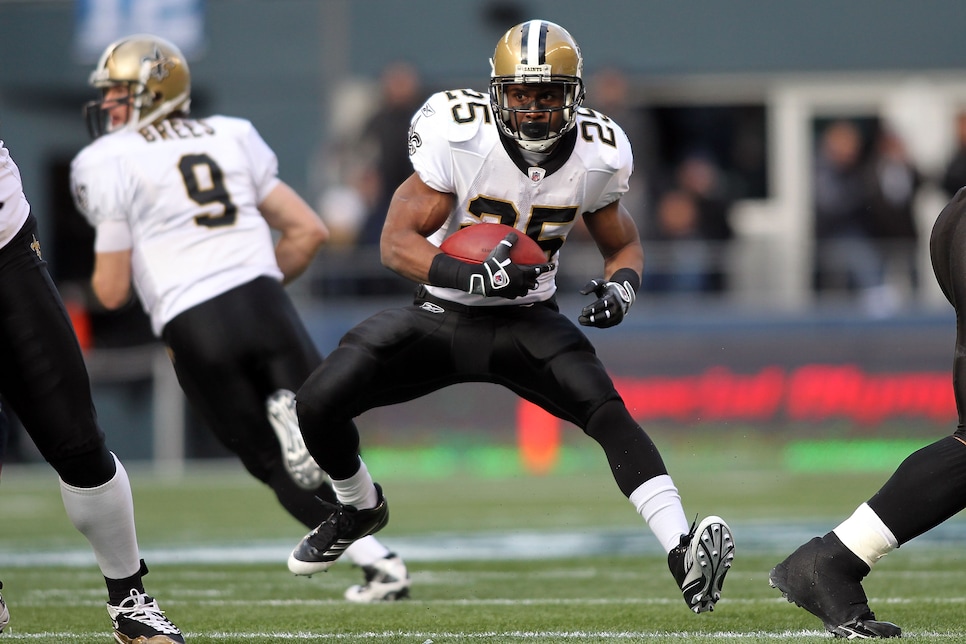 2010 - C.J. Spiller (9th pick)
2008 - Darren McFadden (4th pick)
2006 - Reggie Bush (2nd pick)
2005 - Ronnie Brown (2nd pick), Cedric Benson (4th pick), Cadillac Williams (5th pick)
To be fair to Spiller, McFadden, Bush and Brown, they were all pretty versatile backs for their respective first teams, and they all had respectable stats. But respectable usually doesn't cut it for top 10 picks, top 2 in the case of Brown and Bush. As for Benson and Cadillac, yeah, not so good. Legends in college, though.
1993 - Garrison Hearst (3rd pick)
1986 - Keith Byars (10th pick)
1983 - Curt Warner (3rd pick)
1982 - Darrin Nelson (7th pick), Gerald Riggs (9th pick)
1981 - George Rogers (1st pick), Freeman McNeil (3rd pick)
1980 - Billy Sims (1st pick), Curtis Dickey (5th pick)
Every single one of these guys went on to have a solid NFL career, some even on their original teams for many years. But again, if you're going to take a running back in the top 5 and even the top 10, you're looking for a little more than that. Not to mention some of the running back competition these guys had in the 80s, which is likely why their careers might be viewed as just middle-of-the-pack.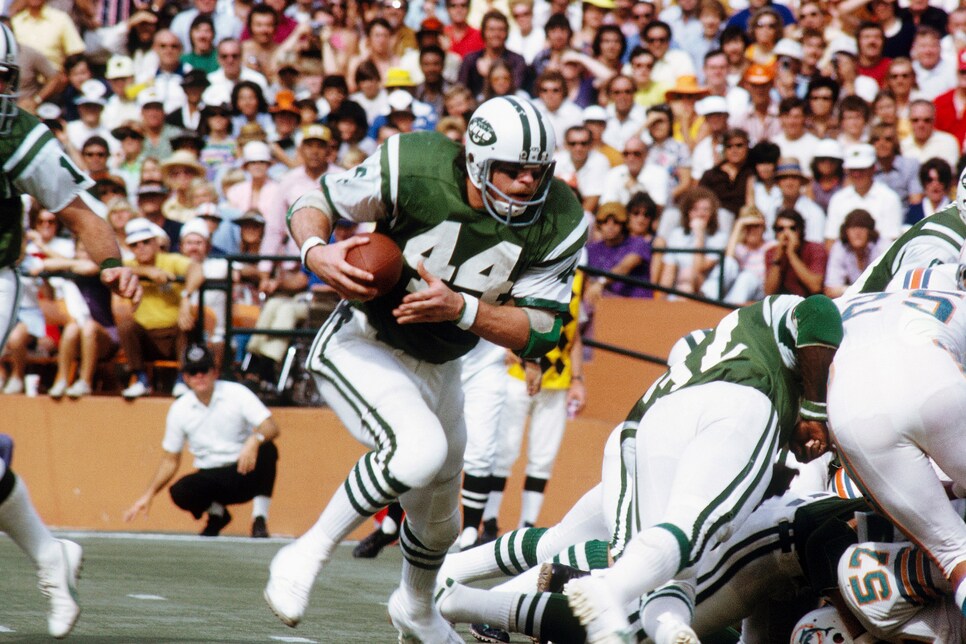 1976 - Chuck Muncie (3rd pick), Joe Washington (4th pick), Mike Pruitt (7th pick), Bubba Bean (9th pick)
1973 - Otis Armstrong (9th pick)
1971 - John Riggins (6th pick), John Brockington (9th pick)
Many of you are sitting with your mouth agape wondering, "how dare he besmirch John Riggins' name" and you're 100-percent right, but he was taken sixth overall by the Jets, where he ran for over 1,000 yards just once in five seasons. Of course, he went on to have a legendary, Hall-of-Fame career in Washington, rushing for over 7,400 yards and 79 TDs as a Redskin.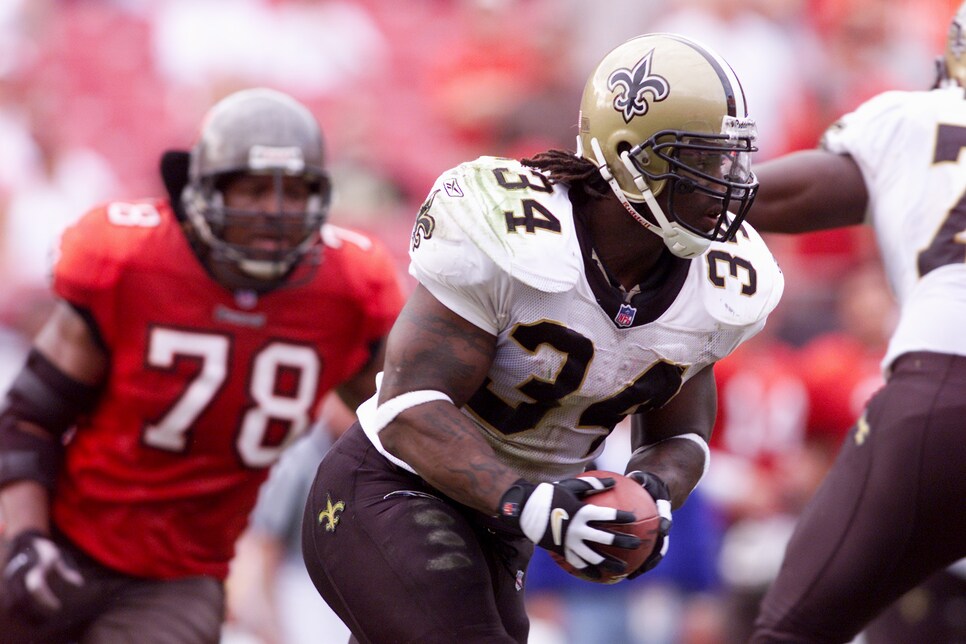 Going to do these in rapid fire fashion, with a short fact on just how ugly it was.
2012 - Trent Richardson (3rd pick)
1999 - Ricky Williams (5th pick)
All things considered, Williams had plenty of highs in his NFL career (get it? highs? he smokes pot), but being traded for an ENTIRE NFL DRAFT, retiring in your prime and getting suspended for a season (drugz r bad) doesn't help your chances of being looked back on as an all-time great. Still ran for over 10,000 yards and 66 TDs, which is pretty remarkable considering he was likely stoned the whole time.
1998 - Curtis Enis (5th pick)
1996 - Lawrence Phillips (6th pick)
1996 - Tim Biakabutuka (8th pick)
Six seasons, just 50 total games played and a career-high season of 718 rushing yards doesn't scream No. 8 overall.
1995 - Ki-Jana Carter (1st pick)
Are Penn State running backs cursed? Something to think about for teams considering Barkley.
1990 - Blair Thomas (2nd pick)
You'll never guess what college he attended ... And to think, Emmitt Smith was drafted 15 picks later. Never change, Jets.
1989 - Tim Worley (7th pick), Sammie Smith (9th pick)
These two had the unfortunate burden of being drafted a couple picks after Barry Sanders. Hard to blame them.
1987 - Alonzo Highsmith (3rd pick), Brent Fullwood (4th pick)
Both technically full backs, which makes the 1987 draft possibly the worst ever. I mean, Vinny Testaverde was the first pick.
1978 - Terry Miller (5th pick)
Look, if you want to google Terry Miller and see where that takes you, be my guest. All I'm saying is the first results are not of the 1976 No. 5 pick, which means he probably wasn't good. Also, don't google Terry Miller.
1977 - Ricky Bell (1st pick)
One TD your rookie season is less than ideal for a No. 1 pick.
1970 - Larry Stegent (8th pick)