The Loop
Since we all hate the NFL now, can we stop obsessing about offseason minutiae?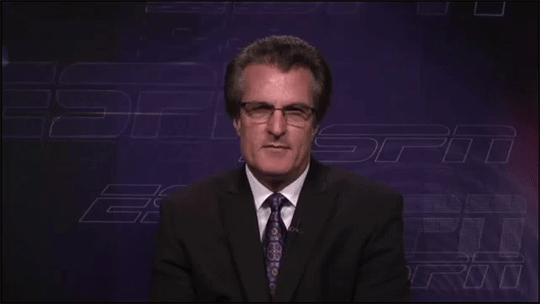 To judge by the coverage generated during this past season, hatred of the NFL is literally the one and only issue on which Americans can agree. The antipathy has different root causes, of course, depending on whether you're coming from the right or the left, but the end result is the same: The SHIELD has never enjoyed such a poor image among its potential fan base. It affected TV ratings, too, which were down a full ten percent from 2017. But let's not get carried away—this is still far and away the most popular sports league in America, and even as we rage against kneelers and concussions, we still tune in by the million. This will not change, and the NFL as an institution will not disappear anytime soon. I'm not even asking for that—in fact, even as someone who hasn't watched a full regular season game in ages (for reasons that are not political in the least), I still think the playoffs and Super Bowl are great sports entertainment.
Here's my only request, now that we've entered a new, NFL-critical age: Can we cut down on the offseason obsessions? On Sunday, April 8, the Yankees were amazing, an incredible final round was about to start at Augusta, and these were are the top two headlines on ESPN.com:
OBJ to report for Giants' conditioning program
LB Smith arrested again, held on $500k bond
Manziel tosses TD in first game in 832 days
There are six headlines total in the "Top Headlines" section, and three of them are about the NFL. Again, it's April. The last game was played in early February. The next season opener will be played in early September. This should be an NFL dead zone. Instead, we're treated to a story about an idiotic receiver agreeing to attempt to get in shape, an idiotic linebacker who can't stop getting in trouble, and an idiotic quarterback who managed to get out of his own way long enough to throw a touchdown in a meaningless spring game.
I'm not picking on ESPN, either—they happen to be the biggest and most visible outlet, but I'm sure any other broad sports website would feature the same mix. It's no different on TV, where anchors breeze past NBA playoff highlights in June to ask some thunderheaded analyst how the Broncos will cope with their third-string linebacker coming down with a bout of chronic turf toe. And it's no different on radio, of course—I have spent a lifetime lamenting the fact that the braying emcees of the Scooter and Jock Power Hour would rather butt heads about whether Jameis Winston's teammates respect him as a leader than spend a second on baseball...in July. I hate it. I would rather listen to in-depth analysis about the digestive habits of each horse in the Kentucky Derby than hear a word about the NFL before late August.
I know why this happens, OK. I know. The NFL moves the needle. People care, even still. But if the league is truly on the way down, at least grant this small concession to those of us who long for some variety in the sports media market. Stop obsessing. Stop with the meaningless minutiae. Stop living and dying with every off-the-field act of every overgrown child. Pay attention to baseball, or golf, or tennis, or soccer, or literally anything else. I promise you the destructive giants will be back on the field in September, and we can gather our political pitchforks and detest the entire league for another winter. Until then, let's try something a little novel, and content ourselves with hating football in silence.
Now then...let's have some superlatives!
The Most Padres Way to Padre a Padre: The Padres
Tie ballgame, ninth inning, two outs, man on second. Pay close attention to the the first baseman, because therein lies the comic genius:
This is such a Little League way to end a game, and I'm not even talking about the really good Williamsport Little Leaguers. I'm talking about the team in the small town league where the coach had to miss the organizing meeting and all the other dads took the good players, leaving him without a first baseman who can judge a routine pop-up. That's the San Diego Padres, forever and ever.
Baseball Messiah of the Week: Shohei Ohtani, Angels
Who is Shohei Ohtani? Oh, he's just some Angels player who hit a 449-foot home run as DH the other day:
So, just a really good hitter. No big deal. Seen it. Oh, but one other thing: He also pitches. He can dial up a 100 mph fastball, and his breaking stuff is filthy. He started on Sunday, and had a perfect game going into the 7th inning. Check him:
Yup. Pitches. Hits. Does both things. Is that unique? Is that special? Am I just repeating myself because I'm stunned that a player like this exists in the modern era of specialization? Is this kind of like someone playing quarterback and linebacker at the same time? Is my brain going to melt?
I mean, my God, LOOK AT THESE STATS:
This guy is Babe Ruth. He's actually Babe Ruth. What a year this is going to be.
Your Sports Twitter Follow of the Week: PitcherList
I've been following Nick at Pitcher List since the old days (2014), and if you're as fascinated with great pitching as I am, or even if you're just mildly interested, it's hard to think of a more satisfying baseball follow. His website has lots of terrific data, and you should absolutely check that out too, but if you're an extremely online Twitter soul like myself, his feed contains gems like this:
As someone getting back into baseball this year mostly because the Yankees have assembled Murderers Row 2.0, Nick is reminding me how much I love the art of pitching. I think—think—a nasty slider gives me even more satisfaction than a sweet Aaron Judge dinger. Sometimes.
Worst Baseball Pitchers of the Week: The U.S. Men's Curling Team
I don't want to spoil a joke by over-explaining it, but please just take a moment to watch all five ceremonial first pitches from the gold medal-winning U.S. men's curling team. Each one is special and wonderful in its own way.