Viral Videos
Golf Twitter grabbed its collective popcorn over this Billy Horschel-Ian Poulter interaction caught on fan video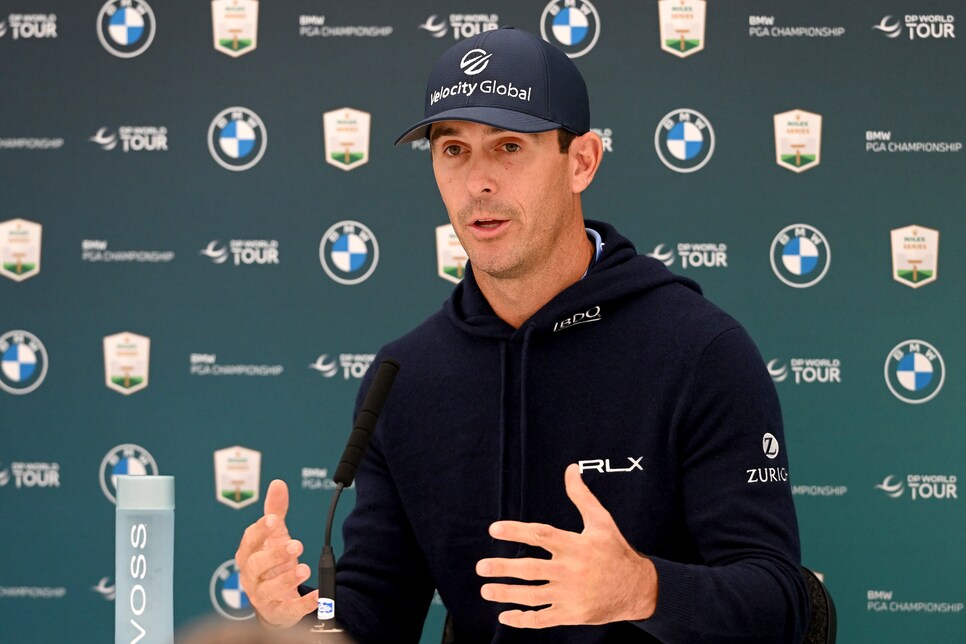 To be clear, we do NOT know what Billy Horschel and Ian Poulter said to each other in the following video clip captured by someone at this week's BMW PGA Championship. They could have been catching up about the series finale of "Better Call Saul" (so good) or talking trash about their respective soccer teams (Horschel reps West Ham while Poulter is an Arsenal fan). So we don't want to speculate. HOWEVAH, we can provide a little context as to why they might have had more than your typical friendly chit-chat on Wednesday. Because, well, it certainly didn't look like your typical friendly chit-chat.
As golf fans are aware, tensions have been building between PGA Tour players and guys joining LIV Golf. Those defecting from the tour have received bans and in the case of Cameron Smith, even lost a prime parking spot at tour headquarters. And Horschel has been one of the most vocal golfers when it comes to addressing this fracture in the pro game.
That continued on Tuesday at his press conference ahead of the BMW PGA Championship, the flagship event of the DP World Tour (formerly the European Tour), which entered into a strategic alliance with the PGA Tour earlier this year to combat the rise of LIV Golf. Horschel, the event's defending champ, literally asked, "Why are you here?" of the 19 LIV golfers who signed up to play in this event.
As one of those golfer, Talor Gooch, pointed out on Twitter after, there are probably some European players wondering the same thing about Horschel, but point is, Billy turned up the heat on what was already an awkward situation. And then there was this awkward-looking interaction on Wednesday between Billy and Ian, another LIV guy, in which Poulter even puts his hand on Horschel. OK, enough talking about it! Let's look at the tape!
Interesting, right? Again, it could be NOTHING. Or just some spirited FUTBOL talk. But given all that's taken place on the professional golf landscape, it also could—emphasis on could—be a bit spicy, no? Although, as someone pointed out, it couldn't have been that heated if Poulter's caddie left him there by himeslf. In any event, Golf Twitter grabbed its collective popcorn and offered some thoughts.
Seriously, we need a full investigation to get to the bottom of this. Are there any lip readers out there? Unfortunately, Horschel and Poulter aren't paired together for the first two rounds at Wentworth, but maybe if we all pray to the golf gods they'll meet up again on the weekend.