News
Golf Channel trio takes USGA to task for U.S. Open course setup: 'Sadly, we took a step back'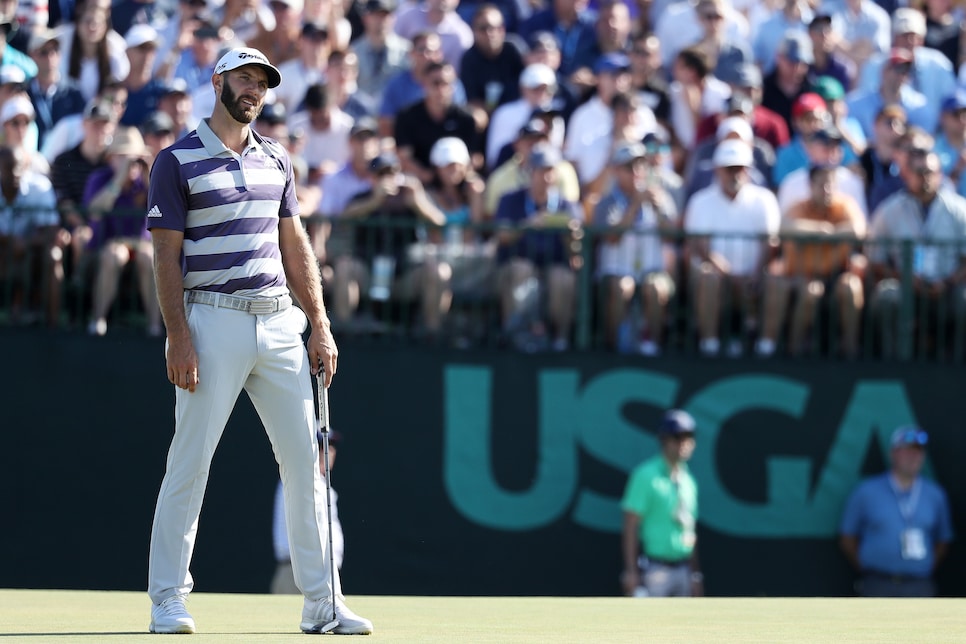 When you're looking for unfettered analysis of a controversy, in this case the setup of Shinnecock Hills for the third round of the U.S. Open on Saturday, best to look elsewhere than the rights holder, Fox Sports, and its long-term contract to air USGA events.
Not that Fox did not cover its bases on reporting the controversies, but unfettered should send you to Golf Channel's "Live From the U.S. Open." Its formidable trio of Brandel Chamblee, Frank Nobilo and David Duval did not disappoint, by declining, predictably, to temper their opinions. Where to even start?
We'll start with Nobilo's summation: "I know a razor edge is a very, very fine line. We've got to broaden that line. It's not like what happened back in 2004 [the last Open held at Shinnecock], but it's eerily close. This week we took a step forward coming back to Shinnecock, but today, sadly, we took a step back."
Chamblee, true to form, began with statistics, noting that the first five groups' average score was 73.2 and the last five was 76.7. He acknowledged the added pressure of those in contention, but countered with the fact that their form had been substantially superior over the first 36 holes.
So, stand back. Here he goes:
"We should not be talking about the condition of the golf course, the setup of the golf course," he said. "What we should be talking about is who played the best today, why they played the best, and not because their tee time gave them some significant advantage over people playing late.
"If indeed they got the first round right given the harsh conditions and indeed the second round was without controversy, the USGA is now one for three. That may get you in the Hall of Fame in baseball, but it is far below of what is acceptable when you're setting up a golf course.
"Look at the controversy at Chambers Bay [U.S. Open site in 2015] and again here. That's two out of the last three U.S. Open that have called into question their integrity. It doesn't happen at any other major championship. But it consistently happens here. Why? Because the agronomy today, the success that they've had is inconsistent with the architecture of the past. They can simply get greens too fast for the way they were designed.
"I was at a course superintendent meeting about four, five six years ago, and they were talking about how bad the Stimpmeter has been for the game of golf. Almost universally the course superintendents agreed. They thought there was far too much pressure to keep the greens at a level that was inconsistent with the great designs that were a hundred-some odd years ago. What happened? Two-thousand-four, 14 years ago, they promised us it wouldn't have happened again. Well, it happened again. Promises, they didn't hold water."
Duval's point was that USGA officials were comfortable with how the course was set up for the morning groups. "But you know it's going to change, you know it's going to speed up," he said. "So if you like it then, doesn't that mean you're probably not going to like it in the afternoon if it's set the way you want it at nine or 10 in the morning? That's a question I have a little bit of a problem with.
"I believe that you've got to have a little bit of leeway, a little bit of cushion, in how you set them up in case things like this happen today."
Nobilo had the last word. "Just to put a bow on it," he said, "the world number one, Dustin Johnson, come off an unbelievable run of form lately, he was honest to a fault. He said, 'I played pretty good.' Best player in the world. Didn't blow that out. He shot 77. Is that how we want golf?"