News
Paul Azinger on Phil Mickelson's explanation: 'He's going to run for office one of these days and he'll be the spin master'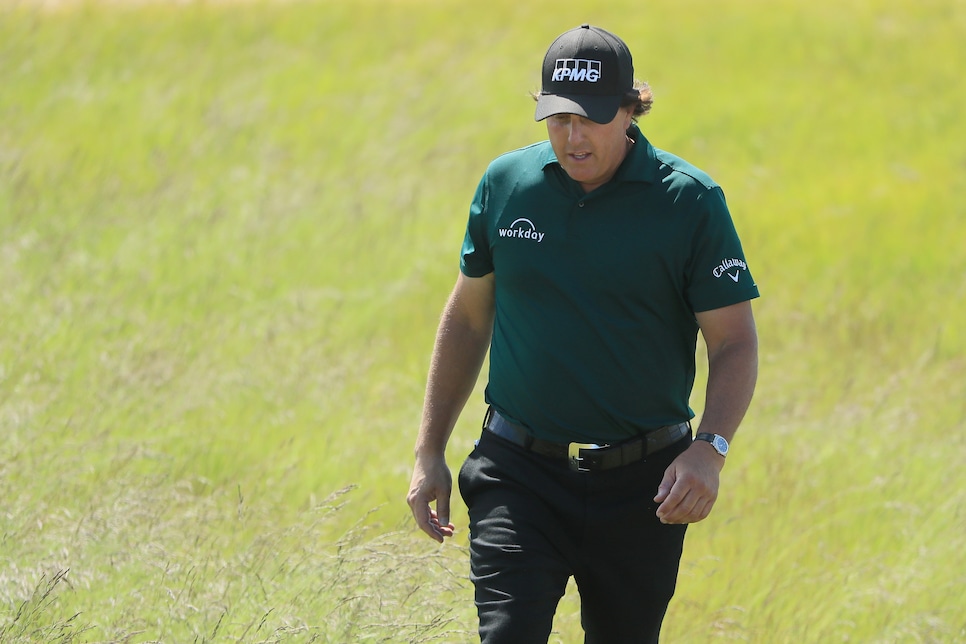 Fox Sports analyst Paul Azinger, though more or less initially defending Phil Mickelson's explanation for deliberately hitting a moving ball, eventually agreed with partner Joe Buck's conclusion, that it was spin.
"He's going to run for office one of these days," Azinger said, "and he'll be the spin master."
Mickelson, in an interview with Fox' Curtis Strange, basically suggested that when his putt on the 13th green in the third round of the U.S. Open rolled past the hole, he chose to run up and hit the moving ball back toward the hole and take the two-stroke penalty rather than allowing it to roll off the green and down a hill.
"Mickelson's got a little gamble in his blood," Azinger said. "He calculates everything. He's a math whiz, the whole nine yards. I'm going to go ahead and just halfway believe him here and give him the benefit of the doubt that he didn't feel like going back and forth. Looked like his head exploded as much as anything.
"Maybe he just thought, 'I was going to make that score anyway.' That's a pretty well thought-out answer, I think. Phil's given it a lot of thought. He had an hour to think about it and he just decided, 'I'm just going to take the two-shot penalty. I know the rules.'"
Buck was having none of it.
"It seems to me to be a justification for losing his patience with the greens and the way he's been putting," Buck said. "You can take that at face value, but it certainly seemed to be a justification for behavior that you don't expect out of one of the game's greats. It seems like justification for a guy who lost his temper, lost his cool, and was trying to send a message."
Azinger replied that "it didn't look good. I'll definitely say that. I think he was sort of genuine in saying, 'hey, it was going off the green. I don't know if I could have two-putted from down there anyway.' It's hard to give the guy the benefit of the doubt.
"I just like Phil so much. I hope it doesn't damage his reputation too badly. But he's going to take it on the chin for this one. He's a statement guy and he's made statements about the USGA this week actually, leading in. He's very well calculated, Mickelson is. I think he spun that the best he could."
Buck: "I think it was an interesting way to justify poor behavior."
Azinger: "I agree. That's good spin. He's going to run for office one of these days and he'll be the spin master."