News
U.S. Open 2018: Dustin Johnson falls back to earth with 77, but still has great chance at title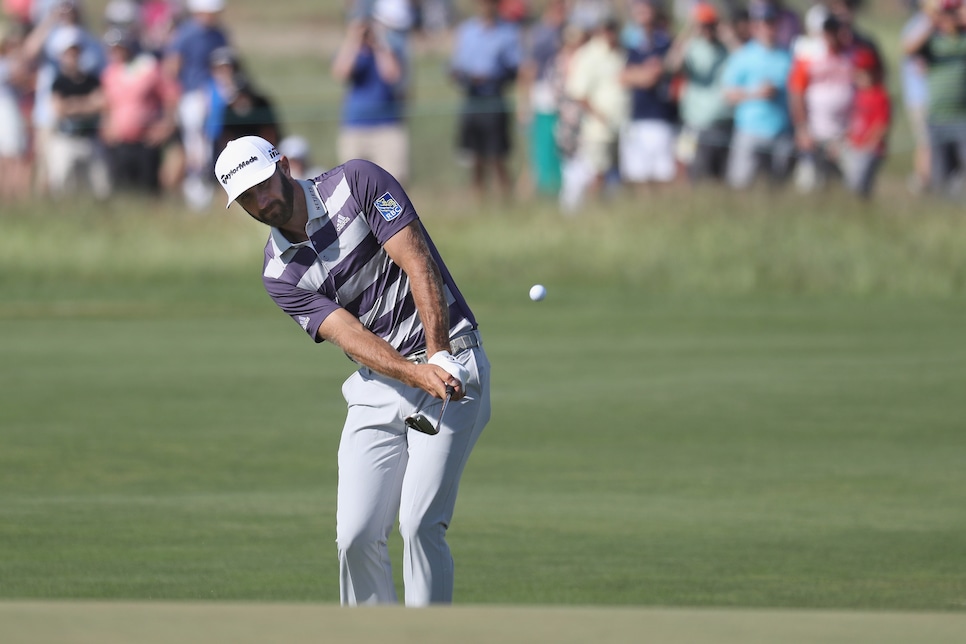 SOUTHAMPTON, N.Y. – Dustin Johnson's play over the first 36 holes of the 118th U.S. Open has turned out to be more than just impressive. It might still win him the championship.
Were it not for his impeccable play in building a four-stroke lead, Johnson wouldn't have been able to weather the frustrating 7-over 77 he posted Saturday at windswept Shinnecock Hills Golf Club. Despite the struggles, the 2016 U.S. Open winner is tied for the lead with 18 holes remaining, sharing the top spot with Daniel Berger, Tony Finau and defending champion Brooks Koepka.
After suffering just four bogeys in the opening two rounds, Johnson had six bogeys and one double bogey against a single birdie Saturday afternoon as the golf course got dry, firm and ineffably hard as sun and wind conspired to turn Shinnecock into a chamber of horrors.
Somehow, Johnson persevered – at least the best he could, shooting his second-highest score in 39 U.S. Open rounds. Only the final-round 82 he posted in the 2010 championship at Pebble Beach when he held the 54-hole lead was higher.
"I didn't feel like I played badly at all," Johnson, 33, said, not sounding too disappointed by what transpired as he and Scott Piercy struggled in Saturday's final pairing. Piercy shot 79. "Seven over, you know, usually is a terrible score, but with the greens the way they got this afternoon, I mean, they were very, very difficult. I had seven or eight putts that easily could have gone in the hole that didn't. That's the difference between shooting 7 over and even par."
Johnson will be paired with Koepka, his good friend and sometime workout partner, in Sunday's penultimate group at 2:13 p.m. EDT. Both are coached by Butch Harmon and his son, Claude.
The No. 1 player in the world, Johnson is attempting to become the first player to win the U.S. Open the week after capturing a PGA Tour title. Johnson won his second tournament of the year and 18th of his career at last week's FedEx St. Jude Classic.
"We're good buddies, but tomorrow when we tee off, if I'm playing with Brooks, we'll be friends after the round, not during," Johnson said.
That tough mind set will serve him well. So will his philosophical outlook on Saturday's proceedings. While many of his peers were bemoaning the harsh set up – the field scoring average was 75.327 – Johnson just shrugged.
Of course, that's just his way.
"It's the U.S. Open. It's supposed to be tough," he reasoned. "There was maybe only one or two flags that I felt like were maybe got a little dicey this afternoon, but the rest of them were fine. You had to hit good, quality shots and good putts if you wanted to make a par."
Johnson, who has had at least a share of the lead after each round, is familiar with the pressure of being in contention in the U.S. Open. For three straight years starting in 2014 he was sixth or better after each round, and, of course, finally closed the deal in 2016 at Oakmont. Twice previously he's held the 54-hole lead but didn't convert. Overall, he is nine of 16 converting 54-hole leads into victory.
He missed the cut last year only to give himself yet another shot. He could become the 22nd multiple winner of the championship.
His game plan isn't complicated.
"Just go out and play like I did the first couple days, even like I did today," Johnson said. "I felt like I hit a lot of great shots out there today. Need to putt a little better tomorrow."
And he needs to forget about Saturday. Easier said than done for most guys. Here's betting Johnson already has done it. That's just his way.