The Loop
Georgia chokes away more than just the game and the rest of the bad beats of the weekend
We've reached the point in the season, at least the college football betting season, where you're either tapped out or you're flying high and you need to get out ASAP. Always know when to walk away a winner. I would have no idea what that's like, and it's weekends like this past one perfectly encapsulate that fact.
Next to the College Football Playoff and New Year's Six Bowl weekend, there is no better weekend on the college slate than Conference Championship weekend. It all starts Friday night with the conveniently rhyming PAC (12) and MAC Championship games, then we roll right into Saturday with all the big boys: Big 12, SEC, Big 10, ACC, Sun Belt, etc. It's a gambling cornucopia, one that you feel like you have figured out because you know enough about each team and how they match up after a year of watching/losing money on them.
That's until you get smacked in the face game after game, making NFL Sunday un-bet-able or just another day to continue digging your own grave. Hey, at least you have bowl season, which is usually good for a whole bunch of overs. Let's get into this past weekend's bad beats, which there were a BUNCH of, sadly.
Northern Illinois vs. Buffalo (-3)
Leading 29-10 in the third quarter, Buffalo backers had begun the celebration early. The Bulls and their high-powered offense were obviously going to add to their lead, and Northern Illinois' one-dimensional, let's-try-read-option-every-play offense simply did not have the fire power to get back in the game.
At the snap of a finger, Buffalo morphed into the Buffalo Bills' offense while NIU channeled their inner New Orleans Saints, scoring 20 unanswered, all on long pass plays they just discovered in the playbook, including this dagger with a minute remaining:
NIU QB Marcus Childers' passing stats for the year: 1,996 yards, 15 TDs
Childers' passing stats for the second half of the MAC Championship game: 5,980 yards, 74 TDs (ballpark numbers)
Final score: 30-29, Northern Illinois
Betting on either side in this game was a GRUELING experience. You think the PAC 12 is known for offense, then you realize that was really just when Chip Kelly was at Oregon. At 3-3 in the third quarter, it felt like a field goal was all that was going to be needed for either team to win this game 6-3. This was huge for Utah bettors, who would have signed for a Washington field goal and called it a day.
Even better though, was the Utes' next drive, which, despite some awful quarterback play from Jason Shelley, looked like it would end in some form of points, all but locking up the cover. Instead, this utterly shocking turn of events occurred:
Game-changing, fortune-changing, etc. Utah failed to get inside Washington's 40 for the remainder of the game.
Final score: 10-3, Washington
East Carolina @ N.C. State Under 60.5
Bonus game! This one replaced a canceled game for both teams due to Hurricane Florence in September, so it was added to the Conference Championship weekend schedule. If you bet the under, this was a dream come true, as only N.C. State scored points for 59 minutes and 58 seconds, 58 points in total, which would have hit the under had there not been two seconds left on the clock for this to happen: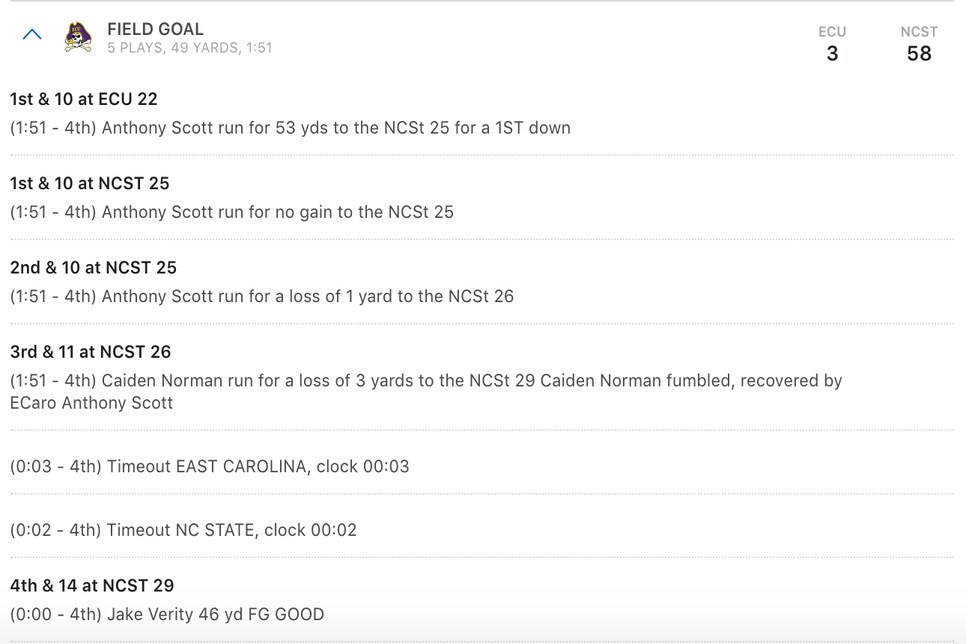 Final score: 58-3, N.C. State
Akron @ South Carolina (-28.5)
This was another makeup game, and one the Gamecocks were easily going to cover after taking a 28-3 lead into halftime. Or not: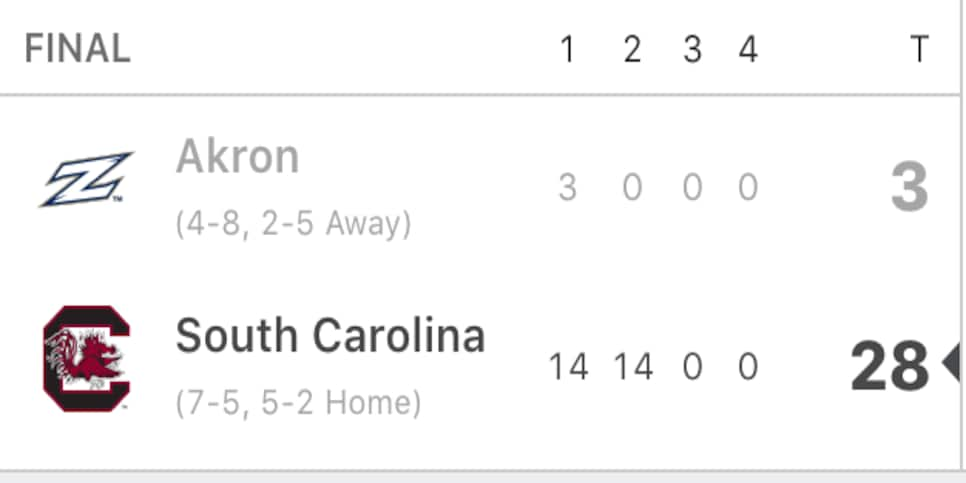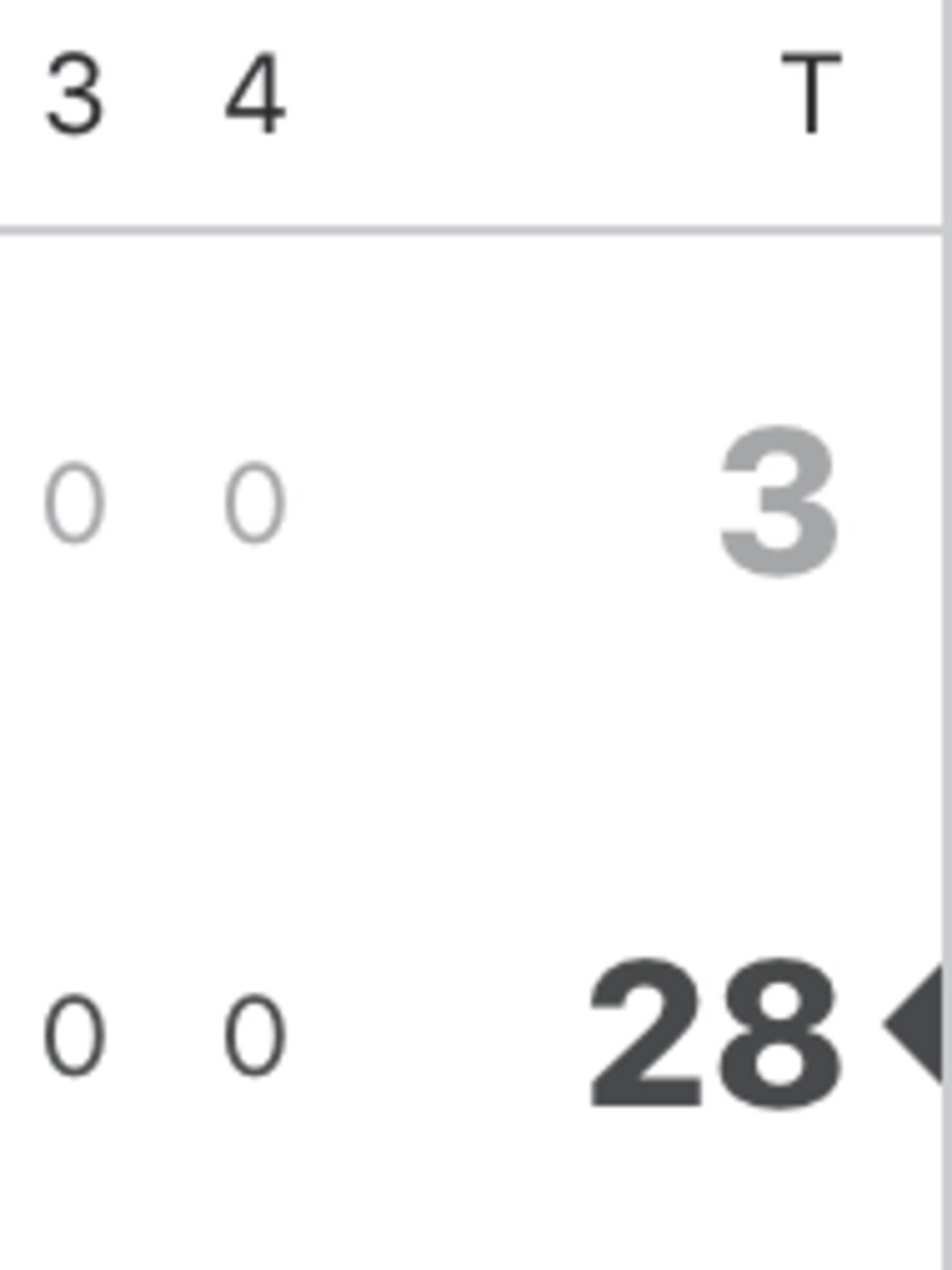 Texas (+9.5) vs. Oklahoma
Tom Herman is one of the great underdog coaches in college football, often winning games outright, like his Longhorns did earlier this year against the Sooners. Leading 14-6 halfway through the second quarter, Texas was hoping to play spoiler again, but Oklahoma's Heisman candidate quarterback Kyler Murray exploded, leading his offense to 21 unanswered and a 27-14 lead.
Texas stormed back though, tying the game at 27-27, then missing a crucial extra point to keep the game tied. Oklahoma added a field goal and a safety to go up by five, then got all the way down to the Texas 18-yard line where they faced 3rd & 10. If the Longhorns could hold them to three, they'd be that much closer to covering, and could perhaps force OT and bring the over (78) back into play. NOPE:
Feels like that missed extra point and safety mattered. Maybe that's just me.
Final score: 39-27, Oklahoma
Georgia vs. Alabama Under 62.5
We all know what happened. Yes, if the game goes to OT this over likely hits anyway. BUT, if Jalen Hurts made the right play at the end of the game, he would have run out the clock and taken the field goal, securing the under. OR, if Georgia hits on that fake punt (LOL), they likely run out to clock and kick the field goal. OR, if Georgia punts like they should have, stops Bama and gets the ball back, they might kick the game-winning field goal there. This was all an excuse to include this travesty in the bad beats. The real bad beat? Georgia money line. Thoughts and prayers to those folks.
Final score: 35-28, Alabama
Fresno State @ Boise State Money Line
When these two teams first met, Fresno was between a 1-to-3-point favorite depending on where you looked on the Blue Turf. Boise State won the game by a touchdown, proving that betting against the Broncos on their home field is like playing with fire. No WAY would you make the same mistake twice, right? Just bet on them to win the game, forget the 1.5-point spread and believe in the Blue Turf.
Well, with Boise down 13-7 in the fourth, their offense doing absolutely nothing and a snow-covered field making it even harder to score, Broncos bettors were in deep trouble. But then they finally punched one in to tie the game at 13-13, and as the kick team came on to give the Broncos a much-needed lead, ESPN broadcaster Steve Levy uttered the famous last words: "they have not missed an extra point THIS SEASON!" Cue the freaking dagger:
For Boise -1.5 bettors, this brought the cover back into play, and when the Broncos struck first with a field goal in OT to make it 16-13, they had a legitimate shot to cover. But Fresno grinded them out in OT:
Final score: 19-16, Fresno State
L.A. Rams @ Detroit Lions (+10)
But this time, it wasn't the smart play considering the Rams couldn't kill the entire clock, and a field goal would at least give Detroit a chance to quickly get down the field, kick a field goal and then go for an onside kick with some time remaining. So just as Lions +10 backers were celebrating a miracle win, Gurley killed them on the very next play instead:
Final score: 30-16, L.A. rams
L.A. Chargers @ Pittsburgh Steelers (-3)
There's not much to say about this game other than when the team you bet on is up 23-7, you feel good about your chances. When they end up losing 33-30, you want to crawl in a hole and die.