From the Magazine
What does the future of golf look like? These nine influential voices are helping bring it into focus

You might not realize it watching the PGA Tour's weekend broadcast, but golf's discourse is no longer monopolized by Establishment voices. The democratization of content along with evolving consumer behaviors—read: no one's got time for five hour rounds!—has produced a chorus of new voices shaping the conversation about golf's future.
They're posting videos on TikTok and podcasts to Spotify. They're ditching the polo-and-slacks look for the hoodie-and-joggers vibe. And they're refusing to accept golf as an out-of-touch pastime for wealthy white men.
With an eye toward the decades to come, we spoke with nine of the most influential and important new voices in our sport. What they share, in addition to a deep love for the game: a steadfast belief that golf, like all things, must adapt to survive—and, ideally, to thrive.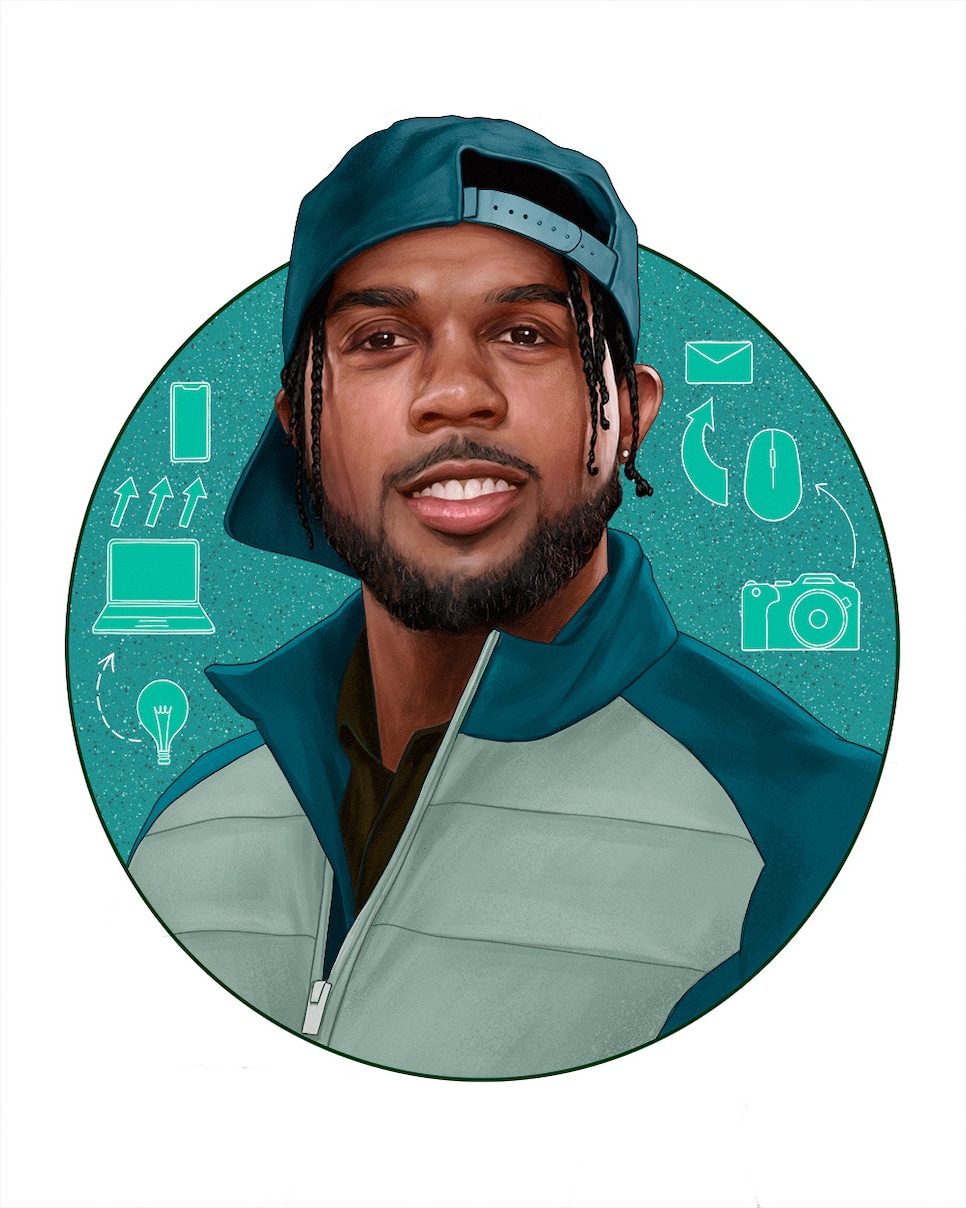 Roger Steele knew his engineering job in Chicago was stifling his creative instincts, and he knew he wanted to do what creatives do: pack up his life and move to Los Angeles. But he had no friends there, no real plan. "All I had was my golf clubs," Steele, 33, says. "Within a month I'm playing at the nicest clubs in the city. What other activity besides golf could have brought me that opportunity, that network, so quickly?"
Now he rubs shoulders with professional athletes and SoCal CEOs at L.A.'s swankiest courses; back when he was a kid, it was munys near his home in Austin, a no-frills neighborhood on Chicago's West Side. Steele's father was a police officer, and he nudged his son toward golf because he didn't trust the alleys and parks where kids played basketball. Steele went on to the University of Illinois, then worked a few engineering jobs before the move to L.A. There, he joined with former Korn Ferry Tour player Danny Wax to found Hipe Media, a creative-content agency whose projects include Hipe Golf, a grow-the-game initiative designed to increase minority participation. The Gretzky family, Adidas, Trap Golf and the APGA Tour are among Hipe's golf-related clients, and future collaborations with the PGA Tour have been discussed.
Steele's relationship with the game, however, is not uncomplicated. Though grateful for the doors golf has opened, Steele remains keenly aware of how he—and those who look like him—are perceived. "As a Black man, you feel like your presence is already one strike against you, and you have to be quiet on certain topics. If I'm super-outspoken, I might never get the invite again. That's not a comfortable feeling."
As far as the PGA Tour's stated commitment to diversifying the game? "The people who are in control don't relate to the people they're trying to reach. There's this disconnect in the messaging. If you want us to drive change, let us in the driver's seat."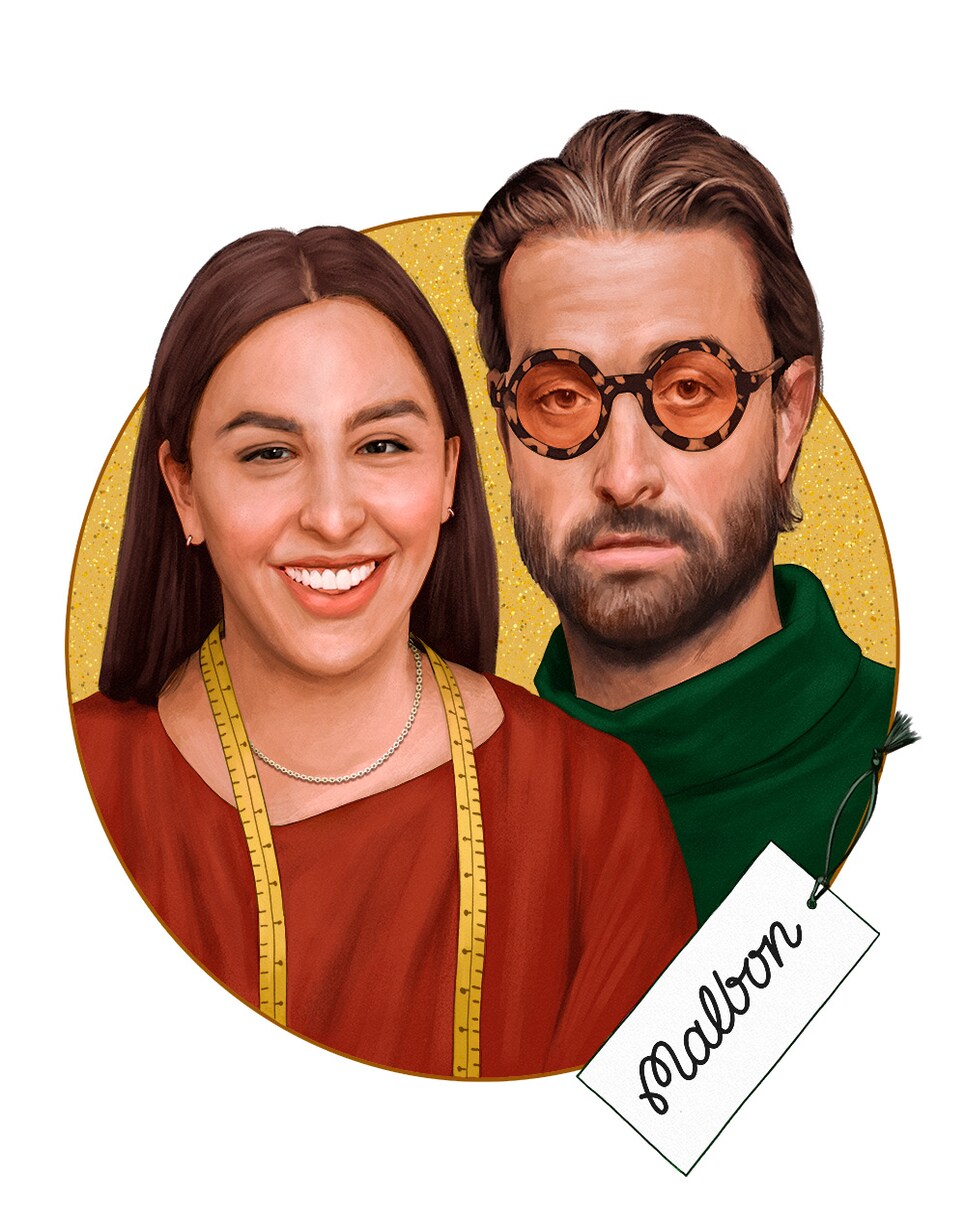 Stephen Malbon would often ask his celebrity friends if they would want to join him for one of his favorite pastimes: golf. "It wouldn't just be a no," he says. "It'd be a f— no! Like, why would I even consider doing that?"
Malbon has been wrestling with the is-golf-cool-enough conundrum since he quit the game as a 16-year-old because, you guessed it, it was not cool enough. Sometime along his professional journey—which took him from the ad agency world in New York City to creating the Malbon Group, a parent company that housed a creative content agency and a lifestyle brand/magazine called Frank151—he rekindled his golf flame and vowed to bring some coolness along with him. So he and his wife, Erica, who co-founded a boutique-spa concept called The Now, began posting images they thought were interesting and stylish to an Instagram page that gained traction.
The page evolved into the clothing company Malbon Golf, although the "Golf" part is optional. They do not make golf clothes; they make rad clothes that people can choose to play golf in: flatbrimmed hats, bucket hats, tie-dyed polos, button-down shirts, joggers, hoodies.
The eye-popping designs are sure to draw disapproving glances from stuffy country clubbers, and that's kind of the idea. By putting their one brick-and-mortar location on L.A.'s ultra-hip Fairfax Avenue—where, according to Erica, "golfers don't go"—the Malbons made a statement: Golf can indeed be rad. They are expecting revenue of about $10 million this year.
"We wanted to introduce the sport to a different person," Erica says. "And we have. The community that likes golf but also likes Jordans and music and high fashion."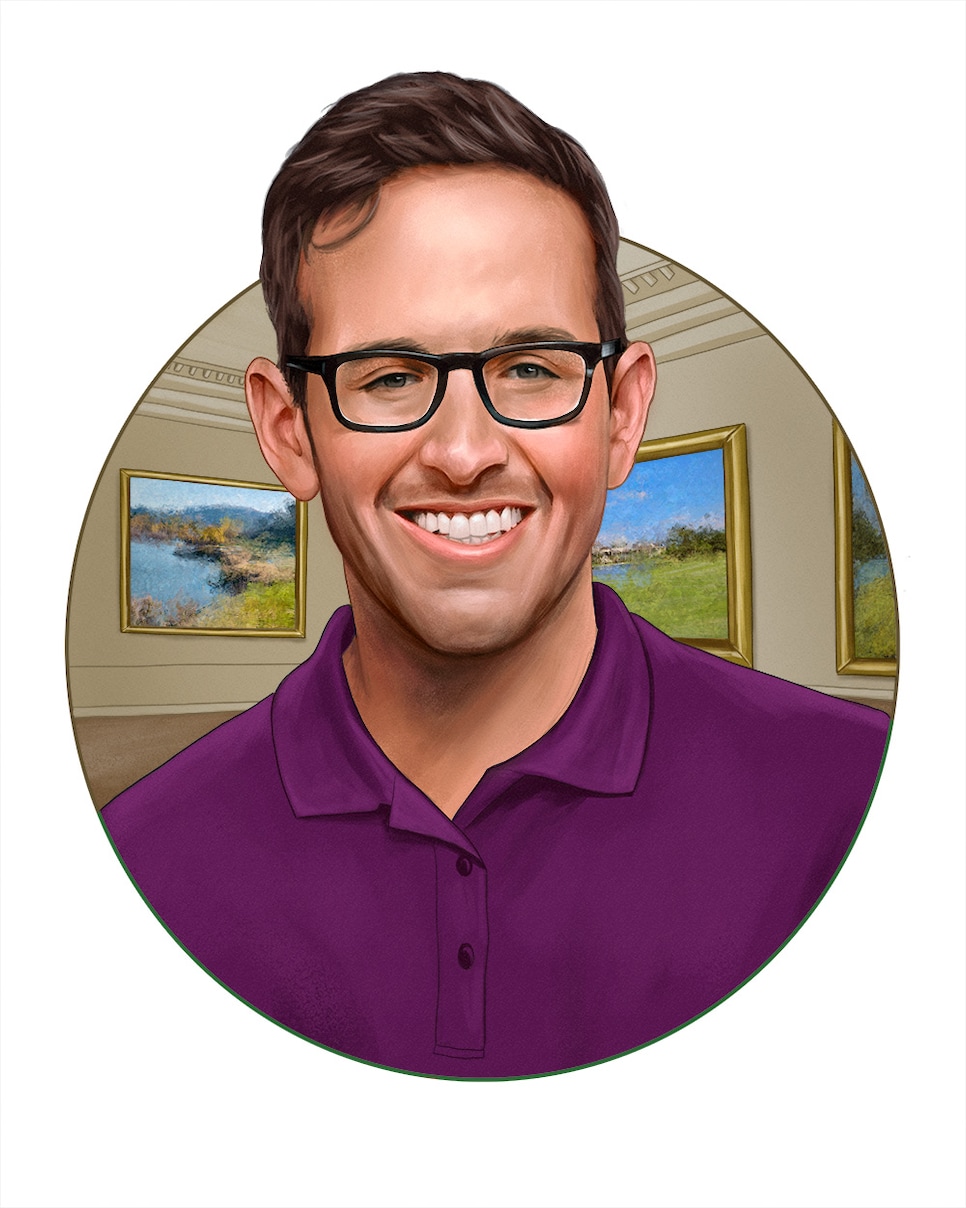 One measure of architecture junkies is their familiarity with Golf Club Atlas, the online forum for purists to read about Golden Age designs and ruminate on differences in green surrounds. Andy Johnson read the site as he toiled in post-college jobs—first in freight logistics, then for two startups. It was just a hobby until TheFriedEgg.com was born in late 2015.
Originally a bi-weekly email newsletter, Johnson's website has evolved into an authoritative voice on course architecture. It highlights renovations, sends a thrice-weekly newsletter, produces high quality drone videos of courses, analyzes PGA Tour venues and more. People trust him to, in the simplest terms, tell them whether a course is good or not.
When golfers start to appreciate golf-course architecture, "they get something other than a score to base their experience off. It gives them a whole other lens to view the game through," he says.
Johnson, 35, believes there will always be a place for the type of classic layouts he reads about on Golf Club Atlas and reviews for The Fried Egg. But his site spotlights non-traditional courses and ideas, too. In a piece about the 2019 U.S. Open, Johnson wrote that "the use of the concept of par is perhaps the biggest farce in golf," and the site's Bang for Your Buck series highlights architecturally interesting courses that don't require a membership or a $250 green fee.
"Everyone knows Bandon Dunes and Pebble are great," he says. "I made an effort to find courses people hadn't heard of that wouldn't cost a million dollars that they'd enjoy."
There's an audience for that message. Johnson's site has 70,000+ unique visitors each month, and it's The Fried Egg and Shotgun Start podcasts combined to draw more than 4 million downloads in 2020.
"The Internet is a place for people to nerd out on whatever they want," he says. "It's becoming even more niched. You see it with ESPN; it's hard to cover every sport, every team, in a broad sense. The diehard fans who want more information will find a sport- or team-specific site. That's what makes golf so great— there are all these subcultures."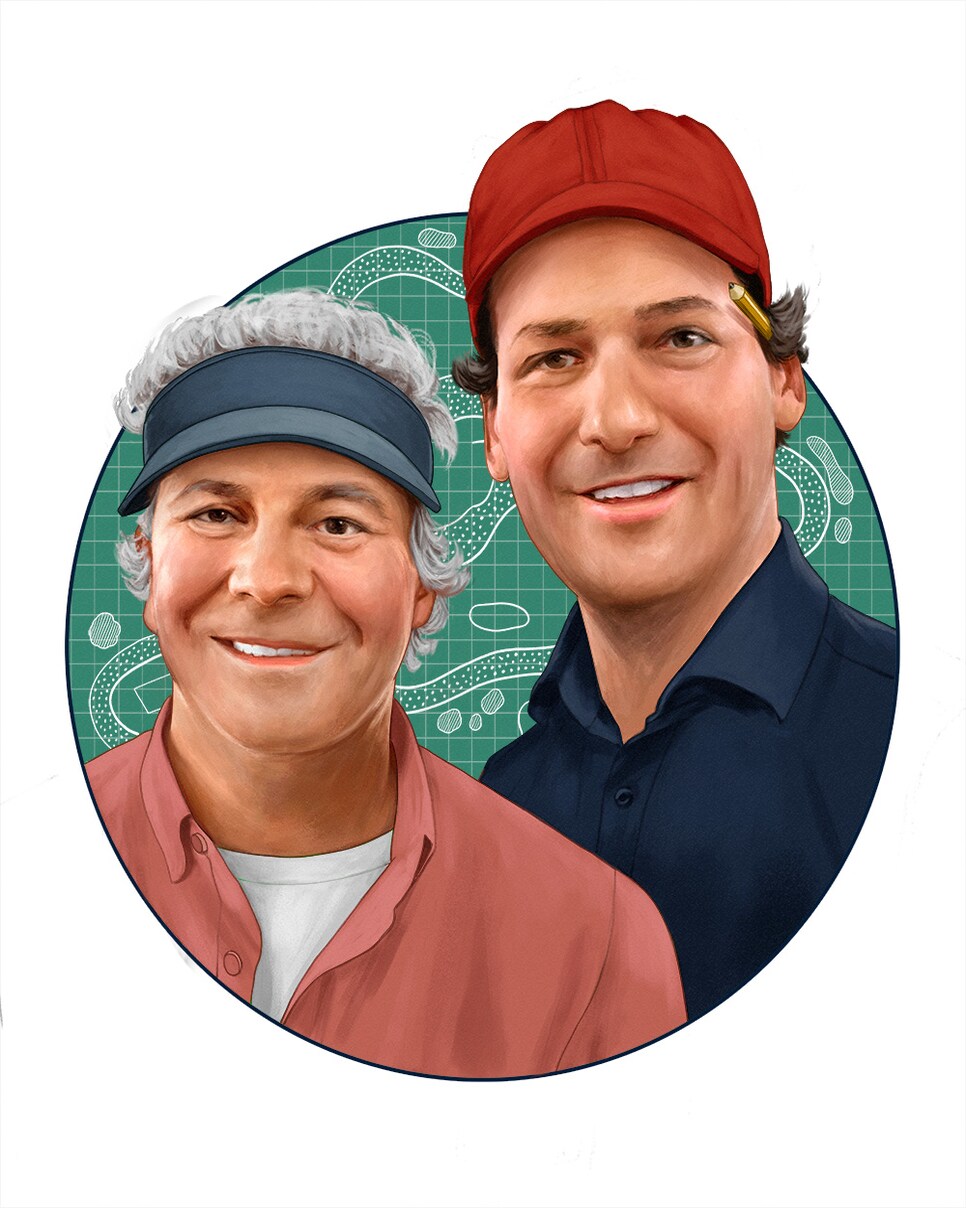 They come from two different corners of the golf-course design world—Rob Collins from the architectural side, Tad King from the contracting side. As such, they had both witnessed the inefficiencies of having those two services offered by different companies, often with competing interests. King/Collins Golf Course Design, then, would do things differently. Formed in 2010, it would function as one group to take your project from the first sketch to Opening Day.
Still, a design firm is only as good as its golf courses, and King/Collins had zero until they secured a unique debut project: reviving a decrepit, featureless nine-hole track on a flat floodplain in rural Tennessee.
"As a sport, we are way too attached to the 18-hole model," says King, 53. "The country club way of 5½-hour rounds is going away. We're embracing the fact that we like to think differently—whether that's nine or 12 holes, the focus is a great experience."
That mantra comes through vividly in their work on that dog track outside Chattanooga—"the worst golf course I'd ever seen," according to King—which began in June 2011 and finished almost exactly a year later.
The final product stands proudly as Sweetens Cove, a strikingly dramatic nine-hole facility that has developed a cult-like following for its meticulous architecture—particularly among a younger subculture that's willing to travel for golf experiences. Also in development for King/Collins is the renovation of Overton Park in Memphis, which will result in a nine-hole course and a three-hole loop, Landmand Golf Club in Nebraska, and a project in upstate New York.
The only rule they keep in mind when building a course is that there are no rules. "We don't adhere to any preconceived notions," says Collins, 45. "Things like a course needs to be 18 holes and have four par 5s, you have to see every hazard, or the greens have to be sloped back to front and be receptive. We find that when you move away from that stuff, you're freed up to be a lot more creative."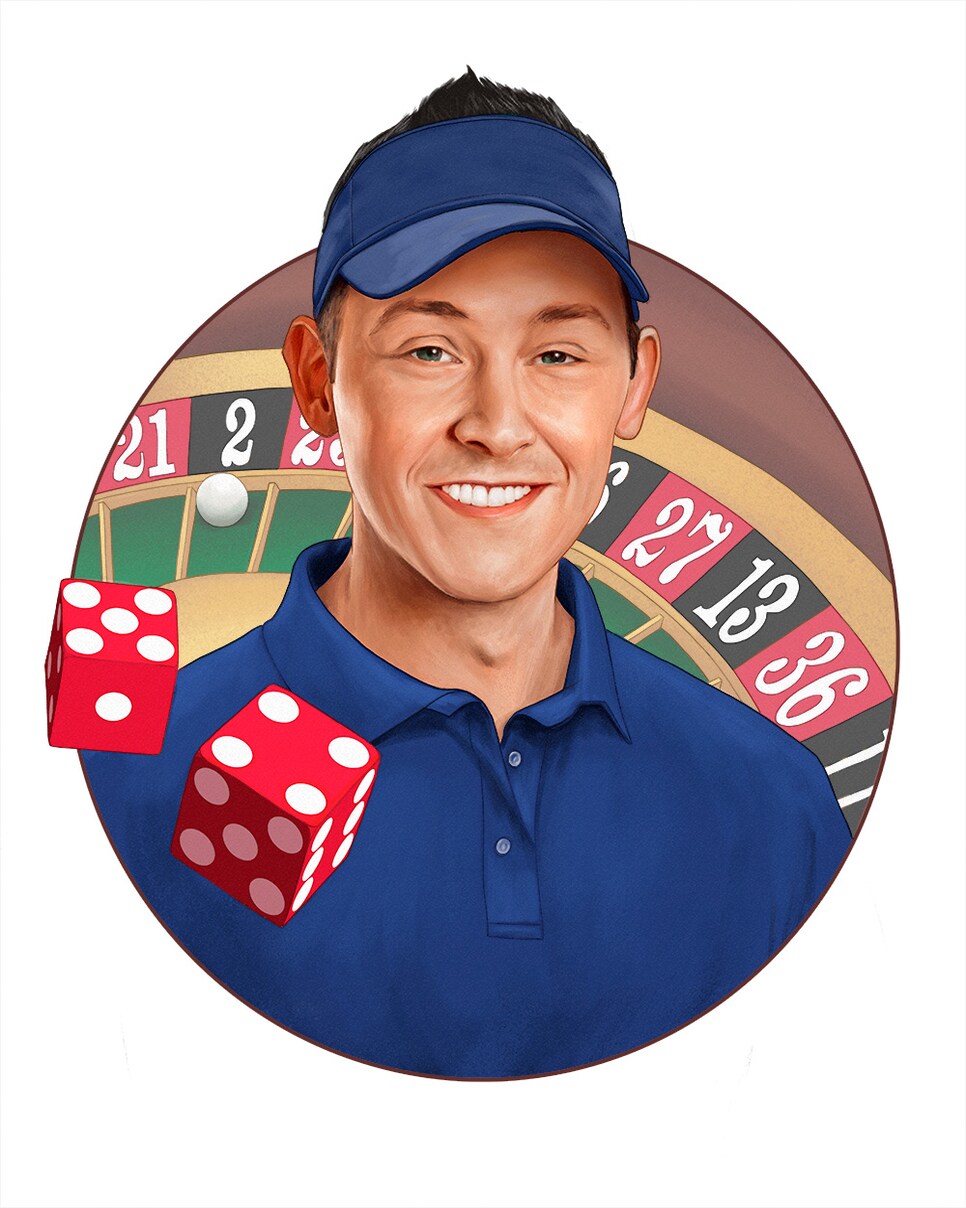 Pat Mayo, 35, is something of an OG in the ever-expanding golf-gambling and daily fantasy sports (DFS) universe. He began writing about fantasy golf in 2011, long before million-dollar DFS contests and the advanced statistics revolution that deepened our understanding of players' games. Mayo has steadily grown his following and offerings since—his YouTube Channel, the Mayo Media Network, features gambling and DFS content on all sports. But most listeners consume his content through the Pat Mayo Experience podcast.
He's also a co-founder of Fantasy National, a website that allows users to dive into advanced golf statistics—a tool to figure out how a player scores in windy conditions or how he putts on Bermuda greens. He's as bullish as they come on the future of golf gambling. "It's the only sport you can hit a 60-1 winner with any sort of frequency," he says. "Golf's just set up really well for betting and DFS. It starts on the same day each week and finishes on the same day. There are no positions to worry about for a DFS team. If your team is decent, you get four days of enjoyment out of a wager."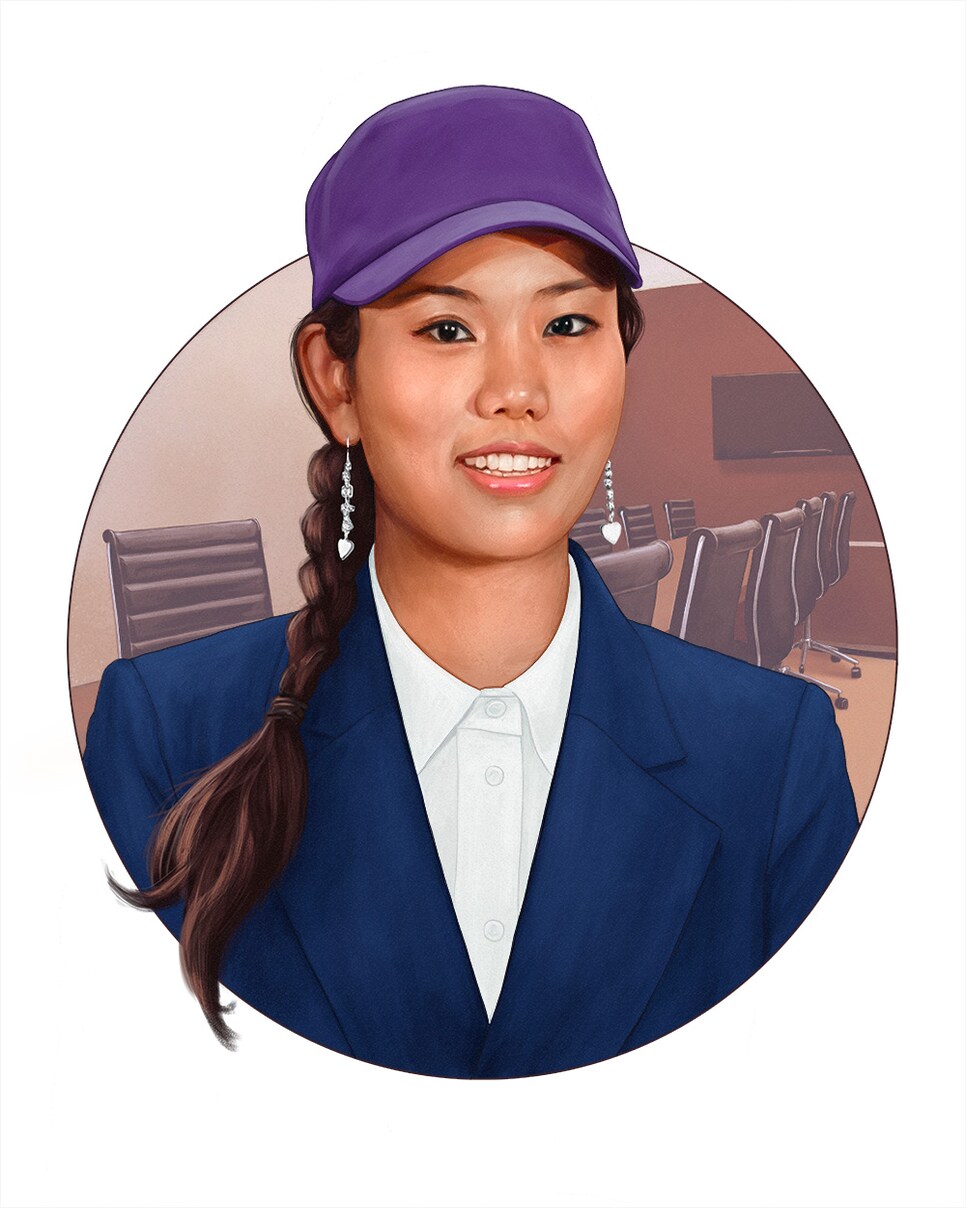 A former LPGA Tour player, Jeehae Lee has seen her share of swing coaches. However, she's in the minority—just 13 percent of golfers take lessons even once a year.
"The rest are just hacking it together on their own," Lee, 37, says. "The biggest barrier to entry is price—people don't want to spend $100 every week or even every month. We want to solve that problem for the other 87 percent. For those with access to instruction, this will unlock so much in your lessons."
This is SportsBox AI, an in-development software that seeks to democratize 3-D motion-capture technology and incorporate it into golf instruction. Lee is the CEO of the company, her latest venture in a long-term and somewhat turbulent relationship with golf. In addition to playing on tour, she has an undergraduate degree from Yale—where she played on the team as a freshman, then quit, then re-joined as a senior before turning pro—and an MBA from Wharton. She managed Michelle Wie and spent five years in business development roles at Topgolf.
SportsBox AI's app, now in betatesting, allows users to capture a 2-D smartphone video and, through computer vision and deep-learning neural networks, convert the video into a 3-D avatar that can be analyzed from six points of view. It can also provide biomechanic measurements corresponding to 39 points on the body— providing a full breakdown of the player's movements: how much the player is tilting, how many degrees the player is rotating, that sort of thing. And it can do all this on the range or during a practice round, as opposed to current technologies that require a player to be indoors.
Sportsbox AI intends to charge users $10 a month, which ought to make it popular among instructors who don't have access to more expensive machinery such as ForcePlate. "I know firsthand what it's like to lose your swing in the middle of a tournament," Lee says. "This will allow players and coaches to, in full 3-D information detail, find out exactly what's going wrong. It won't be a mystery."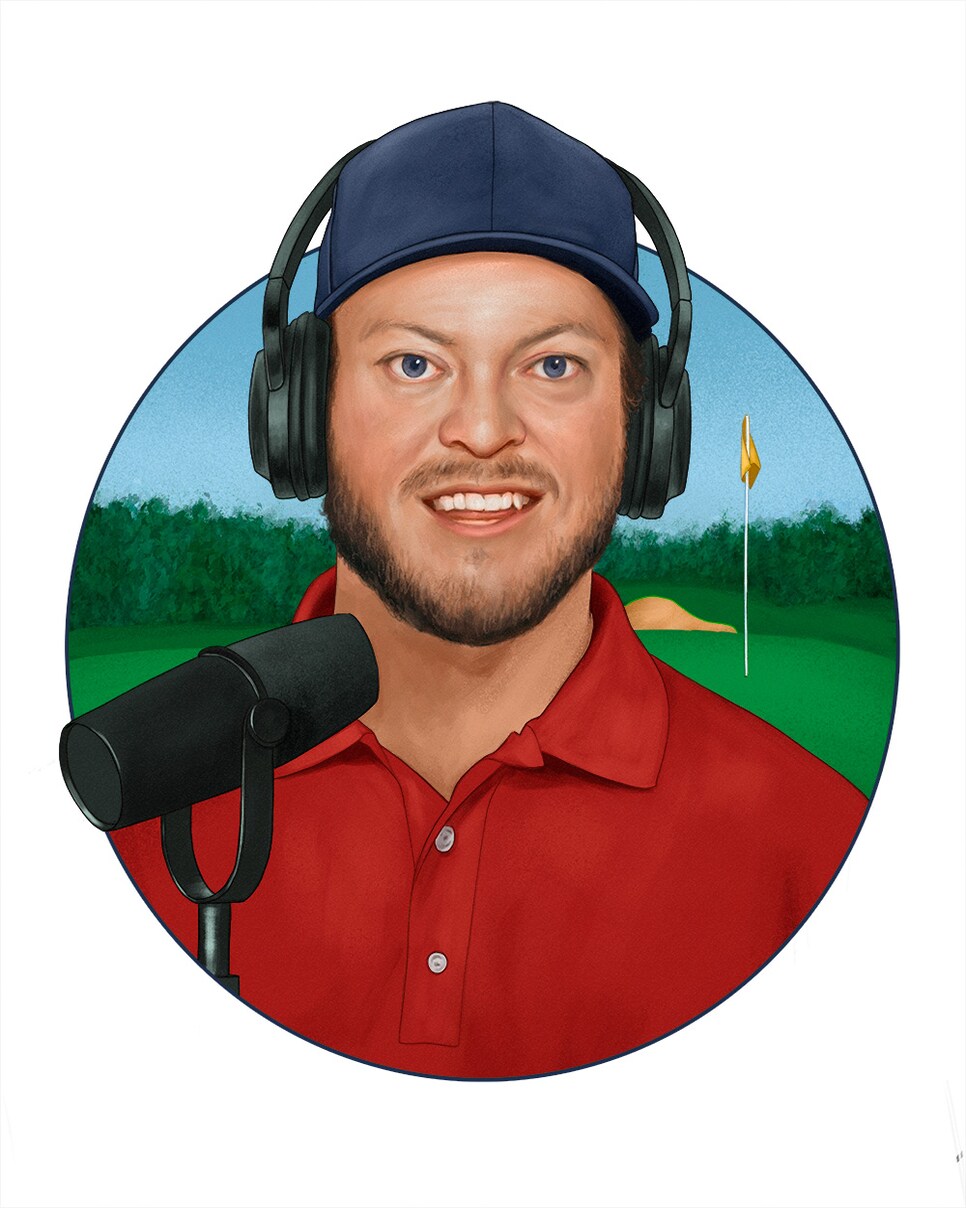 The idea was simple enough: Talk about golf like normal people and turn it into a podcast. The underlying belief was a bit more profound.
"Whether you're at a private course or if you're at a local muny, I think those conversations around the bar are pretty similar," says Sam (Riggs) Bozoian, 34, the face of branding behemoth Barstool Golf. "They have the same opinions on players; they think the same things are funny."
Riggs expertly toes the line between country club and public golf, and his followers adore him for it. That, and his ability to make them belly laugh.
A former Harvard hockey player and tech salesman, Riggs elbowed his way into writing about golf for the popular Barstool Sports site in 2016. A year later, he co-launched Fore Play, which draws top-level PGA Tour talent as guests and frequently charts as the top golf podcast in America. He is also the commissioner of the Barstool Classic, a two-man tournament now in its third year. The 2021 edition will feature 27 local qualifying spots, nearly 3,000 entrants and a four-day bonanza finale at Pinehurst.
As is the case with many Barstool employees, he has been at the center of controversy. Long-simmering tensions with more traditional golf writers blew up at the 2019 Presidents Cup, where some media members labeled him a "fanboy with a press pass" and bemoaned his rooting interests and close relationships with players. Riggs and crew pushed back at "old-man golf media," whom they view as archaic, close-minded and perhaps a little envious.
"There's a huge contingent that wants the game to grow only in the way they believe it should," Riggs says. "If it grows in a way that's different than that, they're actively against it. It's such an intimidating entry to our sport, and people like that are why."
His mission is to make golf more approachable. His method is to focus on how much fun golf is to play and talk about, rather than adhering to the old notions about what the game should be—or how those covering it should behave.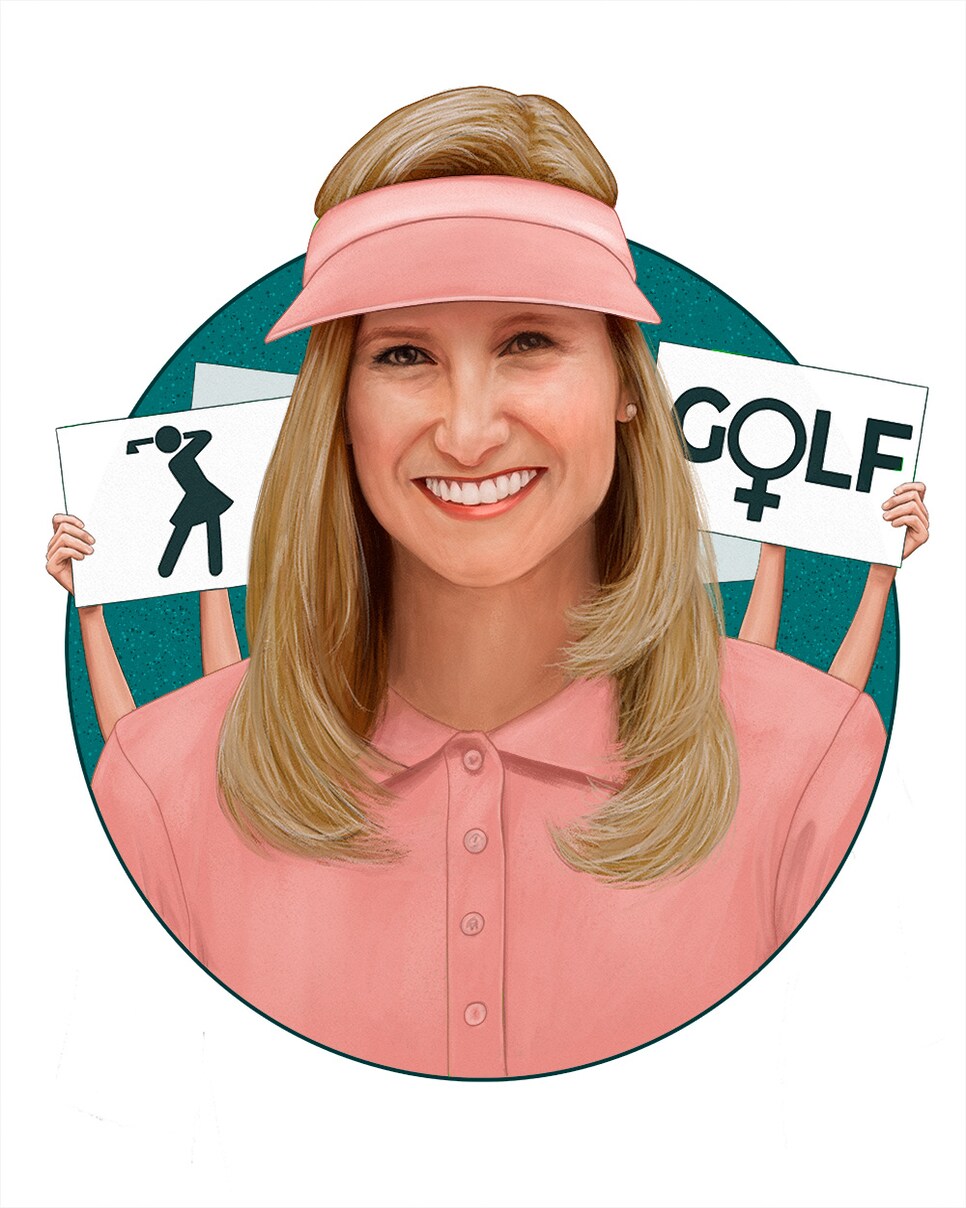 As a "golf lifer," she falls outside her own target demographic. Abby Liebenthal, 30, grew up playing the game and immediately plunged into the golf industry after college—first at the AJGA, then the Tiger Woods Foundation, then Titleist, then a pit stop at Northwestern for grad school, then back to golf. She now works for the most inside-golf organization there is, the USGA, where she's the senior manager of U.S. Open fan experiences.
Understandably, Liebenthal feels quite comfortable mingling around first tees and 19th holes. Her friends, however, have always been a bit more fish-out-of-water in golf circles. "None of my peers growing up or in college played golf at all," she says. "As we started to get older, I would hear them say, 'I want to play, but I have no idea where to start.' "
So she gave them a place to start. Fore the Ladies, the nonprofit she founded to introduce women to the game, began with a clinic at an indoor facility in Newport, R.I. It was basic stuff: how to hold the club, what a swing looks like, what clubs are used where. A full 70 women showed up at that first event; this year there are 10 Fore the Ladies intro-to-golf clinics on the schedule, with approximately 500 women expected to participate. She has also introduced an active blog at foretheladies.net, a podcast, a monthly fitness series, and more.
At the clinics, the idea is to provide a welcoming atmosphere for women. The lead instructors are typically women, drinks flow, music plays, and the price is manageable—$30 to $60 for a two-hour session, though women are encouraged to stay and hang afterward.
"We just want you and your friends to watch the sport, to participate in the sport and love the sport as much as we do," Liebenthal says. "I still get worried that people won't show up, but I tend to be pleasantly surprised by the enthusiasm, and women keep attending, so I'm not going to stop now."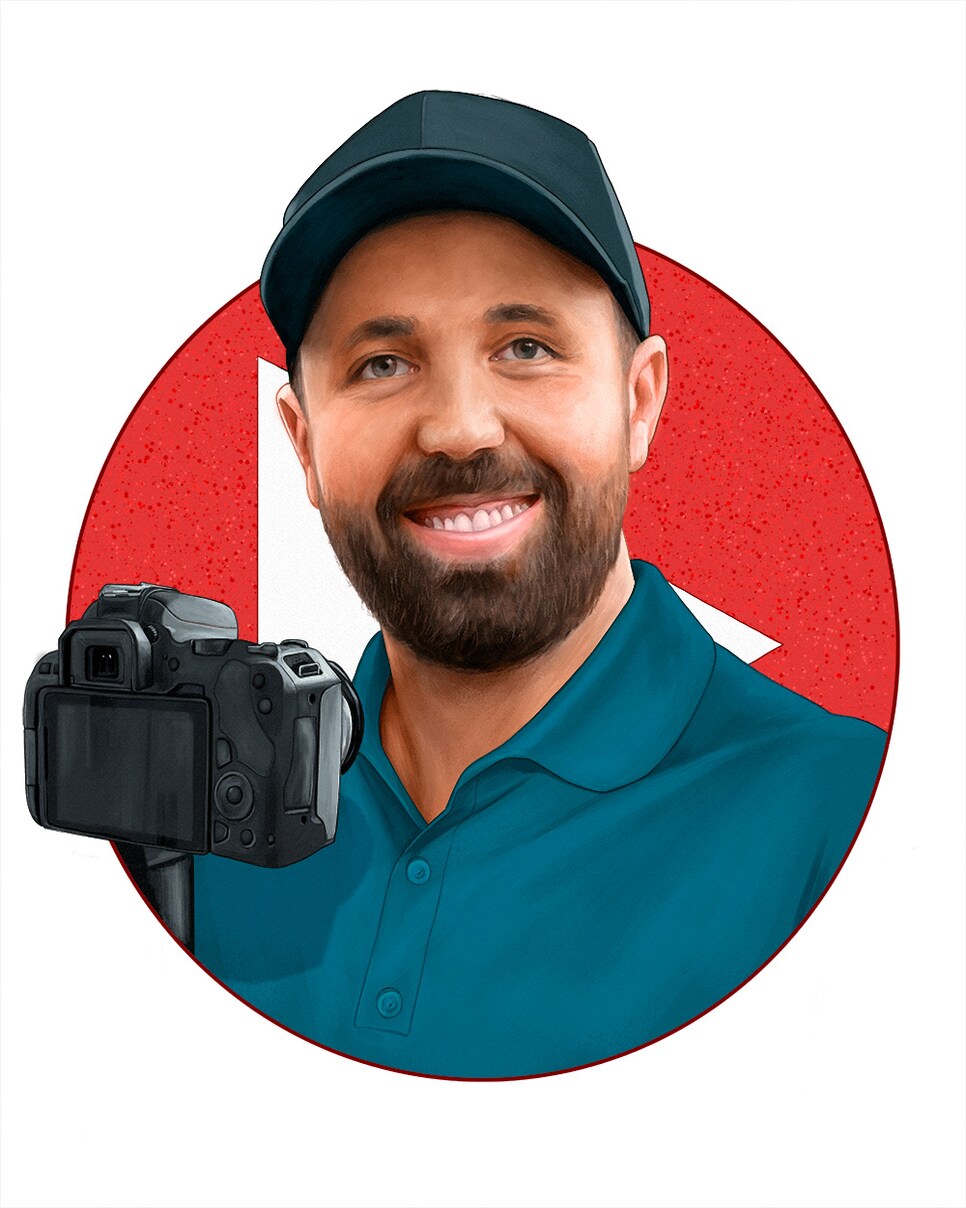 Someone was always going to emerge as the preeminent voice in the golf YouTube space, but few would expect the man who filled the void: not a PGA Tour player or an established top-100 teacher, but a driving range pro with a nasal-y British accent.
In 2012, Shiels' YouTube videos were just a side hustle to draw attention and help fill his "teaching diary." (That's British for schedule.) It worked, and his teaching slate ultimately became so packed that he yearned for more time to devote to shooting and editing his videos.
Today Shiels, 34, has five full-time employees working for him and no longer sees any students at all. That's what happens when you have 1.4 million YouTube subscribers and average 40 million combined views on YouTube and Facebook each month.
"I give really simple advice" is Shiels' best guess as to why his videos resonate so much. His content ranges from tips to round recaps to new equipment reviews and everything in between.
"I don't like to overcomplicate it," he says. "I've never been a coach that wants to prove to my students how much I know."
He also says a key is his lack of sponsorship and the lack of overt advertising in his content. The majority of Shiels' pay comes on a per-view basis from YouTube and Facebook, not from commission off swipe-up sales. (He recently declined to renew a sponsorship because, in his words, they wanted to push more of a "pay-to-post" model.) His audience feels the relationship is genuine, rather than one person selling something to another.
"I'm still a big advocate for in-person coaching," Shiels says. "I'm a PGA professional at heart. But for people who can't afford it or who don't have access, I give them little things that will help."