News
The numbers are official: Golf's surge in popularity in 2020 was even better than predicted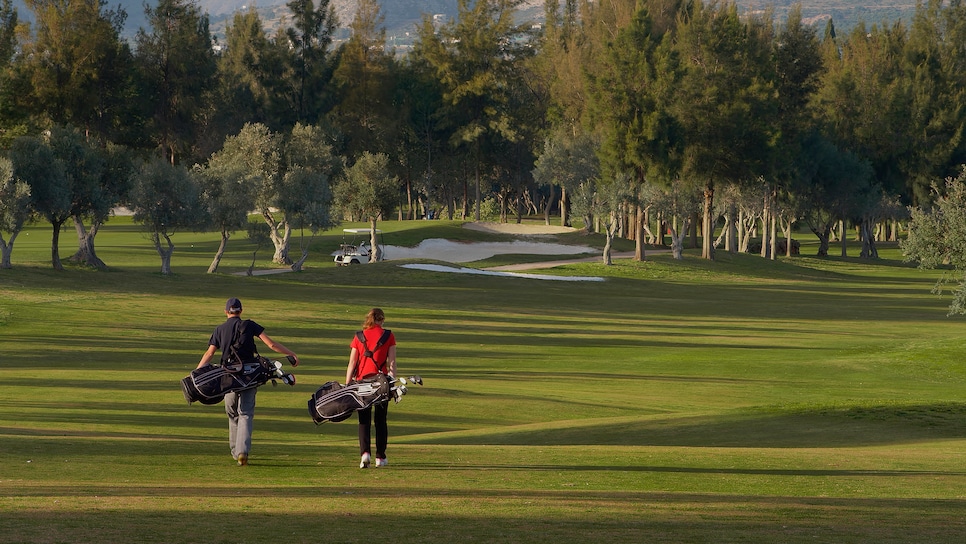 The National Golf Foundation hinted throughout the summer and fall that 2020 was showing a remarkable surge in both participation and rounds played despite the shutdowns and uncertainties of the Covid-19 pandemic. Its final report for the year might actually be more positive than even predicted, what the golf industry group called "a year of resurgence."
How good was 2020 historically? Tiger Woods good.
Specifically, the growth numbers in many cases set all-time records in many categories, and the number of golfers coming to the game in 2020 were only benchmarked against some of the greatest moments in Woods' career, including his debut major title in 1997 and his epic U.S. Open win on a broken leg in 2008.
"There hasn't been this much optimism and new activity in the golf business since the turn of the century," said Joe Beditz, NGF president and CEO, in a recent email to the golf industry group, noting "spring shutdowns gave way to an unprecedented summer and fall in terms of play, golfer introductions and reintroductions, and robust, late-season spending."
The NGF count showed 24.8 million golfers in the U.S. in 2020, an increase of 500,000 and 2 percent over 2019. It is the largest net increase in 17 years. New players (both beginners playing their first round and lapsed golfers coming back to the game for the first time in years) numbered 6.2 million, the highest that number has ever been. Last year also saw the largest percentage increase in beginning golfers and the biggest gain in youth golfers coming to the game since Tiger's 1997 Masters win.
Women golfers also were part of the 2020 surge, jumping 450,000 or 8 percent year over year and making up nearly a quarter of all golfers with a count of some six million. That is the highest number over the last five years.
The NGF also counts total golf participants by factoring in off-course experiences as well, and that number swelled the overall count to 36.9 million, up 8 percent year-over-year and a near 20 percent gain in the last five years.
Of course, the pandemic's challenges still took a toll with a larger-than-usual volume of players who opted out of the game for concerns over the pandemic or economic challenges. Still, 2020 marked the third straight year more golfers came to the game than left it, and the NGF's study of those who opted out of golf in 2020 suggests they're more eager than ever to opt back in. The number of what the NGF survey calls "very interested non-golfers" reached 17 million, a 1.5 million increase compared to 2019 and 4.2 million more than in 2016.
The net gain in golfers also contributed to a healthy boost in rounds played, despite many states restricting or even banning play for weeks or months. The NGF estimated a loss of 20 million rounds in the spring with course closures and restrictions, but by year's end, 502 million rounds were recorded. That was 61 million more than in 2019, nearly a 14 percent increase and the largest one-year gain other than in 1997 when Tiger's booming popularity saw a 63-million-round increase.
The NGF research indicates that the biggest driver of the rounds played surge wasn't exclusively new golfers. Rather, it was the "core golfers" (more than eight rounds a year) who really upped their games. The report cites "a passionate cohort of existing players (roughly 20 percent of the core-golfer population)" who fueled the boost in the average rounds played per golfer to 20.2. It marked an all-time high since the statistic started being tracked in 1998. Despite being the age groups most at risk during the pandemic, older players still played the most golf. Those aged 60-69 logged an average of 29 rounds in 2020, while those golfers 70 and over played an average of 40 times last year. However, millennials (those aged 18-34) increased their rounds played by 13 percent compared to 2019, and 44 percent of all those who played golf at least once on a golf course in 2020 were under the age of 40—with as many under the age of 30 as over the age of 60.
Private clubs clearly were a beneficiary, despite having restrictions on revenue-generating external events like outings and weddings. According to the NGF, two thirds of private clubs said they were in good financial health in late 2020, and rounds at private clubs saw almost a 20 percent increase, greater than what was seen at public facilities, which were up 12 percent. Those gains came despite the reduced rounds at resorts after 2020 saw much less travel. In a way, the private club may have benefited as the stay-cation alternative.
"Private clubs were incredibly resilient in 2020," said Henry Wallmeyer, president and CEO of the National Club Association, who noted that clubs that couldn't rely on revenue from corporate events like the past, so they focused on engaging more members. "For an industry that has historically implemented change at an extremely measured pace, private clubs transformed incredibly quickly to serve their members in ways previously unimaginable. What we have learned is that by spending time and effort focusing on their members, clubs don't necessarily need the non-member outings and events. The pandemic has steered clubs to getting back to why they were initially founded—as a place dedicated to serving members through unmatched service and experiences."
There was undeniable but measured enthusiasm across the golf equipment industry, too. Equipment sales mirrored the energy in rounds played, recovering from a negative trendline in March and April that saw dollars dip by 31 percent. By year's end, fueled by the biggest July in history and the second highest quarter ever (behind only the quarter after Tiger's riveting 2008 U.S. Open win), total sales of clubs and balls were at $2.9 billion in 2020, matching 2019's numbers. David Maher, president and CEO of Acushnet, the parent company of the Titleist and FootJoy brands, noted in his recent summary of the company's full-year earnings that the extraordinary gains might be an unrealistic standard for 2021, but the general direction is telling.
"We are still in a massive transition," he said. "2020 was a massive transition year, 2021 will be a massive transition year. When the dust settles, hopefully sooner versus later, [the way] I tend to look at it is, 'Okay, what's the world going to look like, 2022 versus 2019?' And I think the golf landscape is going to have more energy, more momentum, more golfers."
Find the right club for your game with our new Hot List interactive: