News
The Open champ and Ryder Cup hero on going head-to-head with Tiger, dealing with pressure and recalling a group cry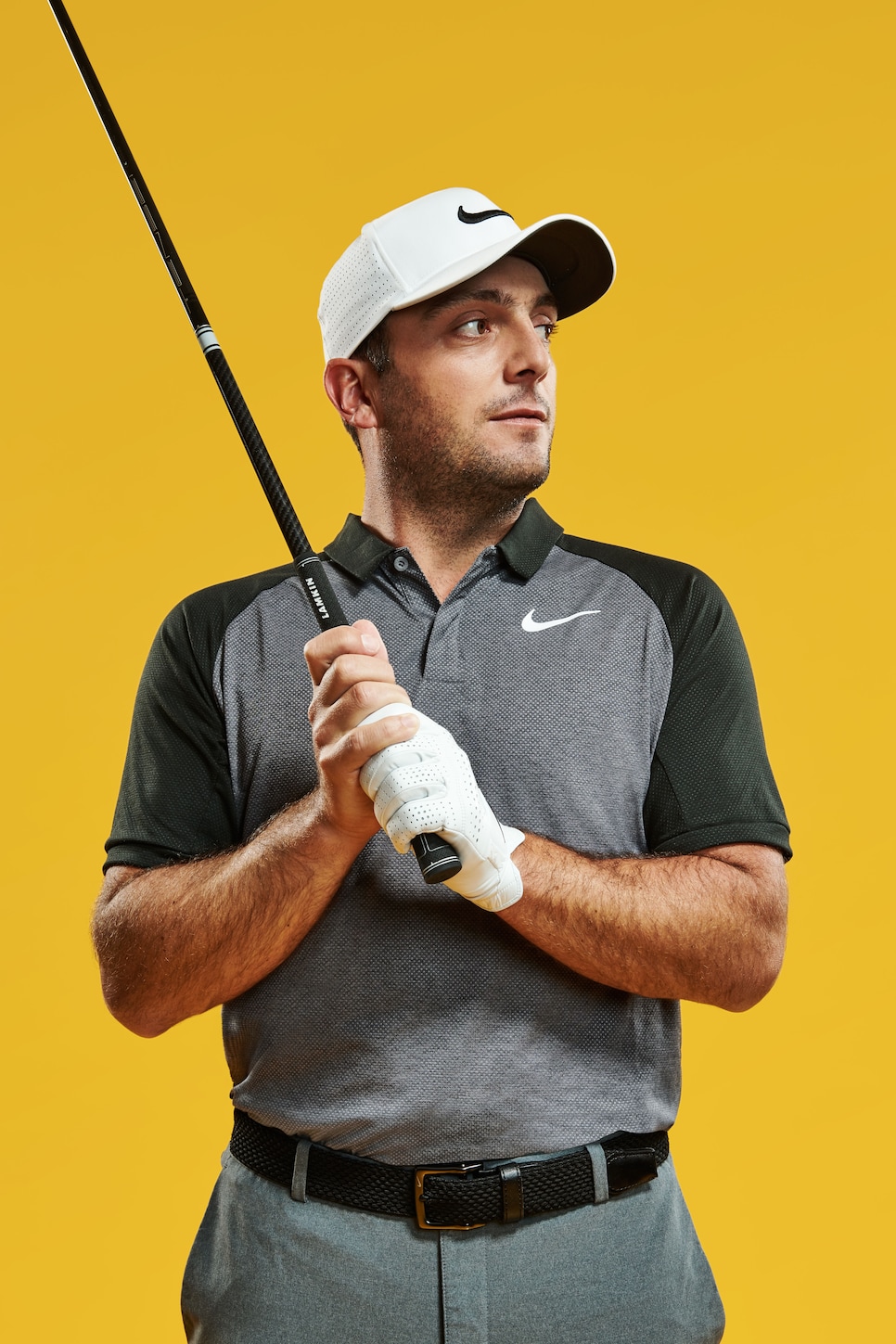 EDITOR'S NOTE After Francesco Molinari's amazing 2018 season, including a victory in the Open Championship at Carnoustie, an eight-stroke win on the PGA Tour and a 5-0 record in Europe's Ryder Cup beatdown outside Paris, he was interviewed in Italian by Massimo De Luca, Editor-in-Chief of Il Mondo del Golf Today, Golf Digest's affiliate in Italy.
When did your love of golf begin?
I wasn't even 5 when I began swinging the golf club. In the Molinari family, golf was a passion. My grandparents played, especially my paternal grandparents, and my parents ended up being single-digit-handicappers. But kids under 8 weren't allowed at their golf club in Torino, which later became our club. So Edoardo [Francesco's older brother, winner of the 2005 U.S. Amateur and now a tour pro] and I practiced when we would go to Sestriere, the ski town built by the Agnelli family [industrialist Gianni Agnelli was one of the richest men in Italy], where there was an 18-hole course. I had to wait to go to the Golf Club Torino. I got my handicap around 10 years of age. At 12, it was down to 12, and at 16, I was scratch.
When did you realize you were really good and might have a pro career?
Not until I was in university. While we were in high school, Edoardo and I could only practice Wednesday afternoons and on the weekends because of school. My father was really clear: First we had to get degrees, and then we could decide what to do in the future. He was unyielding. And so that's what we did: I got a degree in economics, Edoardo in engineering. Dad was always worried about our being able to have professions to fall back on if we weren't successful in golf.
You did your thesis on golf, correct?
My supervisor had been an avid golfer, another single-digit player from my club. I did a study on the business organization of the European Tour, of all its various divisions. He really liked it.
You're not thinking about being a business executive when you stop playing golf, are you? Should Keith Pelley [European Tour CEO] be worried?
No, no. [Laughs.] I've still got a lot of years to go before I retire. I don't know what I'll do afterward.
PGA Tour player Wes Bryan commented that he believed your retirement plan would be to hang out in cafés, drink coffee and read books all day. Is this an accurate depiction?
That was an inside joke. We played together in Shanghai, and between shots I jokingly told him about my plans for retirement. It was probably the air in China, being so far from home, that made me a bit homesick. But anyway, there'll be time to think about retirement. [Molinari turned 36 on Nov. 8; Edoardo will be 38 in February.]
What were your most important results as an amateur?
I won the Sherry Cup in 2004 in Sotogrande, in Spain [Sergio Garcia, Padraig Harrington and Rory McIlroy are former winners], and I got to the semifinals at the British Amateur at Royal Troon in 2003. I remember melting when I lost to Gary Wolstenholme in the semifinal. My brother was caddieing for me, and Giorgio Bordoni, the Italian National Amateur coach—practically a big brother for me—was walking the course with us.
It was our dream, if I won, to earn the right to play in the Masters. I lost at the 18th hole, so I shook the hand of my competitor, who was 22 years older than me, and sitting on the steps of the clubhouse with Edoardo and Giorgio, we all burst into tears. The dream was gone, and in that moment, I would never have imagined that only three years later, I would be caddieing for my brother at the Masters. He won the U.S. Amateur at Merion, getting the right to play two rounds with Tiger Woods, the Masters reigning champion. Unfortunately, Gio-Gio—our name for coach Giorgio—died suddenly in his sleep in 2013, at only 48 years old. When I won the Open Championship at Carnoustie, that memory came back to me: Edoardo, Giorgio and that cry we had together. Some things you just can't forget.
Was Edoardo's victory in the U.S. Amateur at Merion motivation for you?
It was amazing. There was never any jealousy between us. We always cheered one another on. And to participate in the 2010 Ryder Cup [at Celtic Manor] together was very emotional. People chanted, "Two Molinaris; there's only two Molinaris." Even Prince Charles chanted it when he was visiting the European team. I met Tiger for the first time while caddieing for Edoardo at the 2006 Masters. He asked my brother who his caddie was. Edoardo explained that I was already a professional—a month later, I won the Italian Open, my first professional success. Then, as you know, Tiger and I crossed paths often, especially this year at Carnoustie and the Ryder Cup.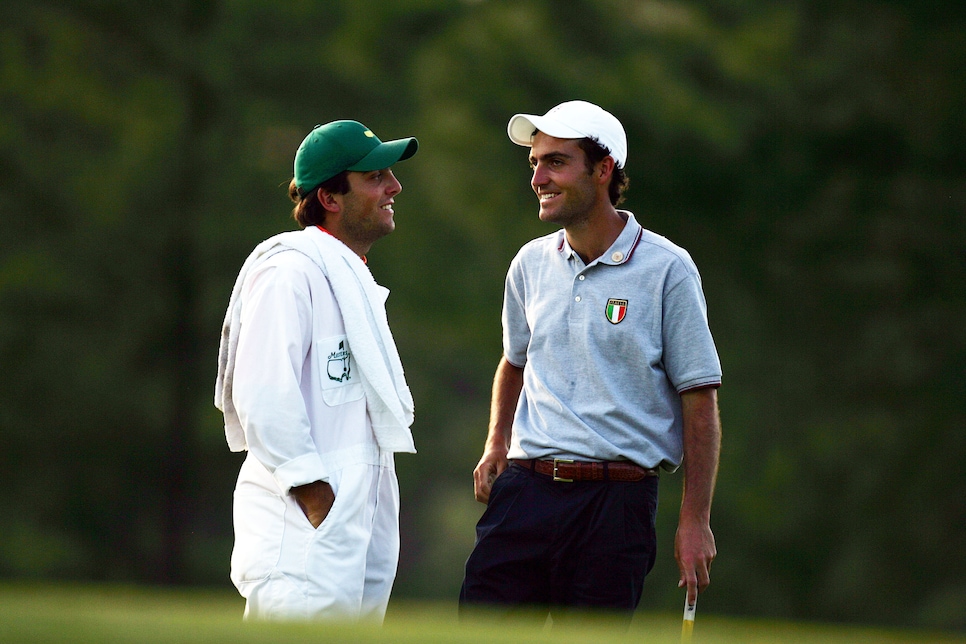 Did you chat at all with Tiger after the Open or the Ryder Cup?
This year we had a really similar schedule, so we have seen each other a lot. He congratulated me many times. In Paris, we wished each other well before and after the closing ceremony. But I thought he looked very tired. I think his much-awaited return to victory at East Lake for the Tour Championship, just a few hours before [the flight to Paris], really took it out of him. I read somewhere that I had become his nightmare. Let's be real: For a champion like him …
Why did the U.S. team unravel at Le National, and when did you first sense they were going to?
It's difficult to pinpoint a specific reason. Undoubtedly the tricky setup of the course was a huge factor. But don't forget, we lost all three of the first matches on Friday morning. If it hadn't been for Tommy Fleetwood and me beating Woods and Patrick Reed, we would have been at 0-4, and it would have been really hard. We reacted by winning, 4-0, in the afternoon. But we didn't kid ourselves. The more-experienced players worried about an American backlash, but with time we felt better on that course, which many of us know [as an annual European Tour stop for the French Open]. The key moment was Saturday morning, when only Justin Thomas and Jordan Spieth had earned a point. We saw that they were probably more tired than we were, also because the majority of them had been busy with the FedEx right up until the end. But you know how the Ryder Cup is. In fact, after the 2-2 Saturday afternoon, they attempted a comeback in the singles on Sunday. But we reacted well.
Why do you think the Europeans were so dominant against the Americans in the Ryder Cup this year?
Let me start by saying that this was the strongest European team that I've ever played with. If the European team is technically strong, it can also gain advantage from being a really united team. Because we Europeans have known each other since we were kids. We started playing all the same youth tournaments together, then we were on the European Tour and the PGA Tour. The atmosphere within the team is playful and friendly. The Americans are more individualistic. It's a paradox because America is one country, with one language, while we come from many different countries. But that's the way it is.
How do you like the term "Moliwood"? What made you and Tommy Fleetwood unbeatable?
The word Moliwood and the chants about us were a wonderful surprise. I would never have expected it. It was fun and really boosted our spirits. Tommy explained they changed the words to an English stadium chant dedicated to Yaya and Kolo Touré, the two brothers that were pillars of Manchester City for a few years. I root for Inter [Milan] and West Ham in soccer. I've been friends with Fleetwood for years. His wife, Clare, was my agent at Hambric Sports when they met. She has cousins in London, and when they come to visit, if I'm not in the States, we try to get together. Our friendship has been fundamental in creating the synergy you need for doubles. And we've always been comfortable at Le National. He won the French Open in 2017, and I was second three times.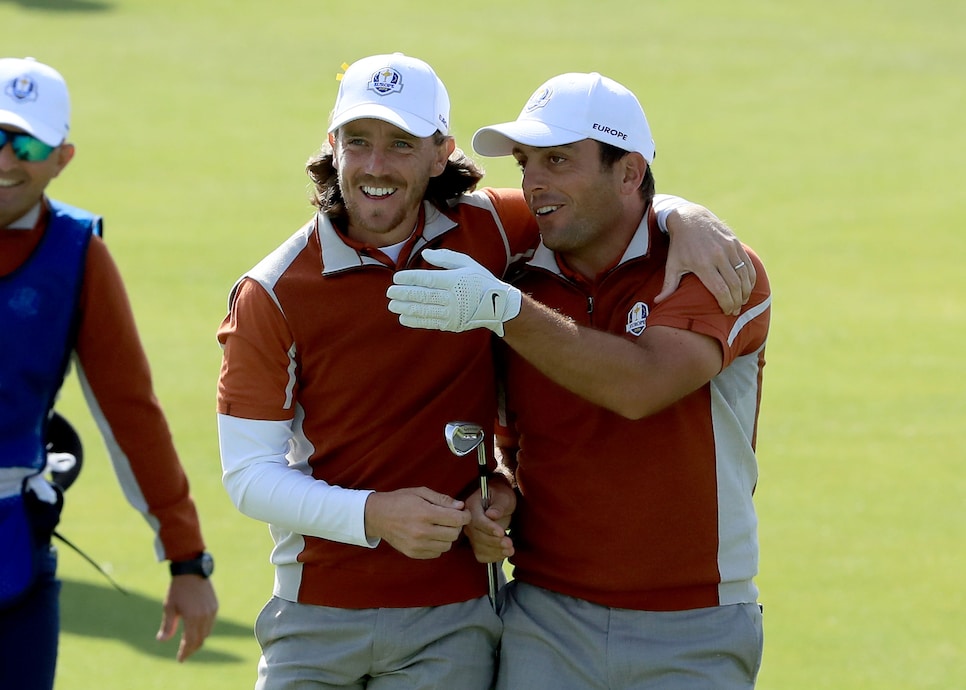 David Cannon/Getty Images
We've got to ask: Did you see any altercation between Dustin Johnson and Brooks Koepka at the Ryder Cup party?
Nothing happened the entire time I was there, but I wasn't among the last to leave. A cameraman from European Tour. TV asked Tommy and I to shoot that famous video of us in bed with the cup between us. We liked the idea, so we went to a room to film it.
After Danny Willett's brother created controversy with his depiction of Americans before the 2016 Ryder Cup, what was your reaction when Edoardo had some fun with Patrick Reed, tweeting, "Captain America must have no passport! no sights of him in Paris!"?
I read my brother's tweet the next day, but it didn't seem so bad to me. It was just a joke. Patrick has a strong personality. He knows how to dish it out, but also how to take it. There were no negative consequences.
Another Italian, Costantino Rocca, defeated Tiger in singles at the 1997 Ryder Cup at Valderrama. you were 14 years old. do you remember anything about that match?
Of course—Edoardo and I grew up with the legend of Costantino Rocca. He was the champion who inspired us. We followed everything he did on TV. I saw the last two holes of his match with Tiger in Valderrama, with that extraordinary 3-iron he hit right onto the green from the woods on the 16th, and ended up beating Tiger [4 and 2]. In 1995, when Rocca played the Open Championship at St. Andrews and got that famous birdie putt from 60 feet to go into the playoff with John Daly, Edoardo and I were watching in a Sestriere pizzeria with our coach, Sergio Bertaina, and another trainer, Francesco Guermani. When Rocca's ball hit the hole, we exploded. The other diners looked at us like we were nuts. Then, unfortunately, Costantino lost the playoff. For us, he was an example. In Paris, he was behind the ropes rooting for me. He came and hugged me on the putting green. He was moved. A great champion, and a great person.
What makes golf in Italy different from golf in the rest of the world?
Italy makes the difference. There are plenty of beautiful courses in the world. But around Italian courses, there is history, culture, scenery, food, style.
What impact do you think your 2018 season might have on Italian golfers?
I think lots of Italian kids watched this great season on TV, and I hope that it had the same effect on them that Rocca's victories had on me. We already have a lot of really strong young amateurs who win internationally. We need to increase the numbers of young players, though.
The various stereotypes associated with European nations are just that, stereotypes, but do they ever come out in a golf sense?
I don't see any major differences. There are no similarities among players and country. It's true that each country shapes you in a different way. But I'm considered not very Italian for my reserved behavior on the course. There are many differences within each country. I am from Piedmont in the north of Italy—very different from Romans or Italians from the south.
What was the low point of your career, and how did you climb out of it?
Like everyone, I've had highs and lows, but never really low, luckily. From 2013 to 2015, even though I placed well, I didn't win anything. I think I did the right thing in that period: I thoroughly analyzed the situation with people close to me: the swing coach, Denis Pugh; my manager, Gorka Guillen; the performance coach, Dave Alred; and my wife, Valentina. You're never absolutely certain what to do in these cases; you have to go with your instinct. But we ascertained that in the last year and a half, I had too many highs and lows on the green compared to other areas of the game where I was very consistent. So I started working with Phil Kenyon last spring, and from the very first day he completely changed my putting posture. And I got results.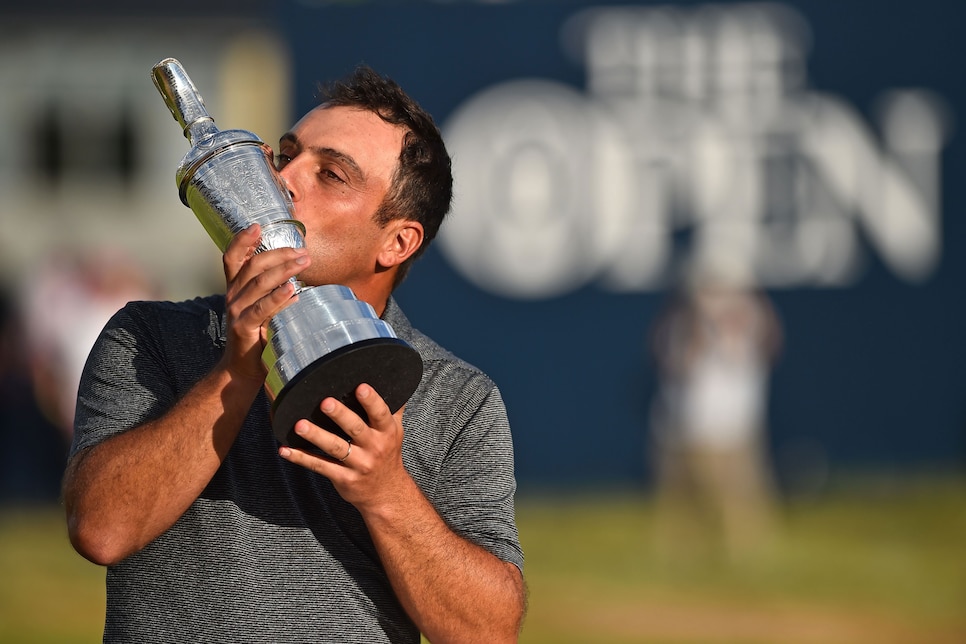 Glyn Kirk/AFP/Getty Images
How is it working with a performance coach?
I've been working with Alred for two years, and he's been helping me withstand the pressure. He worked with Luke Donald when he became No. 1 in the world, and Jonny Wilkinson, the English rugby legend. With Alred, every stroke in training has an objective—in the long game, in the short game, in putting. If I miss that objective, I have to redo the stroke until I get it.
Is that the reason you were as calm as you seemed in the final round at Carnoustie and throughout the Ryder Cup? Any tips for dealing with pressure?
Alred helps me feel ready. Before, I panicked when my game was off. Now I stay in control. At the Ryder Cup, I had much more adrenaline than at Carnoustie, but I stayed calm. As far as advice, you need to see what works for you. Find a few ways to increase your concentration. Everyone has something different. I try to mentally detach between one stroke and the next to not overload the tension.
Denis Pugh says that Valentina is the real team leader.
My wife has never played golf, and oddly enough this is lucky because she gives me a completely different point of view—a neutral point of view—on many decisions, even in life. She was the one who suggested moving to London in 2009. She did her master's there in 2006 and fell in love with the city. Since I go back and forth to the States all the time, London is more convenient for my trips and allows me to work with Denis at Wisley Golf Club in Surrey, less than an hour from my house. They really welcomed me at the club, especially after the victory at Carnoustie. They even offered me the presidency of the club.
Did you participate in any other sports growing up?
Edoardo and I always skied at Sestriere when I was 11 and he was 13, but he was better than I was.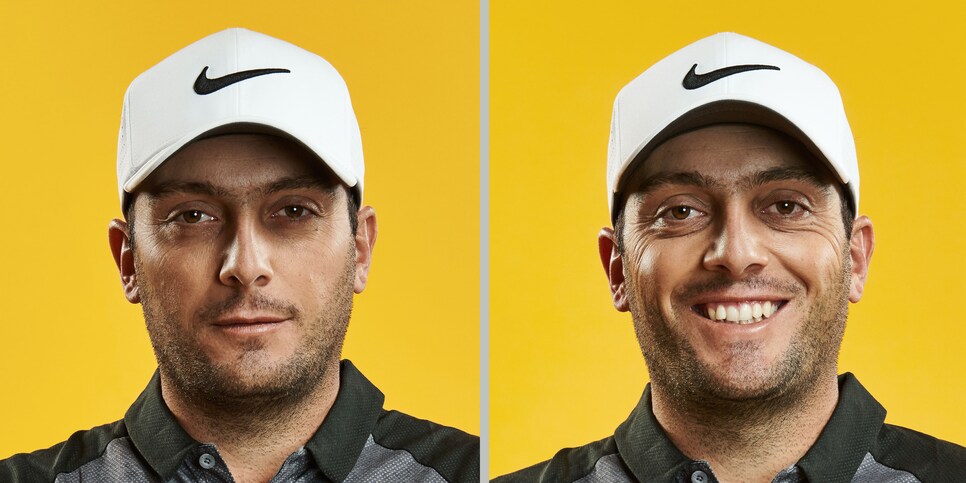 Rome is set to host the Ryder Cup in 2022 [at the Marco Simone Golf & Country Club]. what are your expectations?
When the Ryder Cup is held outside of the U.K., it's already something different. The one in Rome will only be the third [outside the United Kingdom], after Valderrama in '97 and Paris in 2018. It will definitely be special because Rome is so unique. This year, the team didn't even get to see Paris. Everything happened close to Le National, and the gala was held at the Palace of Versailles. I think in 2022, we'll get to see a bit more of the city.
Let's say in 2020, you, your brother and Tommy Fleetwood all qualify for the European team. who will you partner with?
[Laughs.] Well, first, it would be wonderful, but definitely not an easy decision. But with the results I got playing doubles with Tommy, it would be hard for even my brother to separate us.