News
British Open 2018: Francesco Molinari's historic rise didn't happen overnight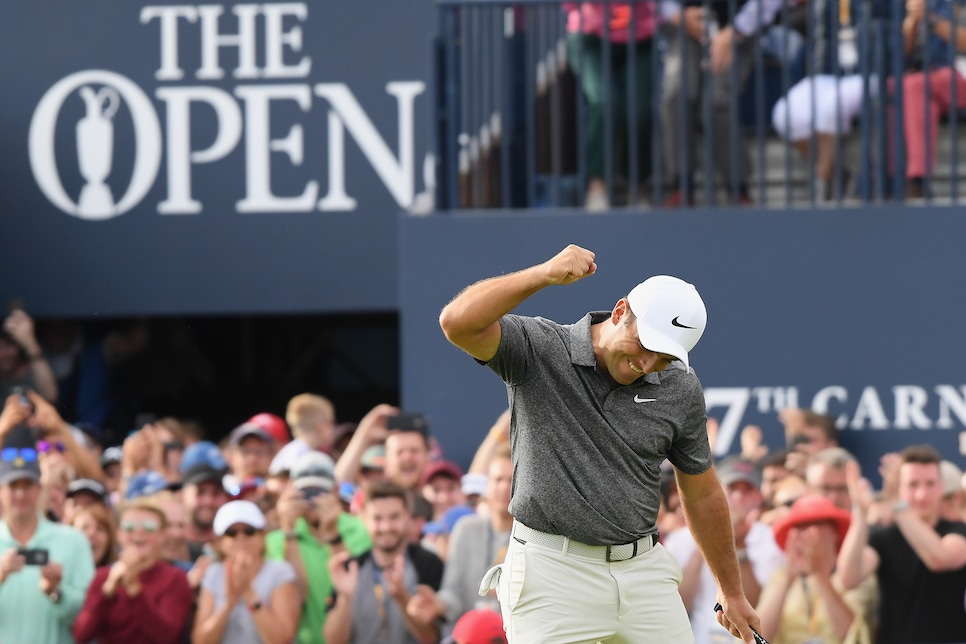 CARNOUSTIE, Scotland — He arrived in Carnoustie for the 147th Open Championship as the best player in the world over the last two months. And he will leave the dour Angus town as Italy's first-ever major winner—if you don't count his older brother Edoardo's U.S. Amateur triumph in 2005—after a superb all-round performance that exhibited both his long-held prowess between tee and green and new-found dexterity with putter in hand. Step forward Francesco Molinari, complete player—and modest soul.
"It's amazing to stand here with the claret jug," he said, still appearing somewhat dazed by his experience. "I knew I was coming in with some good golf. But my record around here was terrible. So that didn't make me too optimistic about the week. I just tried to not think about it and focus on hitting good shots day by day.
"Still, to go the weekend bogey-free is unthinkable to be honest. So I'm very proud of today. I felt really good this morning. I felt I was ready for the challenge."
No wonder. The run of form that has climaxed with the 35-year-old Turin native and London resident becoming "champion golfer of the year" began in late May when Molinari beat Rory McIlroy to annex the European Tour's flagship event, the BMW PGA Championship. Seven days later, despite making a huge putt for birdie on the 72nd green, he was second in his home event, the Italian Open. Two weeks ago, the two-time Ryder Cup player was shaking hands with tournament host Tiger Woods after making the Quicken Loans National his first PGA Tour victory. And just seven days before he would lift the claret jug—this time with Woods as his playing partner—Molinari was runner-up in the John Deere Classic.
None of the above, however, could match the style with which the former Italian Amateur champion strode to the biggest victory of his life. Early in the week he had worked on "widening" the Carnoustie fairways by shaping his shots more than normal. And it worked like a charm.
"Francesco usually tries to hit pretty straight shots, but here he needs to get more curve on the ball," said his swing coach, Denis Pugh. "The wind is enough to make the fairways—which are already quite narrow—even narrower. Especially when you are talking about a cross-wind. If the fairway is, say, 40 yards wide, hitting down the middle gives you only 20 yards either side. Starting the ball on one side or the other doubles that amount.
"Generally speaking, he is going to let the wind do the work on his tee-shots, then he'll take over on the second shots. He has the "Monty Fade," what we call his '30-30' shot. That's '30 wins and £30 million.' We don't have a name for the draw yet."
It all took time to kick in though. But when it did, it did with a vengeance.
A rather pedestrian level-par after 36 holes, Molinari played the next two rounds bogey-free and in eight under par, good enough to see him home by two shots. His final circuit of a sun-baked but finally breezy Carnoustie consisted of 16 pars and two birdies, the second of which came at the par-4 18th hole. It was that— completed by the sort of four-foot putt that used to be viewed as his Achilles Heel—which finally separated the new champion from the large pack of pursuers that made the final afternoon such captivating viewing for Carnoustie's record-breaking crowds.
Speaking of which, it has for long enough been difficult to watch the younger Molinari—he and his elder brother combined to win the 2009 World Cup for Italy and were partners for Europe in the 2010 Ryder Cup at Celtic Manor—back up his beautifully-crafted long game with relatively poor putting. It was a frustration shared by Pugh.
"This is the end result of so much hard work by Francesco on all departments of his game," he says. "The three parts—swing, short game and performance—have really gelled together.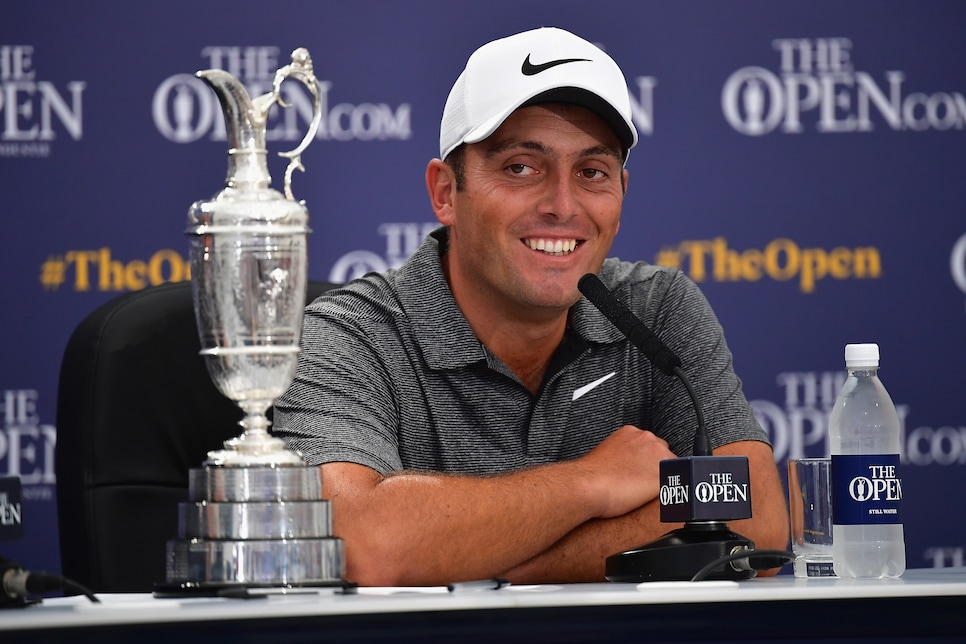 "He had played poorly at the Players Championship in May. So poorly that we pretty much went back to basics. And it worked. Since the win at Wentworth he has just gone on and on and on. Francesco plays his best when he is thinking about his swing. He gets good feelings from his mechanics. So we haven't worked on anything new. With him, it is just a case of going over and over the old stuff. That's not very sexy, but it works."
Indeed, it is on the greens where Molinari has been recently transformed. As Pugh was quick to acknowledge, his charge has been helped enormously by putting coach Phil Kenyon and performance guru, Dave Aldred.
"Dave has made Francesco a lot more specific in his targets and given him what he calls "an ugly short game," Pugh says. "Which has helped me enormously. There have been times when it felt like he would leave to hit every iron to two-feet in order to make birdie. So it's been a long process. A grind at times. Which is typical of Francesco. In terms of intensity, he is the hardest worker I have ever seen. He doesn't necessarily work long hours. But when he is working it is always 100 percent effort and concentration."
That ability to focus came in handy during the more than four hours it took Molinari to make his home country forget just how close Costantino Rocca came to winning the 1995 Open Championship at St. Andrews. Rocca lost a four-hole playoff to John Daly. Paired with Woods, he had to contend with a course playing tougher than it had all week, as well as the extra hustle and bustle that comes with competing alongside the most famous golfer on the planet.
"There was everything to make someone nervous," said Molinari with a smile. "But I focused on my process and on hitting good shots and on playing smart golf. I knew the front-nine would play mostly into the wind, so pars were great. I was happy with my score. Saving par on six was massive. And then coming back, I knew I would get a couple more chances downwind. So everything went to plan."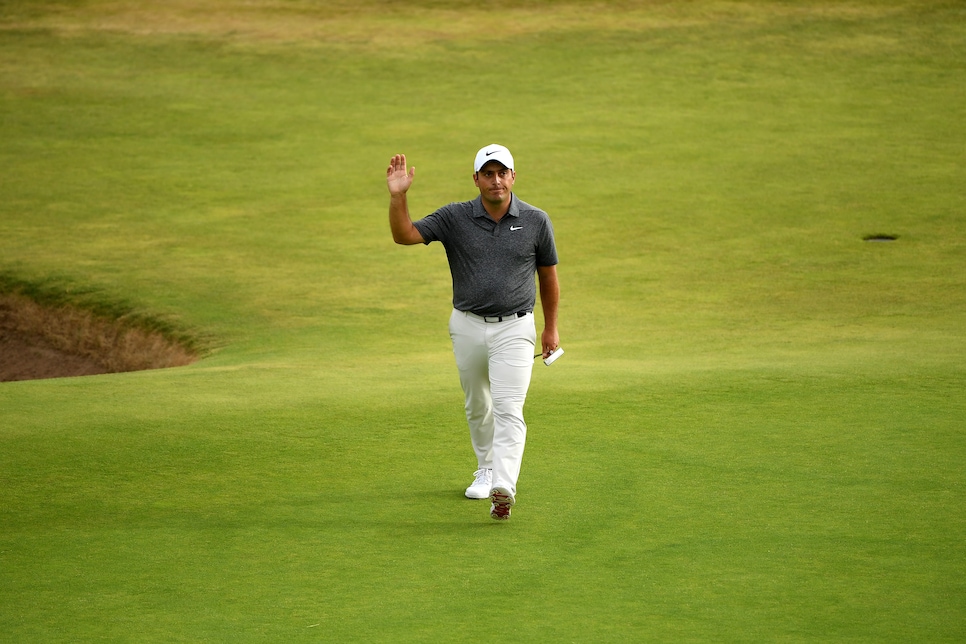 For the first time at Carnoustie. Admitting to owning a "terrible record" over the course almost universally recognized as the toughest on the championship rota, Molinari has avoided the Dunhill Links Championship (in which one round is played over Carnoustie) since 2014, when he finished T-51.
"I got beaten up around here a few times already in the past," he said with another smile. "I didn't particularly enjoy that feeling. It's a really tough course. You can try and play smart golf, but some shots, you just have to hit it straight. There's no way around it. You can't really hide. So to play the weekend bogey free around here—as I did at Wentworth—is even more impressive."
Indeed, just about the only thing that went wrong for Molinari on the day he will surely never forget was missing his EasyJet flight to London. One imagines he will get over that setback quite quickly though. He is, after all, on something of a roll.