News
Francesco Molinari: 15 things you need to know about the 2018 Open champion and Ryder Cup star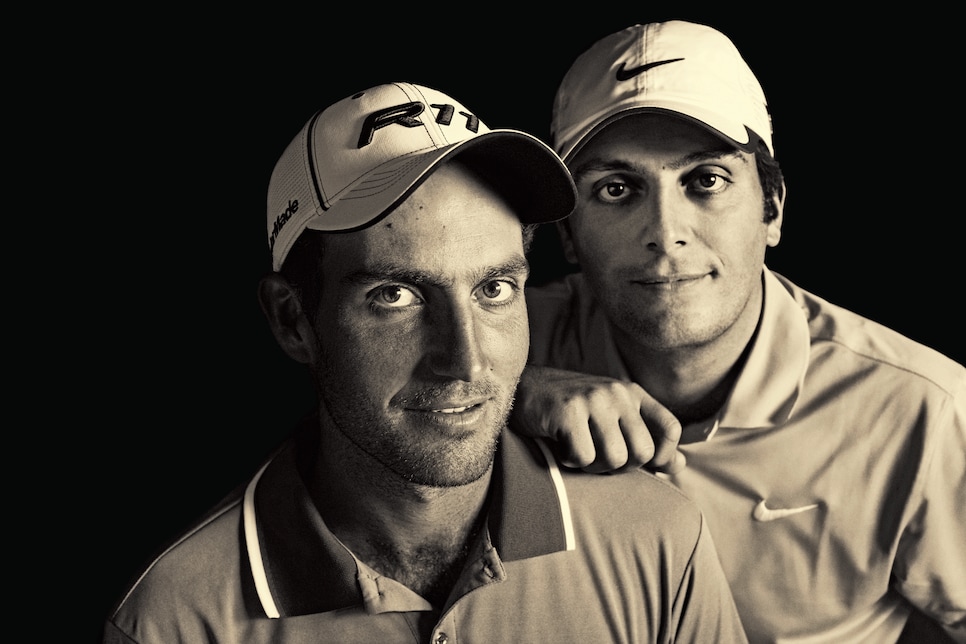 This season was the year Francesco Molinari broke out as a star in golf. Through a packed leaderboard with some of the world's best players, Molinari emerged at Carnoustie to claim his first major title. It was an exciting Sunday, with names like Tiger Woods, Jordan Spieth and Rory McIlroy in the mix, but it was the impressive, consistent play of Molinari that claimed the Open Championship.
Molinari further cemented his dominant 2018 by going 5-0 at the Ryder Cup to aid a European romp over the Americans at Le Golf National. Team "Moli-wood" was born as Molinari paired with his buddy Tommy Fleetwood to become one of the most memorable duos in Ryder Cup history—not just for waxing each American side, but for their sense of humor and friendship that created a folk lore around them.
Though Molinari's win might not be huge to American golf fans, it could be that you don't know much about the Italian golf star. Here are a few other things you should know about this year's Champion Golfer of the Year:
Francesco's older brother, Edoardo, won the 2005 U.S. Amateur win at Merion, where Eduardo became the first European to win the prestigious title since 1911.
To get into a playoff for a spot in the U.S. Amateur's 64-man match play, Edoardo needed a birdie on his last hole, a par 3; from a bunker, he holed out. Then in the 36-hole championship match, he was 3 down after a rainy morning round. "My shirt was wet, so I asked in the pro shop if they had a magic shirt for a comeback," Edoardo told Golf Digest's Dave Kindred. Dry and armed with a shirt with a Merion logo on the front, Edoardo birdied seven of 15 holes—using 18 putts—to win, 4 and 3.
Francesco carried Edoardo's bag for his 2006 Masters appearance, fulfilling a deal they had agreed to as kids: "Whoever plays in a major first," Francesco told Golf Digest in 2010, "the other would caddie."
Though he had already turned pro and had status on the European Tour, Francesco was good on his word. Who was Edoardo paired with during the first two rounds? None other than Tiger Woods, who Francesco played alongside with on Sunday at Carnoustie.
Though his older brother, Edoardo, was the more touted prospect—highlighted by his U.S. Am victory—Francesco was more focused on golf growing up and had quite a pedigree as well.
He won the Italian Amateur two times and took home his first European Tour title, his native Italian Open, when he was just 23 years old. Francesco took home the Italian Open again in 2016, becoming the event's only two-time winner from Italy since it became a European Tour-sanctioned event.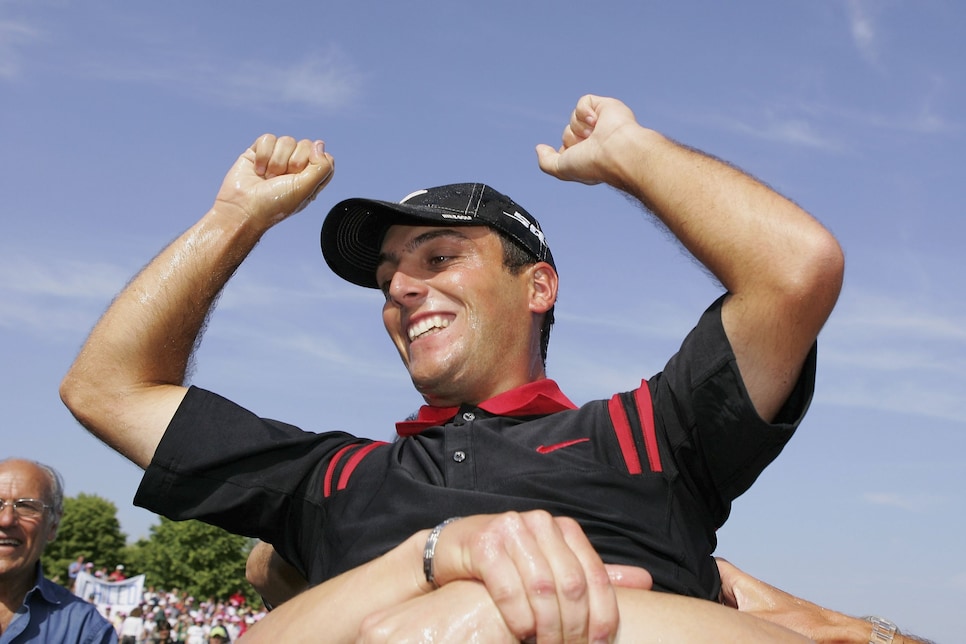 The Molinari brothers grew up playing at Circolo Golf Torino, learning the game from their grandparents and father, Paolo, who is a dentist.
Edoardo's nickname, Dodo, comes from Francesco not being able to pronounce his oldest brother's full name when they were little.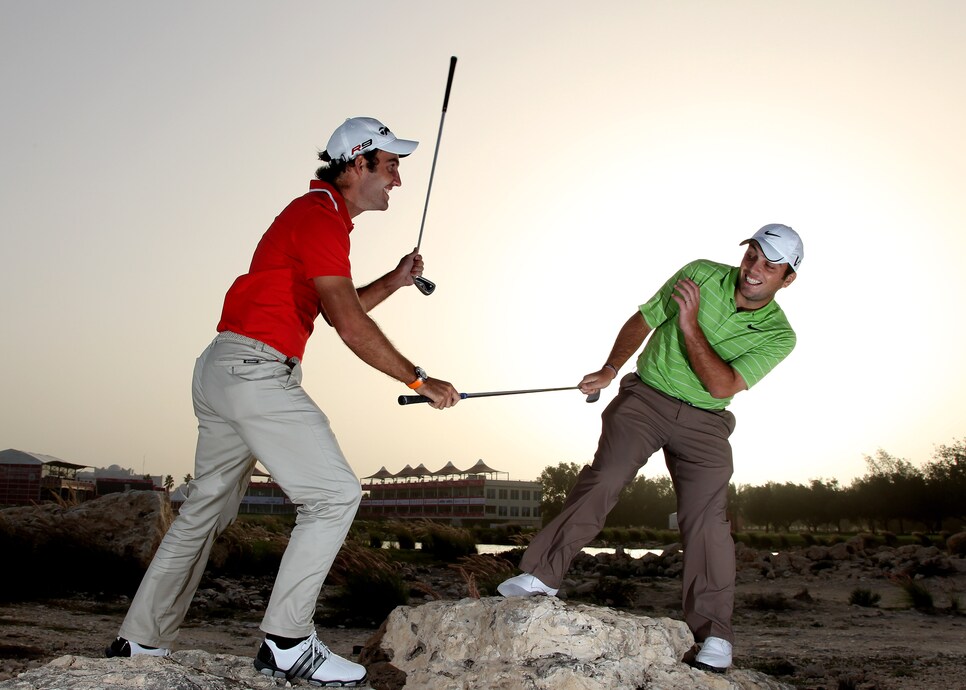 Only 23 months separate the two brothers. When they both represented the European side in 2010 at Celtic Manor, the Molinaris became the first pair of brothers to play on the same Ryder Cup team in 47 years.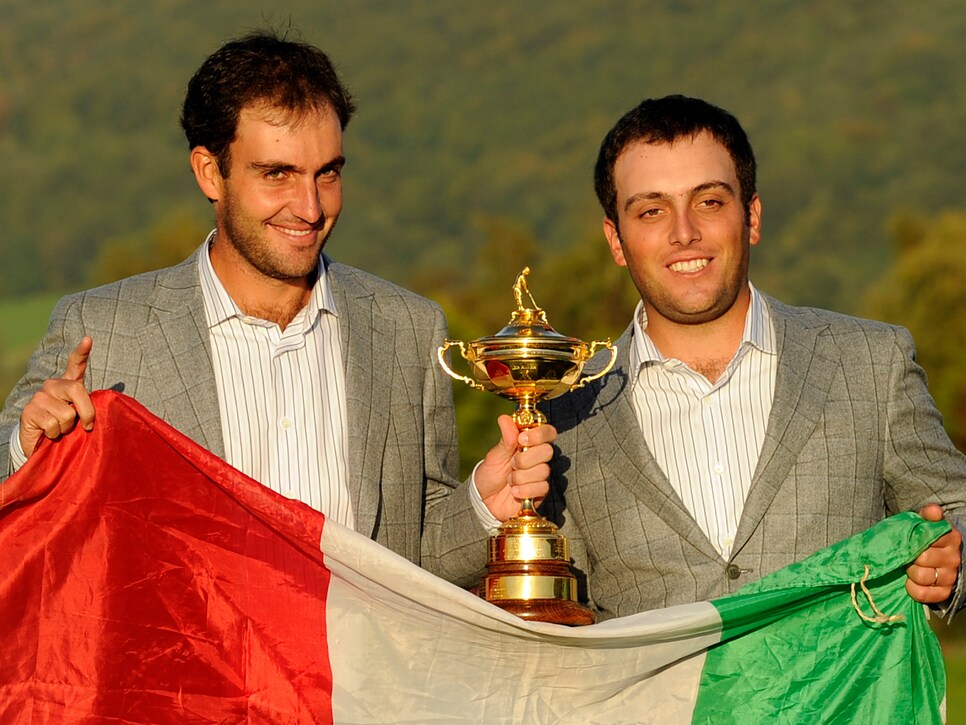 From Turin, Italy, the site of the 2006 Winter Olympics, Francesco carried the Olympic torch as it made its way to the host site. Molinari is also a big-time skier.
Despite hailing from Turin, Francesco follows Inter Milan. His brother supports Juventus. Francesco's London team is West Ham.
Francesco's win at Carnoustie is the first major title for any Italian golfer, male or female.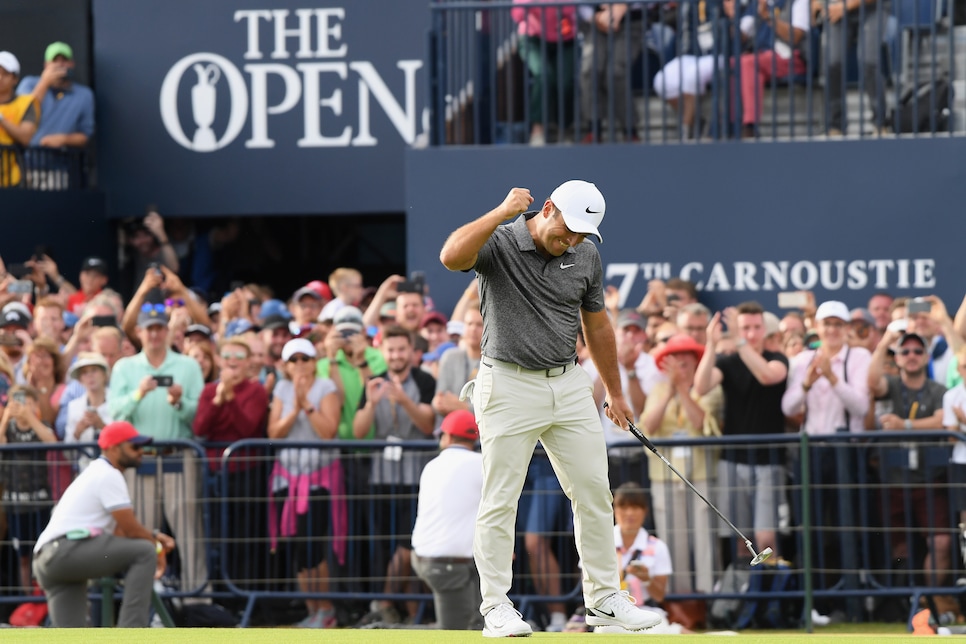 Constantino Rocca's near victory at the 1995 Open at St. Andrews, losing in a playoff to John Daly, had been the country's best chance. (Molinari also finished T-2 at the 2017 PGA Championship at Quail Hollow.)
This has been a year to remember for Francesco. Molinari has nabbed the two biggest events played in Europe, taking home the BMW PGA Championship at Wentworth in May to go with his Open Championship title, not to mention the Quicken Loans National by eight shots. He was handed the trophy by Tiger Woods, the event host.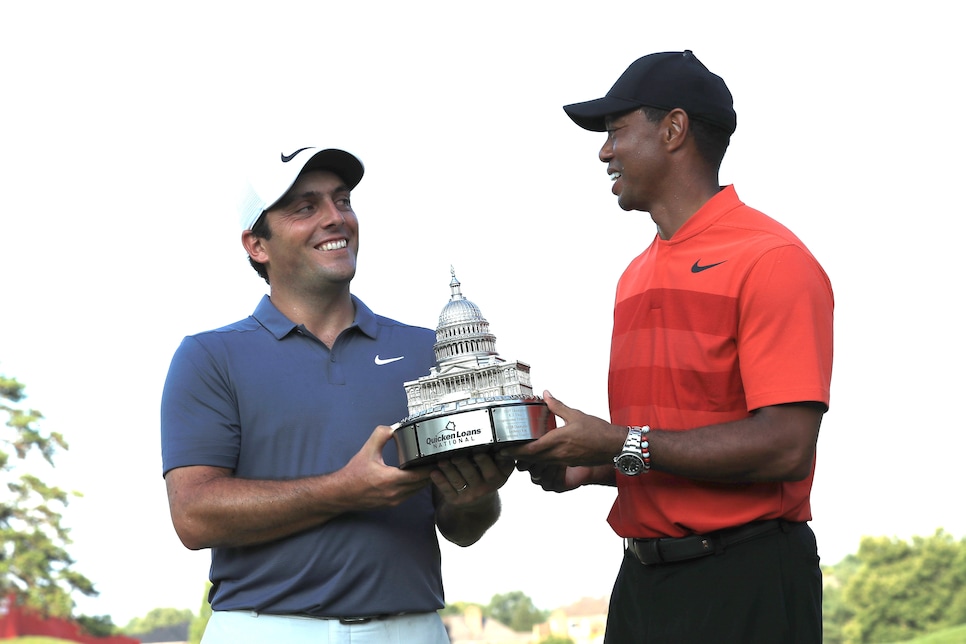 Molinari and Tommy Fleetwood paired up to become the only European duo to earn four points in a Ryder Cup. Heady stuff for "Moli-Wood," who became an Internet sensation not just for their play, but playing into it expertly, including a hilarious video in which they [posed together in bed after the Ryder Cup.(https://www.golfdigest.com/story/ryder-cup-2018-francesco-molinari-tommy-fleetwood-win-again-with-hilarious-videoin-bed)]
Francesco has played in three Ryder Cups, a part of three European side victories. Before his becoming a Ryder Cup star for the Europeans in 2018, he defeated Tiger Woods during their singles match at the 2012 Miracle at Medinah.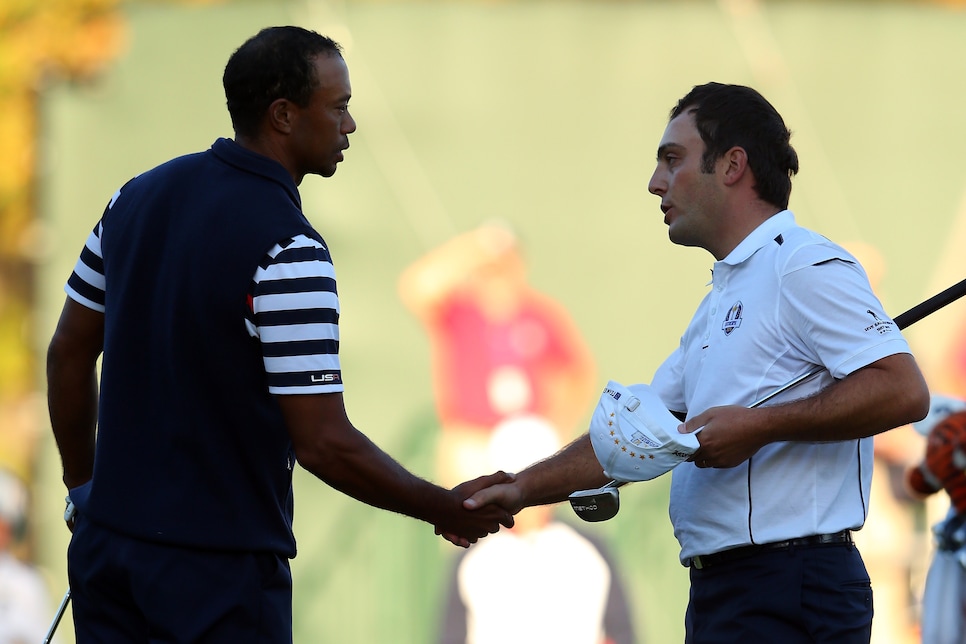 Just a year ago, fellow tour pro Wes Bryan said that Molinari discussed with him his plans to retire in about two-and-a-half years, in which he'd be content sitting at a coffee shop, watching sports on TV, maybe reading books and "becoming a troll on Twitter."
--Molinari is now ranked seventh in the world, trailing only Justin Rose and Rory McIlroy among Europeans. (Jon Rahm is now eighth.) Molinari also leads the European Tour's season-long Race to Dubai standings.
Working with putting guru Phil Kenyon has helped transform his putting, once a weakness for Molinari.
Molinari ranked fourth in putting for the week at Carnoustie. Kenyon also coaches with Tommy Fleetwood, Justin Rose, Henrik Stenson and has worked with Rory McIlroy in the past. Molinari also credits recent work with British performance coach Dave Alfred, who has also worked with Luke Donald and Padraig Harrington, for his successful 2018: "He's probably a personality and a figure that I was missing. He's really helped me a lot."
Molinari has had a long partnership with swing coach Denis Pugh, a prominent European instructor who works with Ross Fisher and spent a number of years with Colin Montgomerie.
Pugh on Molinari: "In terms of intensity, he is the hardest worker I have ever seen. He doesn't necessarily work long hours. But when he is working it is always 100 percent effort and concentration."
Molinari has two kids, Tommaso and Emma, with his wife, Valentina, whom he married in 2007.