The Loop
Former Alabama QB thinks he makes hole-in-one, hilariously narrates cart ride up to the green to find out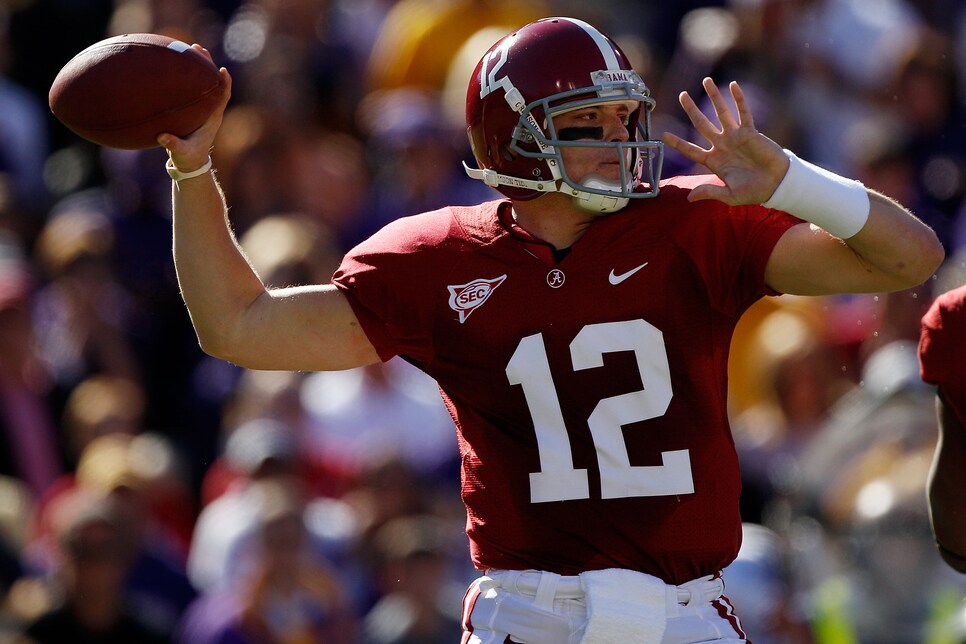 If you're lucky, your first hole-in-one will be one you can see go in from the tee, allowing you to celebrate accordingly with your buddies, your dad, the three weirdos you were paired up with, etc. But not every par 3 provides that view, and you may strike one well to a green up a hill that blocks your view of the ball, meaning you'll never know if it's in until you peak inside the cup.
This was the case for former Alabama Crimson Tide quarterback Greg McElroy, who hit a 9-iron so pure that he thought there was a good chance it went in considering it was "flag high" as he describes it. Unfortunately, McElroy faced the nightmare situation of possibly making your first ace while playing alone, so he did what any of us would do, whipping out his phone to at least document the proof. Here's the frantic footage of the 2010 national champion driving up to the 151-yard par-3 13th on the Legacy Course at Greystone Country Club in Birmingham, Alabama and finding out if it went in or not:
I've never made an ace, but there have been a few times where I thought I have (yeah, hit a couple decent shots in my day, not to brag) and I can confirm this is the exact gamut of emotions you will go through. First you convince yourself there's a good chance that it's in, then you tell yourself it is, then you get closer to the green and you "don't see it!!" (because it's A. hiding behind some slope B. over the green or C. in a bunker), then you skirrttt the cart or run up to the green while carrying your bag and destroy your back, then you run up to the hole and, in my case, it's empty. Cue the sad trombone.
Luckily for Greg, he was right the whole time, and got the surprise of a golfing lifetime when he arrived to pull out the flag stick. Awesome video, which by the way, is so on brand for the legendary game-manager. From the PG-13 rated "freaking" to the "sorry about the brakes!", this was very in character. Also, if you have never heard him call a college football game, definitely do so this season, because the guy is already one of the better color commentators in the sport.
And for the clowns that will inevitably be negative and try to say that no one can actually confirm if he made an ace, just shut up now. That was one of the most genuine reaction videos you'll see to a hole-in-one, and he made sure to start the video back at the tee. If he was really going to go to the lengths you need to in order to stage a hole-in-one, everybody would do the same. But hey, Twitter clowns are going to Twitter clown:
A mad Tennessee fan? That's a first. McElroy responded perfectly:
Not to mention he provided an honest answer about the fact he still might not have broken 80 during that round! Doesn't sound like a liar to me:
Don't worry Greg, we believe you. But we're also not Auburn, Tennessee or LSU fans. Good luck convincing them.