PGA TOUR CHAMPIONS
5 things you need to know ahead of the PGA Tour Champions' Charles Schwab Cup finale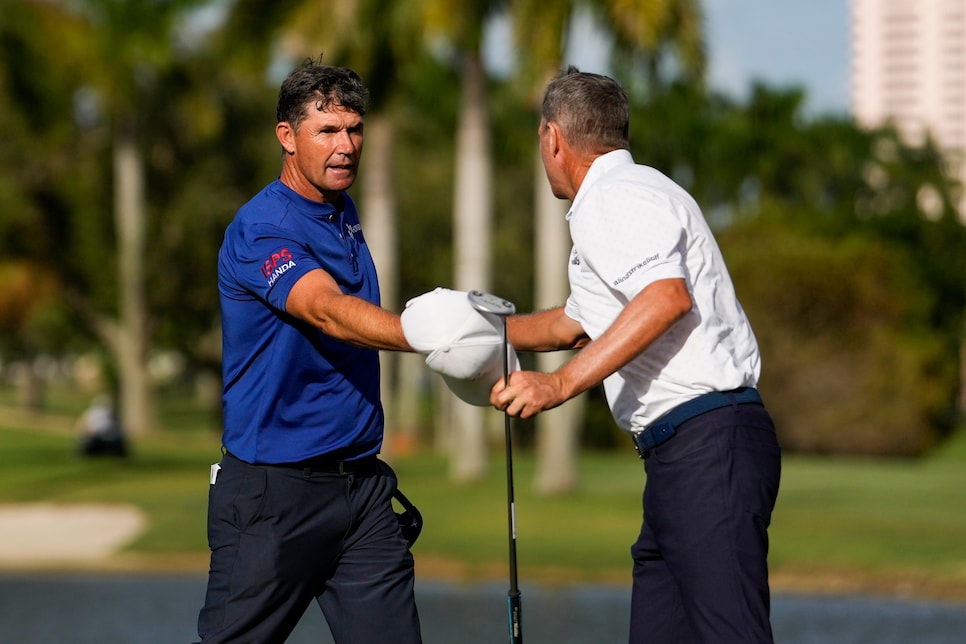 Padraig Harrington shakes hands with Steven Alker on the 18th green during the TimberTech Championship last week in Florida. The two men are the only players who can capture the season-long Charles Schwab Cup trophy.
Raj Mehta
The PGA Tour Champions takes center stage this week as it looks to crown two champions—the winner of the Charles Schwab Cup Championship and the season-long winner of the Charles Schwab Cup.
The 72-hole Charles Schwab Cup Championship is back at Phoenix Country Club (Nov. 10-13) this year, where 33 players are in the field. Although it's possible for the winner of the event to also win the season-long title, this is not set up like the PGA Tour's FedEx Cup where the winner takes all. Points are distributed throughout the year and then have a heavier weight during the three playoffs events.
Here are five things you need to know ahead of the festivities:
Only two men have a chance to win the season-long points
The top six on Charles Schwab Cup points are a who's who in senior golf but only Steven Alker and Padraig Harrington have a chance to take home the top prize and the $1 million bonus.
And really, Harrington has to win the tournament in order to have any chance of surpassing Alker, who holds a 617,980-point lead in the standings. If Alker finishes outside the top five then Harrington will win with a tournament victory. There are various other scenarios based on the number of ties ahead, but that's the general idea of what needs to happen for Harrington to have a chance.
Jerry Kelly, Steve Stricker, Bernhard Langer and Miguel Angel Jimenez are Nos. 3-6 on the points list but there aren't enough points available by winning the event that could have them catch Alker.
A breakdown of Alker and Harrington
Alker, a 51-year-old from New Zealand, Monday qualified last year to get into his first Champions event and then rattled off six consecutive top-10 finishes to solidify his status. He's now won five total senior events, including four this season—Rapiscan Systems Classic, Insperity Invitational, KitchenAid Senior PGA Championship and the Dominion Energy Charity Classic.
His consistency has been simply amazing. He's played in 22 events and aside from the four victories has 17 top-10 finishes and 20 top-25 finishes. Yes, he's only finished outside the top 25 twice all year.
Harrington has played four less events than Alker, which undoubtedly has kept him from being closer in the Schwab Cup standings. The 51-year-old Irishman has three victories, 12 top-10s and has finished inside the top 25 in 17 of 18 events. He won the U.S. Senior Open, Dick's Sporting Good Open and the Ascension Charity Classic.
Kelly won three times this year but was not as consistent overall. Stricker won four times but only played in 12 events because he battled illness early in the season.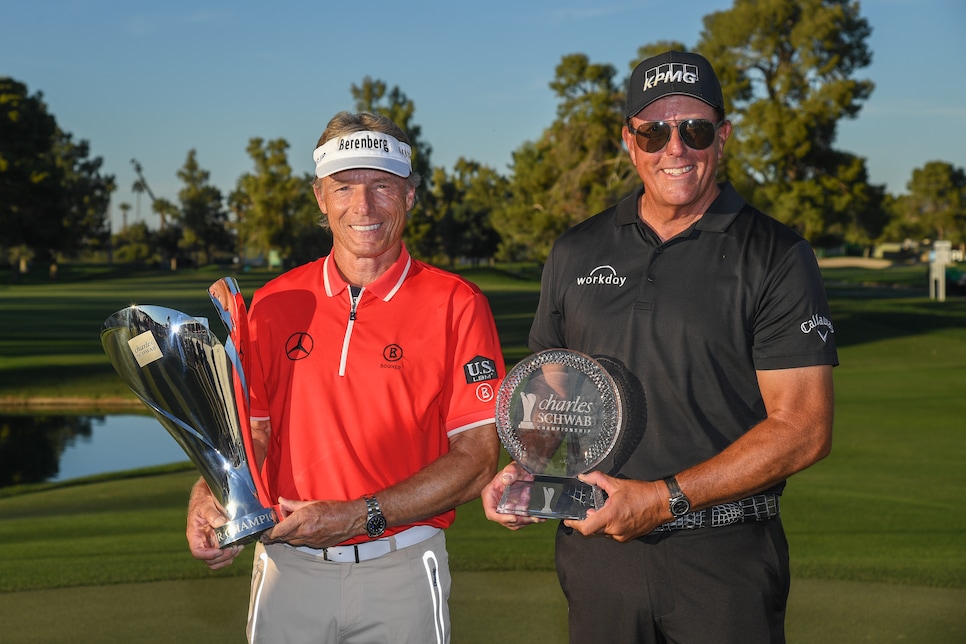 Bernhard Langer holds the Charles Schwab Cup and Phil Mickelson holds the tournament trophy on the 18th green after the final round of the 2021 PGA Tour Champions Charles Schwab Cup Championship at Phoenix Country Club.
Ben Jared
With so much noise surrounding Phil Mickelson and his LIV Golf exploits this year, it's easy to forget that he actually won the overall tournament by making three late birdies to shoot a final-round 65 to clip Alker by one shot. Mickelson obviously was not eligible to play in any PGA Tour-sanctioned events once he made the jump to the LIV series, meaning, of course, that he was not allowed to defend his title this week in the desert.
Langer did not play particularly well that week last year and finished in 17th-place but it was enough for him to capture his record sixth overall Schwab Cup season title.
He is now only one victory away from tying Hale Irwin's 45 total senior titles.
Langer has been playing on the tour since 2007 and notched at least one victory in each of his 15 seasons. He's captured five tournaments or more in a year on three occasions, with a high of seven in 2017. He won 42 times on the European Tour (second all-time), with three PGA Tour victories, including two Masters.
This year he won't win the overall Schwab Cup title, but he can certainly tie Irwin's record with a tournament victory and add a third victory to his season total.
We mentioned the bonus structure earlier and it's not nearly as deep or as lucrative as the PGA Tour but a nice parting gift awaits those finishing inside the top five on the final Schwab Cup points list.
The winner will take home a cool $1 million, second place will earn $500,000, third place will collect $300,000, fourth will receive $200,000 and fifth place will earn $100,000.