PGa Tour Champions
Bernhard Langer breaks own mark as Champions Tour's oldest winner and has sights on victory record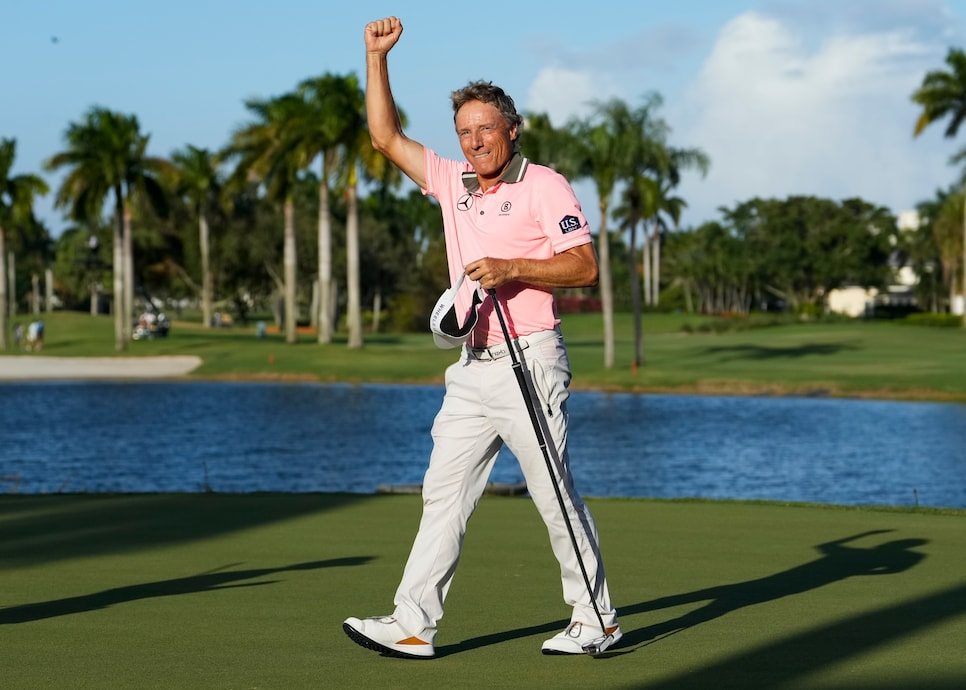 Bernhard Langer is running out of senior circuit records to shatter, but he's now got a biggie clearly in his sights. With a spectacular weekend in which he shot 63-66, the 65-year-old German stormed to a six-shot win on Sunday in the TimberTech Championship to eclipse his own mark that he set in February as the PGA Tour Champions' oldest winner.
Langer's third win in the TimberTech at Royal Palm Yacht & Country Club in his home area of Boca Raton, Fla., puts him only one victory shy of Hale Irwin's Champions Tour record of 45.
Langer has been playing on the tour since 2007 and notched at least one victory in each of his 15 seasons. He's captured five tournaments or more in a year on three occasions, with a high of seven in 2017. He won 42 times on the European Tour (second all-time), with three PGA Tour victories, including two Masters.
Langer's other win this year came in the Chubb Classic in February, when Langer was 64.
"It's always awesome to win anywhere in the world, but to win in your hometown in front of family, friends is that much more meaningful and special because I have a lot of supporters out there, and it's great just to be at home, sleep in your own bed, get some home cooking," Langer said. "We travel all year all over the place, so it's very nice to have a tournament at home."
Combining the final two rounds of the TimberTech, Langer poured in 16 birdies against a single bogey to ultimately finish at 17 under.
"Langer, you have to challenge him, you have to kind of go get him, you have to kind of push him, you have to kind of do those things," said Paul Goydos, who couldn't do that with a 71 that tied him with Thongchai Jaidee (67) for second. "He's not going to do the opposite, so you need to kind of go."
There is just one event left in this Champions season for Langer to try to reach Irwin. The top 36 players in the Schwab Cup standings after Sunday are headed to the Charles Schwab Cup Championship in Phoenix nexst week. The four-round tournament begins on Thursday, with Steven Alker, who finished T-6 this week, at the top of the pack, followed by Padraig Harrington, who shot a second straight 67 on Sunday to finish solo fourth. Langer's win moved him from seventh to fifth in the standings.