FedEx Cup
Playoff madness: The 16 players with the most to gain (and lose) Sunday at the BMW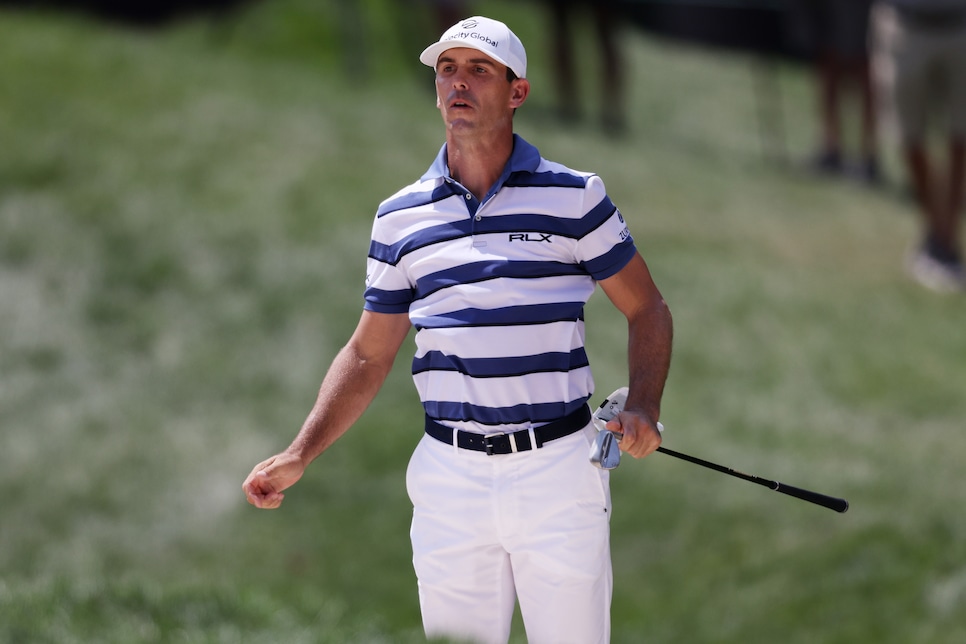 Heading into the final round of the BMW Championship, Billy Horschel is in a precarious spot at No. 29 in the FedEx Cup standings.
Rob Carr
OWINGS MILLS, Md. — With one day remaining at the BMW Championship before the playoff field is culled from 69 players to the top 30 for the Tour Championship, the stakes are about as high—and as volatile—as they can get on the PGA Tour.
The players who survive to reach Atlanta next week will reap a slew of benefits, from qualifying for all four major championships, to earning entry into the Scottish Open and WGC-HSBC Champions, to making a minimum of $395,000, to bolstering Ryder Cup résumés for those who need a captain's pick. (And that's just for making it; win the thing, and you'll be $15 million richer.) There's a vast chasm between 30th and 31st, and a number of players making that lucrative cut will depend entirely on how they play in the final round at Caves Valley.
With that in mind, here are the 16 players who stand to benefit—or lose—the most on Sunday.
10. Patrick Reed—Projected 30th
Strange, right, to start with someone who isn't actually playing? As it stands, Reed, who was hospitalized with double pneumonia before being released on Thursday, has slipped from 26th to 30th due to his absence from the BMW Championship. There's no indication of whether he'd be fit to play at the Tour Championship even if he qualified, but we know for sure that if he slips any lower he definitely won't be there. And that means it could be really tough for Steve Stricker to take him as a captain's pick, which means that "Captain America" could be missing from the Ryder Cup for the first time since 2012.
9. K.H. Lee (32nd)/Erik Van Rooyen (33rd)/Cam Davis (34th)/Alex Noren (35th)
These are the bubble boys, and they're outside the bubble. They've all moved up in the standings this week with strong showings at the BMW Championship, and each of them has a massive opportunity on Sunday to redefine their careers by punching their tickets to East Lake. All it will take is a little brilliance under huge pressure. No biggie!
8. Joaquin Niemann (25th)/ Daniel Berger (26th)/Billy Horschel (29th)
These are the bubble boys in the precarious position of being just inside the top 30, but with every chance to fall out. The difference in how their seasons could look tomorrow should disaster strike is, frankly, amazing to behold. Stick around, and a massive week at East Lake could result in a million-dollar windfall or more. Lose, and the narrative of your season is disappointment at the finish line. Dropping out would be especially painful for Horschel and Berger, who have each won this year, and who in theory—at least in Berger's case—still have a chance to make the Ryder Cup.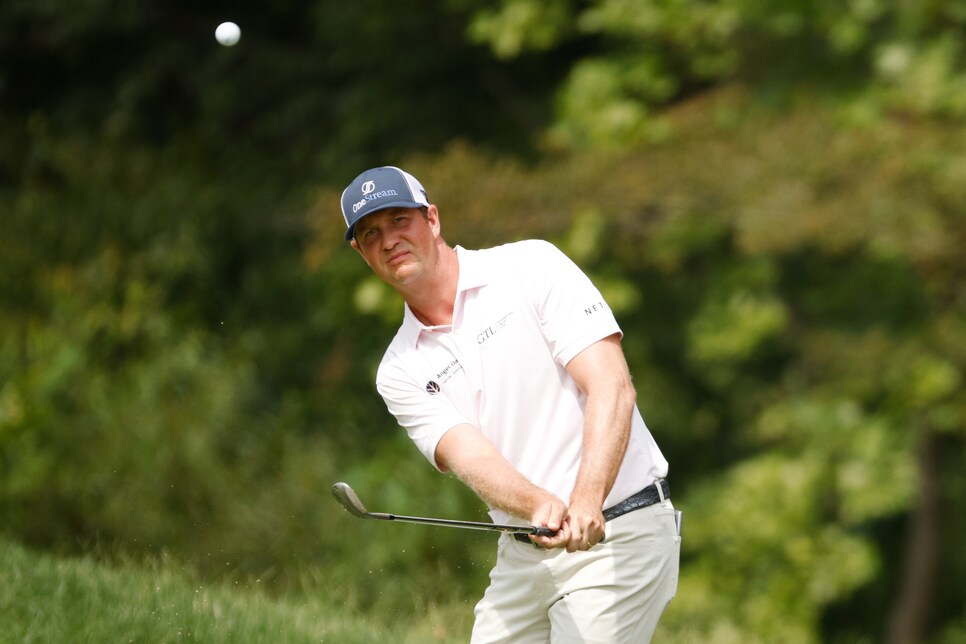 7. Hudson Swafford (31st)
We have serious rags-to-riches potential here. Swafford has gradually found his missing form in the past two weeks, shaking off the failure of endless missed cuts to finish T-37 at the Wyndham and T-11 at The Northern Trust. At 15 under, he's currently ninth at the BMW, and a good day tomorrow could see him shock the golf world and make his first-ever Tour Championship. There is so little margin for error—he's already shot up nine spots in the projections this week, and he can't afford anything but another great round, to the tune of finishing around T-4—but if he can perform, it would redeem a season in which he missed, at one point, 13 of 17 cuts.
Simpson would be higher on the list but for the fact that the mountain he has to climb is enormous. He's already moved from 52 to 41 in the projected rankings, but he'd need a gaudy round (think 62/63) on Sunday to climb into the Tour Championship tier. But if he does, he's essentially stamped his Ryder Cup ticket, which he wants very, very badly, but also feels just a little elusive if he can't fight his way to Atlanta.
Like Swafford, Sergio has shot up the projected standings, but even more so. As of the end of the third round, he'd risen from 40th to 27th. If he holds on, it would likely remove any last doubt that he'd earn a captain's pick from Padraig Harrington for the European Ryder Cup team, and he'd make his first Tour Championship since 2017.
4. Patrick Cantlay (1st)/Bryson DeChambeau (2nd)
Cantlay and DeChambeau are currently tied at 21 under, three shots ahead of Sungjae Im in third. Caves Valley is insanely gettable, so they're by no means clear of the field, but if one of them can win the tournament he'll shoot to the top of the FedEx Cup rankings and be in pole position to win the top prize of $15 million. Neither one is exactly struggling when it comes to earnings, but that kind of money and prestige is on a whole other level.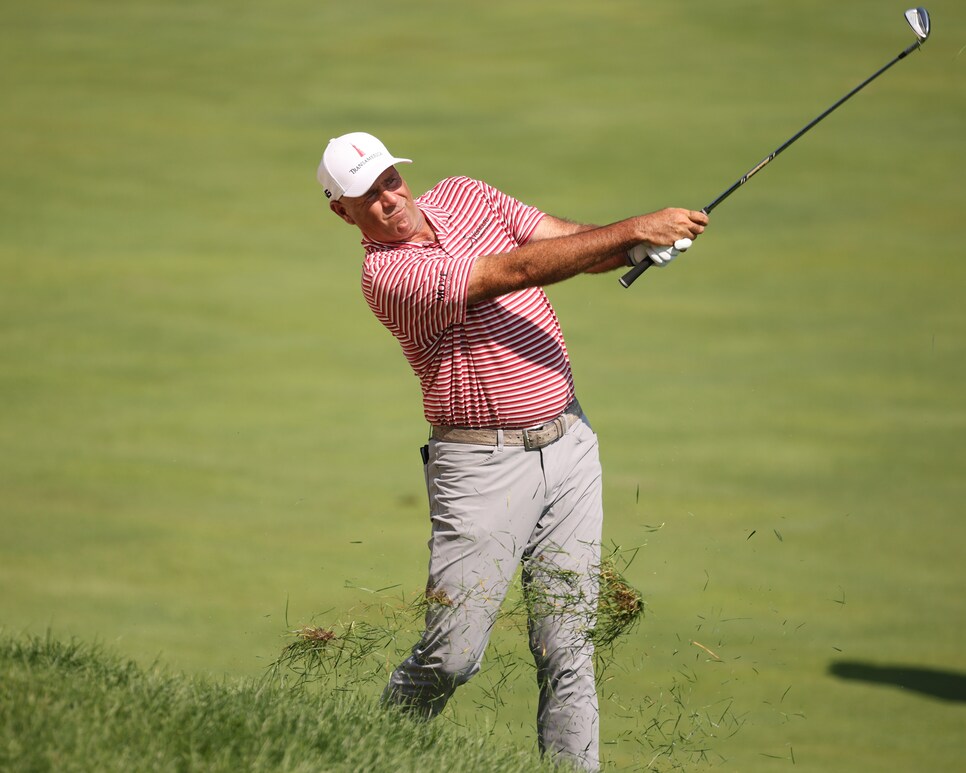 Did anybody expect Cink to make the Tour Championship? The answer is no, just like nobody expected him to win at the Safeway Open or Hilton Head with his son caddieing for him. This has been a dream season for Cink, who at age 48 hasn't been inside the top 30 at the end of a season since 2009—more than a decade! He's T-32 at the BMW and all he has to do is avoid a total disaster, and he should be safe.
2. Scottie Scheffler (24th)
There's nobody perched on the Ryder Cup bubble quite so perilously as Scheffler, and it just so happens that his FedEx Cup remains up in the air, too. He came in 24th, he remains projected at that exact position, but there's so much movement that could happen on Sunday. If he doesn't give himself at least the chance to make a good last impression on Stricker at the Tour Championship, his candidacy for one of the six picks looks … well, if not dead, at least shaky.
There are very few players in the world who are hotter than Burns right now, and nobody is quite as underrated. With a second-place finish in Memphis and a T-21 last week in New Jersey, Burns already looked primed for a great late-season run, and his current T-4 position proves the point. His ticket to Atlanta is booked, but with the way he's playing there's no telling where this ride could stop; a shocking FedEx Cup winner, and perhaps a Ryder Cup pick? It feels a little far-fetched, but three weeks ago it felt impossible. With the way Burns is playing, the limits are expanding fast.