OWINGS MILLS, Md. — The FedEx Cup Playoffs are in their 15th year of existence. The postseason format, designed to bring meaning and stakes and buckets of cash in the post-major stretch of year, has changed multiple times in that short history. The points system has changed. The number of events has changed. The venues are always changing. The de rigueur notion that everyone starts a tournament at even par has changed. More change is coming next year, too.
The relative short history of the playoffs (unavoidable) and that amount of change (man-made board room alterations) could attenuate the significance and an identity it's striving for. Rory McIlroy started the week not exactly sounding like a two-time FedEx Cup winner trying to seize the moment and dominate the postseason.
"I think I feel like a lot of guys feel right now, a little jaded, a little tired. End of the season, there's been a lot of golf," McIlroy said on Wednesday at Caves Valley Golf Club. "I'm just sort of getting through it, to be honest."
There was plenty of analysis about what the quote revealed about McIlroy, when the larger focus could have been what it said about the playoffs. At their heart, the playoffs want to be a big show, a spectacle that matters. How much it matters or what significance you ascribe to it is subjective, but what's not in doubt are the resources brought to bear to make it that big show. The purses are massive, the sponsors pay up, the grandstands are built out, the marketing is blown out and the best players (almost always) show up.
And if it's the spectacle you're looking for, this BMW Championship has come together superbly heading into Sunday's final round.
One of the 54-hole leaders, Bryson DeChambeau, is a one-man walking circus. The other, Patrick Cantlay, is considered a quiet assassin and a bona fide top-10 player in the world. They're playing on a soft golf course where multi-shot deficits can quickly be erased, bringing stars like the tired McIlroy, the hottest player going in Jon Rahm, and unperturbed Dustin Johnson back into it. And it's happening in front of a market in greater Baltimore that hasn't seen PGA Tour golf in almost 60 years. The fans are full-throated, fully hydrated, and crowding the rope lines and perches atop these 20- and 30-foot white walls that have created a coliseum for the finishing holes.
DeChambeau's presence after his eventful and contentious summer puts rocket fuel in the entire experience and if it's a show that the tour wants, that might not be the worst thing.
"It was a little chaotic," said Cantlay, the joint 54-hole leader who shot six-under-par 66 on Saturday and played with DeChambeau (67) and will do so again on Sunday. "People are amped up. There's crazy stuff going on."
There were some estimates that 100,000 people would attend the BMW Championship this week. Saturday tends to get the most "chaotic" outside the ropes, to use Cantlay's word, and it was at Caves Valley. One traveling media veteran out on the tour said afterwards that there was a point that he wanted to watch the fans more than the golf shots.
There were plenty of encouraging shouts for DeChambeau, Cantlay and Rahm in the final tee time as they came down the back nine in another see-saw birdie fest of a day. There were also plenty of shouts of discouragement for DeChambeau—exhortations for his ball to get in the water, get in the bunker, to lose weight, to hit a fairway once in a while (he's first in strokes gained/off the tee and T-59 in driving accuracy, if that matters to you). And then there's the continued ubiquitous "Brooksy" shouts, which, at this point, is the unoriginal sort of heckle that feels like it's the result of "Baba Booey" and "Mashed Potatoes" having too much to drink one amorous night. And like its progenitors, the fear is that this is going to be with us, and Bryson, forever. There is no putting that toothpaste back in the tube.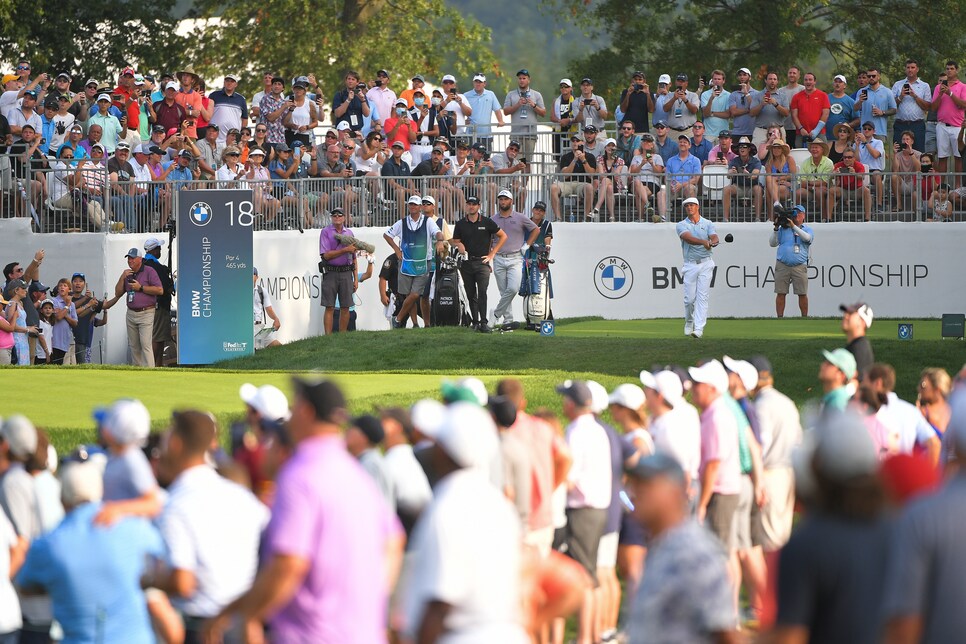 Bryson DeChambeau tees off on the 18th hole during the third round of the BMW Championship.
Ben Jared
"Balls are going everywhere, and they're yelling, and there's a lot of long walks with fans right on you in between holes, and they're just amped up and having a good time," said Cantlay, who added that he hadn't had this many fans around him in a while. "It can be a distraction if you let it, and so I just try and get in my own world and do my own thing."
There were repeated tee shots, often from DeChambeau, that traveled out into the galleries. The task of moving the crowds was formidable and at times the proximity of the human tunnel in which some had been expressing antagonistic shouts, felt a little unnerving.
Between the ropes, where the balls sometimes stayed Saturday, is an "easy, soft golf course," as Cantlay put it. Caves Valley is a beautiful-looking course, diving and climbing on a hillside and maintained to perfection. The walk is daunting. The course looks daunting, and it probably is for rank amateurs. But for the best in the world, it's become a relatively simple formula and the scores cruising past the 20-under mark after 54 holes indicate that.
Following up on his second-round 60, DeChambeau played a three-hole stretch on the front nine on Saturday in five under, shooting into a commanding position out front. That went away on the back nine, when it was Cantlay's turn to post red numbers on three consecutive holes from 11 through 13. In that stretch, DeChambeau dropped a shot on a par 5 and two on a par 3, when his tee shot plunged into the water to a crowd reaction that could charitably be described as a mix of agony and glee. The 2020 U.S. Open champ continued his boycott of the writing press, but did say in a television interview that he caught mud on the 12th hole and "flushed it right at the flag" on the tee shot at 13 that went in the water for the double bogey.
The course may not be providing a challenging test, but for those who find thrill in the birdies and potential leader board jumps, this is the event for you. The board covered in red numbers can play into the spectacle that the tour may want. For supporting testimony, we return to McIlroy, an unofficial spokesman for the tour and officially the chairman of its Player Advisory Council.
"I certainly think the FedEx Cup Playoffs are different than the majors," McIlroy said on Thursday. "… I think it's more of an entertainment product rather than the majors. The majors are set up a little bit differently, and it's supposed to be the toughest test that we face all year. It's a little bit different."
So what we're left with for the final round is a player in DeChambeau who has generated headlines at almost a Tiger-like clip over the past year sharing a lead with a complete opposite personality in Cantlay, but perhaps equal in talent. There are stars capable of chasing them down throughout the top 10 on a course where those birdie explosions are occurring. And there's a tour-golf-starved city that's showing up and making the most of it across expansive and imposing grandstands. Whether that's been manufactured to your personal taste is subjective, but the potential entertainment value that Sunday brings is inarguable.