BMW Championship
Bryson DeChambeau makes two straight eagles, remains absurdly hot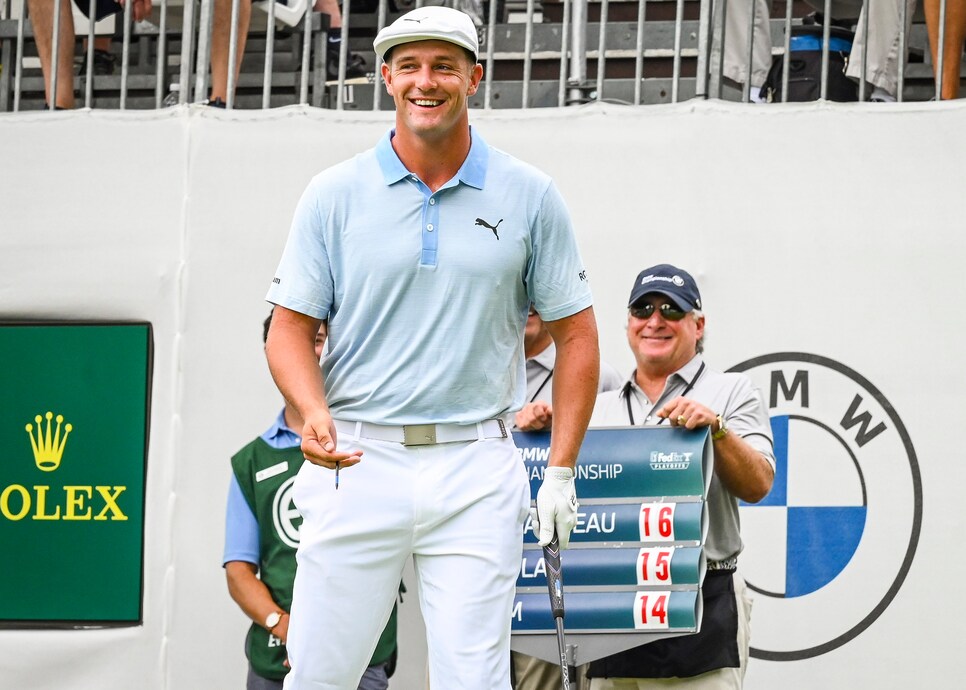 Bryson DeChambeau smiles after fans reacted to him pulling an iron from his bag on the first tee during the third round of the BMW Championship.
Keyur Khamar
OWINGS MILLS, Md. — There are moments, sporadic but recurring, where it really feels like Bryson DeChambeau has gathered all the cheat codes in the known universe and broken the sport of golf. These moments inevitably pass and sanity is restored, but when you're in the midst of them, it's like being hypnotized—you think it will go on forever, that he'll win 20 majors, that nothing will ever be the same.
We are in the midst of another Bryson Moment. On Friday at the BMW Championship, he shot 60, coming up one six-footer short of 59, and playing partner Jordan Spieth compared the feeling of his performance to witnessing Tiger in the early 2000s. On one hand, it feels borderline hysterical to drop the Tiger comparison, but on the other, there's a similar sense of utter domination, where every par feels like a disappointment. If you're looking outside golf, it feels the most like watching Stephen Curry go unconscious from three-point range, where every shot is lit up with electric possibility.
The hot streak continued on Saturday's front nine, where DeChambeau went birdie-eagle-eagle on holes 3, 4, and 5 to leave the field in his dust. After a 336-yard drive on the par-5 fourth, he attacked the green with no remorse to set up his first eagle:
One hole later, he drove the green and casually rolled in a 53-footer:
In short, he's driving straight, putting like peak Steve Stricker, and laying waste to the competition after 45 holes. None of this guarantees a win—we've seen him fade repeatedly this year under pressure—but it's still stunning to behold in the moment. There are a lot of reasons to take issue with DeChambeau, but there's no denying that we're in one of those rarefied times when his game approaches something like transcendence.