Tour Championship
Seeing Red: Have scores been too low in this year's FedEx Cup Playoffs?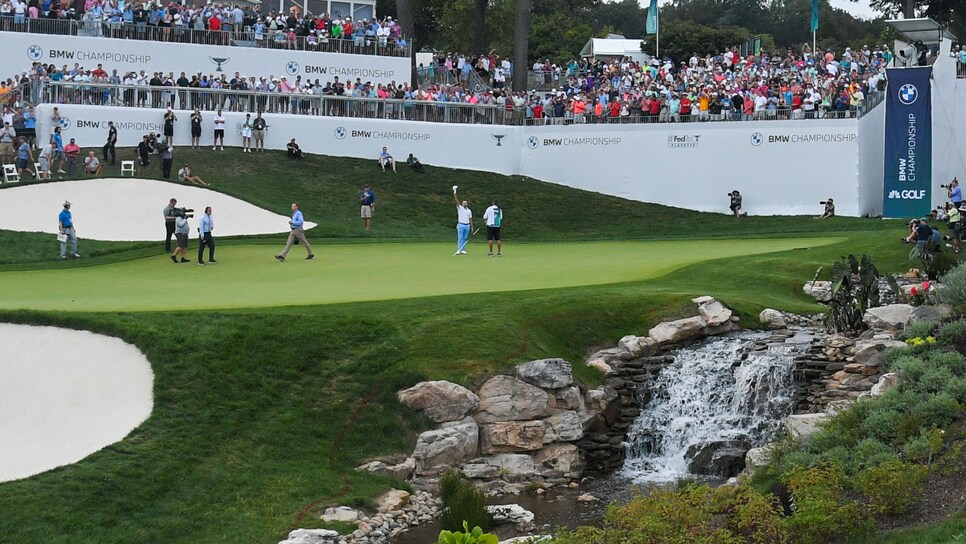 ATLANTA — Every single player in last week's BMW Championship finished the week under par. Some took longer to get there than others—with a 69-man field, the second event of the FedEx Cup Playoffs had no cut—but they all reached red by the end of 72 holes. At the top of the leader board stood two men at a breath-taking 27 under par. That had never before happened on the PGA Tour. On Friday, Bryson DeChambeau missed a six-footer on the last hole for 59. Justin Thomas shot 68, 71, 69, 66 … and finished T-22. Sunday's scoring average was 68.5, the lowest of any final round in 2021. No one expected first-time tour venue Caves Valley to be Oakmont, but it was still jarring to see more than 10 percent of the field finish 20 under or better.
"It was another day on an easy, soft golf course," said winner Patrick Cantlay after an easy-breezy Saturday 66, a number he shot three times last week. His fourth score was a 63.
Those who relish carnage, who worship the U.S. Open, who want playoff events to be the "Ultimate Test" the tour markets them as, can't have loved what they saw outside Baltimore. Or what they saw before that outside New York City. A week prior at The Northern Trust, Tony Finau and Cameron Smith posted matching 20-under totals to get into a playoff at Liberty National. On Saturday, Smith also missed a putt on the 18th hole for a 59, though his was far less makeable.
East Lake Golf Club, the annual host for this week's Tour Championship, has held its ground tougher against the game's best in the recent past. Last year, Xander Schauffele shot the lowest 72-hole score at 15 under (not including the staggered scoring), and the average winning score of the five champions before him was 11.4 under. But with the outer edges of Hurricane Ida bringing significant rain to the Atlanta area on Tuesday, and the quality of the golfers congregated here, well, it's not a great week to be a flagstick.
So now what? Can anything be done about this low scoring? More importantly, should anything be done? Is it OK that the FedEx Cup Playoffs have been nothing but birdie fests? Or are these toothless setups a problem when you're wrapping up a season-long competition with $15 million on the line?
If Father Time is undefeated, Mother Nature is a one-loss SEC team. Kyle Steidel, the golf course superintendent at Caves Valley, knows this all too well.
"Before all the rain from [Hurricane] Henri came in, we were going to have pretty firm conditions," Steidel says. "But with all of that, and the heat and humidity, there's just not much you can do."
Henri passed by Maryland five days prior to opening round of the BMW, dampening Steidel's chances—pun intended—of providing the tour's best with a stern test for a variety of reasons. You see, spongy golf courses don't just make the greens softer and more receptive; they also enlarge the fairways. At a firm course, say a links venue like Carnoustie, if a hooking tee shot (from a righty) lands on the left edge of the fairway, it's going to kick into the gorse. Last week at Caves Valley, that type of tee shot would sit politely in the fairway. From the fairway, these guys have a blank canvas to hit whatever type of shot they want. They can control trajectory and spin and, crucially, their carry numbers (plus with lift, clean and place provisions in place for the final round of The Northern Trust and the first two rounds of the BMW, it becomes even easier when you are in the short grass). Rough brings variables into the equation—How will it come out? Jumper? Dead? Knuckly? High on the face? These uncertainties make golf difficult, and there are far less of them when everything's hitting and plugging.
And while weekend warriors dread playing on a wet day for the loss of roll, distance simply isn't an issue for today's tour pros. Consider the following, from Adam Scott after another silly-low scoring week at the 2019 BMW Championship—at Medinah, once considered among the toughest tests in golf. (Rain made it soft that week too, for the record).
"They haven't figured out yet that long means nothing to us; you can't build it long enough," Scott told the Australian Associated Press. "I'm not [surprised to see low scores]; if a golf course is soft, we are just going to tear it apart."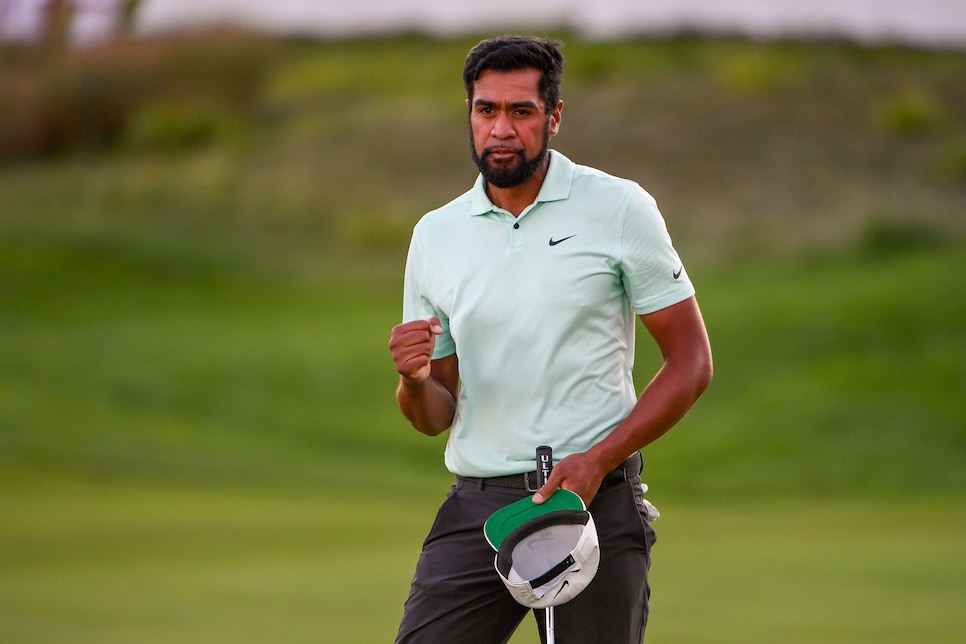 Tony Finau took advantage of a soft Liberty National course that absorbed nine inches of rain between the third and fourth rounds en route to winning The Northern Trust with a 21-under total.
Tracy Wilcox
Even without hurricane-aided rainstorms, courses across the eastern part of the U.S. are usually soft in the late summer. The heat makes it impossible to cut green surfaces ultra-short; the grass could simply die. Add in the humidity and you get a greenskeeper's worst nightmare, for even the all-powerful sun has limits in its drying power. Wind is a big but undependable help. A number of deep-pocketed clubs have installed SubAir systems, which are essentially underground vacuums that suck moisture away from greens. They're crucial in getting a course into playable condition, as Liberty Nationals' did after a storm delayed Sunday's final round. East Lake has SubAir, too, but director of agronomy Ralph Kepple doesn't expect a miracle.
"Even if you have SubAir, you can only dry so much of it," Kepple says. "You still need the wind and sun to really dry it out. We'd all like it to be firm. But sometimes—what can you do?"
In some respects, then, the low scoring is the consequence of playing this sport outside. There is also the arbitrary nature of par. If the tour opted to turn two of Caves Valley's four par 5s into par 4s, the winning score for the week would've been a more modest 19 under. But most fans like birdies and love eagles, and more par 5s mean more birdies and eagles.
For a number of tour players and golf course architecture enthusiasts, the issue with the playoff setups isn't so much about the score or the softness—it's the uniformity. Or, as some describe it, the monotony.
"Look, I just think this golf course is pretty straightforward," said Shane Lowry, who shot 13 under at Caves Valley to finish T-26. "It's pretty easy. There's a lot of birdie chances. Quite a frustrating golf course. To be honest, I don't really like golf courses like this."
"I don't know, I like variety, to be honest. I think when you're trying to find the best players in the world you got to have variety in golf."
—Jon Rahm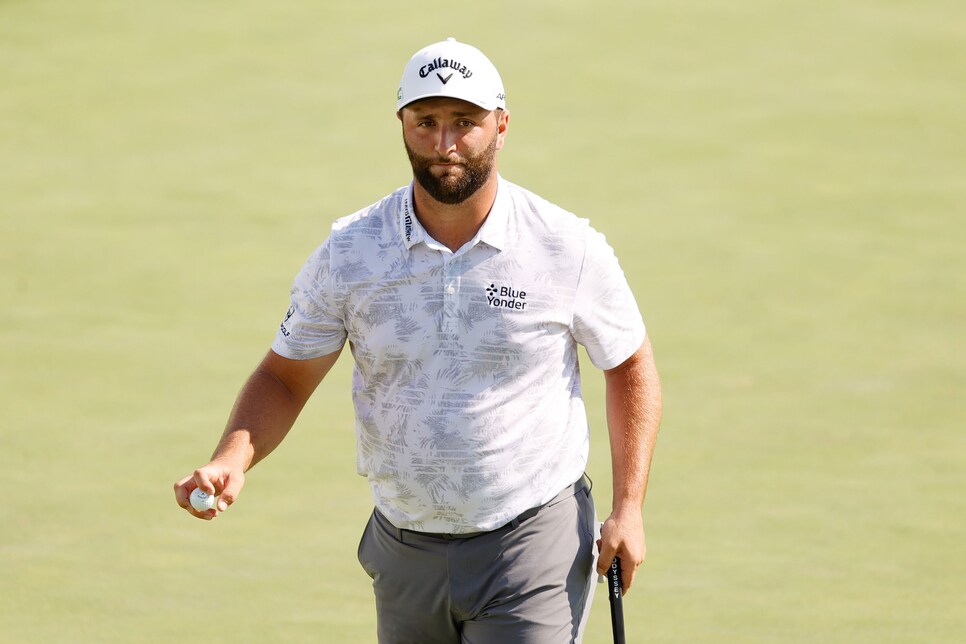 He's not the only one frustrated with a "pretty easy" and "straightforward" golf course hosting the penultimate event in a competition that, by its very definition, is designed to identify the best player on the best tour in the world.
"Imagine if Patrick Mahomes only had to play against base coverages," says Andy Johnson, editor-in-chief of The Fried Egg and an authoritative voice on golf course architecture. "If you think of golf in the context of other sports, the course is the defense. The setup should be varied site-to-site. They set-up courses identically week-in, week-out. That's my sticking point. Why don't we see a par 3 playing 220 one day and 110 the next? Obviously, grandstands come into play, but not always. You can test somebody exhaustively in one aspect, and the scores can be low, but did it test every part of their game?"
"Both [Liberty National and Caves Valley] were similar type of grass and, you know, just played the same," says Jon Rahm, after acknowledging the weather's impact. "I mean, just try to hit the short grass. It's going to plug in the fairway. Be aggressive because it's going to plug on the green, right? So I don't know, I like variety, to be honest. I think when you're trying to find the best players in the world you got to have variety in golf."
"That's one of the reasons why I love going to Europe and playing different golf and different golf courses, just because I feel like as a player it challenges you to adapt yourself to the golf course. And it's just one more challenge that we got to overcome as players."
Neither Liberty National nor Caves Valley will host a playoff event next year; The Northern Trust is being replaced by the FedEx St. Jude Championship at TPC Southwind in Memphis, and the BMW Championship is heading to Wilmington Country Club in Delaware. Different tracks, yes, but likely similar conditions. Memphis in August is as hot it sounds, and Wilmington is just an 80-mile cruise up I-95 from Caves.
Memphis is inextricably tied to the FedEx event. FedEx is the Tour's biggest sponsor, and both FedEx and St. Jude are headquartered in, you guessed it, Memphis. The Tour Championship has found a nice home in Atlanta since 2004, and the Tour has done fantastic work in revitalizing the local community. Those two aren't moving.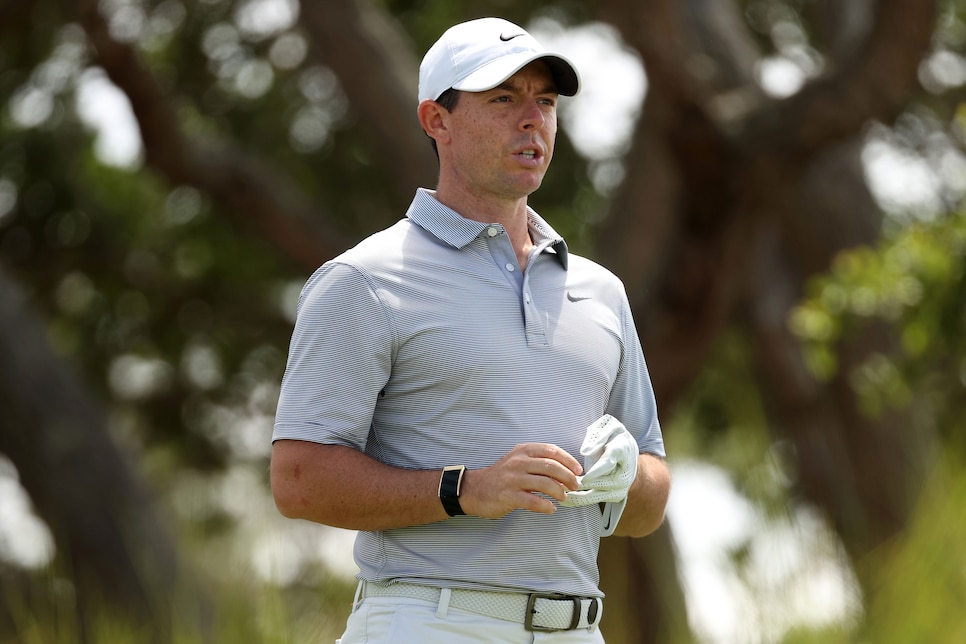 "A lot of the golf courses we play [for the playoffs] are uniform and you get the same conditions each and every week, and players like that. I like that. … If you're playing week-to-week, to have setups like this is a good thing."
—Rory McIlroy
That leaves the BMW. Finding firmness would likely require a trip westward. At last year's BMW, at Olympia Fields outside Chicago, only five players broke par for the week. The tournament followed a dry of couple weeks, which explains the difference between Rahm's four-under winning total at Olympia Fields and Justin Thomas' 25-under performance at Medinah, also near Chicago, in 2019. The 2020 edition featured U.S. Open-like conditions. Shots from the rough did not hold greens. The fairways played narrow, as designed. The putting surfaces got that shine in the afternoons, the type that send a shiver down any golfer's spine.
The BWM has deep roots in Midwest from its decades as the Western Open, but the moves to Baltimore and Wilmington betray a waning loyalty to the Chicagoland area. It could move to Colorado, as it did in 2014, when Billy Horschel won at Cherry Hills. It could venture even further west. That is, if the goal is avoiding uniformity. But what if uniformity is the feature of the Playoffs, not the bug?
This is the point where we step outside the inside-golf bubble. The average fan does not spend afternoons inside the Twitter vortex. He does not consider nor care what the winning score was. He cares even less if a course was a "true test." Most probably cannot name the course at all. What they care about is entertainment, and back-to-back playoff finishes at 20-odd under par—one in the shadows of downtown Manhattan, the other a hugely compelling duel of contrasting personalities and golf games—certainly qualify.
"I certainly think the FedEx Cup Playoffs are different than the majors in terms of the … this is going to sound a little, not bad, but I think it's more of an entertainment product rather than the majors," said Rory McIlroy, a two-time FedEx Cup champion and chairman of the tour's Player Advisory Committee. "The majors are set up a little bit differently and it's supposed to be the toughest test that we face all year. It's a little bit different. A lot of the golf courses we play are uniform and you get the same conditions each and every week, and players like that. I like that. I like that you don't have to come and spend three or four days at a golf course learning it every week, and if you're playing week-to-week, to have setups like this is a good thing."
Translation: The tour wants to put on a show, and the best way to put on a show, even with tired players at the end of a jam-packed season, is to keep the golf courses simple. It's a reality that'll make a traditionalist cringe. But in the eyes of the man who matters most, it's a reality that is delivering.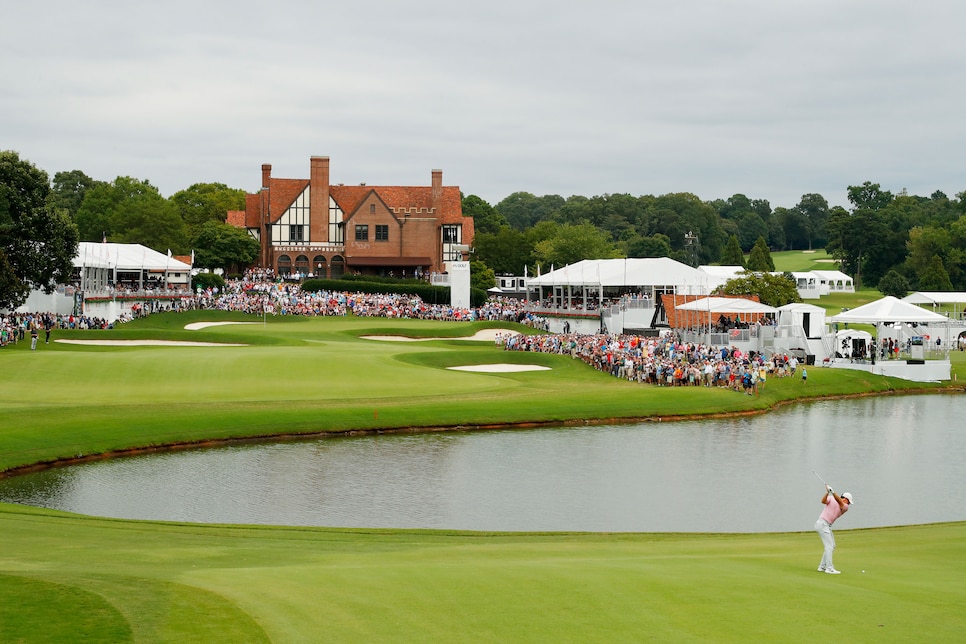 From 2014 to 2019, the winning scores at East Lake have been 11.4 under par, but the reminants of Hurricane Henri softening the course will likely mean lower scores this week.
Kevin C. Cox
"The bottom line is, I look at those two weeks and my question is, how do you replicate that environment more often?" says PGA Tour commissioner Jay Monahan. "We had two extremely compelling events that ended in [sudden-death] playoffs, and in the case this past week, I don't know if I've ever seen a conclusion to an event and a playoff like the one that we saw. ... I look at that situation and, I got more text messages in the last couple weeks about those two events than I have in almost any event in a long period of time.
"They have captured the attention of everybody, and I think they have served us exceedingly well as we walk into this week's Tour Championship."
Where, in all likelihood, an obscenely low score will be necessary to claim the 2021 FedEx Cup title.