PGA Tour
PGA Tour commissioner addresses Bryson-Brooks feud, says 'Brooksy' chants could get fans kicked out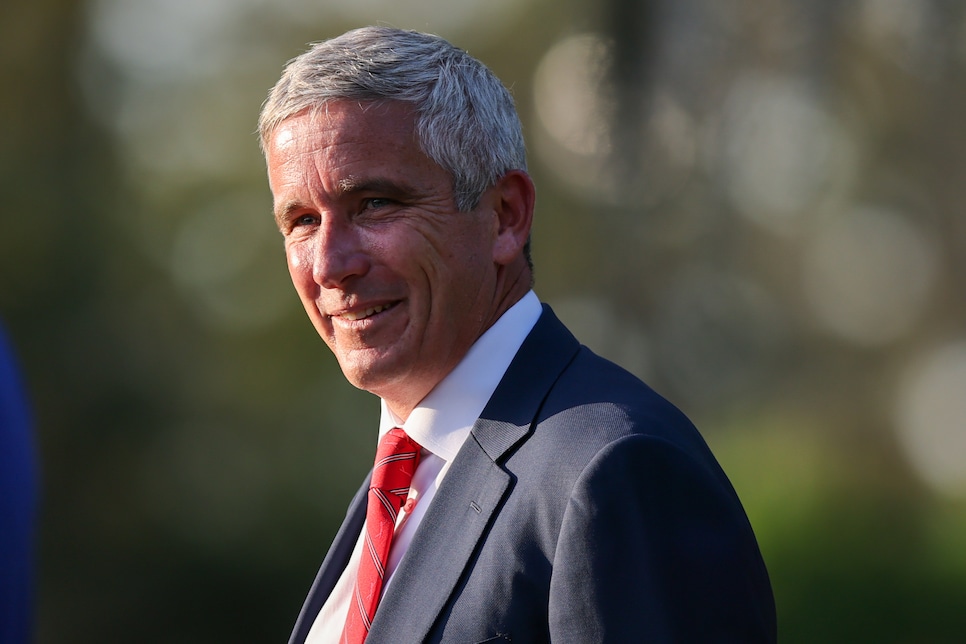 ATLANTA — Jay Monahan knew the question was coming, because Jay Monahan is a smart man who pays rather close attention to the PGA Tour. He is the commissioner, of course, and all anyone seems capable of talking or yelling or typing about these days is Bryson DeChambeau.
Despite the TV broadcast suggesting otherwise, multiple on-the-ground reports from last week's BMW Championship at Caves Valley said the never-ending "Brooksy" chrips were heard loud and clear from Sunday's first hole to the sixth and final playoff hole of DeChambeau's spellbinding duel with Patrick Cantlay. It was the latest chapter in a beef that's morphed into a philosophical debate: Indisputably, the Brooks-Bryson kerfuffle is bringing more attention to the game … but is that a good thing?
Monahan made his most forceful statement yet on the matter while speaking with reporters on Tuesday ahead of the season-ending Tour Championship.
"I think we can all agree that we have seen issues as of late across the sports landscape where that pent-up demand plays out in an ugly way," Monahan said. "Golf is not immune from unfortunate and disruptive behavior, although I would say that we do have the very best fans in the world. This is about just a few bad actors. And for the record, this isn't about any one particular player or one particular incident, but in some situations it's apparent that we have gotten away from the very civility and respect that are hallmarks to our great game."
The question was asked: Would 'Brooksy' classify as harassing behavior when it's said to Bryson on a golf course?"
"Yes," Monahan said. "And the reason I say yes is that we are all using is the word 'respect,' and to me, when you hear "Brooksy" yelled or you hear any expression yelled, the question is, is that respectful or disrespectful? That has been going on for an extended period of time. To me, at this point, it's disrespectful, and that's the kind of behavior that we're not going to tolerate going forward."
Monahan suggested the tour would update its fan code-of-conduct policy, and that anyone engaging in "unsafe, disruptive or harassing behavior" could lead to expulsion from the tournament. He said he's discussed the matter with the involved parties in the DeChambeau and Koepka situation.
"I've had conversations with both players," he said. "These observations go back to pre-COVID as it relates to general concern around code of conduct at our tournaments, and they certainly exist prior to that analysis that the team had led. … I've been out at a lot of our tournaments this year, particularly since our return to play, and this issue isn't specific to one or two players. I think it's an opportunity to reassess overall civility at our tournament and fan behavior and reset the expectation through our fan code of conduct.
"I made the point earlier about families and kids, and we have volunteers that are giving so much of their time, and the game has never had more people coming into enjoy the game and experience it than we have had really over these last several months, and we want more people to come in. We just want to make certain that everybody can have a safe, healthy and enjoyable experience, whether you're inside the ropes or outside the ropes, and that's what we're intending to do."
DeChambeau and Koepka will share a locker room in three weeks' time, as both finished inside the top six in the Ryder Cup points standings to automatically lock up their place in Steve Stricker's side at Whistling Straits. Stricker told Sports Illustrated last week that he spoke to both men separately about their ongoing feud and suggested it wouldn't be an issue.
"They assured me that the team and the country and everything else that goes into this is their [top priority]," Stricker said Monday evening. "They said it's not going to be an issue, and I believe them. I trust them. As far as I'm concerned, it's been put to bed."
Koepka has been mostly silent on the issue since releasing a video offering free beer to fans who were kicked out of the Memorial for yelling "Brooksy" at DeChambeau. He did, however, send a jab after DeChambeau abruptly split with longtime caddie Tim Tucker. After that news broke, Koepka released pictures of himself with his caddie, Ricky Elliott, and declared "caddie appreciation day." At the Open Championship, Koepka said he won't be bothered during the Ryder Cup.
"It's only a week," he said. "Look, I can put it aside for business. If we're going to be on the same team, I can deal with anybody in the world for a week."