News
15 oddly fascinating statistics about the FedEx Cup Playoffs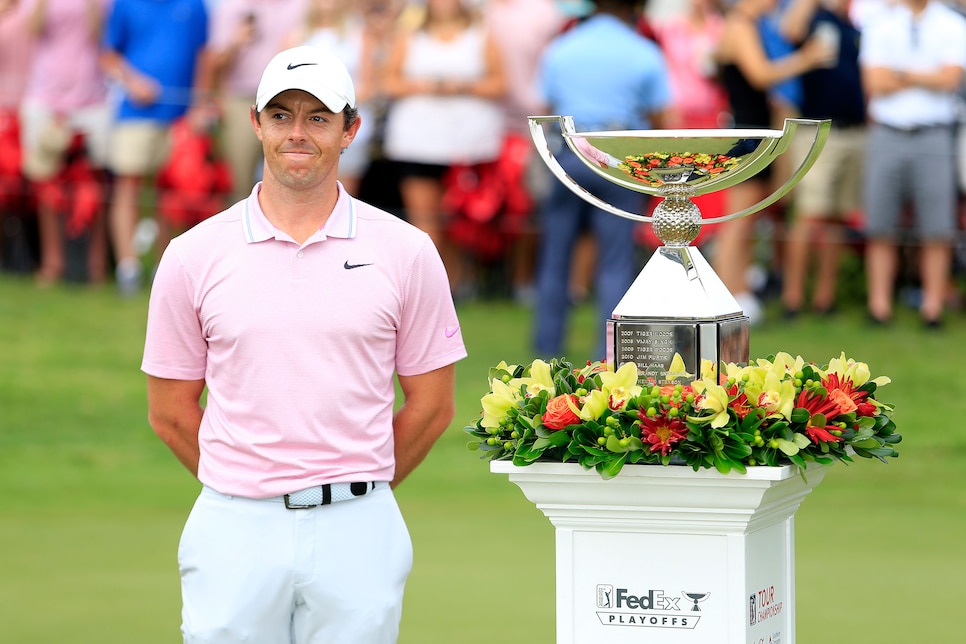 Rory McIlroy stands with the trophy after winning the 2019 Tour Championship and FedEx Cup.
Icon Sportswire
It's been 14 years since the inception of the FedEx Cup Playoffs, long enough that a generation of tour pros have no memory of a PGA Tour season that didn't end with this postseason dash. Traditions take time to develop, but the playoffs are starting to accumulate that time. And they're also accumulating a lot of interesting statistics along the way. We've culled some of the most notable numbers to help flesh out the history of the playoffs and offer a glimpse at what to expect over the course of the next three weeks.
Money that Rory McIlroy has earned, in tournament prize payouts and FedEx Cup bonuses, in his career. McIlroy ranks No. 1 among all FedEx Cup money earners, having passed Tiger Woods last year when the Northern Irishman won his second career FedEx Cup title and the $15 million payday.
Tour pros who have qualified for the FedEx Cup Playoffs all 14 years. Here's the list with their FedEx Cup rank for 2020 in parenthesis:
Adam Scott (36)
Matt Kuchar (63)
Charles Howell III (64)
Bubba Watson (66)
Phil Mickelson (67)
Ryan Moore (96)
Brandt Snedeker (98)
Justin Rose (109)
Charley Hoffman (111)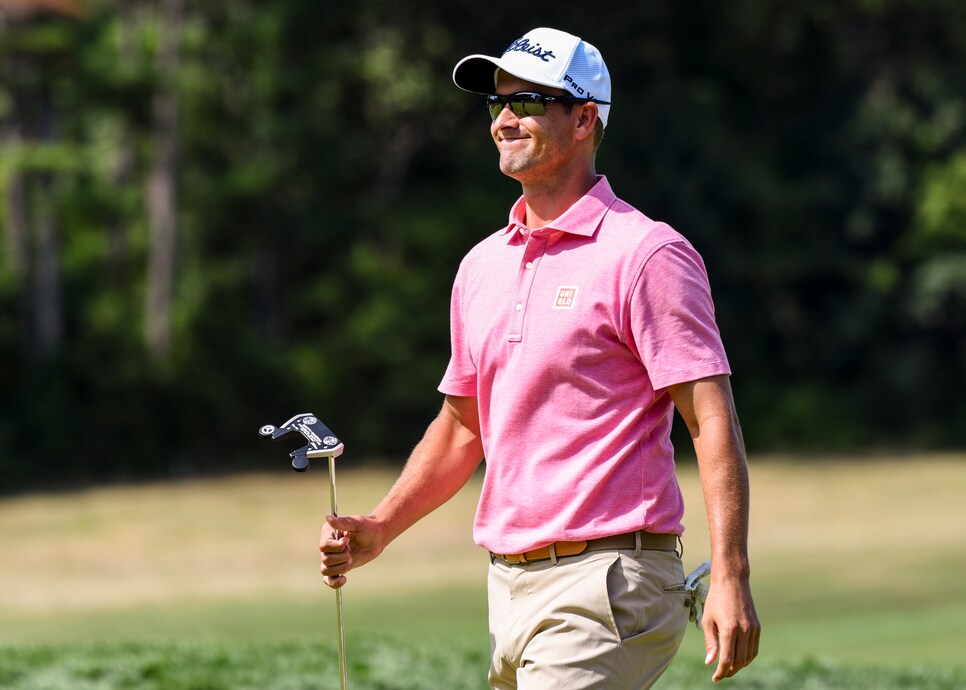 Adam Scott maintained his perfect attendance in the FedEx Cup Playoffs, quailfying for 14th straight year.
US PGA TOUR
Tour pros who has finished inside the top 70 of the FedEx Cup in all previous 13 seasons. Phil Mickelson is the entire list. Lefty ranks 67th entering this week's Northern Trust, so if he makes the cut at TPC Boston, he'll likely lock up a 14th straight season inside the top 70. Mickelson's best overall FedEx Cup finish is second in 2009.
Farthest back any tour pro has been on the FedEx Cup points list to start the playoffs only to win the title. Billy Horschel began well down the standings in 2014, and fell to 82nd after missing the cut in the first playoff event. He then went T-2/win/win to close out the postseason and become the longest longshot champion in FedEx Cup history. In 13 years, only three times has a player outside the top 15 on the points list entering the Playoffs gone on to win (Horschel, Brandt Snedeker, 19th in 2012; and Rory McIlroy, 36th in 2016).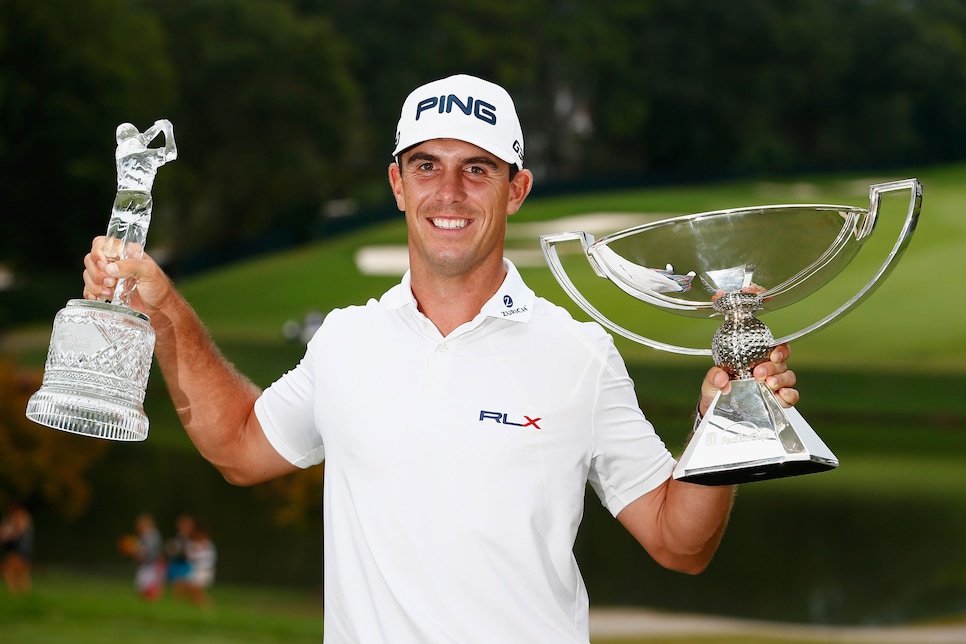 No FedEx Cup Playoff winner came from farther back in the standings to take the title than Billy Horschel in 2014.
Sam Greenwood
Biggest jump any tour pro has made in the FedEx Cup standings during the playoffs. Heath Slocum started 124th on the points list in 2009, then won the first playoff event, which jumped him to third. He eventually finished eighth. Four other players have made jumps of 80 places or more: Tim Herron, 80, 2008; Martin Laird, 84, 2010; Morgan Hoffmann, 98, 2014; Sean O'Hair, 81, 2016.
Number of times Camilo Villegas "played" his way into the next FedEx Cup tournament (starting outside a point total to qualify for the next event and then playing well enough to finish inside). This is the most of any tour pro in FedEx Cup history. Three other players have done it four times (Marc Leishman, Andres Romero and Ernie Els).
No. 1 seeds entering the Tour Championship who went on to win the FedEx Cup title.
No. 1 seeds entering the Tour Championship who went on to win the Tour Championship since 2010. The feat was only accomplished in the first three years of the playoffs, Tiger Woods doing it in 2007 and 2009, and Vijay Singh in 2008.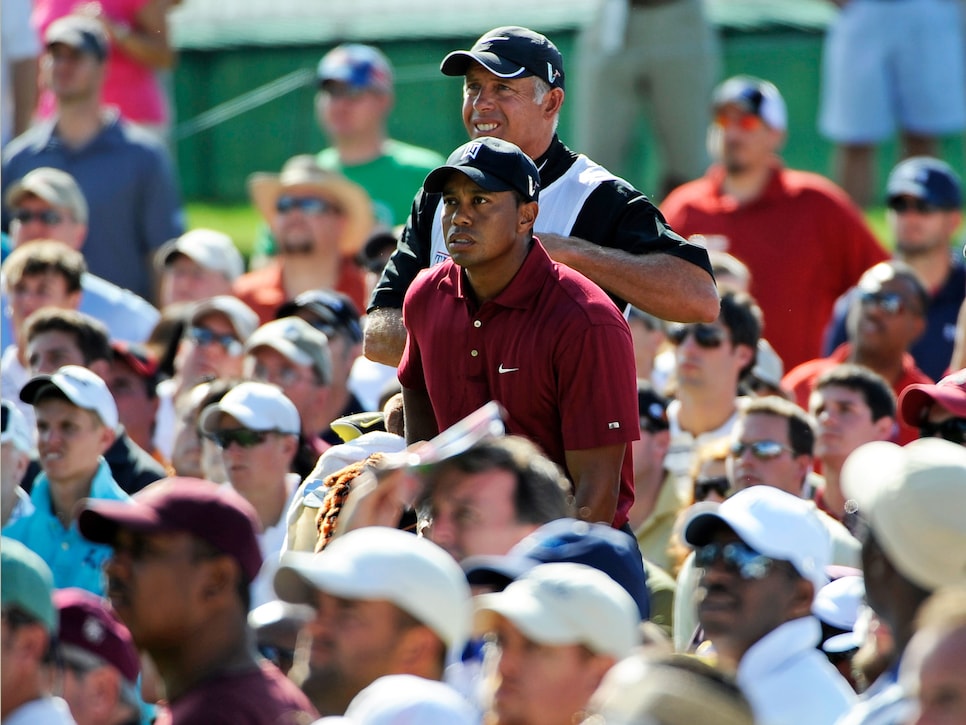 Tiger Woods stood out from the crowd at the 2009 Tour Championship en route to that year's FedEx Cup title.
Chris Condon
Most seasons any one golfer has advanced to the Tour Championship. Dustin Johnson has played at East Lake each of the last 11 years, and at No. 15 on the FedEx Cup points lists entering the 2020 playoffs, he looks likely to make it 12 straight in a few weeks.
Number of wins in FedEx Cup Playoff events for Rory McIlroy, the most of any golfer. Dustin Johnson and Tiger Woods are just one back with four wins apiece.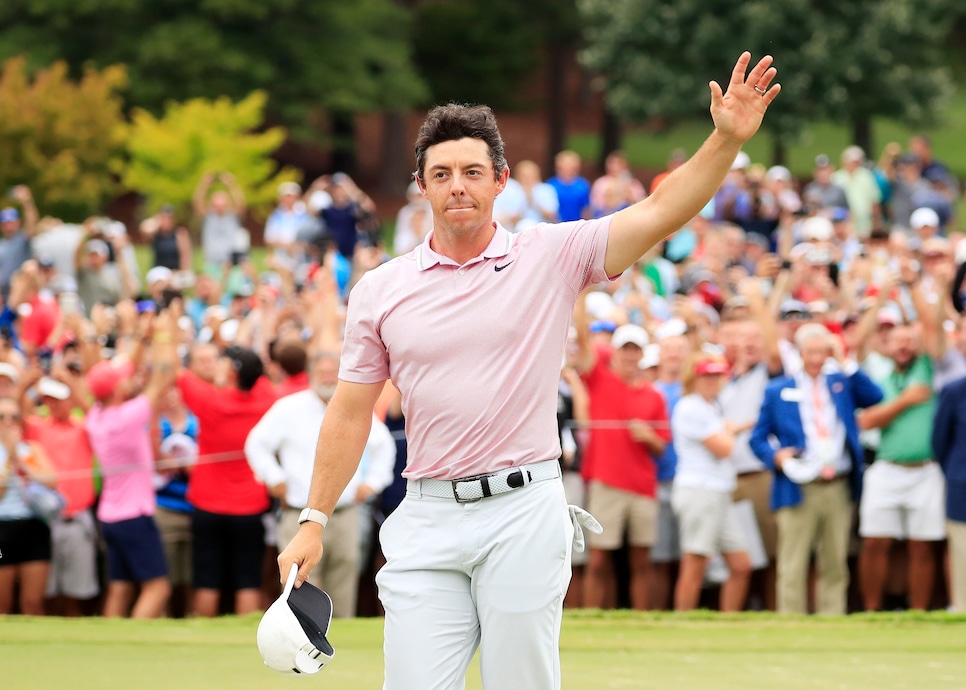 Rory McIlroy celebrates after winning the 2019 Tour Championship, his fifth career FedEx Cup Playoff event title.
Cliff Hawkins
Tour pros who have finished in the top 10 in every playoff event in a single season.
Tour pros who have finsihed in the top 10 in every playoff event in a single season and won the FedEx Cup title.
Here's the list of those who had the top 10s:
Rory Sabbatini, 2007
Padraig Harrington, 2009
Dustin Johnson, 2012
Henrik Stenson, 2015
Adam Scott, 2016
Jon Rahm, 2017
Justin Rose, 2017
Jordan Spieth, 2017
Adam Scott, 2019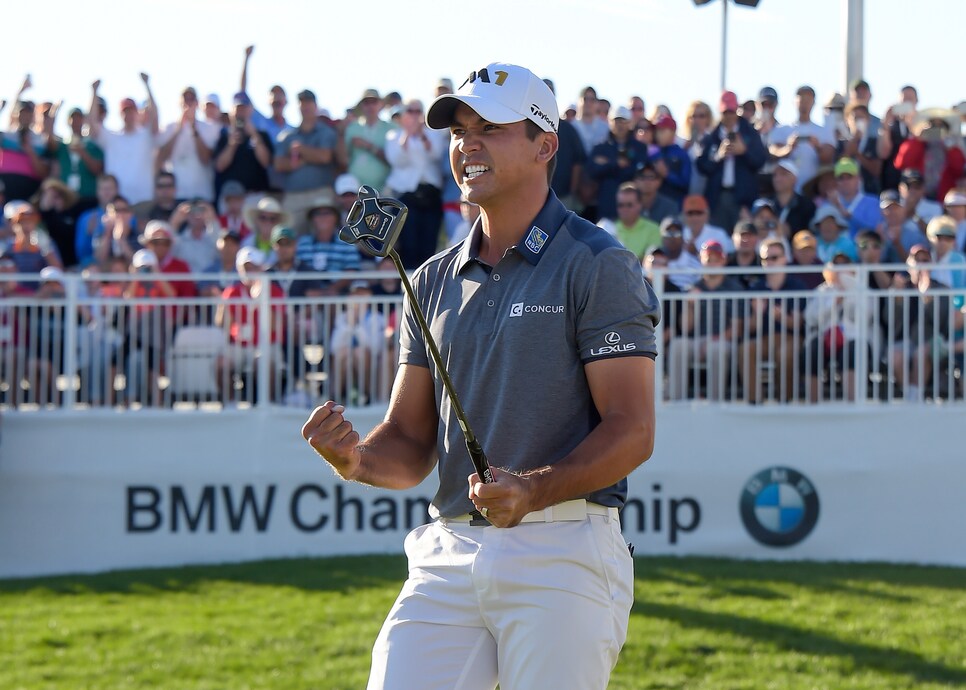 Jason Day has 14 top-10 finsihes in his FedEx Cup Playoff history, including winning the 2015 BMW.
US PGA TOUR
Strokes under par Jason Day has been throughout his FedEx Cup Playoff career, the lowest of any golfer. Jim Furyk and Tiger Woods are tied for second lowest at 223 under par.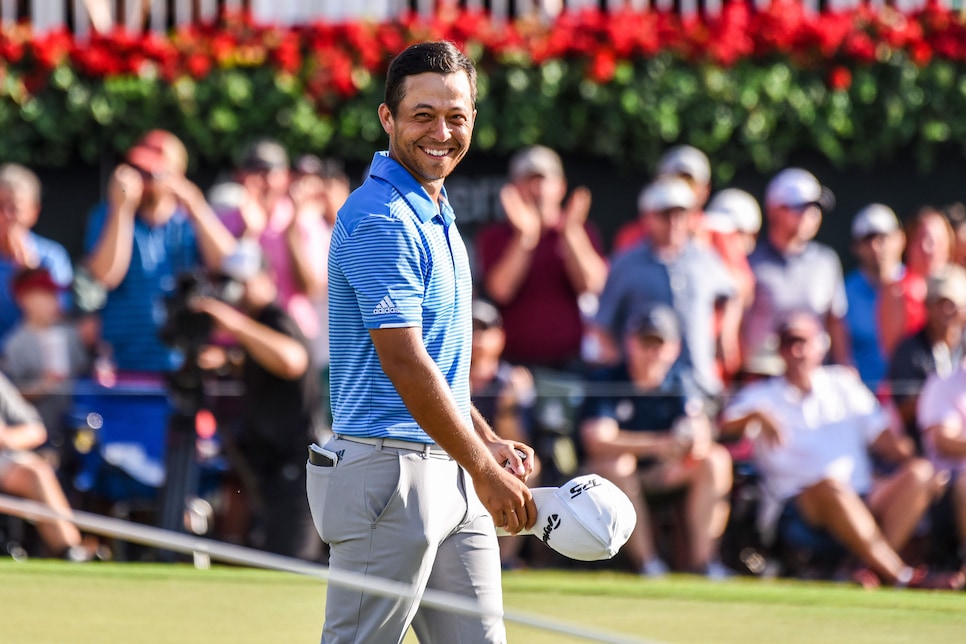 Xander Schauffele smiles after his one-stroke victory at the 2017 Tour Championship, which left the then PGA Tour rookie in third place for the FedEx Cup title.
Keyur Khamar/PGA Tour
PGA Tour rookies who have played their way into Tour Championship since 2007. Sungjae Im was the only one to do it in 2019. The best FedEx Cup finish from a rookie was Xander Schauffele, who was third in the final standings in 2017 after winning the Tour Championship.
The number of times a player outside the top 30 in the FedEx Cup points list at the start of the playoffs has moved into the top 30 and qualified for the Tour Championship. Seven golfers did this in 2019:
Corey Conners (31)
Lucas Glover (32)
Brandt Snedeker (33)
Jason Kokrak (42)
Patrick Reed (50)
Louis Oosthuizen (51)
Abraham Ancer (67)