FedEx Cup
The top 10 earners in FedEx Cup history
We count down who has pocketed the most money (tournament prizes and bonuses) since the inception of the FedEx Cup Playoffs in 2007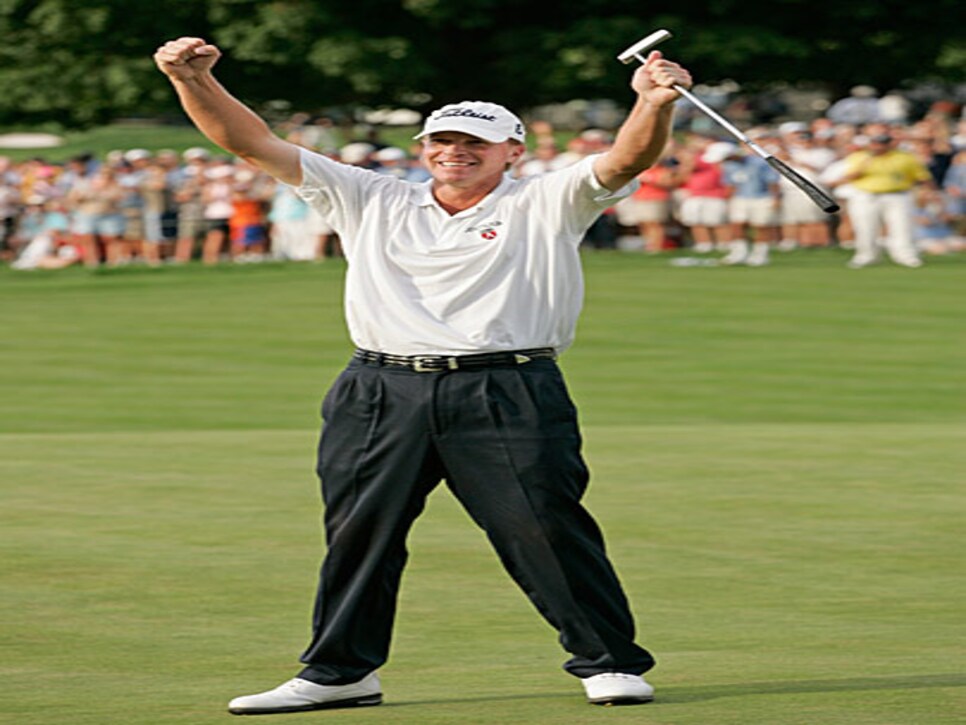 Photo By: Kevin C. Cox/Getty Images
Photo By: Icon Sportswire
Photo By: Tim Bradbury/Getty Images
Photo By: Kevin C. Cox/Getty Images
10: Steve Stricker
Total earnings: $16,994,087Playoff starts: 29Tournament earnings: $8,312,087 (rank for earnings alone: sixth)Memorable moment: Stricker holds the honor of having won the inaugural event of the inaugural FedEx Cup Playoffs, the 2007 Barclays, which at the time was also his first stroke-play win on tour in 11 years. He went on to finish second in the FedEx Cup standings that year behind Tiger Woods, and subsequently finished third in the season-long race in 2009 and 2013. As he transitions to the PGA Tour Championship—he won two senior majors in 2019—this year will mark just the second time he will not have qualified for the FedEx Cup Playoffs in his career.
9: Billy Horschel
Total earnings: $17,969,431Playoff starts: 21Tournament earnings: $6,324,431 (12th)Memorable moment: Horschel is the rare FedEx Cup champion to have rallied from far down the points list at the start of the Playoffs and win. In 2014, he started the Playoffs in 69th place, but won the BMW and Tour Championship to walk off with the title. Just one other FedEx Cup champion (Rory McIlroy, 2016) started outside the top 20 on the points list to start the Playoffs and went on to win. Horschel's next best showing in the FedEx Cup Playoffs came in 2018, when he finished fifth after the Tour Championship.
Photo By: Stan Badz
8: Brandt Snedeker
Total earnings: $18,087,577Playoff starts: 35Tournament earnings: $5,789,577 (15th)Memorable moment: A four-putt on the final hole of the 2009 BMW Championship kept him out of the Tour Championship, but Snedeker would bounce back in a big way three years later. A birdie chip-in on the 17th hole at East Lake in 2012 helped seal a win by vaulting past a red-hot Rory McIlroy.
7: Henrik Stenson
Total earnings: $19,787,165Playoff starts: 21Tournament earnings: $6,029,165 (13th)Memorable moment: After finishing runner-up and third at the final two majors of 2013, Stenson kept the momentum going by winning two playoff events, including the Tour Championship. It was the first trip to East Lake for Stenson, who previously had battled a prolonged slump and also wasn't a PGA Tour member every year. In 2015, a year before he finally grabbed his lone major title at the Open Championship, Stenson added a second-place finish, bringing home another $3 million in bonus money.
6: Jordan Spieth
Total earnings: $21,468,800Playoff starts: 23Tournament earnings: $6,803,800 (11th)Memorable moment: If Spieth didn't win the FedEx Cup title in 2015—the same year he won the Masters and U.S. Open, just missed a playoff at the Open Championship and finished second to Jason Day at the PGA—then the system probably needed an overhaul. Day actually spiced things up by winning two Playoff events to stay in the hunt until the final weekend. But then Spieth asserted himself, shooting a closing 69 at East Lake to win the Tour Championship by a comfortable four shots. Spieth has since gotten to the Tour Championship every year, except in 2018, but starts this year's playoff in surprisingly low 69th spot … exactly like Billy Horschel in 2014.
Photo By: Kevin C. Cox/Getty Images
5: Dustin Johnson
Total earnings: $22,213,089Playoff starts: 36Tournament earnings: $11,656,089 (first)Memorable moment: DJ's FedEx Cup Playoff numbers pretty incredible: four tournament wins and more than $11.6 million in tournament prize money, the most of any golfer, including Tiger Woods, in the FedEx Cup era. The only thing missing from Johnson's résumé is an actual FedEx Cup title. His closest call was his runner-up showing to Rory McIlroy in 2016. He also grabbed fourth-place finishes in 2011, 2017 and 2018. Given no overall win to cling to, the highlight of DJ's FedEx Cup career is likely his triumph over Jordan Spieth at the 2017 Northern Trust, when Johnson overpowered the 18th hole in a sudden-death playoff, aggressively cutting the corner on the dogleg hole and leaving him 70 yards closer on his approach than Spieth. Johnson then hit a wedge to four feet, made the birdie and mesmerized fans with his raw power.
Photo By: Icon Sportswire
4: Jim Furyk
Total earnings: $23,312,511Playoff starts: 35Tournament earnings: $8,065,511 (seventh)Memorable moment: The 2010 FedEx Cup Playoffs got off to a disastrous start for Furyk when he was disqualified from the Barclays after he overslept and missed his pro-am tee time. But Furyk recovered to win the Tour Championship, the FedEx Cup and the $10 million bonus. With rain falling at East Lake, Furyk turned his hat around backward and sank a par putt to cap the victory and set off an emotional celebration.
3: Justin Rose
Total earnings: $24,513,204Playoff starts: 40Tournament earnings: $10,005,704 (third)Memorable moment: No golfer on the all-time top-10 playoff money-earners list has played in more FedEx Cup Playoff events than Rose with 40. And no other golfer on the list has competed in the Playoffs all 12 years. Rose has just one Playoff win (2011 BMW), but his FedEx Cup highlight had to come in 2018, when his T-4 showing at the Tour Championship (after runner-up finishes at the Dell and the BMW) was enough to clinch the FedEx Cup title. Before the first-place finish, Rose's best showing in the Playoffs was a fifth-place performance in 2011.
Photo By: Tim Bradbury/Getty Images
2: Rory McIlroy
Total earnings: $25,139,875Playoff starts: 27Tournament earnings: $9,239,875 (fifth)Memorable moment: McIlroy played just once in the first five editions of the FedEx Cup Playoffs, but he has made up for lost ground since 2012. That year he finished second overall, then was third in 2014 before finishing first in 2016. McIlroy's big moment of 2016 was his clutch performance down the stretch at the Tour Championship. He entered the event having to win and needing Dustin Johnson to finish worse than solo second. DJ did his part (T-6), yet McIlroy was three off the lead with three holes to play. But a hole-out eagle on the par-4 16th helped him get in a playoff with Kevin Chappell and Ryan Moore, and then a 15-foot birdie on the fourth sudden-death hole gave him the top prize.
Photo By: Kevin C. Cox/Getty Images
1: Tiger Woods
Total earnings: $38,639,045Playoff starts: 22Tournament earnings: $10,364,045 (second)Memorable moment: Woods is the only two-time FedEx Cup winner, and his dominance en route to victory in 2007 and 2009 has still not really been matched (45 under par while winning the 2007 BMW and Tour Championship; eight-shot win at the 2009 BMW). Still, it's hard not to think that his greatest personal triumph in the FedEx Cup came last September, when Woods was victorious at the Tour Championship at East Lake for his first PGA Tour win since 2013 and his 80th career PGA Tour title. Given how uncertain it was that Woods might ever win again (little could anyone at the time fathom this year's Masters), the victory was the feel-good event of the 2018 tour season.