News
FedEx Cup: Five storylines to watch during the 2017 playoffs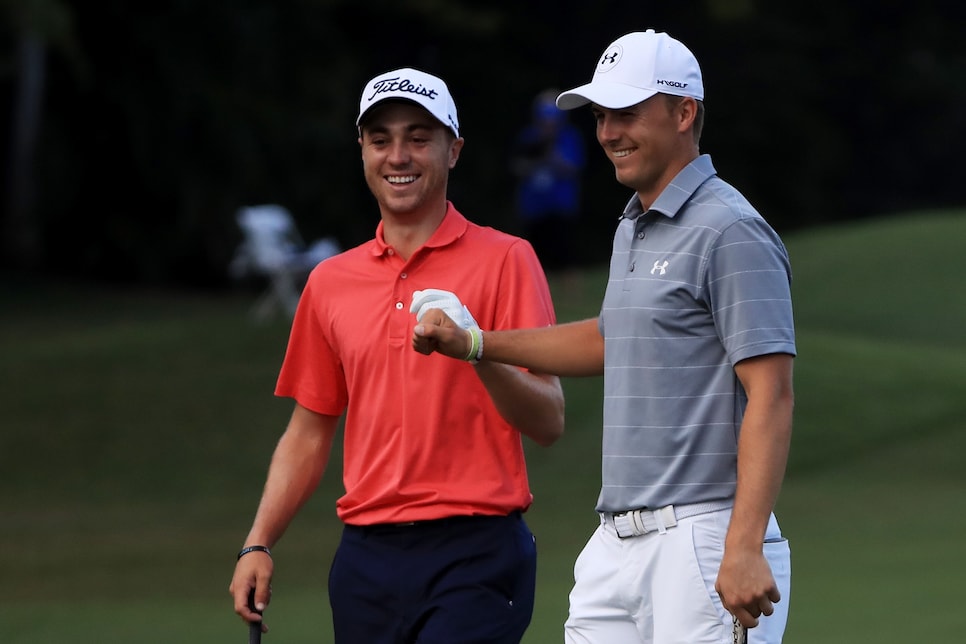 For a host of golf fans, the season effectively ends with the conclusion of the PGA Championship. Which is a shame; over the past decade, the FedEx Cup has presented itself as an estimable bridge from the Wanamaker Trophy to the fall season. And though football's beginning and baseball's playoff races compete for attention, as we saw last year with Rory McIlroy's astonishing run, golf's postseason can pack plenty of punch.
As the FedEx Cup kicks off at Glen Oaks this week, here are five storylines to watch during the 2017 playoffs.
Can Speith vs. Thomas become a legitimate rivalry?
Even in the shadow of Justin Thomas' magnificent early season run, this conversation—the conversation being, "Has Thomas surpassed Spieth as the better player?"—was premature. Following Spieth's response—three wins, including a major title—this discussion went out of style faster than frosted tips.
And yet, thanks to his triumph at Quail Hollow, if Thomas captures a playoff victory and the FedEx Cup, this debate is somewhat creditable.
Make no mistake, the current résumés are no comparison:
Spieth: 13 worldwide wins, three majors, four Ryder Cup/President Cup appearances, 2015 POY and FedEx Cup
Thomas: 5 worldwide wins, one major, zero professional team appearances
But if the question centers on "Who has the brighter future?" the dialogue becomes a thought-provoking affair.
Thomas' length and ability to go low (evidenced by his 63 at Erin Hills and 59 in Hawaii) give him a higher week-to-week ceiling. Conversely, if he's not firing on all cylinders, he's yet to find a way to make due with his "B" or "C" game. On the other end of the spectrum, Spieth's issues off the tee—in yardage and accuracy—could become a bigger detriment as the game continues to get longer and longer. In that same vein, the Texan's supreme iron play, clutch putting and overall consistency play well no matter the venue.
It's been ages since golf has enjoyed an authentic, viable rivalry. Some will say the game's current depth won't facilitate it. But, with the age, injuries and other ancillary worries of other top players, the Spieth-Thomas tug-of-war is more than a media creation. Especially if Thomas throws some logs into the flames this postseason.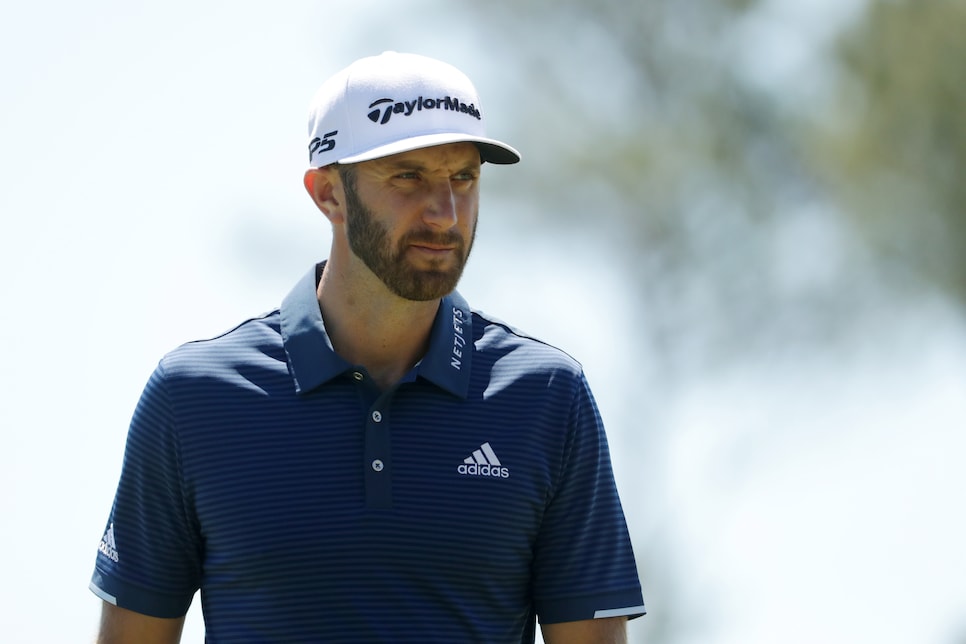 If Spieth or Thomas captures the FedEx Cup, it's an open-and-shut matter. But they are far from the only POY candidates.
Hideki Matsuyama is atop the point standings entering the postseason, boasting three victories plus top-five finishes at the U.S. Open and PGA Championship. A win and the FedEx Cup title alone won't push Matsuyama past Thomas or Spieth; whenever there's multiple respectable contenders or lack of a clear-cut winner, a major trophy in your corner is a must. For Matsuyama to seize POY honors, the man needs to replicate McIlroy's 2016 finish. (More on Hideki in a moment.)
Oh yes, remember Dustin Johnson? In March, it seemed like DJ was a sure-fire bet to win multiple major titles in 2017. Six months and a staircase incident later, he's failed to post a top-10 finish in one of golf's big four, a notable strike to his campaign.
But if Johnson grabs two playoff events, especially the Tour Championship, that's five Ws and the FedEx Cup. Even with the major no-shows, that's a hell of an argument.
Again, Spieth and Thomas are the frontrunners, but it's been quite some time since the PGA Tour has had a handful of stout contenders this late into the season. Though this highlights the sport's depth, don't let that outshine the individual quality of the performances. In an era where it's never been harder to dominate, these four have towered above their tour brethren.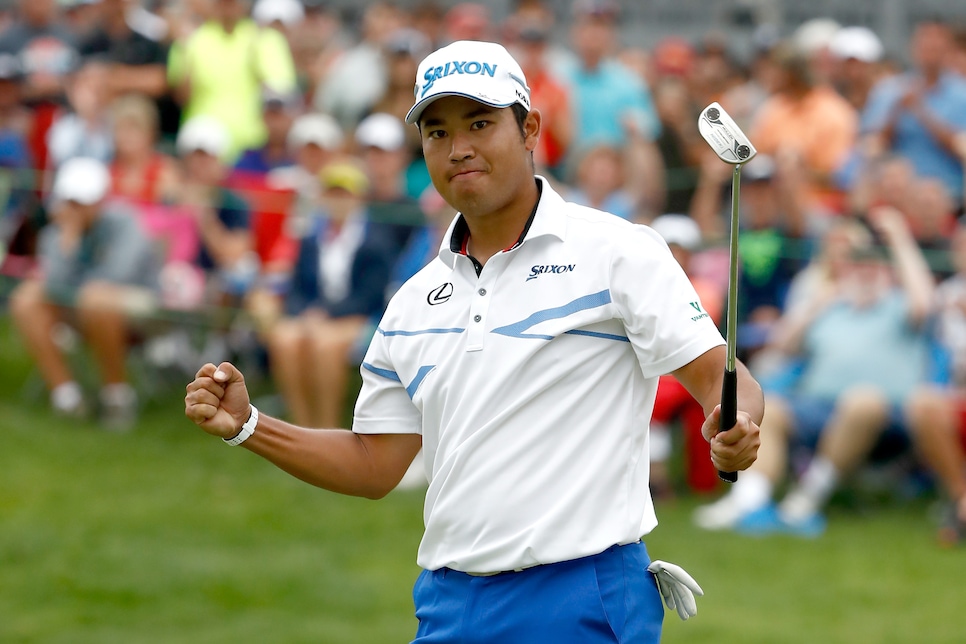 Has Matsuyama fixed his putting issues?
Before Saturday's round at the PGA Championship, I was marveling at Matsuyama's work on the range when a caddie sauntered aside. "If he ever figures out how to putt, we're all ******," he whispered ominously.
Alas, that's the rub: Matsuyama has no trouble finding the green, but owns the grace of an elephant in skates when on it. At the start of the WGC-Bridgestone Invitational, the 25-year-old was 180th in strokes gained/putting. This summer is far from an aberration: he ranked 103rd on tour last season, 86th in 2015 and 156th in 2014.
The golf gods know he's tried. Matsuyama is routinely one of the last players off the course, always working into the twilight on his short game. He's experimented with various methods, strokes, routines, putters. He's tried so many different clubs that two different companies have told me they've stopped sending him equipment, knowing his infatuation with their product is ephemeral and he'll return to his Scotty Cameron GSS Newport 2 Timeless blade.
Yet, it appears Matsuyama might (emphasis on might) have hit paydirt by putting the Cameron on the sidelines. In Akron, the Japanese star switched to a TaylorMade TP mallet on his way to a five-stroke victory. Of note, he finished 15th on the week in strokes gained/putting. And though he struggled over the weekend at Quail Hollow, Matsuyama was solid on the greens, finishing 12th in the category.
Before declaring the puzzle solved, it's worth noting it's only two weeks—and we do underline two weeks—of data. He's also trying out FIVE putters this week in practice before he will make a game-time decision on Thursday. Players also switch putters out all the time; there's a chance that Cameron could work its way back into Matsuyama's bag. Nevertheless, even in past wins or hot streaks, Matsuyama's putter was no better than average. For the first time in his career, he's looked formidable on greens. That he's potentially on this precipice warrants our full attention. If he manages to be merely adequate with the flat stick, he won't remain No. 2 in the world rankings for much longer.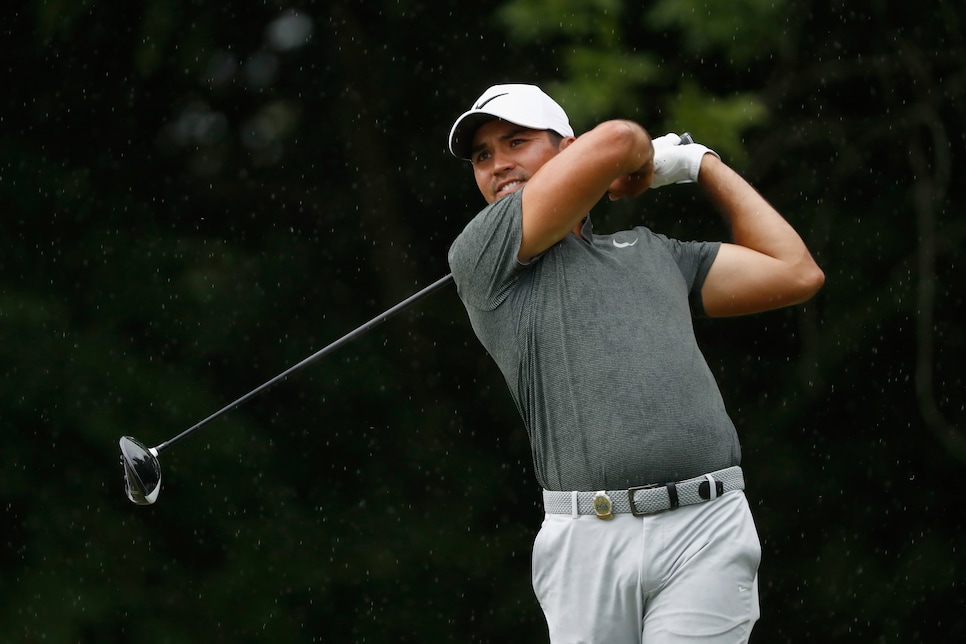 Players making up for "lost" seasons
Jason Day's dealt with a litany of issues on and off the course in 2017, so it's reasonable that, after eight victories the previous two years, the Aussie has yet to find the winner's circle this time around. But the 29-year-old showed signs of life at the PGA Championship, and this year's FedEx Cup venues are very conducive to his game. A couple respectable showings could provide the momentum Day needs to end on a high note and, more importantly, instill confidence that 2018 will be a bounce-back effort.
As mentioned in our PGA Championship preview podcast, it seems odd to note Dustin's three-win year as a disappointment. With his early success, combined with his breakthrough 2016, that's unfortunately the reality Johnson faces as the playoff begins. Though a FedEx Cup win doesn't erase those major shortcomings, it goes a ways in changing DJ's 2017 narrative.
Patrick Reed falls in this camp as well. Big things were expected following his captivating, flashy Ryder Cup display, but he followed it up with one of the biggest slumps of his career. Though he's got things back on track in the second half, highlighted by a runner-up at the PGA, his four-season streak of winning once a year remains in serious jeopardy. For a guy who desperately wants to be one of the sport's upper-echelon performers, the FedEx Cup offers a platform for Reed to show he's worthy of the spotlight.
And we'd be remiss in forgetting …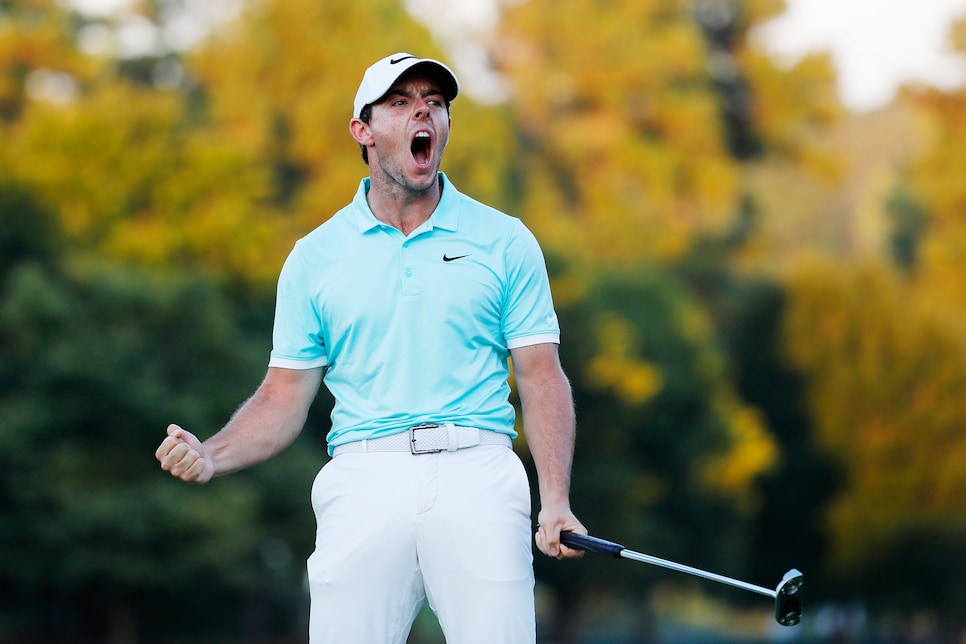 What's the deal with Rory?
Two weeks ago, it appeared Rory McIlroy might shut things down for a thus-far winless 2017 season, admitting his rib and back ailments were still giving him fits. To what extent, the four-time major winner wouldn't say; clearly it didn't hamper him from launching 365-yard drives in Charlotte. But that injury is notorious for its lingering issues. That McIlroy, who already had one flare-up since his return, continues to battle his health is not a surprise.
As for McIlroy's mid-season equipment switch, the sample size and injury variable makes the matter too ambiguous to glean anything of substance. It should be noted, club changes are not always seamless; Rory himself discovered this when switching from Titleist to Nike years ago.
Though these sentiments need to be kept in mind, it does not change the following: While fellow young guns Spieth, Thomas, Matsuyama, and Jon Rahm all made leaps forward this season, McIlroy took a step back.
Of course, the Northern Irishman faced the same predicament last season, missing two of his previous three major cuts. All he did was roll off wins at the Deutsche Bank Championship and Tour Championship to bring home the FedEx Cup, then turned in a memorable show at Hazeltine for good measure. Moreover, McIlroy—who will try to defend his FedEx Cup title—isn't that far off from contention; his long-ball prowess (he'd ranked first in strokes gained: off-the-tee if qualified) gives him an undeniable advantage over the rest of the field. And yes, his putter remains a fickle beast, but one that's been relatively tamed since his issues in Hartford.
In short, only a fool would bet against a comeback bid from McIlroy, one that could launch this week.