"All my birdies were easy," Justin Thomas said after his historic 59 last Thursday at Waialae Country Club. "I was like, this is a great opportunity. You don't get it very often in golf."
Thomas shot just the eighth sub-60 round in PGA Tour history at the Sony Open, en route to setting or matching the tour's 36-, 54-, and 72-hole scoring records and winning by seven strokes. But despite this rarefied territory, such low scores don't seem to be quite so unusual.
Out of the eight aforementioned sub-60s, five have come since 2010, including the first 58 posted on tour by Jim Furyk last August at the Travelers Championship. In the last two years, 72-hole scoring marks have been tied or broken at the Masters, British Open and PGA Championship. Additionally, four players -- including rank-and-file golfers such as Robert Streb and Hiroshi Iwata -- have posted 63s in majors in that span. At one of golf's other premier events, the Players Championship, Jason Day shattered the 36-hole scoring record last May. In other words, Thomas' 59 -- though far from ho-hum -- doesn't appear to be an outlier. (Especially when fellow pros Kevin Kisner and Chez Reavie made 59 charges of their own last week in Hawaii.)
In the midst of these barriers shattering, however, scoring averages on the PGA Tour remain unchanged across the board. What, then, is causing these guys to go low?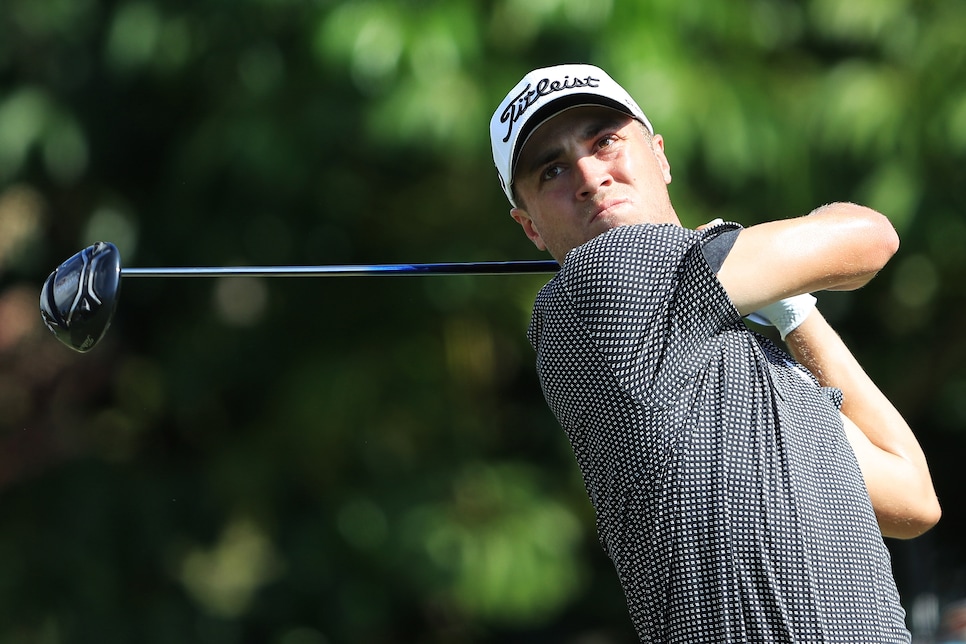 "An interesting question for sure," Columbia University professor Mark Broadie replies, when asked about the scoring outbreak. "But not one that I find easy to answer."
Broadie is among the godfathers of golf analytics, developing the illuminating strokes-gained measurements that the PGA Tour tracks through ShotLink. If you want statistical insight, he's a guy you talk to. And to him, at least looking across the sport's landscape, the low scores don't add up.
"I don't see any tendency for there to be more great rounds in recent years," he says.
More than a few numbers support the claim. Not only has the tour's scoring average failed to improve, it's actually gone up the past two seasons. Rounds of 63 or lower, although experiencing a small spike in 2015, have remained steady, with birdie average per round and greens-in-regulation data showing a similar trend. And it's just not the tour regulars who've seen their numbers stay the same. A look at the winners of the Vardon Trophy for the season low scoring averages tell a similar tale.
These averages are significant, for when a sports statistic is challenged by multiple competitors -- think of passing yards in the NFL the past decade, or baseball's home run race of the late 1990s/early 2000s -- the increase is usually reflected in the league averages. In this instance, though, there is no overall paradigm shift in golf scoring.
Broadie is the first to admit this analysis isn't foolproof. "It's difficult because scores in different conditions are not easily comparable," he says. Though this applies to all sports -- basketball's pace was extremely divergent when Oscar Robertson averaged a triple-double in 1961-'62 compared to Russell Westbrook's current pursuit -- golf offers a unique set of challenges.
"When you look across years, equipment has changed, courses have changed and players have changed, making comparisons across years even more difficult," Broadie remarks.
But, as stated above, three of the four majors have experienced record-low performances since 2015. As we saw at Waialae, sometimes a course is ripe for the picking. But explaining the recent barrage of low rounds as aberrations is too dismissive. Something more is at play.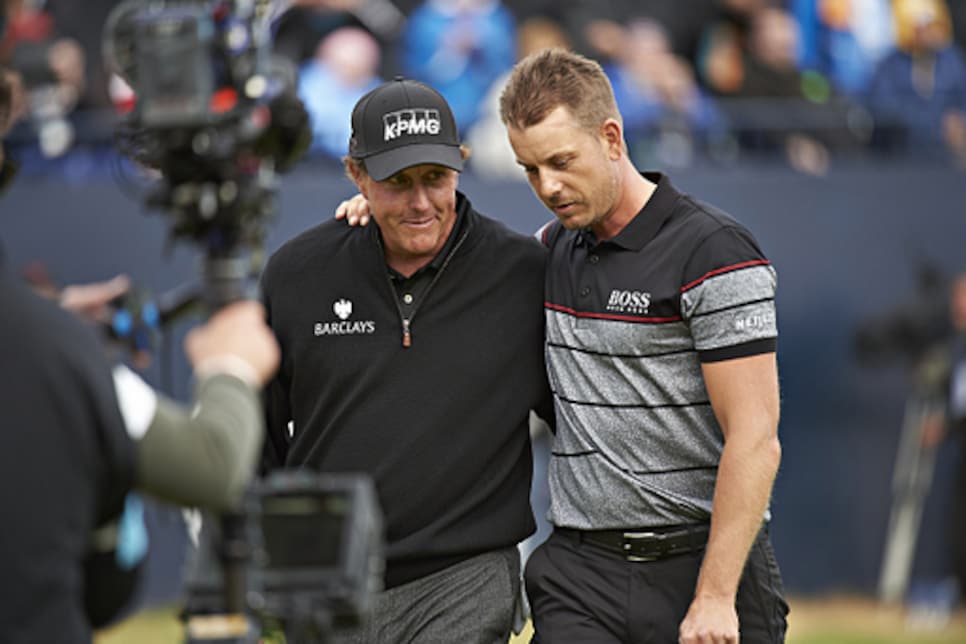 Dr. Bhrett McCabe is a renowned sports and performance psychologist who works with PGA Tour and LPGA players, as well as the University of Alabama athletic department and an NBA basketball team. Moreover, he's a former athlete, pitching for two NCAA title teams at LSU. McCabe presents an interesting theory: What we are seeing on tour is a byproduct of cognitive expansion.
"The human mind only grows to the boundaries it puts on itself," he says.
He's referring to the "fishbowl mentality." If you only see the world as it is instead of what it could be -- or worse, believe you are not going to be anything or achieve anything if it hasn't already been done -- then your accomplishments are restrained.
McCabe believes there is a new approach on tour, a more aggressive, attack-based mentality. To a large group of golfers, particularly younger players, the sense of loss aversion has diminished.
"Those who are achievement focused are the most willing to fail," he says. "They just want to achieve more than anything else. When that constraint is lifted, it's amazing what can be attained."
True, the game has always had aggressive players. But to McCabe, once these scoring boundaries are broken, it can open up floodgates to benchmarks never thought possible. "The mind has to see it's achievable first."
It's a sentiment echoed by Michigan-based instructor Jason Guss.
"One of things I find interesting is the more something happens, the easier it becomes," says Guss, who's been named one of America's Best Young Teachers list three times. "Remember when Roger Bannister broke the milestone for the first time in 1954, then after he did it it happened something like 20 times that year.
"Mindset is a beautiful thing. When someone sees a guy like Jim Furyk break 60 twice with a 108 [mile-per-hour] swing speed, it looks highly possible. Take today's players with amazing ability and see guys achieve a goal with, in their perception, less of a game, the bar looks achievable."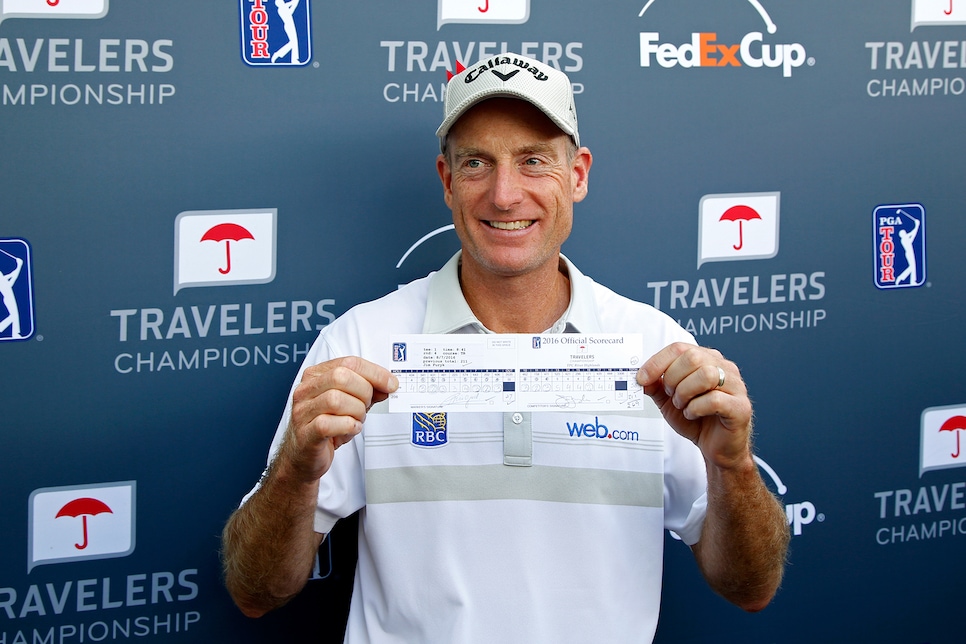 For every advancement that's made golf easier, the sport has answered. Incremental gains in driving distance are been countered by courses being stretched longer. More forgiving irons lead to better ball-striking, resulting in tour officials setting up tougher pin positions. Counterbalanced, high MOI putters are a response to firmer, quicker greens. All these defenses have kept scoring averages in check.
Yet, there's no doubting the possibilities created by technological progressions, along with growing emphasis on clubfitting, fitness and diet, as well as psychological training.
"As teachers and club fitters, we are learning more and enjoying new technologies every year," says Erika Larkin, also on America's Best Young Teachers list. "At the highest levels, coaches are able to be really specific with swing changes, 'split hairs' on what really needs tweaking, there really is no more guessing on what could help a player improve.
"When you can optimize the player's swing and equipment to help save those extra few strokes off, it adds up."
McCabe agrees. "All of the tools -- equipment, training, psychology -- a guy might look at and say, 'This gives me a 1-percent advantage.' That might not seem a lot, but to those guys, it can be a major benefit."
In essence, though scoring average has not moved, the ceiling of opportunity has been raised.
And while there's a contingent that will assert the golfers of the past are just as good, if not better, than today's stars, basic evolution of human physicality and mentality -- along with all the contemporary mechanisms and advancements at an athlete's disposal -- maintains that is not the case.
In short, with the right weather conditions and course set-up, it's logical that a player at his best has never been better.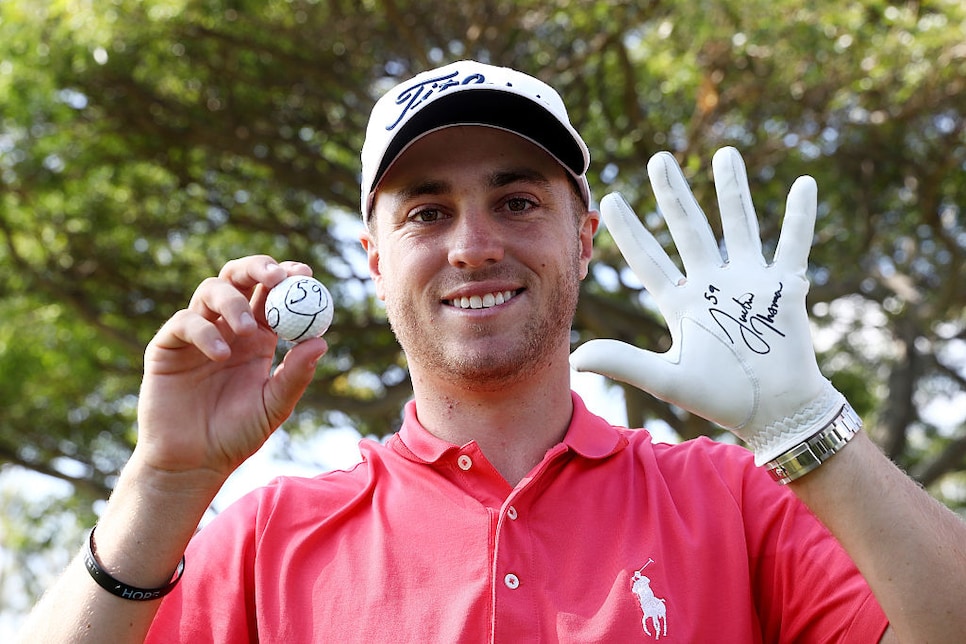 We'd be remiss in mentioning Broadie's counter: What, exactly, constitutes a "good" score? As he points out, there is an infatuation over low raw scores; Broadie's strokes-gained calculation makes the case that we should be more interested in how a player's score relates to the field.
But that measurement simply quantifies a player's performance against his peers. In golf, as we are often told, your opponent is the course.
Golf will do its best to keep scores level, but -- save for a major technological or equipment restraint -- the sport will continue to push the edges of what's possible.
"I don't think anybody can say they necessarily saw something coming," Thomas said on his Hawaiian dominance. His performance argues otherwise.