PGA Tour
Jon Rahm is on a rampage in Farmers with Sam Ryder directly in his sights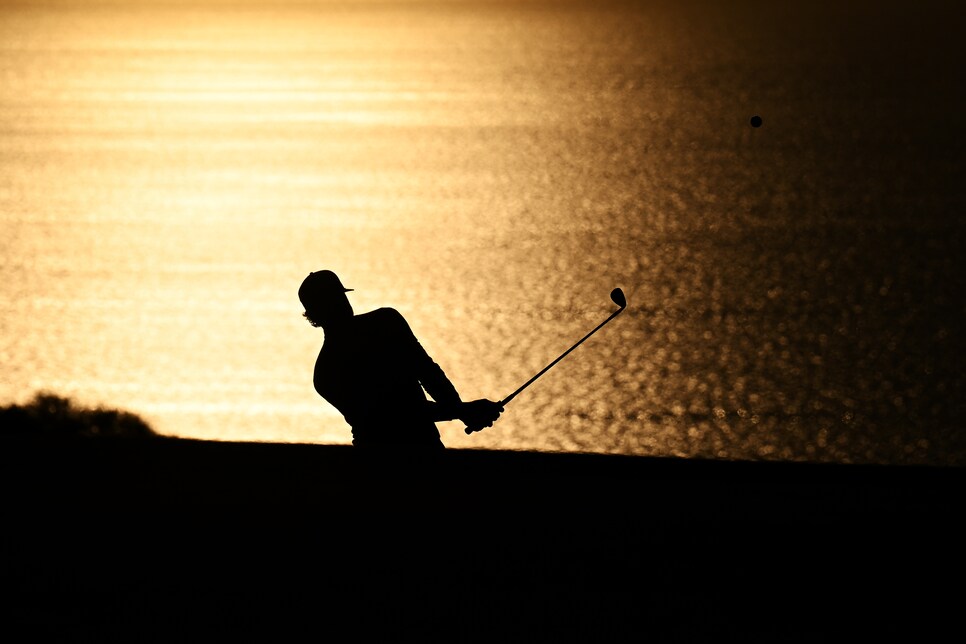 Sam Ryder plays his shot on the 17th hole of the South Course during the third round of the Farmers Insurance Open.
Orlando Ramirez
SAN DIEGO — Oh, to be in Jon Rahm's head right now. To understand what it's like to address a golf ball and know that you're pretty darned sure that you'll hit it pretty darned close to where you want to. That your self-belief is so strong that nothing seems inescapable, whether it's the nasty rough on the Torrey Pines South Course or an eight-stroke deficit heading into the final two days.
With four wins in his last six starts and looking to become only the fourth player in the last 15 years to win three straight starts on the PGA Tour, Rahm is competing in a parallel universe. The 27-year-old Spaniard had one small, frigid stretch this week in the Farmers Insurance Open when he started with a 73 on the South Course to be in 116th place. But he rallied to stay away from the cut with a 67 on the North during Thursday's second round, and then he made a real charge on Friday by making five birdies and an eagle to shoot 66 in Round 3.
The impressively steady Sam Ryder is the Farmers leader after shooting even-par 72 on Friday to stay 12 under, but it can be assumed that the 33-year-old from Florida knows that, in leading Rahm by two, he will need to do far better than treading water if he is going to earn his first tour victory against a man motivated by the setting at his beloved Torrey Pines, the history that the trifecta could bring and the chance to regain the World No. 1 spot he's believed he deserved months ago.
In essence, Ryder is facing this bull mostly alone in the ring. Tony Finau, who shot a stunning eight-under 64 in the third round after making the cut on the number, is two shots back of Rahm and four off the lead. Then there are four players who are five back—two-time major winner Collin Morikawa (70), Max Homa (71), Sahith Theegala (71) and Sunjae Im (67). Considering all of them but Theegala already have tour wins, it wouldn't be completely shocking to see one of them make a Finau-like run.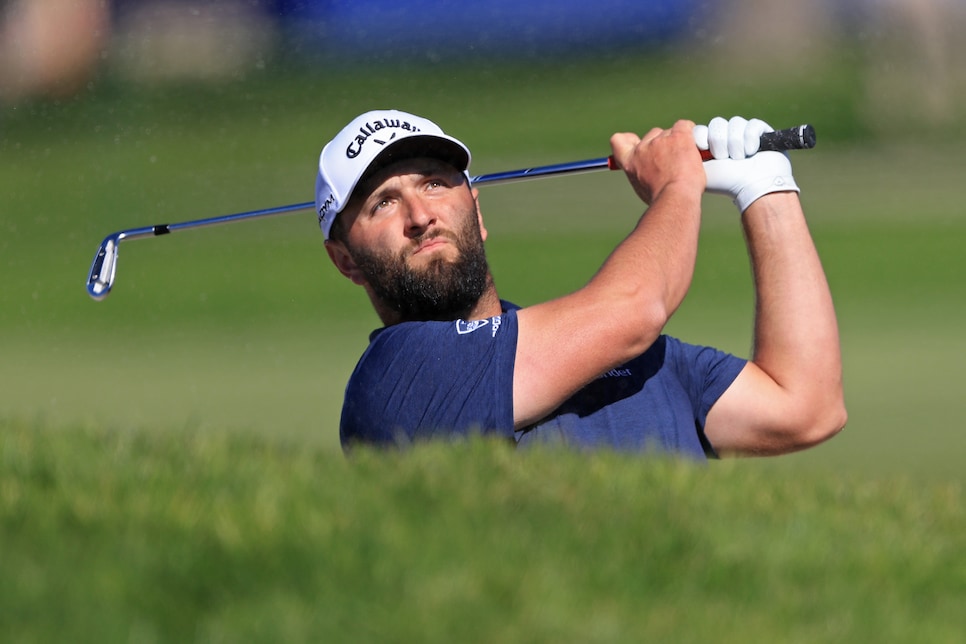 Jon Rahm plays his shot from a bunker on the fifth hole of the South Course during the third round of the Farmers Insurance Open.
Sean M. Haffey
But it figures that they'll all have to go through Rahm, who's won two tournaments at Torrey Pines, including the 2021 U.S. Open, and has four other top-seven finishes on the course that he emphatically confirmed on Friday as his favorite track in the world.
So what is Rahm thinking and how is he feeling in the midst of his extraordinary play?
"I'm pretty calm, honestly," he said. "Yeah, there's pressure for obvious things, but I've won my last two tournaments, so I have ... no reason not to believe that I can do it one more time. I've been swinging it beautifully all week, and it just keeps getting better and better. So hopefully tomorrow I can do what needs to be done."
"No," Rahm said flatly. "If I win again tomorrow and I don't get to No. 1, at this point I don't care. … I truly could not care any less if I did. I'll get the chance to do something incredible and whether the ranking says I'm one or two or three, it doesn't matter. It will be something very, very special."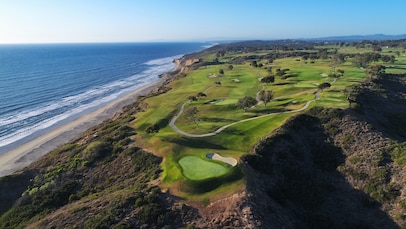 Torrey Pines sits on one of the prettiest golf course sites in America, atop coastal bluffs north of San Diego with eye-dazzling views of the Pacific. Rees Jones' remodeling of the South Course in the early 2000s not only made the course competitive for the 2008 U.S. Open (won by Tiger Woods in a playoff over Rocco Mediate), it also brought several coastal canyons into play for everyday play, especially on the par-3 third and par-4 14th. An annual PGA Tour stop, Torrey Pines hosted its second U.S. Open in 2021.
View Course
He drove to San Diego on Sunday night, greeted his parents after they'd traveled from Spain, and played nine holes in the pro-am on Tuesday. He looked like a weary player for the early tournament start on Wednesday when he overshot the South's seventh green and made double bogey. But he steadied himself enough on his second nine to score the 73, and over the last 39 holes he's 12 under.
As good as Rahm's 66 was on Friday, including shooting 31 on the front nine, he said he was most proud of overcoming some of his rare poor tee shots at the long par-4 12th and scoreable par-5 18th. He salvaged par from heavy rough on both of them, which is what has to happen at Torrey Pines for those who hope to win.
"When I missed that tee shot on 12 to the left and both on 18, my layup on the left, never really lost composure," Rahm said. "Actually ended up hitting two great shots into the greens. I think that would be it. I stayed really patient out there and took advantage of the holes I could take advantage of and played what I would say was very smart throughout the round.
"Hopefully I can keep driving it like this like I did yesterday and today [on Saturday]," he added, "because obviously putting it in the fairway out here allows you to be very aggressive and give yourself a lot of good chances."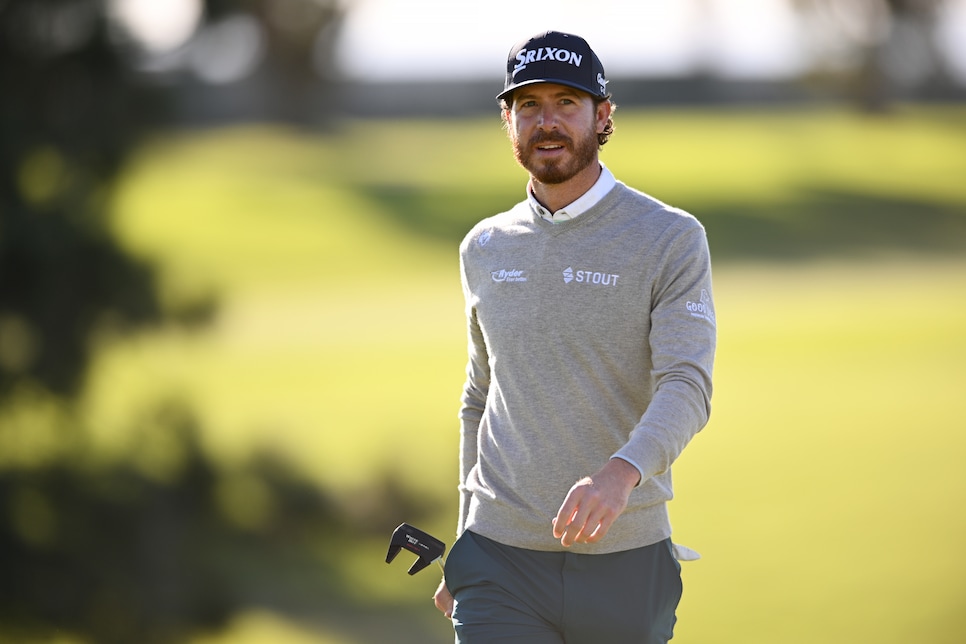 Sam Ryder walks on the 13th green of the South Course during the third round of the Farmers Insurance Open.
Orlando Ramirez
For the week, Rahm has hit 26 of 42 fairways (11th in the field), and he ranks ninth in strokes gained/off the tee.
Ryder, who is something of a late bloomer, having only played five full seasons on the tour, owns six top-3 finishes in his career in 146 starts. The closest he's come to a win in the last five years was his T-2 in the 2021 Corales Puntacana. He came into the Farmers with three straight missed cuts that followed a T-8 in November at Mayakoba.
The Stetson alum last won in 2017 on the Korn Ferry Tour, but he's handled his nerves well this week. Playing the first three rounds with good friend Brendan Steele, Ryder opened with a 64 on the North, scored a strong 68 on the South and then made just one birdie and one bogey on Friday. He did something that's not easy on the South, scoring par on the final 13 holes.
Ryder has been particularly impressive with managing himself around the green, getting up and down from trouble in nine of 10 opportunities.
"I don't feel like I have a lot of weaknesses with my game right now," he said. " … My iron play feels great, but if you get out of position off the tee, there's just nothing you can do other than try and save a couple shots.
"I think that's the biggest difference is I'm not short-siding myself, but leaving it in the right spot so I'm not having to hit the miracle shot every time, just trying to manage my way around. You don't have to go out there and shoot 66 every day out here, which I like. You just stay patient and make a lot of pars and saving a couple of those, they just keep the round going."
The mission on this rare Saturday finish on tour is terribly daunting, but he's trying not to think about that. Probably a smart move.
"I'm not really trying to overcontrol it," he said. "I'm just trying to embrace it and enjoy it because this is ultimately what we want, right? That's why we play."