Course Rankings
Editor's Letter: The Golden Ticket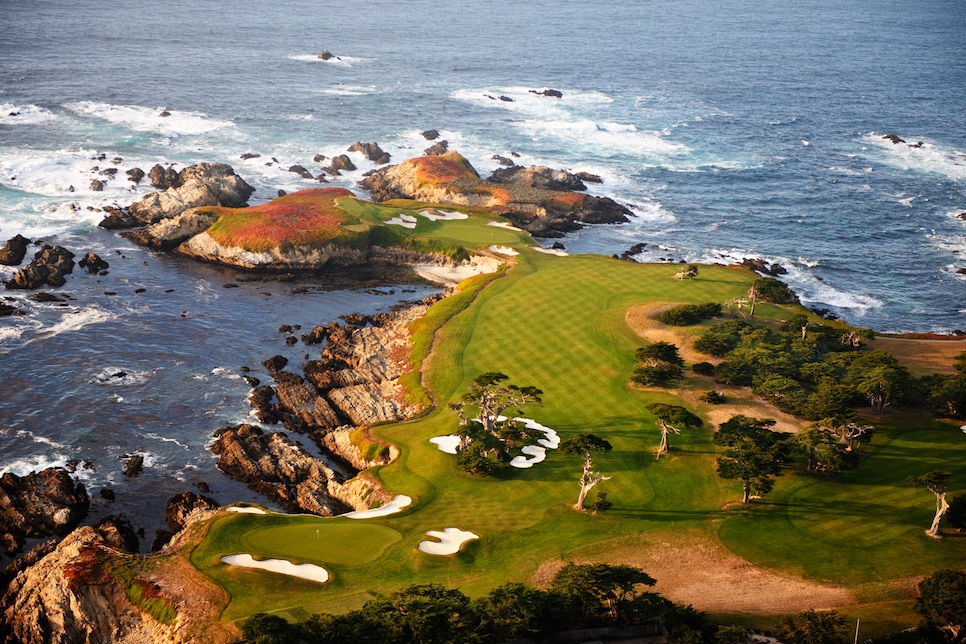 Inside this issue is the granddaddy of all course rankings, still recognized as the oldest and most authoritative order of America's 100 Greatest Golf Courses. Started in 1966, the biennial list is now the result of 50,000 ballots of 954 Golf Digest panelists over an eight-year rolling period cast not only on the 350-some courses that contend for the top 200 in the country, but also courses reviewed for our rankings of the 100 Greatest Public and Best in Each State to be announced in the June issue. These rankings are the most statistically significant in our history, but we're on a mission to improve with a little help from our readers.
Dean Knuth, known as the Pope of Slope for his decades of work on the USGA's handicapping system and the chief statistician for Golf Digest's course rankings, advises us that we need to raise our minimum qualifying number of evaluations from 45 to at least 70 to make the 100 Greatest statistically above reproach. To reach that goal, we're dedicating our efforts to double the size of the panel by 2020.
Want to become a panelist? We'll tell you upfront: It's a thankless though ultimately rewarding activity.
It's not cheap. Panelists pay a membership fee and are expected to cover their travel and lodging and arrange their tee times with the assistance of a great many clubs who are eager to have Golf Digest review their courses. We allow clubs to offer panelists complimentary green fees, but only that. Panelists are continually lectured by Senior Editor Ron Whitten on the seven criteria of judgment and reminded by Associate Editor Steve Hennessey to get their ballots in on time. Every score is scrutinized by Knuth for outliers, and every two years panelists get a letter grade on how they are doing. There's also a code of conduct. "Panelists are welcomed into a lot of great private courses," Whitten says, "but if they accept so much as a lunch or a logoed shirt, they'll get booted off the panel."
So why do it? Most panelists tell us there's personal satisfaction in being part of an exclusive club that has an enormous impact on architecture, which influences site selection for championships. Many panelists appreciate the education; they thought they knew golf design before, but they get exposed to a much greater variety of architectural philosophies. They recognize strategic nuances and understand factors that might amplify or compromise the design of a particular hole. Such enhanced knowledge elevates their passion for the game.
If you'd like to be part of this exclusive club, hold a Handicap Index of 5.0 or less, and have enough time to play and evaluate at least two dozen courses a year, or know of a player who fits this description, contact us at 100GreatestPanel@golfdigest.com, and we'll start the process for membership. (The same panel also votes on our World's 100 Greatest, but a less-rigorous ballot is used because of the geography covered.)
Golfers with a young family are probably not going to have enough time to dedicate to course evaluations, but those willing to travel (or travel a good deal because of their career) fit the typical demographic of our panelists. Competitive amateurs will not be allowed to evaluate courses during tournament play, as their focus would rightfully be on their game, not course design, but they can certainly evaluate the layout during a practice round. "All panelists should treat evaluation rounds like a practice round," Whitten says. "As long as you don't hold up play."
So do panelists get to play the exalted Top 10? Don't count on it. We have plenty of ballots on No. 1 Pine Valley (178), for example, so that's not where our efforts are concentrated. Readers who don't travel much outside their state can still be valuable panelists if they're willing to evaluate contending courses in all four corners of that state. Those who travel coast to coast are ideal, especially if they're eager to visit new venues rather than return to the same haunts year after year. The added benefit of the panel is the camaraderie that comes with kindred spirits who communicate via the panel's website and assist each other in getting on courses and reciprocating.
If you're a student of the game with a passion for great golf courses and a low-single-figure handicap, it might be the golden ticket for you. Send us your golf résumé, including GHIN number, and we promise a quick response.
The 7 Criteria That Decide America's 100 Greatest