The Loop
The Washington Football Team just cut Dwayne Haskins, so here comes this story about a coach nearly puking when they drafted him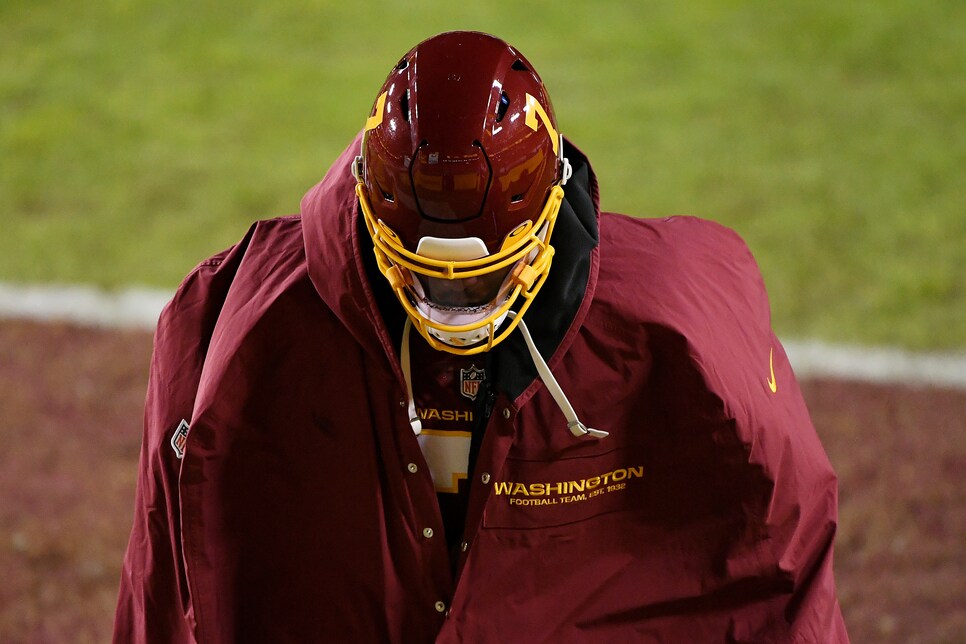 Welp, it's official. On Monday, Dwayne Haskins Jr.—the same guy who beat out Joe Burrow for a starting job at Ohio State, broke countless Buckeyes passing records, and was drafted 15th overall by the Washington Football Team in 2019—was officially waived by The Team That Shall Not Be Named. As in released. Cut. Fired. Sh*tcanned. No picks. No players. Nothing. Nada. Zilch. Gone, forever, just like that.
The move came a day after Haskins was benched in favor of former XFL quarterback Taylor Heinicke and then reportedly refused to appear for PR duties after the game, an NFL requirement for starting quarterbacks. It came after Haskins went 4-15 as a starter in just less than two seasons. It came after getting beat out by a guy with a peg leg, allegedly attending a maskless stripper party, and posting an appalling 8.3 QBR in a loss to the Panthers on Sunday. But if that weren't enough, within minutes of Haskins' release, the Haskins-bashing began in force, including this doozy of a story about a member the WFT coaching staff nearly puking in the war room during the 2019 NFL Draft when it became apparent management had their sights set on the now-former NFL quarterback.
Now, in fairness to Haskins, we shouldn't put too much stock in anything a member of Jay Gruden's coaching staff has to say about anything, let alone football. That said, it's a pretty bad sign when the first reaction to your hiring by a guy who's about to be your boss is nausea (and equally foreboding when Dan Synder thinks you're The Guy.) If that happens, you may as well pack it up and start applying for jobs over at FS1, and perhaps that reality is setting in for Haskins, who accepted responsibility and expressed contrition on Monday in the following statement.
Puke all you want, but that's more than Johnny Football and Josh Rosen could ever muster.