News
Dustin's comeback, Spieth's Sunday struggles and Wie's emergency surgery: What you missed this weekend
Welcome to the Dew Sweeper, your one-stop shop to catch up on the weekend action from the golf world. From the professional tours, trending news, social media headlines and upcoming events, here's every golf-related thing you need to know for the morning of August 28.
Justin Thomas and Jordan Spieth might be Player of the Year frontrunners, but another holds the title of No. 1 in the world. And that certain someone let his presence be known at Glen Oaks.
Dustin Johnson overcame a five-shot deficit to capture the Northern Trust at Glen Oaks Club on Sunday, besting Spieth in sudden death for the win. The 33-year-old turned in a bogey-free 66 on the afternoon, earning his way into a playoff with an 18-foot par save on the 72nd hole.
Johnson then unleashed a massive drive on the 18th during the playoff, carrying a lake and leaving just a wedge into the 475-yard dogleg. He stuck the approach, converting a five-foot birdie for the victory.
It was the fourth win of the season for Johnson, and first post-staircase incident. Though 2017's seemingly inevitable dominance turned into a "lost" campaign, DJ is still very much in the hunt for POY honors. And while players of his caliber are judged solely -- and perhaps unfairly -- by their major performances, the work Johnson has put together this year warrants nothing but acclaim.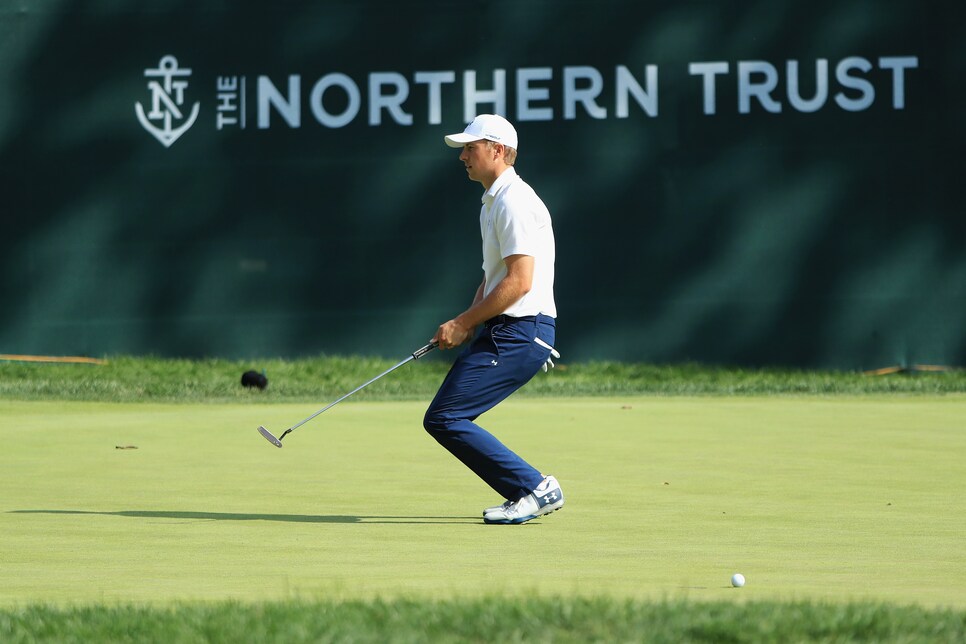 Andrew Redington/Getty Images
Spieth's Sunday adventures continue
With just 13 holes left in the tournament, Jordan Spieth had a five-shot lead. But the Texan's been to, for better and worse, keep things interesting on Sunday. A peculiarity that was on parade at Glen Oaks.
On the par-3 sixth, Spieth found the water, walking away with a double-bogey. A missed short putt at the ninth equated to a bogey which, coupled with back-to-back birds from Johnson, erased Spieth's seemingly insurmountable advantage. He engaged with Johnson on a back-nine battle, making two birds and a remarkable par save at the 17th. Conversely, he also had a handful of chances to close the door on DJ, and his inability to do so gave Johnson the platform to stage the comeback.
As seen at Hartford and Southport earlier this year (to say nothing of a certain 2016 major), these turbulent final rounds are becoming Spieth's calling card. Most of the time, he's been able to recover from shaky turns, and perhaps that will still be the case going forward. And yet, if Spieth wants to eventually be known as one of the game's greats, a solution for whatever Sunday demons are at play must be found.
Wie undergoes emergency surgery
Michelle Wie withdrew from the LPGA's Canadian Pacific Women's Open on Sunday to undergo emergency surgery to remove her appendix. She posted an update Monday morning, letting fans know the procedure was a success:
After a rough few years, 2017 has been a bounce-back campaign for Wie, posting seven top 10s and earning a spot on the winning U.S. Solheim Cup team. The 27-year-old was tied for 23rd, six strokes behind the leaders, entering the final round before her WD.
John Daly, he of 51 years of age, began his final round at the Made in Denmark in a tie for third. A theoretical victory would make the two-time major winner the oldest champ in European Tour history. Alas, JD fell short of this ambition, unable to make a fourth-round push to ultimately finish T-10.
One who did surmount a charge was Julian Suri, turning in a final-round 64 to grab the W. The Duke product, who made news earlier this year for playing an entire month without his own set, became the third American (joining Brooks Koepka and Peter Uihlein) to win on both the Challenge Tour and the European Tour in the same season with his victory Sunday.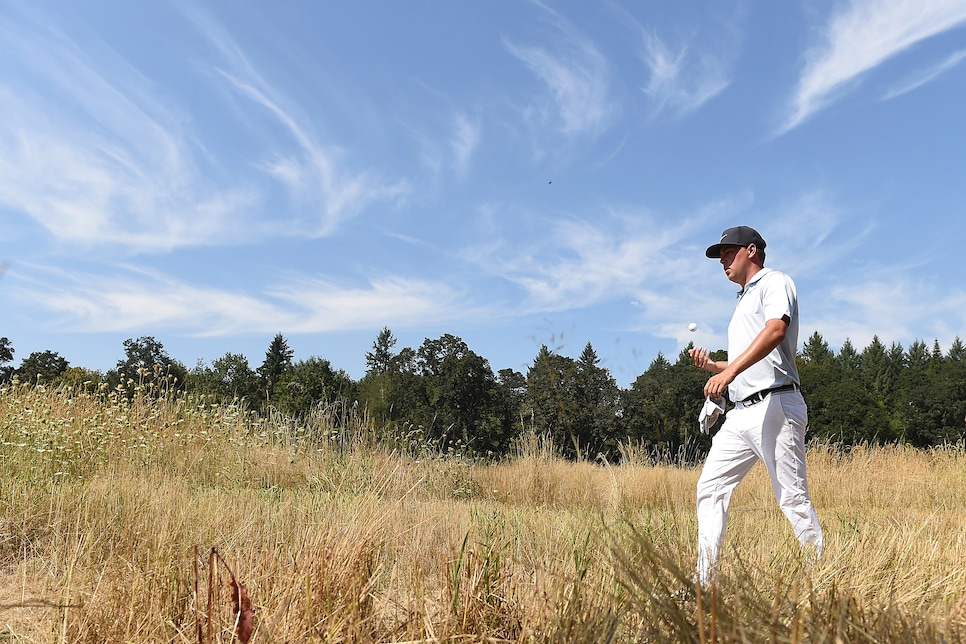 Player told eagle, makes par, needed bird
There's always a host of sob stories regarding players missing out on their tour cards. This one's at the top of the list.
At the Web.com Tour's WinCo Foods Portland Open, Keith Mitchell stood on the final tee and was told he needed an eagle to move into the circuit's top 25 money winners, which would earn promotion to the PGA Tour. Unfortunately, Mitchell's aggressive second shot at the par 5 left him short-sided, and he was unable to convert the chip-in. Because he had to go for the dunk, his third went 20 feet or so by the pin, a length he was unable to tidy up. Mitchell walked off with a five, believing he had missed his goal by two shots.
One problem: Mitchell was misinformed, as he only needed a four to make the cut.
"It's really, really, really disappointing," was all the pour soul could muster after his round. Golf, she is a cruel vixen.