News
Jordan Spieth finally takes a tumble on his Sunday tightrope walk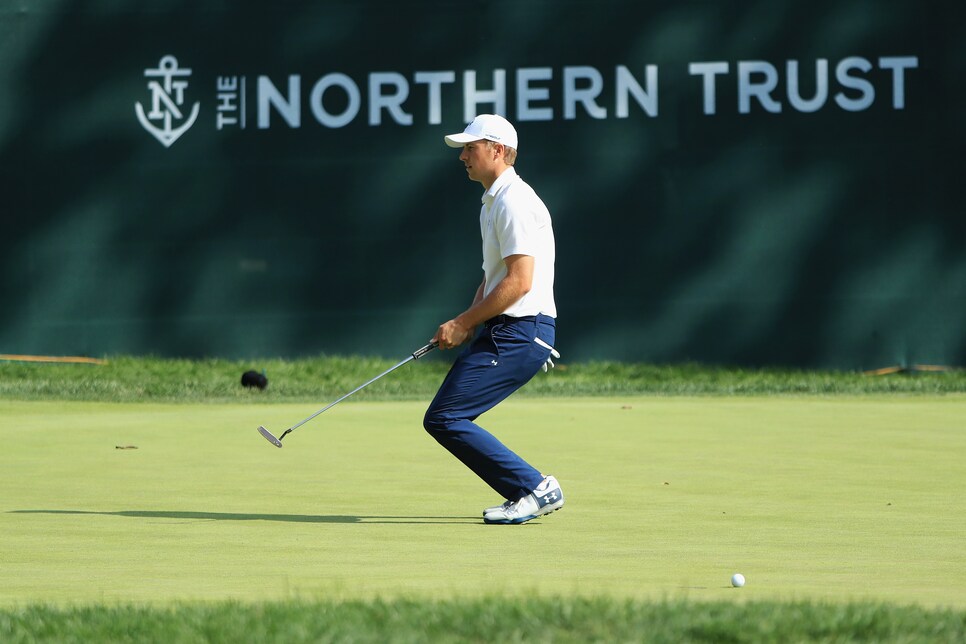 Andrew Redington/Getty Images
OLD WESTBURY, N.Y. — The issue was in doubt. The five-shot lead, erased. As the man admitted on Saturday, he has a habit of making Sunday interesting.
And yet amidst the roars from Dustin Johnson, he nonchalantly twirled his club, his head bowed slightly, marching forward. In golf, they say the only shot that matters is your next. Jordan Spieth takes the same approach with his steps, despite the surrounding chaos that has become his calling card.
Spieth entered the fourth round of the Northern Trust with a three-shot lead. It was the 15th time in his career he sat atop the board after 54 holes, winning nine of the last 10 occasions. How he's fared on Sunday, however, has been a thing of bewilderment, in every connotation of the word.
During this year's Travelers Championship, he finished the final 15 holes one over while the rest of the field painted the course red, only to be saved by a grace-of-the-golf-gods bunker shot. At Royal Birkdale, he conjured images of his Masters meltdown before bouncing back with a historic five-hole finish. It's like watching a tightrope walker defy death miles above ground, seemingly losing balance before regaining his footing. You hold your breath and shake your head, cursing in exasperation and wonder.
"I've kind of shown that anything can happen, unfortunately and fortunately," Spieth said on Saturday.
That high-rise act takes a special mindset; some call it fortitude. It has vaulted Spieth to his current stature in the game, and an asset many of his under-30 contemporaries lack. Though he's noted for wearing his emotions on his sleeve, it's that dispassionate, deliberate stride, getting right between the ears before the next shot, that makes Spieth Spieth.
But you can only spit in the devil's face so many times before he takes offense. At Glen Oaks, the Texan failed to find balance, and it was Johnson who benefited from the fall.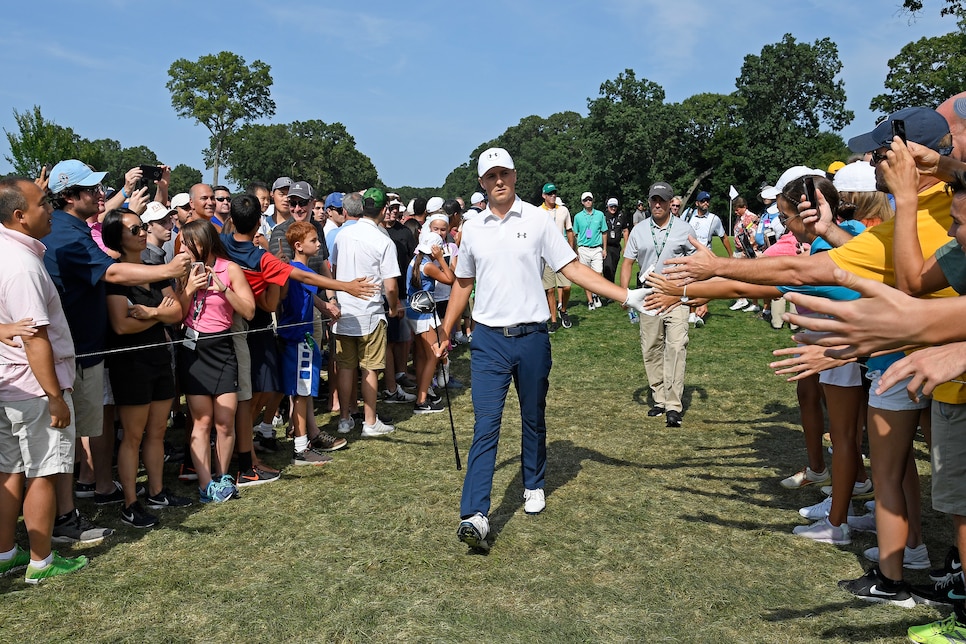 The performance on Sunday, like in Hartford and Southport, was far from surgical. Following a strong start to build his advantage to five, Spieth left his tee shot at the par-3 sixth short in the water. The hole was the second-hardest in scoring on the day, but given the amount of real estate behind the pin -- to say nothing of the breathing room of his lead -- that his approach didn't err on the side of long was curious.
"It kind of flustered me for a couple holes," Spieth said afterwards.
His putter, one that's been so fickle this season, reared its ugly head at the par-4 ninth, as he missed a five-footer badly to the right for bogey. Coupled with a three from Johnson, the lead was down to one.
Johnson added another birdie at the 10th, and Spieth's stroll through Long Island turned into a boxing match. The duo traded haymakers throughout the back, a rash of birdies and "How'd he make that?!" par putts. Spieth had his chances to close the door, especially on the 15th and 16th, and though Johnson's memorable 18-foot drain on the final hole forced the playoff, it was a less-than-ideal approach from Spieth in the fairway that bestowed the opportunity. Spieth finally paid for his lapses in sudden death, as Johnson hit a bomb off the tee, leaving a short approach and four-foot birdie to seal the deal.
Make no mistake, with a Sunday 66 and birdie on the playoff hole, Johnson was not given the title.
"It's very difficult holding a lead on a difficult golf course when the guy you're playing with goes bogey-free and doesn't even really sniff a bogey and shoots four under," Spieth said. Nevertheless, it's an event that Spieth will note, upon further examination, as what could have been.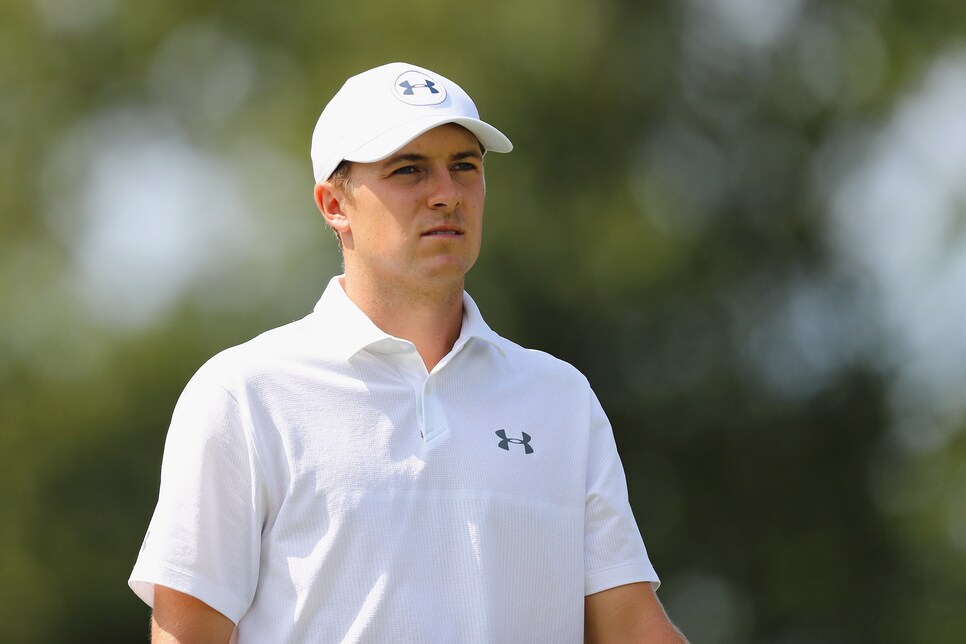 The past three months have transformed Spieth into one of the rarest delicacies in sports: an entity consumed not just in the present tense. Though golf is guilty of showering its players with unrealistic expectations, Spieth has reached the precipice where such ambitions are warranted. At 24, he has three majors, 11 tour victories, 14 worldwide wins. With this résumé, his rivals are not Thomas or McIlroy or Hideki Matsuyama, but history.
It's sacrilegious to make any corollaries to a certain 41-year-old, 14-time major winner, especially in the context of dominance, captivation and cultural reach. Conversely, Spieth's output at this fledgling stage qualifies as Woodsian. The benchmark Tiger -- and Jack Nicklaus and Sam Snead -- set is likely unreachable, a sentiment echoed by Spieth on multiple occasions. But that his name can be even mentioned in this company without embellishment is a statement in itself.
In that same breath, there is a disturbing pattern of fourth-round behavior from Spieth. Yes, the trials at Amen Corner come to mind, but time has conveniently quieted his final day at St. Andrews is 2015, a round that featured a four-putt, a bogey at the Road Hole and a ghastly duck hook on the 18th when he needed birdie for the playoff. That he enjoyed different fates from similar adventures at TPC River Highlands and Royal Birkdale does not alleviate the distress.
If Spieth does harbor hopes of being one of the game's greats, a solution for whatever psychological dilemmas are at play must be found.
Of course, he's only 24, and most pros would kill to switch positions to burden this plight with Spieth's achievements in tow. For what it's worth, Spieth doesn't seem too worried about it.
"I shot one under in pretty tough conditions," Spieth said. "I'm proud of the way I played."
He'll be back on the tightrope again, perhaps in the next few weeks. And though fans and media will have plenty to say about the spectacle, Spieth won't. His head will be down, pressing on, one step at a time.