The Loop
Dustin Johnson's big drive, Tiger Woods' exciting news, and trick shots in bathing suits
Welcome to another edition of The Grind, where we're happy to hear Tiger Woods will be at next month's Presidents Cup. Let's just say it's been a difficult year for the 14-time major champ and he could use a pick-me-up from the New York-New Jersey crowds. Other than chants of "U-S-A! U-S-A!," screams of "YOU DA MAN, TIGAH!" will be the most common refrain from fans at Liberty National. Plus, with the U.S. only having lost once in 11 playings of the biennial event, it's a great chance for Woods to remain undefeated as an assistant captain. And I can also personally attest that the club has some of the comfiest golf carts around, which is good news for someone who has undergone four back surgeries. Of course, Liberty National was also the site of this unfortunate scene in 2013 …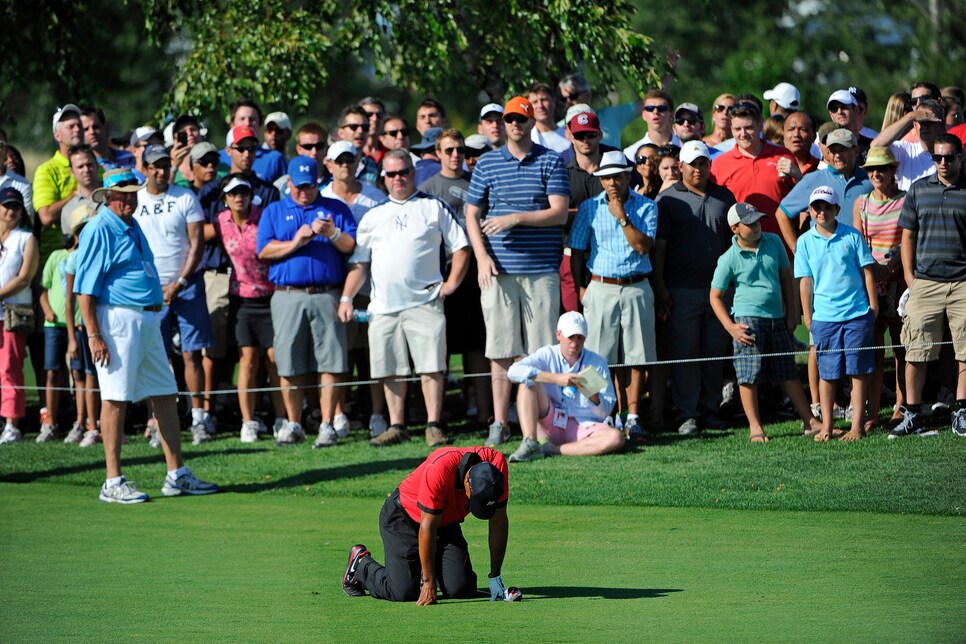 But you've got to face your fears sometime, right? Keep healing Tiger, and try to avoid any more controversies/injuries over the next few weeks. In the meantime, let's talk about the golfers who are currently playing.
Dustin Johnson: There's the World No. 1 we know and love! Johnson winning again this year was almost as inevitable as Jon Snow and the Dragon Queen getting together in the Game of Thrones finale. All it took for DJ to get his groove back, apparently, was a trip to the Bahamas with Paulina Gretzky. People are still talking about that mammoth tee shot he hit in the playoff, but Johnson showed off every aspect of his game in taking down a red-hot Jordan Spieth at the Northern Trust. But yeah, speaking of that drive. . .
Dustin Johnson's drive: DJ still has a lot of work to do to earn the PGA Tour's Player of the Year Award, but when it comes to the Drive of the Year Award, he wrapped things up on that first playoff hole. Seriously, look at the line he took vs. Spieth!
Earlier this year, Butch Harmon said, "When Dustin Johnson goes to the first tee he's got to take his balls in a wheelbarrow; he's not afraid of anything." Now we know that attitude applies to the first tee of a sudden-death playoff as well.
Beau Hossler: That kid who first made a name for himself when he grabbed the lead briefly at the 2012 U.S. Open as a high school junior is all grown up. Hossler earned enough at the Web.com Tour's regular season finale to finish 23rd on the money list and secure his PGA Tour card for next season. And the former University of Texas standout did it despite starting this year with no status on any tour while rehabbing a shoulder injury. When it comes to buying stock in this guy, we're big Beaulievers.
Jordan Spieth with big leads: Sure, Spieth entered the final round at the Northern Trust having converted nine of his past 10 54-hole leads, but he's been shaky with big leads. He blew a five-shot lead on Sunday, blew a five-shot lead before rallying to win the British Open, and eked out that playoff victory at the Travelers Championship despite blowing a three-shot lead. Oh, and there was that other five-shot lead at Augusta National last year. Spieth is already well on his way to being an all-time great, but he makes Sundays interesting. On the bright side, it's good for TV ratings.
People complaining about No. 18: Is Glen Oaks Club's closing par 4 a great hole? No. Is it too bad that a sudden-death playoff was held on a not-so-great hole? Yes. But c'mon. Dustin Johnson carried a slightly uphill tee shot 310 yards while hitting it straighter than most golfers can hit a three-foot putt. That's called talent, folks. Putting aside how far the ball goes for a second, why is it a bad thing that DJ took advantage of a unique skill he possesses? And perhaps, the hole favored him more than Spieth, but couldn't you make the argument that a hole favors one golfer more than another in most sudden-death cases? Oh yeah, DJ also still had to hit that second shot.
Heartbroken Bubble Boys: Either the golf gods were on vacation or they just don't exist, because Martin Piller and Rob Oppenheim coming up short of earning their PGA Tour cards for next season was cruel (Not to mention Keith Mitchell's 18th hole mistake). Piller put his own job status on the backburner to cheer on his wife, Gerina, the week before at the Solheim Cup, but finished 28th on the Web.com Tour's regular season money list. And Oppenheim? He wound up 27th after finishing in the dreaded 26th spot on the Web.com Tour's money list two of the previous three years. The year he didn't finish 26th, Oppenheim finished 25th, but couldn't keep his PGA Tour card. We wish both these guys success at the Web.com Tour Finals, which start this week. But Rob, buddy, you can't keep doing this to yourself.
The PGA Tour heads to Boston for the Dell Technologies Championship (these new sponsor titles just flow off the tongue, don't they?), the second event of the FedEx Cup Playoffs. It's also the last event for players to automatically qualify for the Presidents Cup. Phil Mickelson is one of those on the outside looking in, but captain Steve Stricker has basically told Phil that whether he makes the team is up to him. Hey, you try telling a man who made 10 birdies in his last Ryder Cup match that he isn't one of your country's 12 best players.
Random tournament fact: The past three winners of this event (Rory McIlroy, Rickie Fowler and Chris Kirk) all finished at 15 under at TPC Boston. How's that for random?
RANDOM PROP BETS OF THE WEEK
-- Steve Stricker will make Tiger Woods a captain's pick: 1 MILLION-to-1 odds
-- Phil Mickelson will win this week: 100-to-1 odds (Actual bet)
-- Phil has already picked Phil to play in the Presidents Cup: LOCK
European teaching pro David Poulton shared this cool photo of the 1967 Masters Champions Dinner:
The post drew several funny responses, but this was our favorite:
VIRAL VIDEO(S) OF THE WEEK (BATHING SUIT TRICK SHOT DIVISION)
Jordan Wolf is back for more poolside short-game practice in a bikini:
And bikini short-game practice elsewhere:
And then there was trick-shot artist Joshua Kelley dazzling us again by helping a friend shotgun a beer:
A fan complained to Graham DeLaet that his withdrawal hurt his fantasy golf team. Graham DeLaet owned him.
"I don't think there's any words that I can say of how I feel. I mean, it's a dream come true, obviously. It was a long afternoon. I mean, I can tell you I have no nails, no like nothing. . . I'm just looking forward to getting hammered tonight." – Roberto Diaz pulling an Andrew "Beef" Johnston after earning the 25th and final PGA Tour card at the Web.com Tour's regular season finale. We feel you, Roberto.
THIS WEEK IN "HEY, TOUR PROS ARE JUST LIKE US!"
Of course, moments later, Dustin Johnson hit that tee shot to remind us that these guys aren't anything like us.
THIS WEEK IN DUSTIN JOHNSON-PAULINA GRETZKY PUBLIC DISPLAYS OF AFFECTION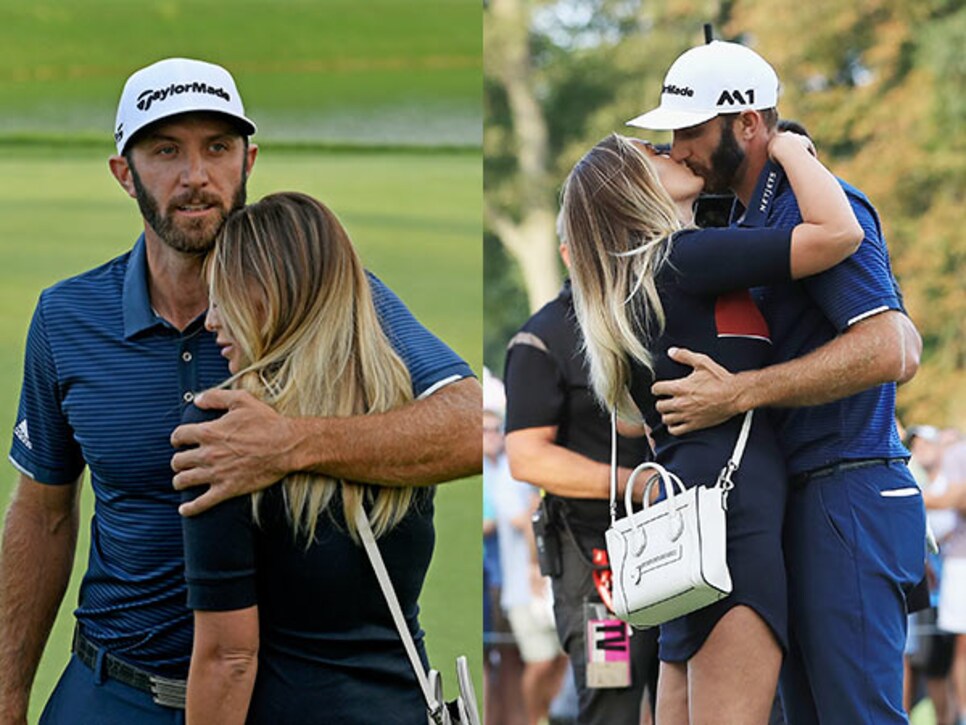 We missed seeing these two in the winner's circle.
THIS WEEK IN BROOKS KOEPKA-JENA SIMS PUBLIC DISPLAYS OF AFFECTION
While in New York, the two lovebirds took in a Mets game -- and showed off their ability to wear matching outfits:
Jena also took the time to talk to our Stephen Hennessey for a hard-hitting interview, and she took over The Loop's Instagram handle at the Northern Trust.
I went to introduce myself after Brooks finished up his first round, but she had just bolted for NYC for an audition. Looks like being in Sharknado 5 is already starting to pay off.
Props to American Julian Suri for winning his first European Tour event at the Made In Denmark (actual tournament name). More impressively, it was only Suri's seventh Euro Tour start. . . . John Daly's bid to become the oldest winner in European Tour history came up short. Still, a T-10 at 51 is pretty good. . . . Our thoughts and prayers are with everyone in Texas dealing with Hurricane Harvey. Although that shark-on-a-highway photo that was circulating on social media was fake, this isn't:
Absoultely terrifying. . . . Let's end on a happier note by congratulating Adam Scott and his wife, Marie, on the birth of their second child, and for going with a golf-appropriate name: Byron. Please put a regular-length putter in his crib, though, guys.
RANDOM QUESTIONS TO PONDER
How is John Daly still alive?
Did Jena Sims get that part she auditioned for?
Imagine what lines Dustin Johnson would take off the tee at your home course?