News
Why Jordan Spieth is golf's biggest TV draw (not named Tiger Woods)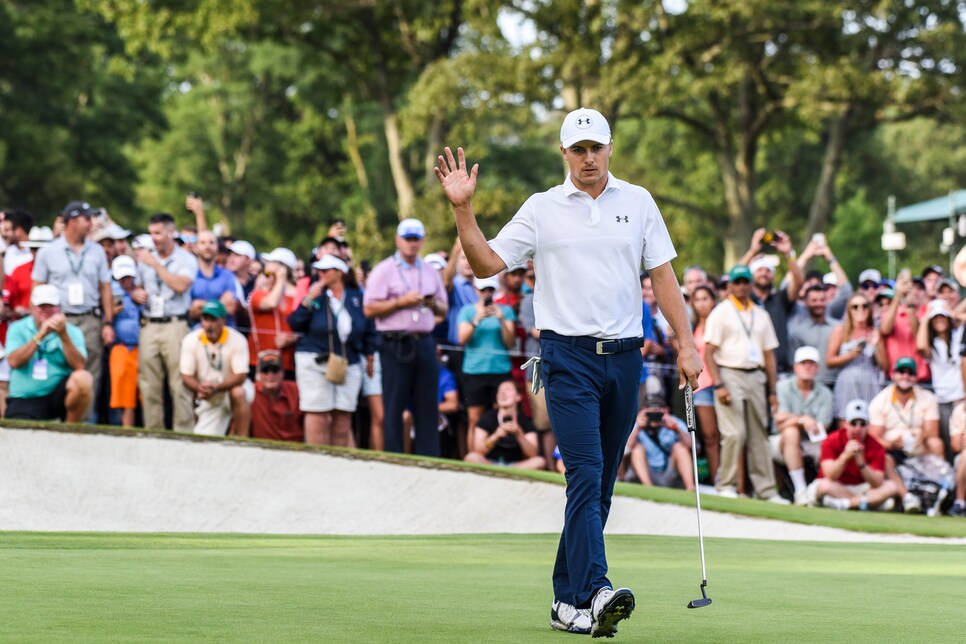 It should come as no surprise that a back-nine battle between Dustin Johnson and Jordan Spieth did well when it comes to TV ratings. The Americans are two of golf's biggest stars, and as Golf Channel's Justin Ray pointed out, it was the first playoff between a World No. 1 and a former World No. 1 since Tiger Woods topped Ernie Els at the 2000 Tournament of Champions. But it looks like one guy deserves most of the credit for the many TV sets tuned to CBS for Sunday's final round of the Northern Trust.
Jordan Spieth seems to have taken the title from Tiger Woods as golf's biggest TV draw. Although Spieth doesn't move the needle like the 14-time major champ, he has been a constant in PGA Tour events that have attracted the most eyeballs this season, including the final round of the Northern Trust, which drew a 2.5 overnight rating -- the fourth-best rating for a non-major in 2017. It was also the best rating for the event since 2013, when Woods finished runner-up to Adam Scott.
In fact, as SportsBusiness Daily pointed out, Spieth has either won or finished runner-up in three of the four best-rated non-majors of the year. The others were the AT&T Pebble Beach Pro-am, where he won by five shots, the Travelers Championship, where he beat Daniel Berger in a playoff, and the Players. Spieth missed the cut at the latter, but the unofficial "fifth major" pulling high ratings for NBC certainly isn't a surprise. The other three on the list, though, in particular the Travelers Championship, speak to Spieth's popularity.
And so did the TV ratings for Spieth's third major title in July at the British Open. Spieth's wild finish drew a 3.2, the event's highest overnight rating since 2009. It also marked the first time that the British Open, which has its ratings hurt by the time difference between the U.K. and the U.S., has out-rated the U.S. Open since 1980.
So when it comes to the Official World Golf Ranking, Dustin Johnson still holds the edge, but in terms of TV, Jordan Spieth is the current No. 1. At least, until Tiger Woods comes back.