News
Phil Mickelson sounds like he's leaning toward making Phil Mickelson a Presidents Cup captain's pick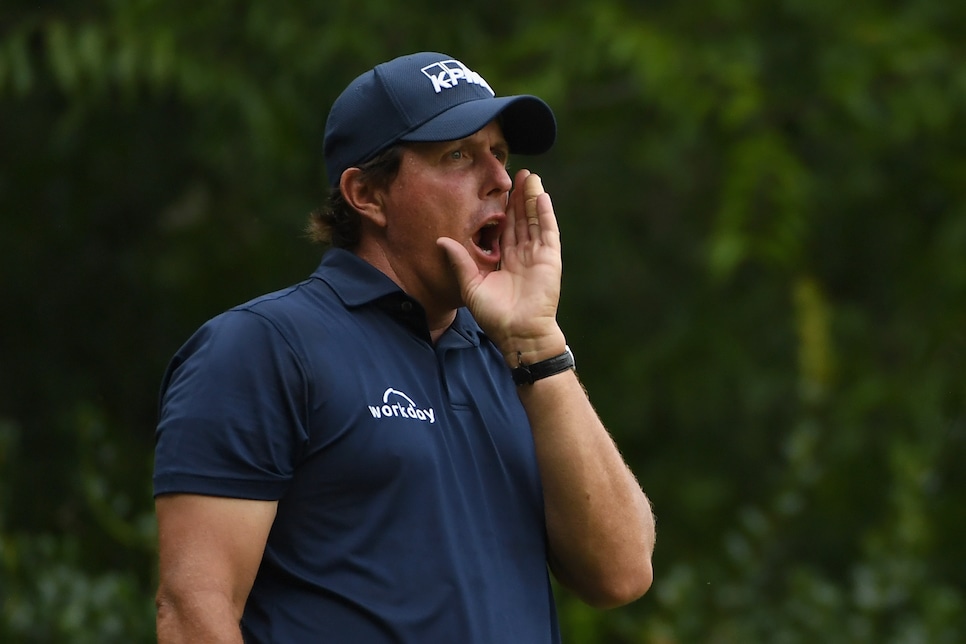 OLD WESTBURY, N.Y. -- Will Phil Mickelson make the U.S. Presidents Cup team? As we approach next month's event, it sounds more and more like that question will be answered by Phil Mickelson.
Of course, it's always up to a player to earn a spot on the team or prove himself worthy of a captain's pick, but this year, Steve Stricker seems ready to let the veteran lefty make the actual decision on whether he'll tee it up for the Americans at Liberty National.
"I will probably leave it up to Phil at some point telling me if he thinks he can be ready to play, if he's capable of helping out and then I'll ask the rest of the team," Stricker told PGATour.com ahead of this week's Northern Trust.
So after an opening two-over-par 72 at Glen Oaks Club, Mickelson was asked whether he would pick himself right now.
"Like I said, I'm going to see how these next two weeks go," said Mickelson, referring to the final two tournaments to earn one of 10 automatic spots on the squad. "I'm very optimistic on the way I'm playing, but the scores are not reflecting that yet. If the scores start to reflect that, I think I'll be able to bring something to the table."
Mickelson, who is currently No. 20 in the U.S. team standings, has been at that table for a remarkable 22 consecutive team events with 11 appearances in both the Presidents Cup and Ryder Cup. It's a record streak the 47-year-old would like to continue, but he's not penciling himself into Stricker's lineup just yet.
"If there are other players that bring more to the table and are playing better, then they need to be on it," said Mickelson, who was a captain's pick of Jay Haas for the 2015 Presidents Cup when he was only 30th in the points standings. "Because you can also look at it and say, I've had the opportunity to be a part of a number of them, so it would be great for others to do that, too. But I'm not quite ready to pass that on yet. I want to be on the team."
After a disappointing summer that included missed cuts at both the British Open and the PGA Championship following the breakup with longtime caddie Jim "Bones" Mackay, Mickelson thinks he close to some good scores. In Thursday's first round, Mickelson was four over through 13 holes thanks to two double bogeys, but he showed some like with birdies on his final two holes.
"I've been driving it better than I ever have. My iron play is coming back. My distance control is coming back. All the things have really come back but the last thing is scoring and in this case, it was just putting," said Mickelson, who vowed to be honest in the assessment of his game to his potential captain. "But I'm starting to feel a lot more relaxed. I don't feel like I'm fighting it out there anymore. It's starting to come around."
When it comes to answering the original question, that certainly sounds like a "Yes."