The Loop
Dustin Johnson wins again, fun times in Mexico, the Phil Mickelson experience, and a chance encounter with a golf legend
Welcome to another edition of The Grind, where the sting of never having made a hole-in-one has never been worse. It was cool seeing Justin Thomas one-hop one from 232 yards, but JT having 20 aces at 23 is just upsetting. Then Kenny Perry shared he'd made his 50th (Yes, FIFTY) during a practice round at his own country club. (Side note: That's pretty boss, KP.)
I have ZERO. Thanks for asking.
But nothing topped two women making back-to-back holes-in-one in a match at a golf course in Ft. MYERS(!). It's as if the universe is trying to send me a message. Anyway, I'll continue to do my best to feign excitement for others. And in the meantime, here's what else has us talking.
Dustin Johnson: So much for him feeling more pressure as World No. 1! Or maybe pressure caused him to miss all those short putts (16 inside 10 feet) and he would have won by even more. Regardless, Johnson's latest win at the WGC-Mexico Championship guarantees him a few more weeks in the top spot.
WGC-Mexico Championship: Outside of a few cases of food poisoning (Hey, it can happen anywhere), the first year of this tournament being played in Mexico City was a rousing success. The course was quirky, the leader board was star-studded and the shot-making (77 hole-outs) was exquisite. Plus, there were these awesome signs for the players:
And it allowed for all those fun videos involving soccer announcers calling golf.
Jon Rahm: With a T-3 in his WGC debut, the 22-year-old moved up to 25th in the Official World Golf Ranking and down to 25-to-1 odds to win the Masters. Rahmbo is here to stay.
The Phil Mickelson experience: What a week for the five-time major champ. First, he gave a science lesson on altitude. Then he gave a master class in recovery shots that left playing partner Rory McIlroy marveling. And finally, he told some great stories to David Feherty. Oh yeah, he also finished T-7 despite spending half the time in spots like this: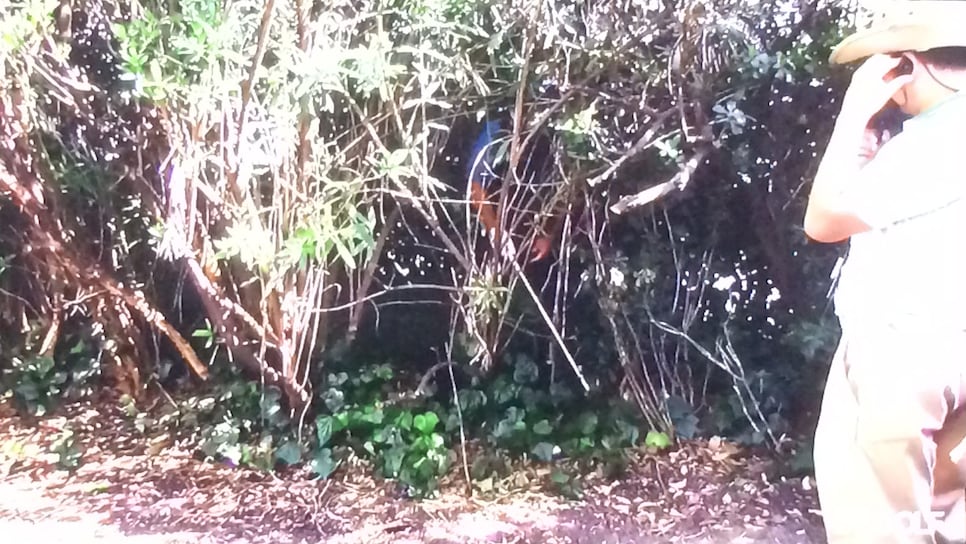 Even Phil couldn't believe the situations he found himself in: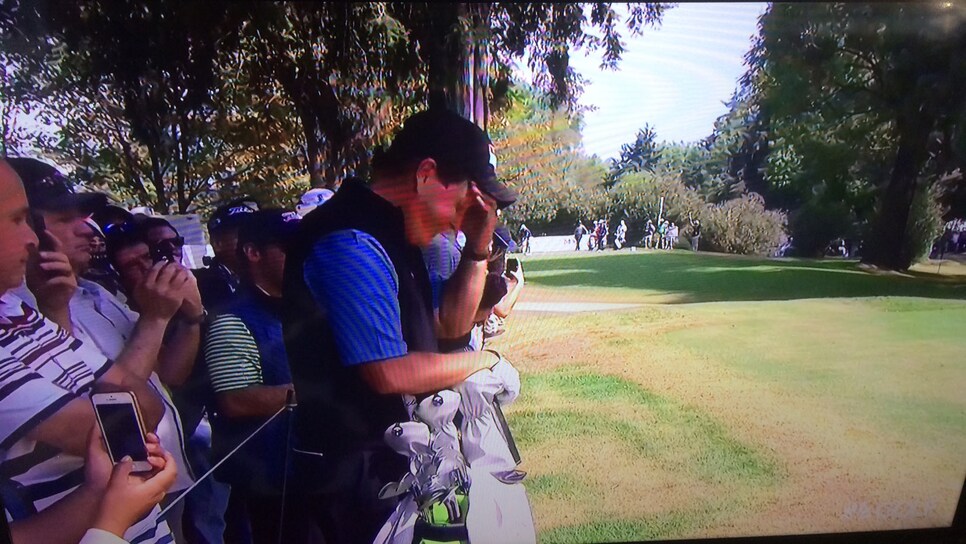 But boy, did Mexican golf fans -- and everyone watching on TV -- love every minute of it.
Justin Thomas' club toss: We're fine with the club drop. We're even OK with the exaggerated stomping of spike marks. But we draw the line when a driver winds up in the crowd. On the bright side, no one was hurt and it led to one of the funniest Twitter exchanges of the year:
Bubba Watson: A year ago, Bubba was a Masters favorite. Today, he's a forgotten man. A T-38 in Mexico City followed two consecutive missed cuts at TPC Scottsdale and Riviera. Not including a T-10 at the 30-man-field Tour Championship, Watson doesn't have a top 10 since this WGC event last year.
Golfer high-fives: We've seen some embarrassing ones through the years, but this between Tommy Fleetwood and his caddie, Ian Finnis, might be the worst.
Finnis provided this humorous update after:
Of course, it's easier to laugh about anything when you take home more than $1 million for finishing runner-up.
The PGA Tour resumes the Florida Swing with the Valspar Championship at Innisbrook, aka that place with "The Snake Pit." Charl Schwartzel snaked a win from Bill Haas here last year when he drained a 65-footer on 13 and a 25-footer on 17. Lee McCoy finished T-4, but didn't take home a check for $292,800 because of his amateur status. He's back playing for money this week.
Random tournament fact: I held a 54-hole lead at the 2012 HGGA Championship (my annual golf trip) at Innisbrook before gagging my guts out in the final round. The worst part? The tournament was decided before we even got to The Snake Pit.
RANDOM PROP BETS OF THE WEEK
-- I'm staying out late drinking the next time I'm sitting on a lead: 1 MILLION-to-1 odds
-- Dustin Johnson will win the 2017 Masters: 6-to-1 odds (Actual odds)
-- The golf ball won't fly as far this week: LOCK (No really, it's science.)
VIRAL VIDEO OF THE WEEK (TRICK SHOT DIVISION)
This is why driving ranges have safety nets. . .
VIRAL VIDEO OF THE WEEK (WILDLIFE DIVISION)
Check out this giant gator carrying a pretty big fish across a Tampa-area golf course. In its mouth:
We miss Shell's Wonderful World of Golf for the matches, but also for promos like this:
THIS WEEK IN CELEBRITY GOLFERS
In an interview with The Guardian, Ed Sheeran said he hit Justin Bieber in the face with a golf club after a night out. The cause? Alcohol, of course, but also Bieber asking his bud to hit a golf ball teed up in his mouth.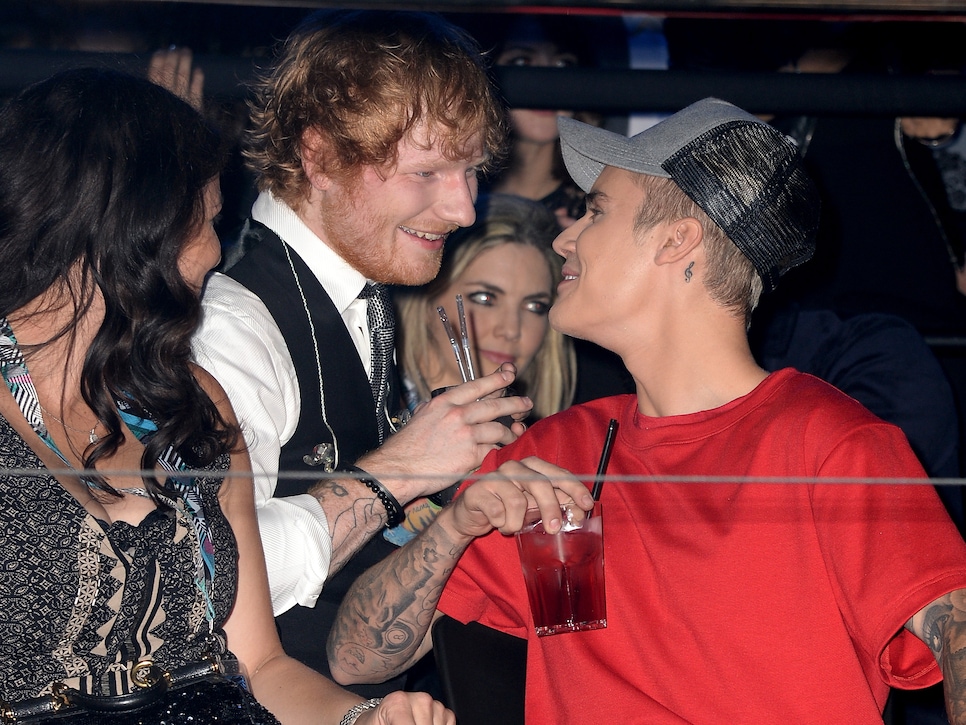 That trick shot needs to be banned before someone gets seriously hurt. And these two really need to video their late-night shenanigans.
"I think I made it look easier than it actually was." – Phil Mickelson talking about one of his recovery shots. I think this should be the quote on his gravestone.
THIS WEEK IN DUSTIN JOHNSON-PAULINA GRETZKY PUBLIC DISPLAYS OF AFFECTION
While DJ was winning another tournament in Mexico City, Paulina was chilling at home:
And showing off her swing:
DJ was asked if he came up with the idea for the couple's gender reveal video. "No, I did not. It's Paulina. All the videos that we do, Paulina's idea. But I thought it was a cool idea to do."
Not exactly a shocker. . .
THIS WEEK IN PAT PEREZ-ASHLEY PEREZ PUBLIC DISPLAYS OF AFFECTION (MEXICO EDITION)
Or this week in wacky Pat Perez T-shirts:
Pat also thanked Ashley for her support, including accompanying him to Mexico:
The best part of the trip? Neither fell victim to food poisoning.
Golf Channel's Brandel Chamblee said he's blocked 20,000 people on Twitter. In pantheon of astonishing sports claims involving the number 20,000, this ranks behind Wilt Chamberlain, but it's still pretty amazing. . . . Inbee Park won the HSBC Women's Champions in her second start since winning Olympic gold last summer. WINbee is back! . . . The USGA/R&A announced a big shakeup to the rules of golf. I applaud the changes, but they're basically the same relaxed rules my golf friends already play. Trendsetters! . . . Look who former co-worker Luke Kerr-Dineen and I ran into at The Four Seasons in NYC last week: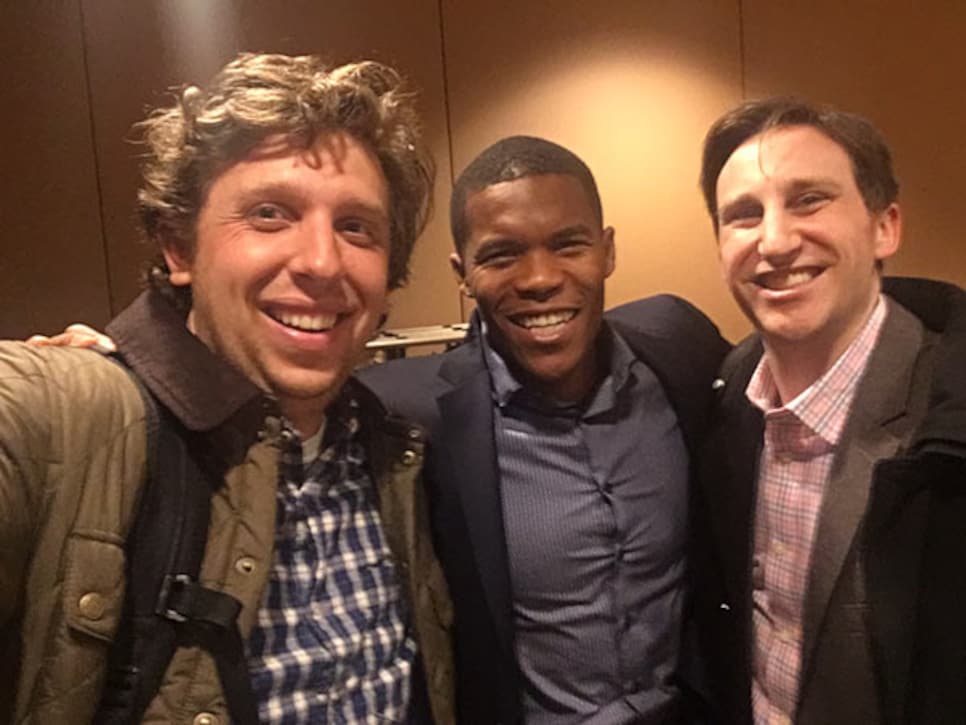 SMASH Williams! And if you don't know who Smash Williams is, you really need to watch "Friday Night Lights" ASAP. . . . The real reason for being at The Four Seasons was to do a podcast with David Feherty (I don't think they'd let Luke and I in that place otherwise). Have a listen here, but know that I blew a chance to talk with golf legend Chubbs Peterson after bumping into Carl Weathers at the NBC event.
Biggest choke ever, but in my defense, being enclosed in an elevator with Apollo Creed is a bit intimidating.
RANDOM QUESTIONS TO PONDER
What's Paulina Gretzky's low 18-hole score?
How long will Dustin Johnson be No. 1?
How long do we have to wait for a Friday Night Lights reunion show?