News
Dustin Johnson answers his Shanghai stumble with runaway win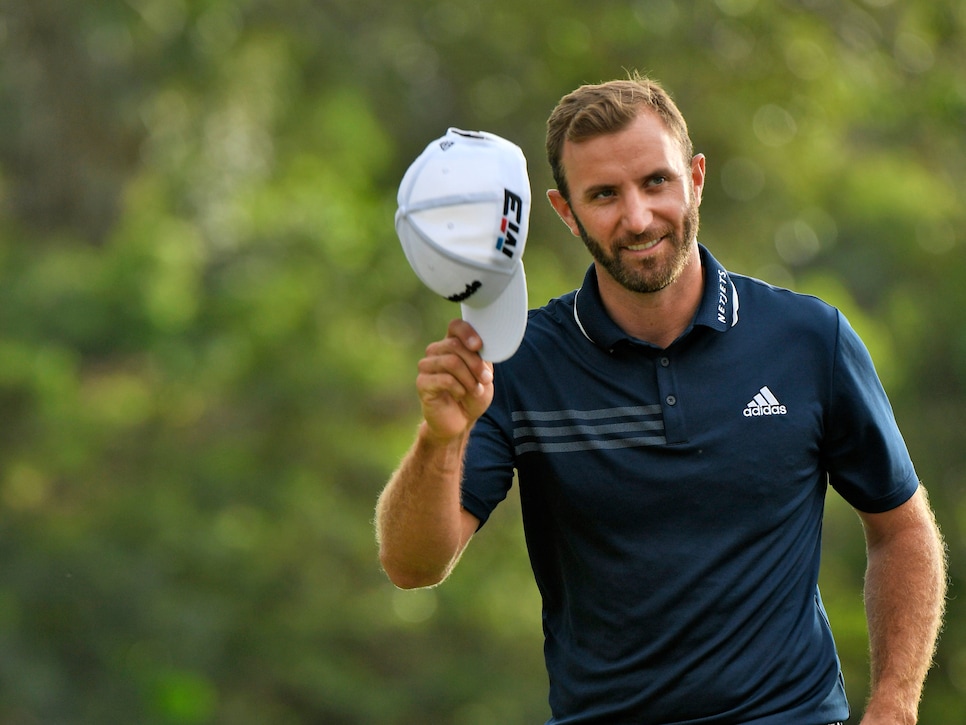 Photo By: Stan Badz/PGA Tour
KAPALUA, Hawaii — Dustin Johnson anguishes over past errors the way a shark regrets his last meal.
That was reaffirmed Sunday in the Sentry Tournament of Champions when the No. 1 player in the world expunged the memory of his improbable collapse in his last official start—when he relinquished a six-stroke lead at the WGC-HSBC Champions in late October—with a runaway victory that was as much about pride as it was pugilism.
Johnson smashed his way around the Plantation Course at Kapalua on a day of intermittent showers to shoot an eight-under-par 65, the low round of the tournament, and turn a two-stroke lead after 54 holes into an eight-stroke frolic on the giant windswept ballpark. The signature stroke to his second win at Kapalua and 17th in his career on the PGA Tour was the tee shot he incinerated on the 433-yard par-4 12th hole. His ball covered all but four inches of it, expiring that short of an ace.
"I hit it a little thin," Johnson said jokingly. "No, I hit it perfect."
Johnson, who also won the weather-shortened 54-hole contest here in 2013, finished at 24-under 268 and tied the second-largest margin of victory; only David Duval won by more in 1999 when the bulge was nine shots. Jon Rahm, with a 69, was DJ's nearest contender at 276.
Few could envision, including Johnson, that he could surrender the seemingly insurmountable 54-hole lead he squandered in Shanghai. A final-round 77 at Sheshan International Golf Club opened the door for Justin Rose, with a 67, to snatch away the title. The lithe South Carolina slugger hadn't thought of the collapse until the media reminded him of it on Saturday as he staked himself to a two-stroke lead over Brian Harman. All he was willing to share was the new irons he had put in his bag that week weren't invited on the flight home.
That is his way. Forget and forget.
When he shot 82 in the final round of the 2010 U.S. Open at Pebble Beach, Johnson got over it in a day. Later that year, a two-stroke penalty on the 72nd hole of the PGA Championship at Whistling Straits kept him out of a playoff. He fumed for an hour. He played golf with hockey great Wayne Gretzky, father of his fiancée Paulina Gretzky, the day after three-putting the 72nd green at Chambers Bay to lose the 2015 U.S. Open to Jordan Spieth.
He had to live with that gaffe for a year, but merely brushed it off and captured the '16 U.S. Open at Oakmont with a ball-striking display reminiscent of the one he employed on Maui.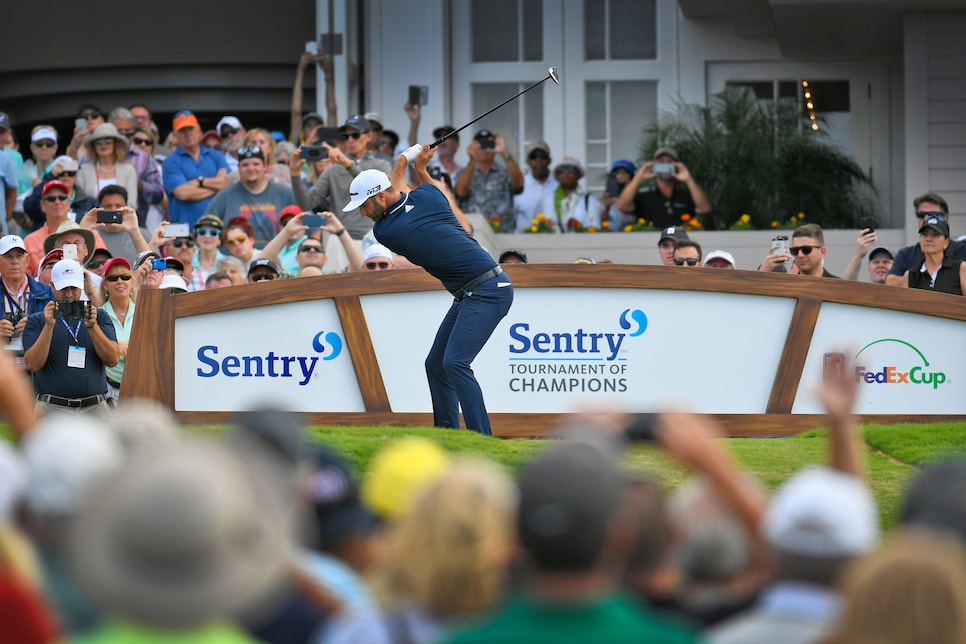 "It doesn't really matter what you did yesterday," said Johnson, 33, who became the third player ranked No. 1 in the world to win at Kapalua, joining Tiger Woods in 2000 and Spieth in 2016. "This game, it changes very, very easily. So, for me, it's just all about pushing forward, and you can't change anything that happened in the past. You can only control what you're going to do."
And yet, Johnson said he was determined to not let "the Shanghai incident," as his brother and caddie Austin referred to it, happen again. So the experience definitely dictated his actions on Sunday at Kapalua.
"I didn't want to let up on the back nine, especially after what happened in Shanghai," said Johnson, who built his lead to four after five holes and six at the turn. "That was a really difficult day, and I just … didn't do anything terrible, I just didn't do anything very good, and I ended up losing. So I definitely came out today with a lot of focus. I wanted to prove to myself that ain't going to happen again."
"After the Shanghai incident, we definitely didn't want to take our foot off the pedal and let someone get back into the game," Austin said. "No, we didn't talk about it [what happened in China]. There was no need to say anything about it. We knew we let one slip away. No way we were letting anyone get close."
"It's no easy task to catch D.J.," Rahm said after his second-place finish pushed him past Justin Thomas to No. 3 in the world behind Johnson and Jordan Spieth. "He's an extremely consistent player and what happened at the HSBC, it's just really extremely rare for him, right? So we all—I think I knew the fact that after what happened then, he also had a big lead here, he was going to play good. I mean when he was five under through 11, I think we were all looking forward to finishing in second place. At least that was my battle for the last six holes."
Johnson started to pull away with a five-foot birdie at the par-4 third. He then reached the par-5 fifth hole in two and two-putted from 44 feet and extended the lead to five shots with a seven-foot birdie on the sixth.
Rahm tried to remain close, but the putts that dropped for the Spaniard during a third-round 66 went awry on Sunday. He missed birdie tries from five and eight feet, respectively at Nos. 9 and 10, and when Johnson dropped a four-footer for birdie at the ninth the rout was on.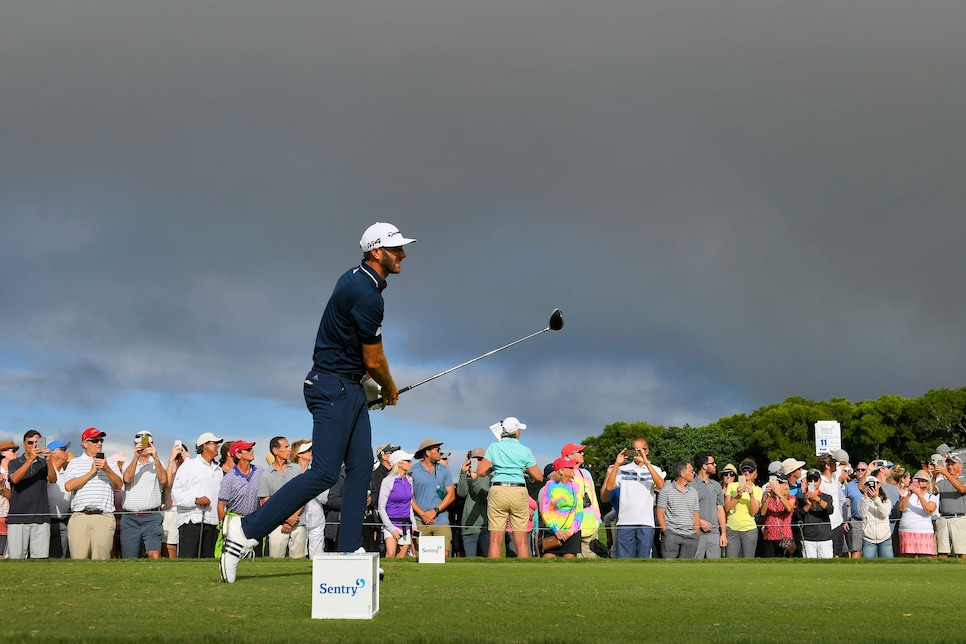 Johnson's lone bogey of the day, at the par-3 11th, preceded one of the all-time jaw-dropping bounce-back shots in memory—the meteor he launched toward the 12th green that resulted in his second eagle in as many days at the hole. He continued to whale away from there, also driving the green at the par-4 14th. Little wonder that he led the field in strokes gained/off the tee and tee to green as well as raw driving distance with an average of 324.7 yards.
"I knew I needed to drive it well; that was my big thing," said Johnson, who used a new M4 TaylorMade driver he had only started hitting the week prior. "I did a lot of things very well, but the driver was the biggest thing."
Not surprisingly, Johnson believes he is close to the form he wielded early last year when he won three straight starts and took over World No. 1 leading into the Masters. An accident in his rented house at Augusta resulted in a back injury that forced him to withdraw, so he is naturally eager for his next shot at a green jacket.
That disappointment he clearly remembers. Otherwise, he proves, once again, that a short memory goes a long way toward success in golf.
"I would imagine," he said, pondering that notion. "I don't know. I can't remember."