News
The final-round pratfall returns for Dustin Johnson, who blithely dismisses it ... as usual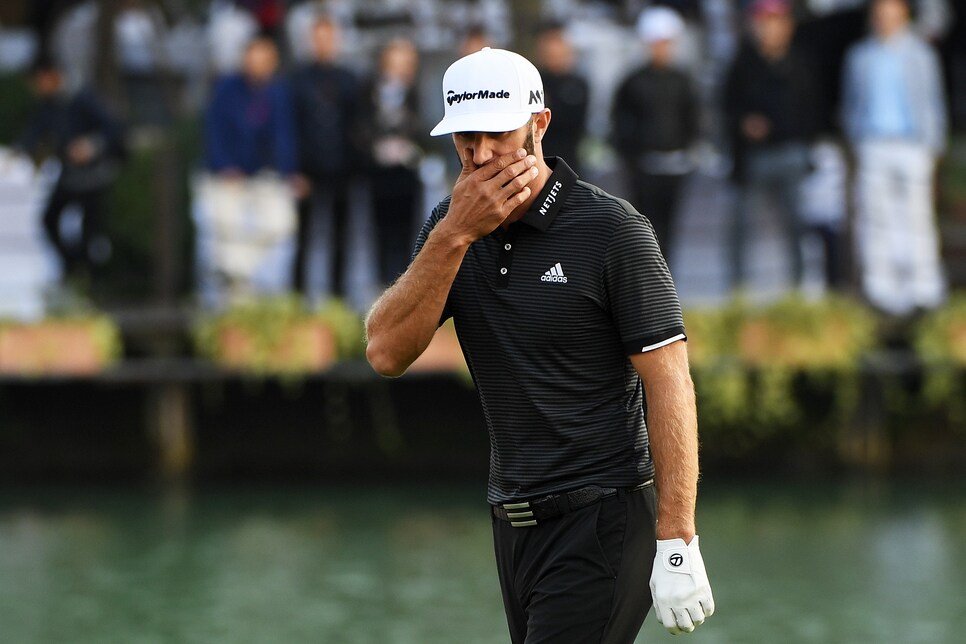 What to make of Dustin Johnson's signature pratfall, ostensibly having been consigned to history by virtue of the Hall of Fame career he is building on its ashes, resurfacing when one would least expect it?
That is not to say in the dead of night here in the U.S., but in broad daylight in Shanghai, China, where he carried an insurmountable lead, six strokes, into the final round of the WGC-HSBC Champions and…tied for second.
Sixteen victories, one in a U.S. Open, four wins last season, No. 1 in the World Ranking for 36 consecutive weeks and counting. And yet he still retains his capacity for diminishing proper due, at least momentarily, from those who take advantage of his charity, in this case Justin Rose.
Admitting to playing for second when the final round began, Rose equaled the low round on Sunday, a five-under-par 67 that gave him a two-stroke victory. Johnson, 17 under through three rounds at Sheshan International Golf Club, posted a birdie-free 77.
"Whenever you're playing behind someone with a lead, try and win the other golf tournament," Rose said. "That's always my mentality. And then just see what happens. The leader, you never expect him to have a bad day, but just in case, play for second."
So, we ask again: What to make of it, DJ's litany of final-round miscues having been only dormant rather than consigned to his past?
His psyche, far from being fragile, has proven impenetrable and is a certainty to remain so. The even-keel is his 15th club, seemingly allowing him to accept outcomes with equanimity, good or bad. On the latter note, he is not the incredible sulk.
There was the three-stroke lead he squandered in the final-round of the 2010 U.S. Open when he shot 82. "It was a tough day, but golfers have tough days," he said.
And the 18th-hole penalty that deprived him a spot in a playoff at the PGA Championship later that year. "That's how it goes," he said.
And the 2015 U.S. Open at Chambers Bay, when he had an 12-foot eagle putt to win on the 72nd hole, three-putted instead and lost to Jordan Spieth by a shot.
"It is what it is," more or less, was how he explained away that three-putt on an imperfect green.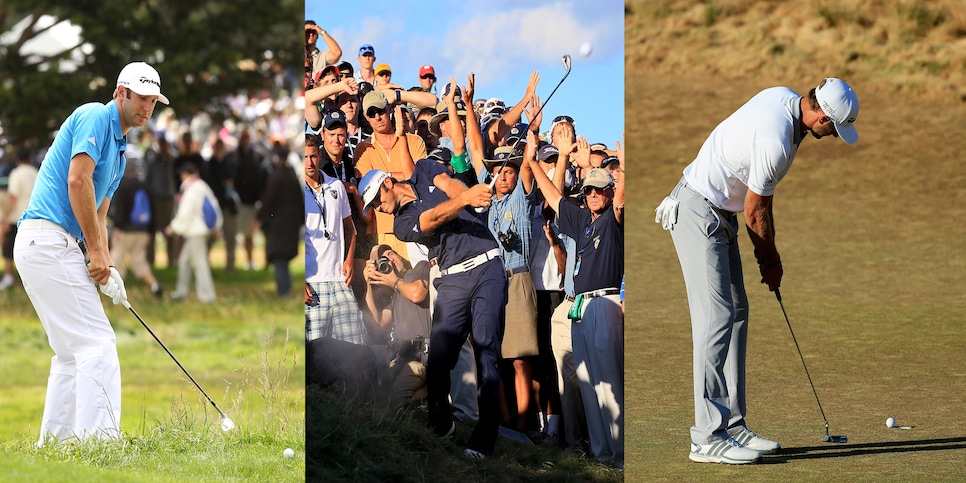 His reaction on Sunday was more of the same.
"Well, it was tough conditions today," he said. "Felt like I actually drove it pretty well, other than the drive on two, which I hit a good shot. I don't even know what happened. It just came up a little bit short. I thought I hit it perfect. But still ended up making a good [bogey] six.
"And even making the turn, obviously, I'm two-over [and still leading by three], which is fine. I know I've got to just play solid on the back nine. I didn't make any putts. I felt like I rolled it good. Just nothing was going in the hole. Hit a couple really bad iron shots. That was probably the key there on 14. I just chunked it.
"Same thing on 15. I just chunked it. That cost me two shots there. And then bogeying 16, that's just bad. So I just gave a few away. But tough conditions. But I mean, it is what it is."
Incidentally, his squandered six-stroke lead came up one short of breaking a PGA Tour record for the largest blown lead entering the final round. Instead he joins six others who have surrendered six-stroke leads, most notably Greg Norman, in the 1996 Masters. He'll likely have other chances to set the record.
In the mean time, he will continue to fortify what will be a memorable career for the right reasons, which is to say that that's how it goes for the best player in the world.