From the Magazine
Golf Digest's latest 100 Greatest ranking, explained: How we define greatness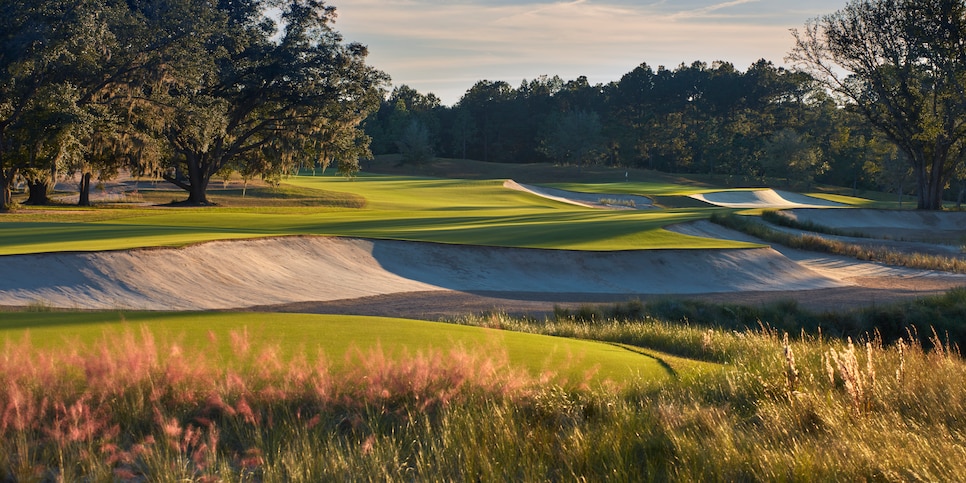 When mapmaker C.S. Hammond & Co. asked Golf Digest in 1962 to select the best golf courses in the United States for its cartographers to chart, our editors said no. Choosing the best was too subjective. But it was possible, they determined, to identify the country's "toughest" courses because a measuring mechanism—the USGA's Course Rating system—already existed. Supplementing the USGA's Course Ratings with extensive field surveys of its own, Golf Digest embarked on a four-year project to identify "America's 200 Toughest Courses." The results were published in 1966.
That initial "no" became a "yes" the next year when the magazine revised, reduced and rebranded the list as "America's 100 Most Testing Courses," which eventually, in 1975, became Golf Digest America's 100 Greatest Courses. These rankings, published every other year since 1967, invented the modern genre of 100 Greatest lists, prompting other print and digital organizations to follow with attempts to mimic or develop their top 100 niches. Yet even as Golf Digest's pioneering lists grew in popularity and influence, the original sin of subjectivity continued to linger.
Before 1985, the magazine convened a selection committee to determine where courses should appear in the final standings, continuing to give deference to the most "testing" layouts. Eventually we realized this method was too arbitrary to determine America's 100 Greatest Courses; basing such important codification on anything but quantifiable data merely reflected the proclivities of a given panel, which could at any time be reverse engineered to produce a desired result. In 1983, attempting to introduce more objectivity into the surveys, Golf Digest tasked state and national evaluators to judge courses in seven categories—shot values, resistance to scoring, design balance, memorability, aesthetics, conditioning and tradition—using a scale of 1 to 10 (poor to outstanding). The numerical results of those evaluations were used to tabulate America's 100 Greatest Golf Courses for the first time in 1985. It's a process we still use today.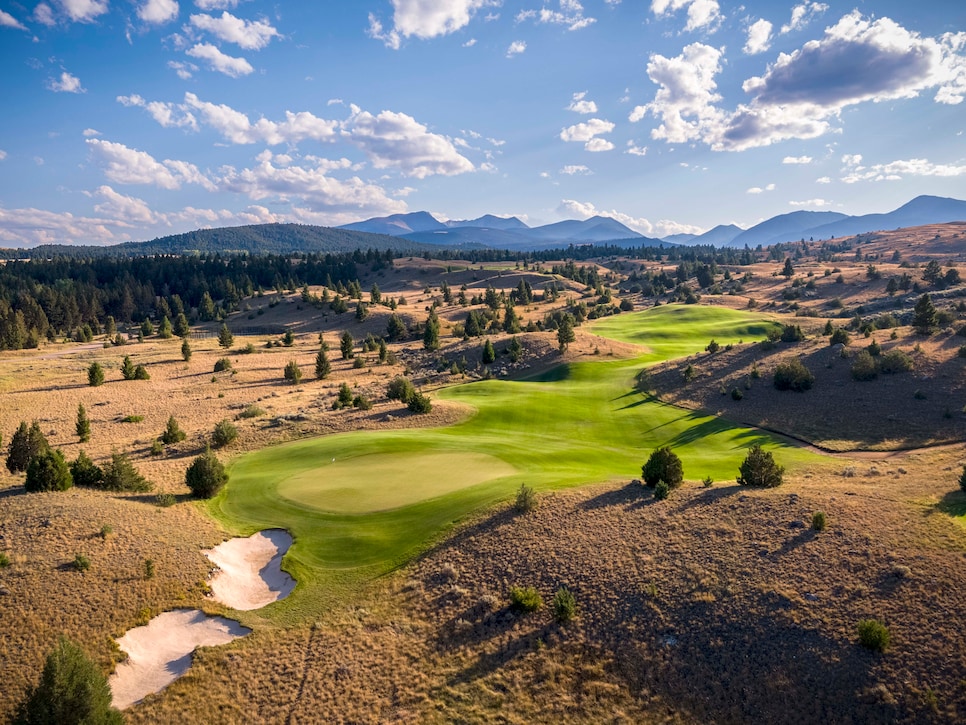 ROCK CREEK CATTLE COMPANY in Montana rises to No. 81. Above: the par-4 14th. Photograph courtesy of course.
The commitment to emphasizing objective data in an inherently subjective endeavor has only intensified. Our course-ranking panel has grown to more than 1,900 representatives who evaluate roughly 1,600 candidate courses throughout the United States and Canada. This volume is necessary because a baseline number of evaluations, collected over a rolling 10-year period, are required for any course to appear on our rankings—at least 75 are needed for a course to qualify for America's 100 Greatest and Second 100 Greatest lists, 30 for a Best in State list, 35 for America's 100 Greatest Public Courses and 30 for Best in Canada. Having these minimum standards assures a degree of consensus and statistical reliability—courses cannot make a ranking based on only a handful of ballots or because of the influence of a small group of voters.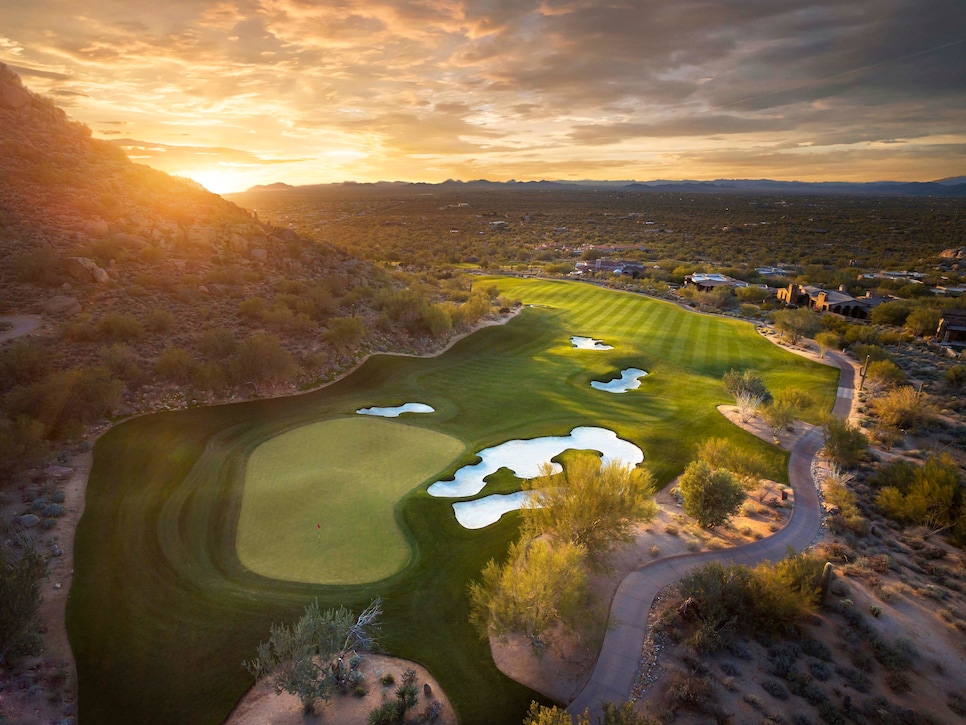 THE ESTANCIA CLUB (No. 72) in Arizona scored highest in Conditioning. Above: the par-4 sixth. Photograph courtesy of Estancia.
The ranking is intended to be a contemporaneous reflection of architecture and golf-course design—what is ascendant, what is in decline—though in some instances evaluation minimums delay the appearance of courses (you might find potential "on-deck" candidates on our Best in State lists, where only 30 evaluations are needed). Eventually, however, great designs are recognized. Consider that Fishers Island, this year's No. 9, fell off the list in 1975 and didn't make it back until 2001. Or that Crystal Downs, No. 14, was a no-show until 1989, or that it took the National Golf Links of America, perhaps our country's most important design from the early 1900s, until 1985 to take its rightful place among its peers—it's now the seventh greatest course in the United States.
AN ARCHITECTURAL REFLECTION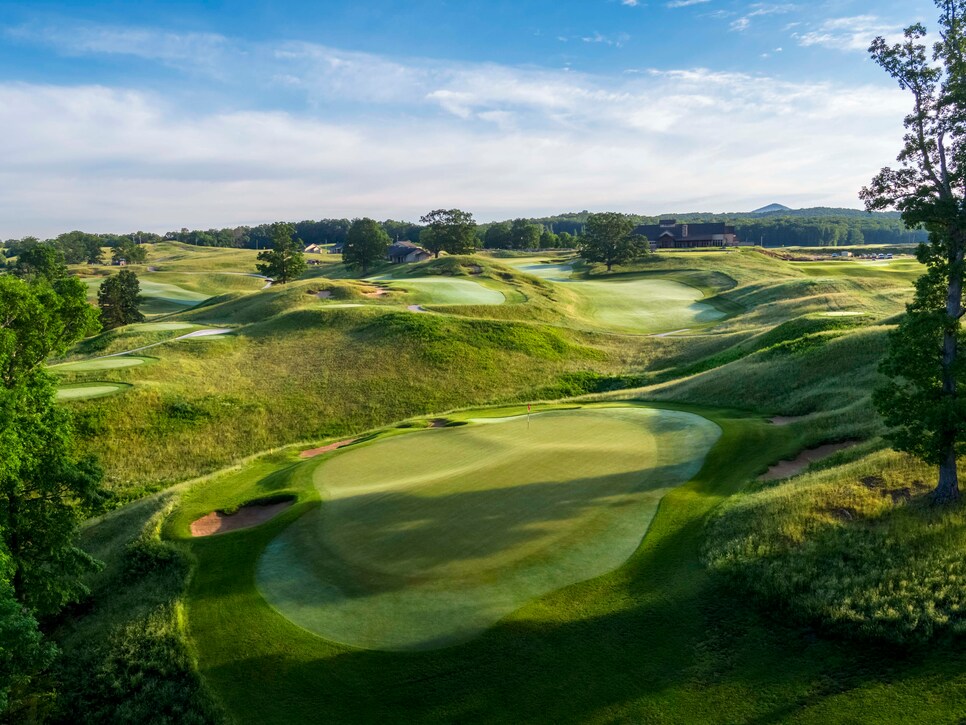 BALLYHACK in Virginia climbs 16 places to No. 175. Above: the par-3 17th. Photograph by Evan Schiller.
Because the rankings are biennial snapshots of changing times, it's necessary to periodically recalibrate the scoring criteria. Golf Digest tweaked the definitions of five of the seven categories as recently as two years ago, yet even now there remains a vestige of the original 1966 list of "toughest" courses in the Challenge category, formerly Resistance to Scoring. This category asks panelists to examine how challenging but fair, instead of how difficult (a small but meaningful distinction), the course would be for a scratch golfer from the normal back tees (not the tournament tees). This year's highest score in Challenge (8.93) went to Pine Valley (below), once again our No. 1 course overall, narrowly edging No. 5 Oakmont (8.88).
Every Hole At . . .
Pine Valley Like You've Never See It
A rare look inside the No. 1 golf course in the U.S.
Though it counts for just a fraction of a course's total, Challenge remains an ingredient in determining America's 100 Greatest, continuing a tradition that was strongest in the 1960s, '70s and '80s when a course's ability to throw defense at a golfer was considered a critical element of greatness—perhaps the most critical. But we would be remiss if we did not recognize that for much of the past two decades, the design world has de-emphasized toughness as a virtue, or that placing the challenge meter on a 6,400-yard Eastward Ho! (No. 128), a 6,700-yard Shoreacres (No. 54) or even Cypress Point (No. 3)—where difficulty is hardly the point—is effectively a penalty. Doing so is akin to judging actors by height: Size might be useful for certain roles, but it's not an ideal test for talent.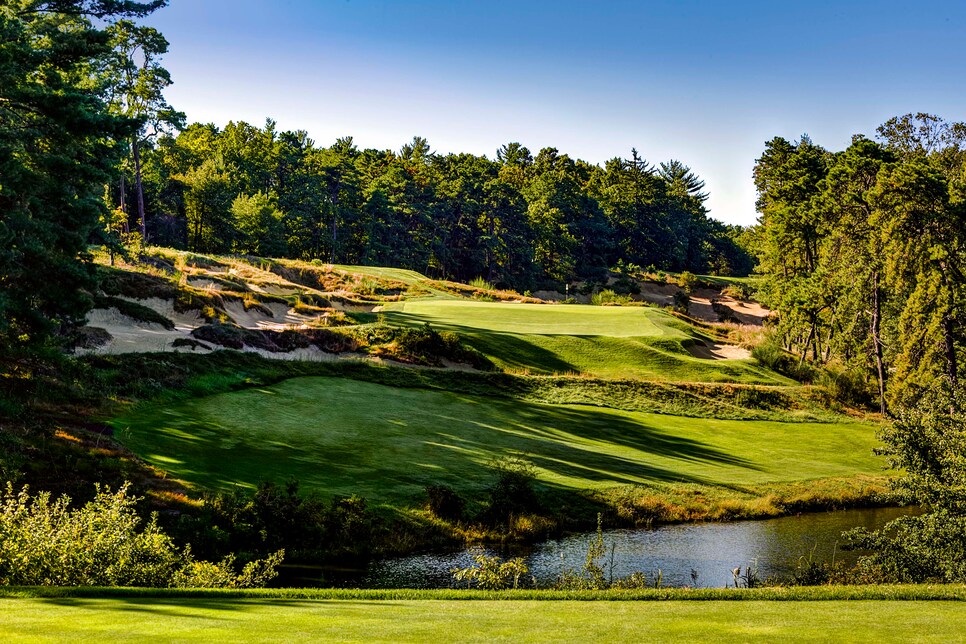 PINE VALLEY in New Jersey is No. 1 for the 15th time. Above: the par-3 fifth. Photograph by Charley Raudenbush.
What about judging actors by their looks (something less quantifiable than height)? It's basically what we ask panelists to do with Aesthetics because looks matter in golf. This is the one category in which we embrace subjectivity because what turns players on visually is personal. Almost everyone is moved by the natural beauty of oceanside courses like Cypress Point (our leader in Aesthetics at 9.29), No. 8 Pebble Beach (8.96) and No. 18 Pacific Dunes (8.48), but others like No. 26 Wade Hampton in North Carolina (8.33), No. 27 Shadow Creek in Nevada (8.27), No. 31 Gozzer Ranch in Idaho (8.27) and No. 35 The Alotian Club in Arkansas (8.32), each designed by Tom Fazio, also earn some of the category's highest scores despite all of them being inland. Speaking of Fazio, our panelists continue to respond to his designs with the same fervor owners and developers do—he dominates the rankings with 13 courses in the 100 Greatest and 18 in the Second 100 Greatest, and this doesn't count remodel work at places like Quail Hollow (No. 97) and Jupiter Hills (No. 111). The next closest competitor among our greatest 200 is Donald Ross with 15, followed by Fazio's contemporaries Pete Dye and Jack Nicklaus, each with 12.
Fazio's newest addition is Congaree, streaking onto the list at No. 39. The private club is in rural South Carolina, 30 miles west of Beaufort, built atop two reservoirs of sand, the perfect material for Fazio to mold massive holes that roam a landscape of live oaks and pine. The porous subsurface also helps with tight, firm turf, an asset reflected in the club's Conditioning tally of 8.30 that places it among the country's top eight. Conditioning was the subject of one of the most fundamental changes to any Golf Digest scoring category in 2005 when the magazine recalibrated its definition to focus on fast, rolling fairways and firm yet receptive greens instead of overwatered and impeccably manicured grass. We want our panel to reward dry but healthy playing surfaces that work in tandem with the course design and to think in terms of water conservation and limited chemical usage.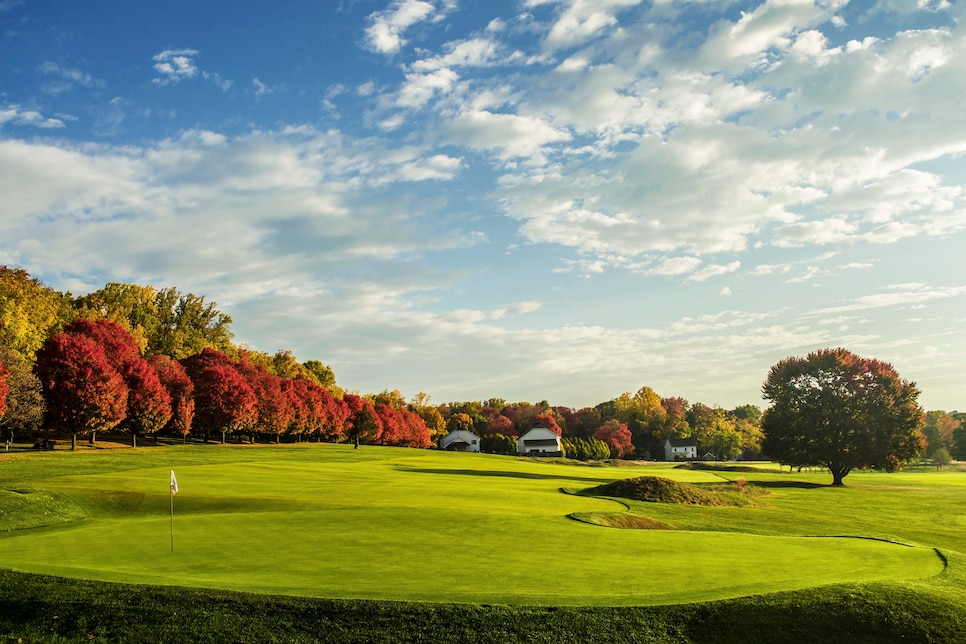 SOMERSET HILLS in New Jersey is back in the top 50. Pictured: the par-5 ninth. Photograph courtesy of Somerset Hills.
The Distinctiveness and Character categories ask our panelists to look inward and outward. Distinctiveness measures the individuality of holes within that particular design, and Character looks at a course's ingenuity and uniqueness in the context of the era it was built. Our top-three courses registered the three highest scores in Distinction—no wonder considering the architectural lineage and properties that provide such varied gifts. In fact, our top 19 courses all received 8s or higher for much the same reasons. Further down the list, Pete Dye's Players Stadium Course at TPC Sawgrass, No. 52, stood out at 8.03, and how could it not? Its holes are like gymnastics apparatus in the all-around, a different exercise at every rotation.
Of all 200 courses listed, more earned their top score in Character (65) than in any other category (No. 2 Augusta National led with a 9.43), a nod to the historical relevance of so many clubs in the rankings. We want our panelists to stress the course architecture above all else—the layout, the holes, the shape of the land and the shots the features beckon us to hit—but it's undeniable that other factors inspire beyond mental and physical engagement. Those charms reveal themselves in this category and explain how places like Yeamans Hall Club, an enchanting 1926 Seth Raynor design in Charleston listed at No. 99, and Newport Country Club, a 127-year-old seaside throwback listed at No. 137, can pull similar Character scores (8.06 and 8.14, respectively) to courses in the top 20.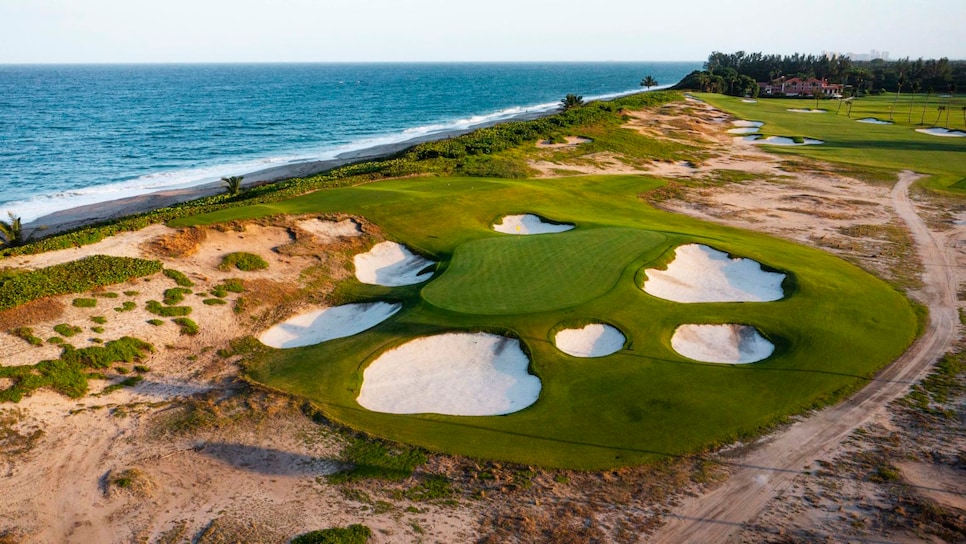 No. 11 Seminole, par-3 17th. Photography by Carlos Amoedo
Carlos Amoedo
The most purely architectural categories? They are Shot Options (formerly Shot Values) and Layout Variety (previously Design Variety). Shot Options asks to what degree a course provides risk-and-reward conundrums and how many kinds of shots the design requires golfers to play—in other words, strategy. Scores in this category count double. Layout Variety judges the shape and form of holes, the balance of pars, doglegs, wind direction and use of slopes—in other words, the routing. Tom Doak's courses receive some of their highest numbers in Layout Variety, which is no surprise considering his skill in maximizing the natural assets of the types of land on which he works. Specifically, No. 148 Streamsong Blue (7.53) on a former phosphate mine in Florida, No. 154 Dismal River's Red course (7.59) in Nebraska's sandhills and No. 186 Lost Dunes (7.42) along the forested shore of Lake Michigan each pulled their highest individual marks in this category. Layout Variety accounted for the second highest scores at Doak's No. 44 Ballyneal (7.95) and No. 56 Old Macdonald (7.90, designed with Jim Urbina), and Doak had another course jump into the 100 Greatest for the first time, Rock Creek Cattle Company near Deer Lodge, Mont. (moving 22 spots to No. 81). Its best category was Aesthetics (7.89).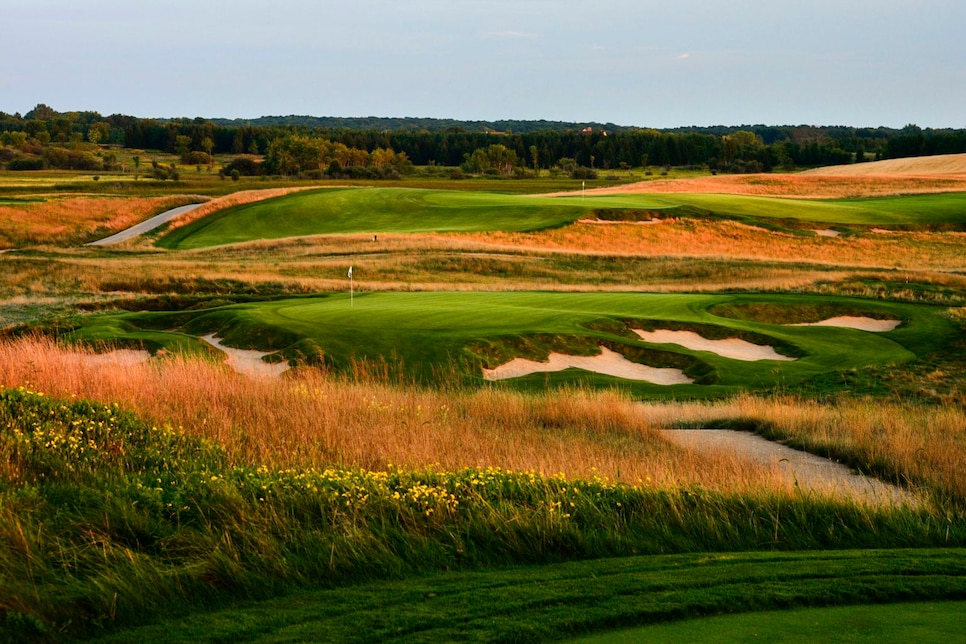 No. 46 Erin Hills, par-3 ninth and par-5 18th. Photograph by Dom Furore.
Dom Furore
Our panel comprises accomplished players capable of moving the ball through the air with proficiency, a legacy that dates to the Golf Digest panels of the late 1960s. This explains high Shot Option scores given to No. 40 Bethpage Black (8.00), the Olympic Club's No. 34 Lake course (7.95) and No. 49 Butler National (7.80), none of which are known for a range of options off the tee or approaching greens—they cater to matters of execution and the skill of hitting it high and straight. Yet because strategy can be presented in many forms, respect is similarly shown to more multifaceted and flexible designs that encourage creative forms of attack, including No. 10 Sand Hills (8.26), No. 29 Pinehurst No. 2 (8.03) and No. 46 Erin Hills (7.84).

MAUNA KEA (No. 149) in Hawaii is one of 35 public courses among our 200 Greatest. Above: the par-3 third. Photograph courtesy of course.
The space between those fractions of a point might not seem like much, but they matter. Though acknowledging that it's hard to do, we ask panelists to sweat the details and carry their 1 to 10 scores to two or even three decimal places. This is to delineate between contenders because the scores become increasingly compact the farther down the ranking one travels. What separates No. 114 (Mayacama in Santa Rosa, Calif.) and No. 115 (Stone Eagle in Palm Desert, Calif.) is miniscule: .0003. The difference between being comfortably inside the 100 Greatest (Pete Dye Golf Club in West Virginia, No. 87) and outside (Baltimore Country Club East, No. 102) is only five-tenths of a point. This means a club could elevate its numbers across each category by .07 and potentially improve position a dozen or more places.
This happened with several of this year's biggest movers, like Bel-Air (above photo, from No. 170 to No. 127), Sleepy Hollow (No. 89 to No. 62), Inverness Club (No. 88 to No. 65) and Winged Foot East (No. 52 to No. 41). The impetus behind the better scores (they averaged an increase of .84 above their 2019 aggregates) was comprehensive renovations that altered or restored elements of their architecture. Gil Hanse's work at No. 62 Sleepy Hollow has incrementally driven the course higher in our compilations since he began consulting there in 2006, and his 2014 restoration of the greens and bunkers at Winged Foot's East course only now seems to be garnering recognition. Time will tell if Hanse's 2017 restoration of the West course (No. 12), visible during the 2020 U.S. Open, will receive a similar ratification. Doak's resurrection of George Thomas' features at Bel-Air in 2018 and Andrew Green's major overhaul of Inverness that same year have gained more immediate results.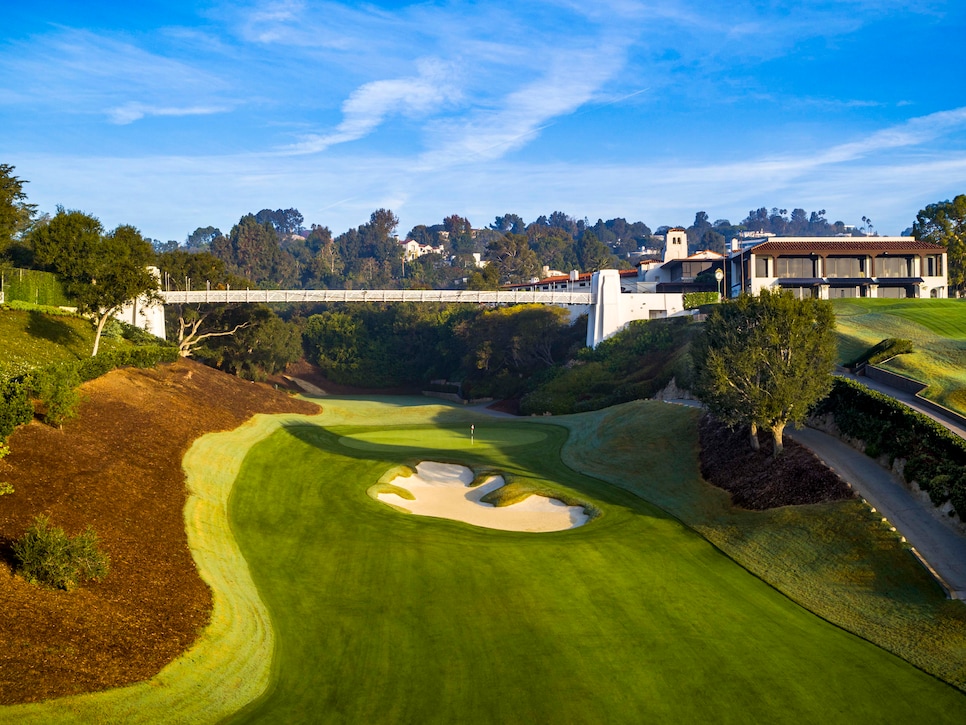 BEL-AIR in Los Angeles surged 23 places to No. 127. Above: the par-4 18th. Photograph by Evan Schiller.
With few new courses being built, substantial remodel projects at established clubs might continue to be the primary catalysts for movement up and down the lineup. No. 15 Muirfield Village (by Nicklaus Design), No. 91 Congressional Blue (Andrew Green), and No. 21 Oakland Hills South and No. 45 Baltusrol Lower (Gil Hanse)—have been undergoing significant remodels during the past 18 months and will open their renovated designs this summer. (Their current scores do not reflect this new work.) Greatness comes with time. We will find out in future lists if these undertakings have paid off in the eyes—and on the scorecards—of Golf Digest's course panelists.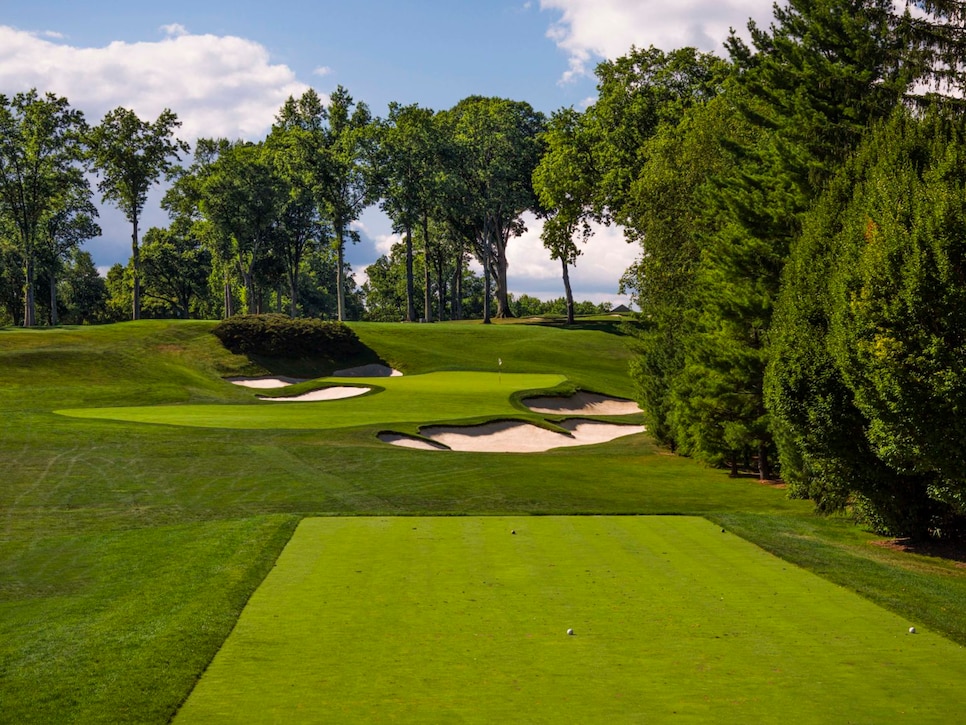 No. 41 Winged Foot East, par-3 sixth. Photograph by Larry Lambrecht.
LC Lambrecht
Editors' Note: The original version of this story contained scores for courses in particular categories that were incorrect. The scores have been corrected.