Crickets
David Letterman crashed Nets media day and Kevin Durant was this excited about it
Kevin Durant, man. Where to even begin? The man hasn't smiled since season three of 'Breaking Bad.' He's got 12 burners, one ring, and no damn time for anyone's bullsh*t. Not that we blame him. Have you seen the world lately? But in an NBA superstar landscape where LeBron is making kid's movies, Steph Curry is the world's all-time nice guy, and Luka is whatever they call an "Average Joe" in Slovenia, Durant is the straight man, the buzzkill, the debbie downer. But don't take our word for it, just ask David Letterman, who crashed Kevin Durant's Nets media day press conference to try out some new material on Monday. First mistake, last mistake.
Crowds just don't come tougher than that. Letterman shows up posing as a reporter, thinking this will be a good laugh. He waits his turn, bides his time and finally the mic comes to him. This is the big reveal, the moment we've all been waiting for, and KD looks over and doesn't bat as much as a single eyelash. Letterman says he just got off the phone with the Dolans, who are working on a contract that will allow him to play for the Nets and Knicks at the same time. It's not a terribly funny bit, to be fair, but Durant hits it with the undersell of all undersells. You can just feel the hatred oozing out of his every pore. Basketball isn't a joke, Dave. Never has been. Never will be.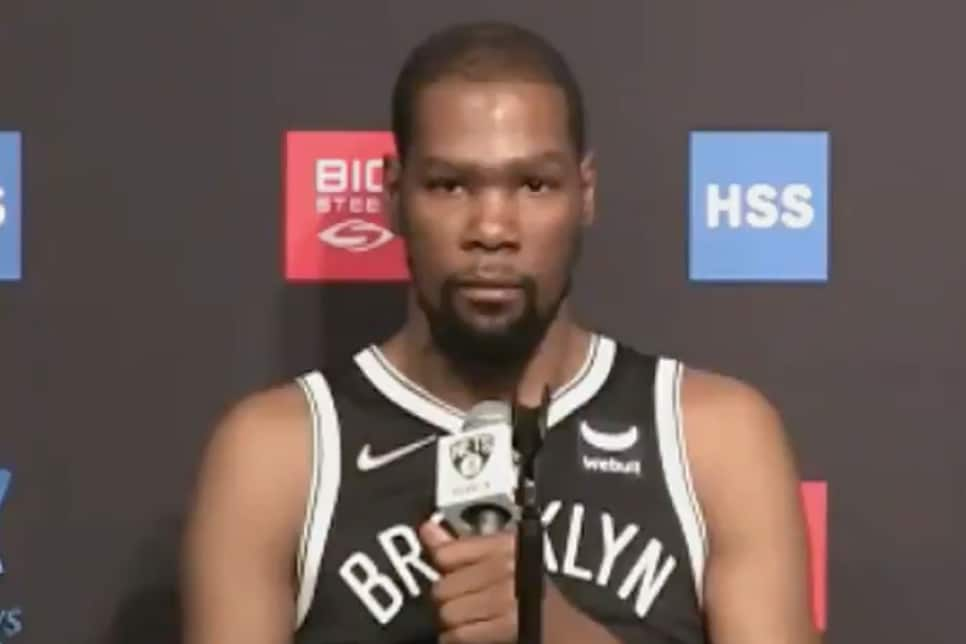 The whole sequence is pretty much the Joker origin story. Middle-aged guy with no job tries stand up. Nobody laughs at his jokes. Boom, supervillain. Next thing you know, Letterman will be running amok around Gotham in clown paint, all because Durant denied him a courtesy chuckle at Nets media day. But hey, who better to bring him to justice than the unsmiling, sunlight-hating nocturnal assassin known as Batman Kevin Durant?