The Loop
Peyton Manning burned Kevin Durant at the ESPYS and Kevin Durant was NOT happy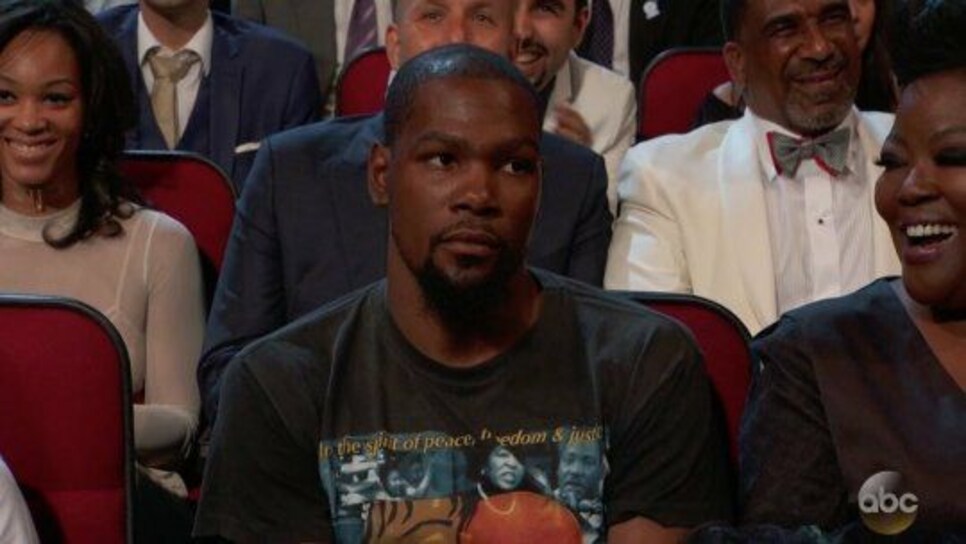 Kevin Durant's decision to join the NBA's greatest regular-season team of all time last summer was met with plenty of criticism. But leading the Golden State Warriors to this year's NBA title while earning Finals MVP honors was supposed to quiet the haters for good and give the star complete vindication.
Apparently, the move is still a sensitive topic for Durant, though.
On Wednesday night at the 2017 ESPY Awards, host Peyton Manning (who is a comedic genius, by the way) burned KD with a joke about him joining a different super team. Here was the line:
"Our gymnastics team was so dominant that Kevin Durant told me he wants to play for them next year," Manning said.
Pretty funny, right? Well, everyone in attendance -- including Kevin Durant's mom -- laughed. Everyone, that is, except Kevin Durant, who was NOT happy. It probably didn't help that Manning then mentioned Durant's former Oklahoma City Thunder teammate Russell Westbrook.
"And I've got to tell you, I don't think you'd start for that team, Kevin. Russell Westbrook, what do you think?"
Awkward, but playful. But again, Durant was having none of it. Watch his reaction for yourself:
Of course, it's possible Durant was in on the whole thing, but. . . he later tweeted this:
And a couple of hilarious responses to the situation on Twitter caught our attention:
We're guessing Durant didn't find those funny, either.