The Loop
Kevin Durant's Godzilla vs. Kong takes is the type of Twitter we're here for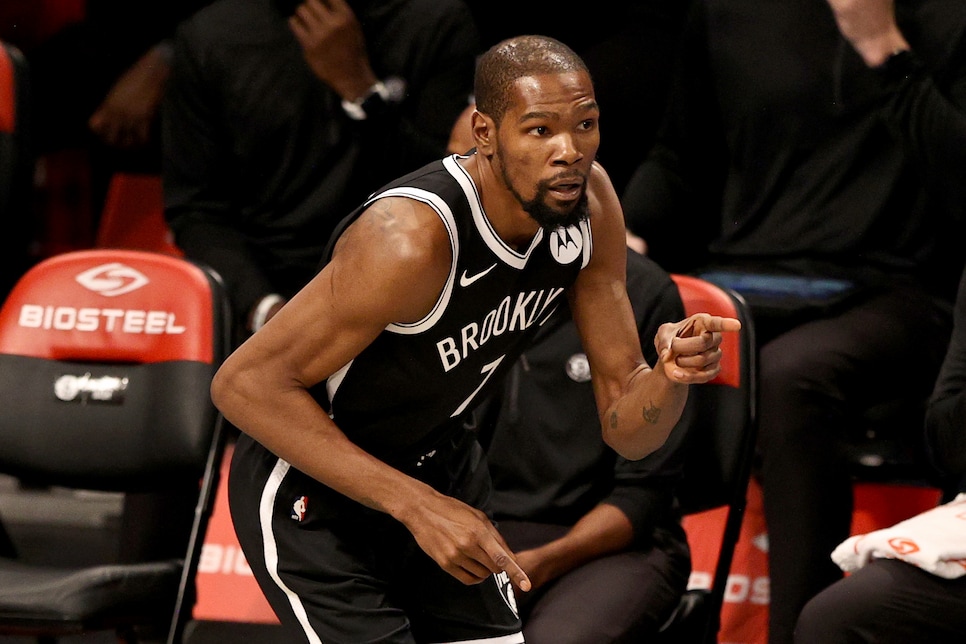 When Kevin Durant trends it is usually the upshot of two incontrovertible consequences. Either a) the Slim Reaper is doing work on the hardwood that defies what we know about science and God or b) Durant is beefing with someone on Twitter and/or has been caught (again) using a burner account. Sunday, however, proved this rule is not binary, as Durant trended for the most delightlfully of stupid things.
For Sunday served as the trailer debut for the new movie "Godzilla vs. Kong," which as the title suggests and confirmed by the accompanying two-minute preview as well as Wikipedia, is the story of Godzilla versus King Kong. (Kyle Chandler also makes an appearance, and while we have no idea what his role in the film will be, we can guaran-damn-tee you Coach Taylor would have not kicked a field goal down eight with less than 2:30 on the clock.) While the battle between these prehistoric beasts will unfold over three hours on the screen—and likely spawn a sequel and spin-offs and a multiverse because #content you know?—according to KD, this fight won't be a fight.
Now, because it's Twitter, no opinion can be left un-countered and belittled to the point where everyone needs to go home and take a shower and wonder what charred bits of humanity remain, yet Durant remained strong, and civil, on his backing of Gigantis. And clearly Durant had done his homework:
Of course, in keeping with the times, there had to be at least one conspiracy theory, one which we would have delved into before remembering this is a thread about fictional monsters.
Durant would later present his theories on a handful of superhero movies, including his beliefs that Superman would wash Batman and "Iron man couldn't get busy without the suit though." Explore at your own discretion.
Of course, maybe this thread wasn't so much a moment of reverie but coded escapism from Durant. After all, it's a matter of when, not if, the two-headed ball-hog monster of James Harden and Kyrie Irving self-implodes Brooklyn's season and Durant's soul.