Features
The golf world has rallied around architect David Kahn's family, raising money for his daughters' rare illness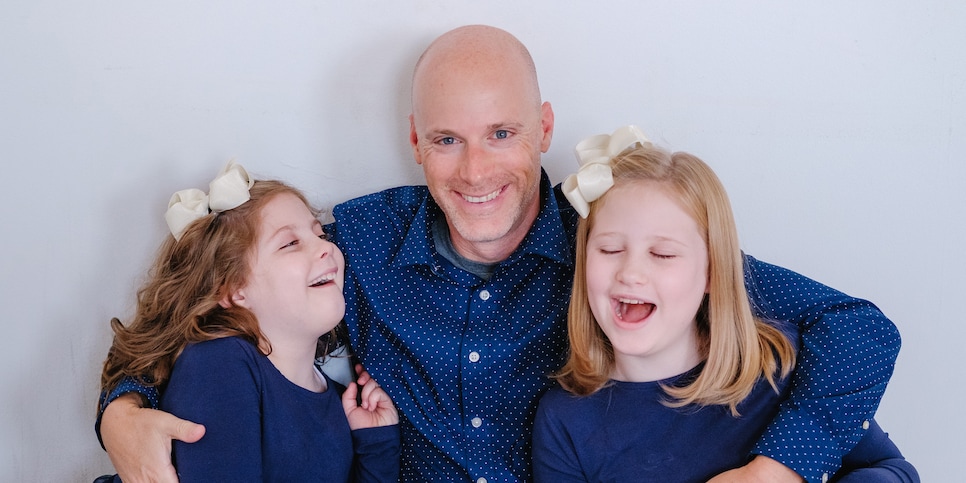 One early morning not long ago, Scottsdale-based golf course architect David Kahn and his wife, Karen, were woken by their 10-year-old daughter Makenzie calling to them from the hallway outside their bedroom.

"Daddy, Mommy, there's something wrong with my foot!" she yelled.
Groggy from sleep, David went to the hall to find Makenzie sitting on the floor with a small toy bird stuck to her foot. She had inadvertently dumped a bottle of glue and then stepped on the bird. When David took her to the kitchen to clean up, he found pools of water everywhere—earlier, Makenzie had decided the plants needed watering.
"That's how the day started," David says.
Makenzie is blind, which helps explain the glue and the water. She also suffers from dementia. Both conditions are caused by a rare neurological condition called CLN3, juvenile Batten disease.
"That coupled with the lack of vision can be comical at times," David says of the glue and the bird. "That is, if you're able to laugh at some of these instances."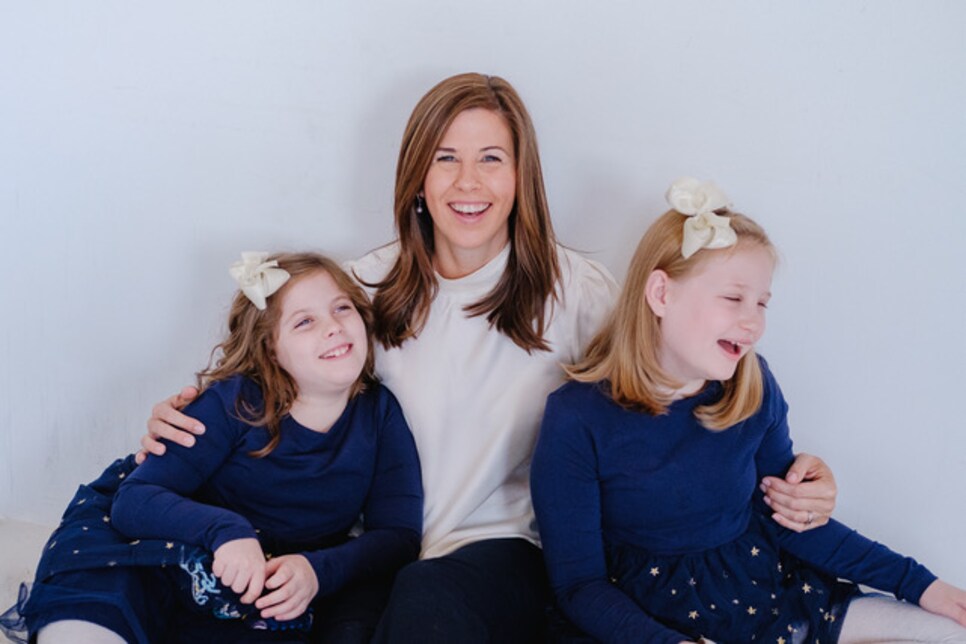 David's wife, Karen, posing with Makenzie (left) and Amelia (right).
Makenzie was diagnosed nearly four years ago. Incurable and largely untreatable, Batten disease is a fatal genetic disorder of the nervous system that often appears in infancy or early childhood. For over half her life Makenzie was an active, caring and creative young girl full of humor and enthusiasm, but as the disease has progressed it has affected her ability to function—in addition to taking her sight and the onset of dementia, she suffers from seizures, chronic pain, anxiety, lack of sleep, and she will eventually lose nearly all motor skills and need around the clock support.
Batten is among the most savage, cruel diseases, afflicting once healthy children by taking away their power to walk and speak, making them suffer in pain and slowly lose their cognitive abilities, and then striking them with blindness. Life expectancy for children with Batten is short, and the disease intensifies as they age. It's more than any child or parent should have to endure, and in the case of the Kahns the situation is made more unimaginable because Makenzie's twin sister, Amelia, also has Batten. Amelia's condition has deteriorated even further.
It's become an impossible situation for David and Karen, who is a building architect by profession, though they have no choice but to move forward. The last five years should also have been a joyous period for David, who shortly before the diagnosis had completed the construction of The Other Course with his design partner, Tim Jackson, the second 18-hole course at Scottsdale National. Owned by PXG founder Bob Parsons, the course is one of the new century's most exciting, creative design expressions—golf presented as a physical and psychological journey—though very few people have seen it due to the extreme private nature of the club. Now, it's difficult to get any work accomplished.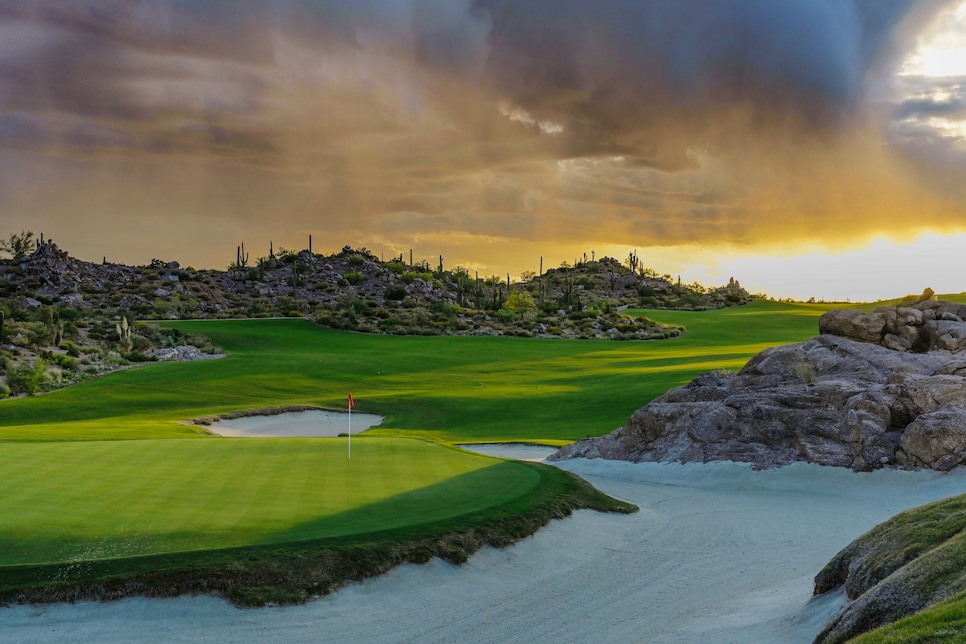 The 18th hole at The Other Course at Scottsdale National.
Joann Dost/Courtesy of Scottsdale National
"We made a motto early in this journey of the disease that if we're not laughing, we're crying," David says. "So we really try, even in the hardest moments, to find a little bit of humor in it. We've spent enough days with our heads between our knees and feeling sorry, and those days still happen, we cry most every day, but we're trying very hard to find even just a smile a day. That's what we're down to now."
Taking care of Makenzie and Amelia as their mental, emotional and physical capacities recede is an all-consuming task for the Kahns. Sometimes Amelia retreats to a place of uncontrolled misery and will scream for 12 hours or more without interruption, inconsolable. David confesses it requires three or four adults to adequately protect and care for the girls' needs, though for 10 months during last year's COVID-19 isolation both he and Karen did it alone.
Despite the extreme difficulty and sorrow—or perhaps because of it—the Kahns have founded the Fore Batten Foundation (www.forebatten.org), to help raise awareness and funding for increased research into the disease. The major fundraising component is a silent auction that runs from March 15 through the 29th. This is the auction's fourth year, and it has become one of golf's premier fundraising events in terms of the quality of donations and the amount of money raised. Funding from the foundation is intended to propel the medical world toward a treatment for the disease, and eventually a cure. [To view auction items and set up a bidding account, click here: https://e.givesmart.com/events/jXg/i/]
"The biggest problem with Batten, as with any rare disease, is that it doesn't have a lot of eyes on it," says Michelle Hastings, Director at the Center for Genetic Diseases and a professor at the Chicago Medical School at Rosalind Franklin University of Medicine and Science, specializing in rare diseases. Medical experts know it's related to a mutation in the genetic sequence, but to date there's been very little research, compared with other diseases, into understanding the essential causes of Batten and other CLN category diseases.
"We don't understand what the mutated genes that cause the disease even do—we don't understand the function of the mutated protein," Hastings says. "There's just a lot of fundamental research that needs to go into the topic before we can even begin to think about designing therapeutic strategies."
After both Makenzie and Amelia, who will turn 11 next week, were diagnosed with Batten, life became immediately and unbearably hard for David and Karen. But in the last 18 months the girls' health has rapidly worsened. "It's changing way faster than we thought it would," David says. "That's the disappointing part—we thought when they were diagnosed that there would be five or six good years left still, and I don't even think we got a year."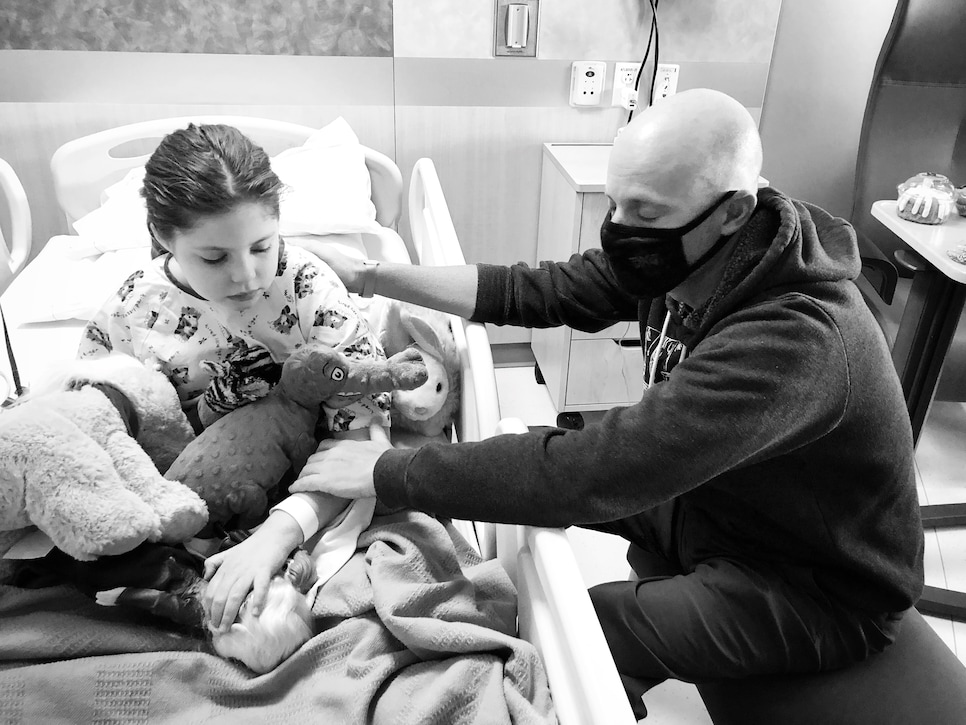 The Kahn family remain dedicated to the continued success of its foundation for future Batten disease research. "We're aware at this point that we're most likely fighting for future kids, not our girls," David says. "Our girls have inspired this mission, but the mission is to help future generations."
As they've had to step back from more active roles in the foundation and the Fore Batten auction, David's father, Stan, has stepped in to help.
"This has been my baby," Stan Kahn says of his duties organizing the event and cultivating donations. "Our first year we were hoping to make a couple hundred thousand dollars, and we made $630,000. The second year we said we wanted to raise a cumulative total of $1 million, so if we could make $370,000, that would get us there. That year we did $670,000. And last year we did over $920,000, with 265 auction items including probably 165 golf courses."
Those golf course packages, donated by clubs, club members and influential organizers from around the county, are a major reason for the auction's broad support. Available for bidding this year are golf rounds at a wide array of Golf Digest America's 100 Greatest and Second 100 Courses, such as Friars Head, Oakmont, Ballyneal, Oakland Hills, Inverness Club, Quail Hollow, Maidstone, Pikewood National, Olympic Club, Castle Pines, The Quarry at La Quinta and dozens of others, including Monterey Peninsula Country Club, where Kahn and Jackson completed a renovation of the historic Dunes course in 2015. Also up for bid are unique lots like vacation getaways in Vail and Napa Valley, and day experiences with athletes and celebrities such as Jason Kidd, Rocco Mediate, former Vice President Dan Quayle and Rush guitarist Alex Lifeson.
"I called Bill Coore out of the clear blue," say Stan, who lives in Scottsdale (as does Coore). "We met for coffee and he agreed to let somebody shadow him on-site for a day. And we got $10,000 for it." A day with Gil Hanse is also available.
Given the high quality of the lots, it's little wonder why the demand for golf packages and other activities is so intense. But for the Kahns, it's the wider golf community's outpouring of love, care and reinforcement that has been overwhelming. It's a demonstration of the game's vast network of people able and willing to help, and of golf's ongoing ability to rally around those in need. "I mean, these are people who frankly, we don't even know—or didn't know then, but do now," David says.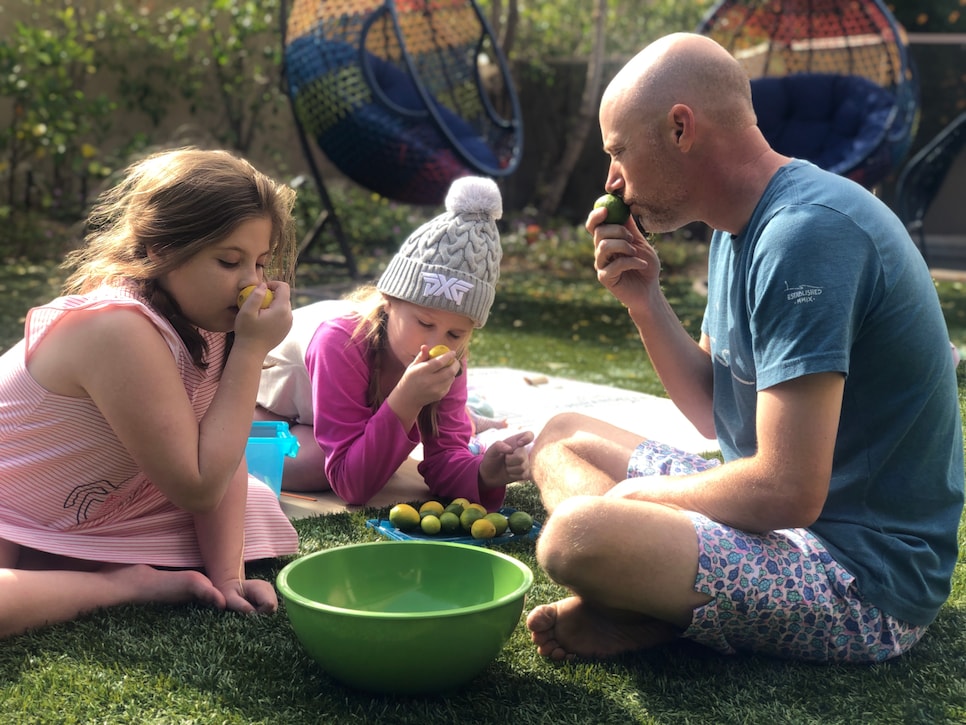 "It's been a humbling and gratifying experience," Stan says. "I wish I didn't have to do it, but the golf community has been just amazing. It brings tears to my eyes. People really do care, and we don't even know what this disease is."
Perhaps not now, but that's what Fore Batten is designed to change. "The foundation is our way of not rolling over and putting up a fight, and we're aware at this point that we're most likely fighting for future kids, not our girls," David says. "Our girls have inspired this mission, but the mission is to help future generations."
As scientists struggle to get funding for rare disease research from organizations like the National Institutes of Health, it's private family foundations like Fore Batten that fill the void and provide hope and resources for future breakthroughs. And with enough money, Hastings says, the research can progress rapidly.
Treatments for certain variants of Batten, such as CLN6, were developed in roughly one year, and over the past five years there has been encouraging progress made toward treatments of other rare, neurological diseases like Spinal Muscular Atrophy. In fact, a greater understanding of the different variants and causes of diseases like Batten provide an invaluable understanding of a range of other diseases and potential cures.
"We've learned so much about drug development, about treating disease and about disease pathways in the brain, from these rare diseases," Hastings says. "I see it even today—it has accelerated the way we're looking at Alzheimer's and Parkinson's disease. But so much of the progress has been driven by family foundations like that of the Kahns. They're the ones that have gotten it to where it is today. People are starting to take notice and see value."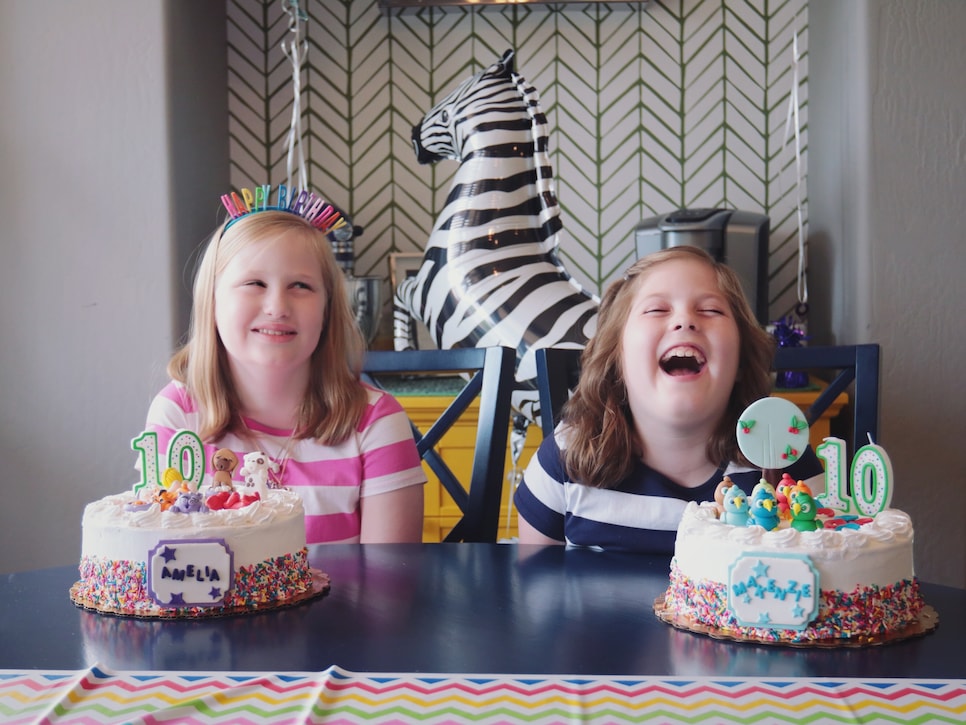 Amelia and Makenzie will turn 11 next week.
The golf community has noticed and can continue to contribute in important, significant ways. Efforts by all of us can make real differences in the lives of others.
"I've always felt the people I've met through golf are great people, but this proves to me they're even greater than I thought," says Stan. "Somewhere down the line, some family is going to be saved by what we're doing now."